Champions & #1 contenders
Seeking: Friction Spar Match
Mon Nov 20, 2017 6:40 am by Yori
Looking for a spar for
Alexa.
Howdy, I'm new to the forums and figured I should get my, and my characters toes wet with some good old fashion sparring. It can be a one off, or blossom into something else down the road for a friend/rival relationship. Alexa as a character is a fresh face, and an unrefined talent. I don't mind having someone at her skill level to have an event match, or someone superior to her to have a more one sided bout. I'm looking to use this regardless as a way to build …
[
Full reading
]
Comments: 2
Gonna be slow the next week or so... just had surgery IRL
Wed Nov 15, 2017 2:33 am by SleeperAgent94
Hey guys, got back from surgery today. Ruptured abdominal wall. In a LOT of pain right now, so posts will be VERY brief the next few days.
Comments: 6
Character updates.
Wed Nov 15, 2017 4:14 pm by Lotuswarrior
Since I'm starting to get a bit busier here, I'm trying to be a bit more professional. With that I'm going to overhaul my characters and update their profiles or release them all together. I'll post any images here of the characters I release, so that you guys/girls can claim them if you want.
Also looking for some characters to interact with outside of matches.
Comments: 0
Name: Asuna Amah
Nickname: Ashura
Age: 22
Eyes: Blue
Hair: Green
Height: 5'6
Weight: 167 lbs
Nationality: Egyptian
Entrance music
Ashura Jigoku
http://www.youtube.com/watch?v=u86Av_mGtuw
Wrestler Type
Submission
Favored moves
Tornado Hell- Spins her body around with her arms out like a tornado and attempted to capture the opponent in her arms so she can swing the opponent around before hurling the opponent into the post.
Ashura Torpedo- Asuna jumps onto the ropes and launches herself horizontally at the opponent.
Haramitta Lariat- Like a regular arm lariat only she hits the opponent's neck, mid-section and upper legs with 3 of her arms. (One arm being a normal one and the other 2 prosthetic)
Ashura Bear Hug- A regular bear hug powered up by her 4 additional prosthetic arms.
Triple Body Slam- Lifts up the opponent for a body slam, but adds force with her prosthetic arms adding to the power.
Finishing Move
Ashura Buster- Asuna holds the opponent over her head locking the opponent's thighs and arms in place before jumping up and landing butt-first against the mat forcing the opponent's neck against her shoulders in an attempt to disable various parts of the body.
Ashura Lightning Drop- While an opponent is airborne, she leaps up and places her knees against the opponent's legs sending the opponent head-first into the mat.
Match Preferences
Doesn't matter what kind of opponent so long as the match has a performance-hindering gimmick to it. (ie- Barbed wire, Hell in a Cell or Beach matches)
Physical Appearance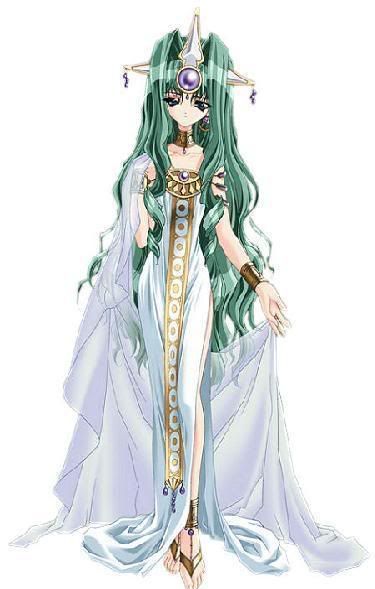 Now imagine this with 4 prosthetic arms
Personality
Asuna is cruel and heartless. She will step over anyone who crosses her path. But she also enjoys a little fun, so she likes to take advantage of her bionic arms to grope her opponents if she has them locked in place.
Background
Asuna grew up as royalty, the daughter of the current Egyptian pharoah. But when her subjects revolted against her father, executing her, she grew a deep hatred from humanity. She wants to make people suffer worse than her father did by not only bringing harm to them, but keeping them alive so they have to live with the pain.
However, Asuna saw herself as too weak. Sure, she had a good amount of strength, but she wanted to be 3 times stronger without having to train too much. With that, she travelled to a city where a Scientist had been working on prosthetic arms that could be attached to the body even if there wasn't any skin missing from that particular spot.
Asuna demanded he give her 4 prosthetic arms and the doctor saw her as the perfect guinea pig to test his theory on. In the end, the operation was a success and Asuna ended up with 6 arms, each of the 4 new ones just as powerful as her regular ones. She felt more than ready to get her revenge on society with her newfound strength.
Attire
What you see in the picture pretty much.
Note: Anybody wondering why characters like these always undergo surgery... it's the only good explanation I can think of without getting too unrealistic.
Record:
Carol- T (Double KO)
Rinko- X (Muscle Buster)
Rinko/Carol- X (Muscle Docking)
Mary/Taylor- X (Long Horn Train)
Lovely Couple- O (Ashura Buster)
Taylor- X (Pinfall)
Carol- X (Muscle Spark)
Great Power- O (Ashura Buster)
Kelly- X (Single Fall)
_________________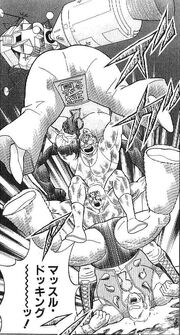 MUSCLE DOCKING!!!!!



Posts

: 1489


Join date

: 2009-02-10




Similar topics
---
Permissions in this forum:
You
cannot
reply to topics in this forum