Champions & #1 contenders
Kawaii Opportunities
Sun Jun 17, 2018 5:04 pm by Daaharu
Hey, guys!
With the kawaii title match at Avalanche taking on an interesting wrinkle with the interruption by the Brat Pack, we are moving forward with the overall kawaii storyline, and at this point I'd just like to take stock of what kawaiis are out there that are interested in participating in a cohesive storyline.
Can't make any promises about titles or what exactly each girl's given role would be. We can talk a little more about the specifics of where the story is going soon, but I …
[
Full reading
]
Comments: 3
Match for Takeichi
Tue Jun 12, 2018 8:13 am by GrandAkumaShogun
So with my other two guys having their own matches I figure I should do something with my first character on here, Takeichi Mori. If anyone is interested feel free to post here or get in touch through a pm so we can plan it out. I can either have Takeichi remain a jobber or begin to work him towards being a more serious competitor.
Comments: 1
Match or RP?
Wed Jun 13, 2018 5:48 pm by Lotuswarrior
I'm just looking to do something while I wait for match replies. Really want to get some characters cemented a bit with a rival or some interactions with other characters here.
If anyone wants to do something hit me up.
Comments: 0
Page 1 of 16 • 1, 2, 3 ... 8 ... 16


Prostyle Match
NHB
Victory by pinfall, submission or knockout
The crowd was very agitated tonight over what promised to be a very brutal match. Everyone who had seen the gruelling battle between Rainbow Mika and Muriel Spencer a week ago had seen the surprise appearance at the end by Dixie Clements, former Rumble Rose and AFW all-star. Those who had known their history knew that Dixie Clements' breakout match had been against Rainbow Mika, and that after a rough battle she had barely eked out a win.
Now Clements had challenged Mika again, looking for a good fight, and Mika had accepted. The stage was set promised to be a rough match between two very capable wrestlers.
In her locker room, Mika was putting the finishing touches on her outfit, tying her boots. She was wearing her usual blue-and-white outfit, along with the matching boots and mask, and her hair was done up in their usual pigtails. Satisfied that she at least looked ready for a match, she hopped up to her feet, her generous bosom bouncing a little from the motion.
She took a deep breath. She was more than ready to fight Dixie again. She had almost won their first encounter, she told herself, so she could do better and win the second one. Out of nowhere, a pang of melancholy struck her.
If only Zangheif-sama were here to watch my bout,
she thought to herself. She found herself missing her idol...and by extension, Ryu, Sakura, Karin, Cammy, and all of the other good friends she had made in the Street Fighter tournament.
The voice of her old mentor, Yoko Harmageddon, came to the fore of your memory.
Stop being so mopey, baka! Does being mopey win matches? Go out there and fight!
"Y-yes, sensei!" Mika stammered, running, tripping and crashing to the floor, before common sense caught up with her and made her realize it was just a memory. "Owee.."" she moaned, kneeling upright and rubbing her head. Hopefully she wouldn't embarass herself this much in the actual ring.
A few minutes later, Mika was ready. To the sounds of her theme music and her cheering fans, Mika entered the arena.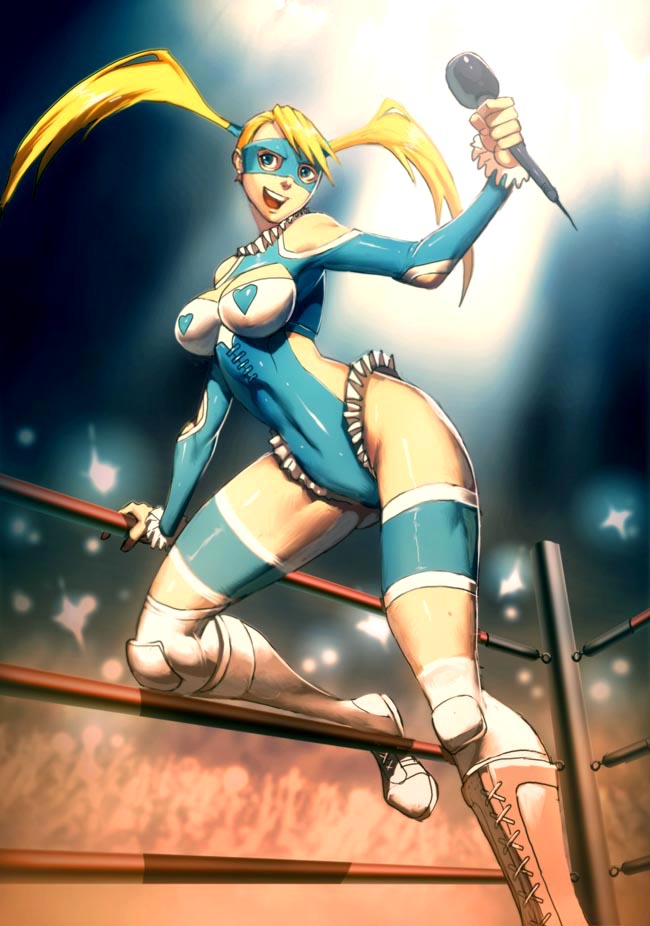 As usual, she flashed her fans a V-sighn, before she suddenly broke into a run. Translating effortlessly into a backflip, she leapt up onto the top turnbuckle and continued to smile and sign her fans. After a few seconds of grandstanding, though, she flipped down to the ring and began to wait for Dixie to show up...
Last edited by 137 on Sat Jan 05, 2013 7:18 am; edited 1 time in total
Mika would not be waiting long.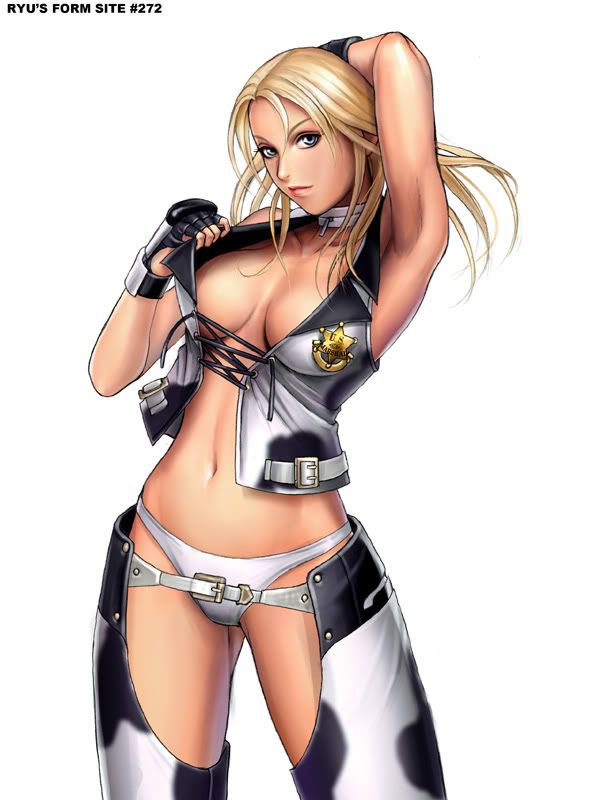 Before Mika's entrance music had completely faded out, before the woman's feet had even completely hit the mat after her flip, the guitars that signaled [url=http://www.youtube.com/watch?v=wB8Su3luQ-E:1h2c84o1]the entrance theme[/url:1h2c84o1] of Dixie Clemets suddenly came over the arena's speakers, the cowgirl herself appearing almost out of nowhere upon the stage at the top of the entrance ramp to the arena. Wearing her typical cow-print attire and her usual cocky grin, Dixie stood there, looking out over the cheering, screaming audience with a twinkle in her eye. Deep within her chest, she could feel her heart beating, pounding like a bass drum against her breast. She was eager for this match; more than that, she
needed
this match. Her first two matches in her return to the AFW had went well for her, resulting in a pair of wins, but the two matches after that hadn't gone so well. One ended in a draw, and the other resulted in a loss, and each of them was against an opponent she didn't really want to lose against, the loss against her old rival and friend Reiko Hinomoto, and the draw against her fellow cowgirl Tiffany Laurence. She wanted to tangle with Mika in the ring again, she wanted to make sure she wasn't losing the edge she came back to the company with, and the only way she knew of to do that was going toe-to-toe with the woman who had welcomed her back.
She gazed around the arena, posing in a several ways for the wild fans in the audience; once with her hands thrust up into the air, then again with one hand cocked up confidently upon her wide hips, then another turned away from the crowd, giving them a fantastic view of her large, wide bottom, something that caused more than a few catcalls and whistles to emerge from the crowd. After a few moments of grandstanding and posing, she turned back around, looking down the ramp towards the ring, towards Mika. In one simple motion, her arm raised up, the fingers of her hand drawing inwards, save for her thumb and index finger. She pointed the gesture at Mika and closed one eye, as if aiming down the sites of a gun, whispering to herself as she pretended to fire off a bullet towards her opponent.
"
Bang
..."
With that done, her arm lowered back to her side, and with confident, proud steps, the cowgirl started to make her way down the ramp and towards the ring, where Mika was patiently waiting for her.
Mika watched as Dixie made her grand entrance, folding her arms across her heart-clad bust as the Texan strode confidently into the arena. She could tell just by watching her that Dixie hadn't changed much from her last match: she was still exuberant, cocky, loved working the crowd...and she probably still had all the skill and strength to back all of that confidence up. Her gut tightened a little at the prospect of a rough match, even though another part of her relished that opportunity.

As she watched, Dixie paused to pretend shoot Mika with her finger. Oh, it's not going to be that easy, Dixie, Mika thought to herself. The Rainbow Warrior remained visibly unimpressed as Dixie strode down the ramp and slid into the ring.

Mika finally allowed herself a smile, though, as the Texan stood up opposite her. "Took you long enough, Dixie," she teased. "I was almost afraid you were going to forget we had a match going on!"
Dixie headed down the ramp, noting Mika's impassive, unimpressed expression. She had to stop herself from grinning too widely at the sight...after all, she had a feeling that Mika was just as excited and anxious about this match as she was. The girl had a good poker face, Dixie thought to herself, her eyes never once leaving the pigtailed woman.

As she approached the ring, she lunged towards it, sliding right under the ropes and up to her feet in a matter of mere moments. She stepped right up towards Mika, looking down towards her slightly smaller opponent as she approached her, listening to her words.

"Ferget a match?" She asked softly, letting out a gentle tsk towards Mika as she teased her right back. "You really think I'd fergit gettin' the chance to kick yer ass again, girl...?"
Mika didn't back down as Dixie edged closer, standing close enough that her slight height advantage became a little more obvious. This made Mika grimace in annoyance a little, but she did her best to keep her cool. No matter who won the physical match, she couldn't be seen to be getting ruffled at all in this verbal war.

"Well, you did seem to forget that you didn't have it easy the first time around," Mika replied with a grin. "And I've had a lot of practice between then and now. Tabling Spencer was a nice bit of exercise, after all."

She rotated her shoulders, stretching her arms. "No matter how you cut it, cowgirl...you're the one getting hogtied tonight."
Dixie grinned right back at Mika, leaning in even closer to her. "Looks like yer the one with the bad memory now, Mika. It might not have been easy the first time, but you seem ta be fergittin' that I was still shaking off the ring rust in that match." She stepped forward, as closely as she could, so that her face was nearly touching Mika's, her body pushing in close enough to touch against Mika's own. "Ah've had had plenty of practice since then, girly. I'm in the perfect shape now ta kick yer ass tonight, no problems about it!"
The crowd watched tensely as the two powerful blondes were now standing practically forehead to forehead, staring one another down. As they watched, Mika leaned up closer against Dixie as the two were locked in a staredown. Half the audience expected them to come to blows at any second now. The other half noted that the two of them were in the perfect position to start making out.

Mika simply smiled again. "Oh, you've been practicing? Well, this I have to see." She took a step back. "We'll see just how much better you've gotten then, cowgirl!" she added as, at the ref girl's urging, she stepped back towards her corner.
Dixie didn't say anything else to Mika, feeling that the time for words was over. She followed the ref's urging, turning away from Mika and heading back to her corner. She waited there for a moment, waiting in breathless anticipation for the bell to ring, to finally signal the start of the match.

When it finally did ring, the cowgirl stepped back forward, back towards the center of the ring, where she would raise her arms towards Mika, wanting a simple test of strength with the masked woman to start things off.
The moment the bell rang, Mika sprang out of her corner, ready and eager to get this match started. Dixie was already ahead of her, confidently stepping forward and raising her arms for a simple lockup.

Mika wasn't about to disappoint the cowgirl. The Rainbow Warrior lunged in, tying up aggressively with Dixe as the two locked up, collar and elbow, to pit strength against strength.
Dixie dug her boots into the mat, bracing herself as Mika came charging in towards her. She took the lockup head-on, gritting her teeth as she began to push struggle back against Mika, staring the girl right in the eyes as she tried to vie for the advantage over her.

"Give...it...up!" She yelled through her gritted teeth, her arms already straining as she struggled to start pushing Mika back, not wanting to give up any ground in this first round against her.
Page 1 of 16 • 1, 2, 3 ... 8 ... 16



Similar topics
---
Permissions in this forum:
You
cannot
reply to topics in this forum