Champions & #1 contenders
Kawaii Opportunities
Sun Jun 17, 2018 3:04 pm by Daaharu
Hey, guys!
With the kawaii title match at Avalanche taking on an interesting wrinkle with the interruption by the Brat Pack, we are moving forward with the overall kawaii storyline, and at this point I'd just like to take stock of what kawaiis are out there that are interested in participating in a cohesive storyline.
Can't make any promises about titles or what exactly each girl's given role would be. We can talk a little more about the specifics of where the story is going soon, but I …
[
Full reading
]
Comments: 3
Match for Takeichi
Tue Jun 12, 2018 6:13 am by GrandAkumaShogun
So with my other two guys having their own matches I figure I should do something with my first character on here, Takeichi Mori. If anyone is interested feel free to post here or get in touch through a pm so we can plan it out. I can either have Takeichi remain a jobber or begin to work him towards being a more serious competitor.
Comments: 1
Match or RP?
Wed Jun 13, 2018 3:48 pm by Lotuswarrior
I'm just looking to do something while I wait for match replies. Really want to get some characters cemented a bit with a rival or some interactions with other characters here.
If anyone wants to do something hit me up.
Comments: 0
Page 1 of 10 • 1, 2, 3, 4, 5, 6, 7, 8, 9, 10


Best 2/3 Match

First to 2 falls wins.

Pin/KO/Submission all qualify.

Winner may make one demand of the loser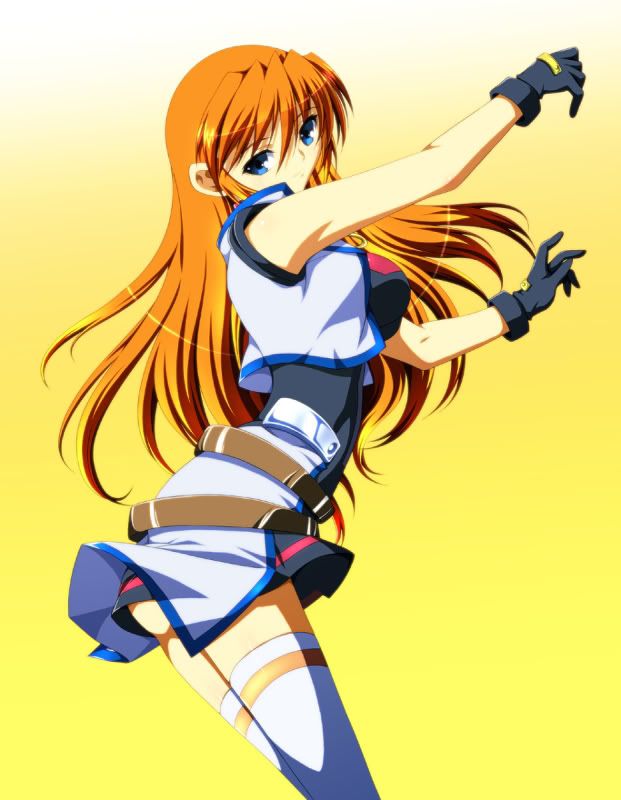 Frankly Tia had had a rough go of it lately. She'd been thrown into these matches against some tough girls that completely managed to get under her skin. She just wasn't the best at holding off those kinds of...advances. But this kind of match seemed right up her alley. She just had to get a couple pins or submissions out of this Kent guy and she could walk out with a much needed win. Honestly Tia wasn't that worried about taking on a guy rather than just getting the match going already. She'd been wandering around the waiting room doing stretches and making sure she'd be at 100% for this match. The girl didn't plan on taking her opponent easy here. While she knew nothing about Kent she assumed he'd be tough. It was always better to assume the worse and then deal with the consequences later. But anyways if he thought she'd be some pushover just because she was a girl he'd be meeting defeat faster than he could imagine.
In her usual outfit Tia knew that fighting the way she was most comfortable would be key. She couldn't let herself get drawn into someone else's pace and have that ruin the match for her. Almost as if breaking Tia out of her thoughts the music started up. The girl grinned ready to head out there and win one. It was a straight forward kind of match, but one where she had to start off strong. Coming back from 1-0 just wouldn't be a good plan against any opponent. All she could hope was that this would be a clean fight.
Hurrying out Tia waved with a smile wanting to keep the people on her side here. Though she heard a few cat calls that made her think of some of her less successful matches. Shaking her head though Tia hurried on towards the ring ready to slip on inside and get this match started. She wasn't really nervous, but just unsettled about waiting. The sooner she could get some hits in the better especially when she knew nothing about what she was up against.
Last edited by 2805 on Wed Dec 19, 2012 1:48 am; edited 1 time in total
Kent found finally get into more actions in the ring, been so long since his last match against the two girls, Lisa Stryker and Sarah O' Sullivan in the handicap match which he manage to beat the two girls on his own without cheating of course, he knew he would beat them and willing to take em out again if he had a chance, maybe after beating whoever this girl is, Tia Baker, then he'll sent an challenge to either Lisa or once again Sarah for another round. **Heh, will the girls willing to face me again after what I've done to them? Lets hope so** Kent thought, he might as well emailed the two and see which one they'll face him in another match and or maybe another handicap match, either way, he sent out the emails to the girls before heading out to the arena to face off against Tia Baker.
He was kind of glad this match isnt hardcore or NHB in such, at least its standard and he wouldnt mind at all as long he gets to break their back! Grinning very confident to take on the ladies, and this one will make no differences. He makes his appearances doing the opening somewhat dramatic scene where golden glitters showering down from above as he appears on stage, flexing his hard muscles in his camo green cargo pants and vest, black boots, adding his hat and sunglasses then heading down the ring seeing the girl just waiting for him, she looks pretty cute and even better when he slamming, stretching, dominating her in the ring inflicting pains to her poor back, he grins while walking up on the steel steps to sliding himself in the ring, tossing his hat and sunglasses into the crowd before walking up to her.
"Well, you're Tia Baker huh? The name Kent Quick, soon to be World Tension Champ, nice to beat you!" Crossing his arms in front of his chest, still keeping his grins on his face just waiting for her to respond and hoping for the bell to ring, he couldnt wait to make her lose to him three times in a row regardless that all he needs is two.
It was a bit of a wait as Tia was curious to see what kind of person this opponent of hers was. She'd heard a few things and he sounded like a tough one to go up against, though his personality was something she'd have to get a feel for later. At least she could for now just focus on winning this match and getting the pins. Tia had no intentions of pulling any punches here and not giving her best. The last thing she needed was another bad match to look back upon. For now she'd just go all out and see how that worked.

Certainly she had to roll her eyes a bit at the flashy entrance. Sure, he had plenty of muscles but it wasn't like Tia was going to be intimidated by something like that. She could only imagine the personality behind that look and flexing. Still, it wasn't like she was here for a personality contest. The only thing to do was beat this guy and celebrate a win.

"Well after you lose to me I doubt that Championship will be soon coming." She replied though a bit uncertain if he was that far along in the Tension league. Still, there was nothing to do but beat this guy into the ground and that's what Tia planned to do. She wouldn't be intimidated by a guy like this.

Not sure about what he was thinking, the girl just decided to charge on ahead. Waiting was never something she was particularly good at, so why bother? Tia moving in quickly trying to fake a straight for Kent's face and follow it up by a round house right into his side!
As Kent confront this girl Tia, she looks pretty good looking with all the right shapes from the top to bottom, he is curious of how flexible she can be when his curious hands could get a hold of her and just ragdoll the girl. **Hmm mmm mmm such a waste though** He thought, the girl will be put a good use for him when he beat her and adding more wins to his record to prove that he could be the next champ of the Tension world, but only he could beat this girl and if he couldnt, then theres no point of going for the belt after all.

"Psh, I'll smack your pretty lips off little lady or better yet, Im gonna break your back and take you to the hospital, hows that?!" His only respond before the match could begin.

Once the bell rings, suddenly Tia comes rushes at him and he was prepare to raise his strong arms in front of him that it looks like she was going for his handsome face, but at the last moment she switch to roundhouse kicking him to the side of the head. "Nughhh!" He stump to the side from the impact, shook his head almost kneeling down, that would pisses him off but he stay calmed like any tough man would be, taking a moment to regain his senses a little and hopefully he could turn around to rushes at her bring his hands up to place against her chest to give Tia a hard shove before back rubbing his head from the blow. "Hurgh!"
"We'll see what you can do. Though I don't think any backs are getting broken today." She replied with a smirk. If it was a straight up fight Tia was pretty confident in herself and wasn't going to back down to a guy like this. He certainly looked tough and might be dangerous though. Tia would just have to start off strong and not let him get a serious advantage over her.

Tia was just glad her initial assault worked like magic. The satisfaction of getting that kick in on his head made her grin and left Tia ready to do this thing. Tia had been ready to charge in and follow up on the attack, but Kent was surprisingly quick to respond. Tia had guarded for a high attack, but gasped in surprise when he shoved at her chest and she stumbled backwards awkwardly. "Hey!" She complained heading to the ropes to build up speed. "That all you have?" Tia said more to fire herself up than anything else.

Bouncing off the ropes she charged right in towards Kent. Faking to get a knee in and instead ducking in to try and get an uppercut to the chin. Her goal being to really throw him off with high shots in this match. To keep herself safe she tried to get behind him after to boot him towards the center of the ring.
Kent shoved her towards to the ropes after he took the attack to the stomach, yet he was able to get some space between as she bounces off from the ropes and come rushing towards him, he was ready to take her down and work on her back as possible, yet when she comes close enough to him he tries to take her down with the right arm out to aim and clothesline her down, but her arm reaches out much faster and smack right to the chin. "NGH!" His head snaps back as he stumbles but his hand tries to grab onto her uppercut arm while his free hand rubbing his chin. "You little!"

Shook his head quickly and pulling onto her arm to tug her right into him, possibly getting her up to his chest and wrapping his massive arms around her slender body to clamp like a bear trap and hoping to catches her in a vicious Bearhug, grinding her body against his hard body as he to squeeze the life out of her. "Hurrrgh!"
Tia had to admit she expected her attack to work a bit better than it ended up doing. Despite charging in there at full speed her clothesline only seemed to stun him slightly, not nearly as much damage as she hoped to inflict. Even worse was getting her arm snagged which made her gasp out and groan knowing that he would have a good chance to do something long as he held onto her. "Just...let go." She complained yanking at her arm not wanting to get grabbed for too long.

Gasping in surprise as she got pulled right into him. Her breasts pressing against his chest as he wrapped his arms around her and started to squeeze. "Guh...agh...." She groaned and squirmed feeling her body getting compressed by those arms and stuck against his body. A few cute cries leaking out, but Tia not willing to quit yet. Yanking her head back she tried a headbutt right into Kent along with kicking at his legs with her own.
Kent was a strong big man, he could handle her little uppercut that'd smack right to his jaw and not for long, he grabbed her to yank right into him where he clapped his arms around her to start squeezing into his favorite Bearhug, crushing her as she cried from each squeezes he compressed her in, and he was enjoying it, the fine lady she is and getting hurt by him onto her back was arousing for him, the pleasure feeling pretty good for Kent but it wasnt for long until she found an opening and smack her forward, headbutting his face and kicking his legs before he grunting and letting go of her. "UGH!"

His head snaps back again and stumble couple steps, dropping down onto his knee and clutching his face, he should of known better that she could still get out from it by simply headbutting him, though he didnt think she would use her face to hit him with. He grunts and his handsome face was nearly messed up, that girl gonna get what she deserved, with more painful back inflicting pain. "Ugh... you little punk!"
It was a pretty painful hold on Tia who struggled and cried out. Her sides and back screaming in agony as he used those arms to try and crush her. Something in his face gave her a bad feeling like he was truly enjoying it and getting excited by it. Last thing she wanted to do was help make this match more enjoyable for him. Plus, if he got off on that kind of thing she really couldn't afford to lose to him. Thus she put everything she had into getting out of that hold. It was rather painful to throw the headbutt, but Tia wasn't the type to hold back because it'd hurt a bit.

"Ow..." She groaned shaking her head. His skull was harder than she thought, but at least she didn't bruise her face. "Who's the punk...you weirdo." Tia replied before racing in to try and grab onto Kent's arm. Trying to just fling him into that corner and keep the pressure on. If she just let him rest and recover then what might happen to her?
Kent face felt quite a bit of pain from her successful attempt of the headbutt done to him, he tries to shake the pain from his head and not for long that she went for the offensive and grabbing onto his arm to pulling him hard to the corner, but the big man isnt going to get pulled that easily by some woman who thinks she can do something like that to Kent Quick, he grunt from the pull as he pretty much tug-a-war with her and he tries to yank her towards him again, hoping for something more painful than before. "Hurgh!"

He tries to pull her from behind as he slides her body across his shoulders before lifting up to grab onto her chin and thigh between the legs, which it feels so soft to the tough, perverty he rubs onto her thigh a little while jerking down onto her body backward to inflict the pains into her spine, just the way he likes it forcefully pulling her body to bend in a wrong way just to weaken her as much as he could, unless she could escape from getting trapped that for too long. "Nghhh!"
Page 1 of 10 • 1, 2, 3, 4, 5, 6, 7, 8, 9, 10



Similar topics
---
Permissions in this forum:
You
cannot
reply to topics in this forum