Champions & #1 contenders
Reduced Post Rate
Tue Jun 27, 2017 12:14 pm by RadiantKarna332
For those who are currently roleplaying with me in threads, you guys may have noticed my reduced post rate. I'm sorry for being so late to inform you guys about this, but due to some real-life businesses, I have no choice but to post infrequently compared to usual. I'm so sorry about that.
So, I will return to my normal schedule next week, so please don't worry about me not posting. Have a nice day.

Comments: 2
Active Kawaiis
Sat Jun 24, 2017 1:25 am by Daaharu
Hey, guys. I'm hoping to get a sense from everyone of where the active kawaii girls are at. No guarantees or anything, but I am looking to figure out who is out there consistently making matches because we are looking to inject some new blood into the kawaii title scene, and I don't want to have tunnel vision on just the players and characters I know.
So, if you've got a kawaii girl who's had at least one match and is currently active, can you let me know either here or via PM or IM? This …
[
Full reading
]
Comments: 6
Ending RPing
Sun Jun 25, 2017 7:04 am by KillerV
After I finishing up couple of threads, I am officially done RPing here. I apologize to you guys currently with me and even the future ones. But I am just tired of it, not going into too much details as it makes me feel like ranting so much, rather not.
But will still be here just to read n respond, as for Trillian, wont able to contact me soon, rather send PM here instead.
Good luck with everything.
Also, NOT gonna give King, rather not see people using him like
[
Full reading
]
Comments: 7
It was a quiet mid-morning in Tokyo and the sun had long ago risen across the AFW complex. Ticket stands were just opening to dole out to the soon to be endless lines of customers, for it wasn't called the greatest show on Earth for nothing.
The was a loud rumble of an engine, followed by two quick revs, breaking the peaceful silence of the day. It grew louder and louder, approaching the AFW complex, and soon the source became clear. A Harley Davidson motorcycle pulled into the parking lot of the complex carrying two passengers. The one driving was clad in a leather jacket and tight fitting jeans that hugged their legs tightly, their face blocked by the black helmet they wore. The other, much smaller passenger, was seated just behind the first's and clinging tightly to the their waist. Also wearing a leather jacket and tight jeans their face was also obscured by a helmet, this one being orange.
Right behind the Harley came two Suzuki SV650s, one being the colour red, and the other blue. Their riders both wore tight fitting white spandex suits, with lines running up the length of them coloured the same colour of their respective bikes. Like the Harley riders, their faces were also covered by helmets that also matched the colour of their bikes. They pulled up either side of the Harley, and at once they all turned off their rides, and for awhile they all sat there quietly before the towering AFW complex. Then, the Harley driver was the first one to remove their helmet, and as soon as they did, long red hair flowed out from under it.
Sarah Gatt grinned widely as she looked upon her old stomping grounds. When she had left, she was the AFW Friction Champion, a title she had no doubt relinquished when she had decided to up and leave in the middle of her reign to take a road trip of Japan. She had grown out her hair since then, and it now flowed past her shoulders as opposed to when it just stopped short of them. Behind her, her passenger removed their helmet, revealing her to be none other than Rika Smart. The younger brawler shared Sarah's grin as she looked upon the AFW, and immediately donned her old skull baseball cap.
Beside them, the two Suzuki riders withdrew their helmets as well, revealing the Ancestors of Isis team of Nha and Sha, Nha riding the blue bike and her twin sister Sha riding the red. Setting their helmets aside the twin companions of Sarah laid eyes upon the AFW, recalling fond memories of the reign of terror they held over this place.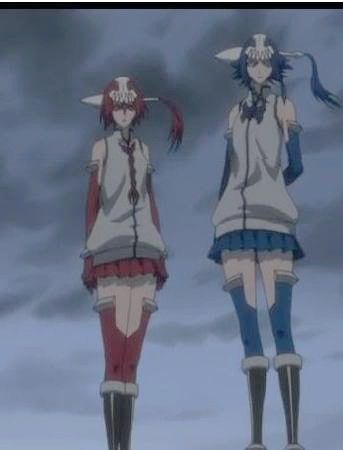 All at once they dismounted their bikes and left their helmets upon them, and as one they set off for the complex. They walked right inside like they owned the place, Nha and Sha holding the double doors open for Sarah and Rika to stroll through. Their arrival caused quite stir. As they marched their way through the halls of AFWs backstage area everyone they encountered gave them a wide berth. Stage hands, referees, even other wrestlers. Whether out of awe or fear no one stood in their path. Within the span of a few minutes word spread like wildfire throughout the AFW. The Queen of Brawl and her crew returned.
The four women continued their way through the complex, apparently having some destination in mind before they finally arrived at it. They all came to a stop before a large thick door, and plastered across the front of said door was a plaque that read in big bold letter: THE GATT ATTACK. Upon reading it Sarah grinned wide, and without further ado set about, opening the door and walking in, the others close behind her, and came face-to-face with the person they had come to meet. "Everything ready?" Sarah asked.
"Of course, Ms. Sarah."
Benikage the ninja bowed graciously before her new mistress, her expression hidden behind the demonic mask she wore over her face. "Everything has been prepared as you asked." Straightening up she gestured at the room they were in. It was quite spacious and furnished. Couches and a television set sat in one corner of the room, while in one corner hung a punching bag. And by the far wall there was a large wooden desk, the kind a CEO sat behind. This was the new Gatt Attack headquarters.
Sarah grinned widely at the new digs, a big step up from the old broom closet they used to use. Immediately she made for the desk, running her fingers along the surface before she came upon the chair behind it. Smiling, she slid into the seat with a satisfied sigh, feeling at home already. Her smile widened, and she looked upon the four women before her with a glint in her green eyes.
"Ladies," She started, showing off a toothy grin. "Mama's got a brand new bag......"



Posts

: 7256


Join date

: 2009-02-08


Age

: 92


Location

: Canada




Similar topics
---
Permissions in this forum:
You
cannot
reply to topics in this forum