Champions & #1 contenders
Looking for a Match: Nanami Tomonari
Fri Jul 21, 2017 6:28 pm by RadiantKarna332
Well, I'm looking for another match, this time for my new character, Nanami Tomonari. If you guys are interested, you can PM me or contact me on Trillian. My name there is radiantkarna332.
If you guys want to see my new character, just click the link below.
http://www.afwrpg.com/t17089-nanami-tomonari-izanami
Comments: 0
Looking for matches
Thu Jul 20, 2017 7:32 pm by Harrier
Once again, I am looking for matches/backstage stuff, especially for Gina and Barb Wire(solo or team).
Please look into my blog for more informations if you are interested. I am as much interested into playing with new players who met my mimimum requirements than with people I literally played years ago. Of course I am also open for your ideas. As I am bathing in my aura of self gratulation right now for all of that, I guess I can say that all of my posting partners could count on me to …
[
Full reading
]
Comments: 0
Mentor: Looking for a Helping Hand
Wed Jul 19, 2017 5:04 pm by Sylvie
Hey AFW,
My girl
Suki Mizushima
is about to finish her
first match.
Suki's learning that she's not the strongest girl at the AFW--not by a long shot. In fact, she's below-average, and if her sister Kaida watches these matches at all, she
will
see Suki destroyed, in humiliating fashion...repeatedly.  
Pobre chica!
Frankly, Suki is headed into dark, lonely spaces I'm not quite ready for her descend into yet, so I'm looking for a mentor who can catch Miss Mizushima before she falls too far. …
[
Full reading
]
Comments: 3
Name: Ishizu Mokka
Nickname: Center Guard
Age: 17
Eyes: Yellow
Hair: Black
Height: 5'5
Weight: 176 lbs
Nationality: Apache
Entrance music
Tamashii no Otakebi
http://www.youtube.com/watch?v=V2b_Y6DZA7Q
Wrestler Type
Physical
Favored moves
Apache War Cry- Lets out a warcry to distract the opponent or strike fear into her opponent.
Apache Death Scream- A cry so loud that it might just hurt its opponent, but she uses this less as it can also harm the audience's eardrums.
Tomahawk Chop- Raises both arms to deliver a karate chop
Tomahawk Tornado- Similar to Mary Riki's Tomahawk Tornado, only when she does it, she uses one arm while spinning towards the opponent in an attempt to knock the opponent multiple times in the cheek with her open hand.
Wood Cutter Hand- A powerful karate chop. The name is slightly exaggerated... yeah... slightly... *Shifty eyes*
Scissors Kick- Delivers a two-legged kick with her legs crossed.
Flying Elbow Drop- Leaps off the ropes and delivers hard slam with her elbow to a grounded opponent's gut.
Guillotine leg drop- Similar to Flying Elbow Drop, only instead of slamming her elbow into the opponent's gut, she slams her leg on the opponent's neck.
Heabutt- Pretty much how it sounds
Mexican Rolling Clutch Hold- She leaps onto the opponent's shoulder from behind and flips her body forward causing the opponent to roll onto her neck and holds the position for a pin.
Finishing Move
Back drop- Ishizu stands behind her opponent and puts her head under the arm of the opponent. She then lifts the opponent up using both of her arms wrapped around the torso of the opponent. Ishizu finally falls backwards and drops the opponent flat on her back.
Match Preferences
Simple matches
Physical Appearance
Personality
Ishizu has a rather short temper and can be angered easily. Despite her aggressiveness in battle, she is willing to make sacrifices if necessary. As her tribal code indicates, she tries to maintain a calm and collective front outside of matches. She shows respect for strong adversaries and can admit when she is too weak to face her opponent. Overall, she's a nice person. She just gets mad a little too easily during matches and can sometimes act childish when a move doesn't work.
Background
Ishizu grew up with a simple life, helping her parents work and all that. One day, a boulder almost crushed her home when a travelling wrestler stood in its way and cracked the boulder into millions of tiny pieces. Ishizu, impressed by this display, wanted to become like this person who saved her and trained hard to become a wrestler. When she heard about Friction, she couldn't help but join as it held promise for her.
Recent events:
During her match with Carol, she was inspired to perform a back drop and it is now her finishing move.
Attire
For the most part, it's what you see in the picture, except that to make herself look a little bit more intimidating, she wears arm and leg guards made from a black bear's skin. Sometimes, she'll even wear bear-pay gloves, but she only saves this for really strong opponents.
Record:
Ashley- X (Ghost Killer)
Carol- O (Backdrop--->Tackle--->Pinfall)
Taylor- X (Holy Lance)
Kazumi- X (Forfeit)
Kima- O (Apache Death Scream+Judo Flip)
Corey- X (Chokeslam)
_________________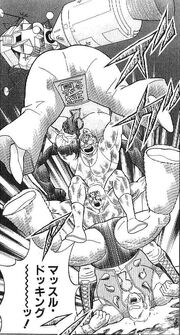 MUSCLE DOCKING!!!!!



Posts

: 1489


Join date

: 2009-02-10



---
Permissions in this forum:
You
cannot
reply to topics in this forum