Champions & #1 contenders
Serious apologies to everyone....
Mon Mar 19, 2018 1:59 am by Cy_Man
To those who I RP with, I just want to say that I am terribly sorry for all my delays that I constantly do. I just have been SO unbelievably busy as of late that I hardly have any free time to be able to attempt to make posts to our threads. I really needed to get his off my chest badly, and it makes me feel like a complete piece of shit for doing this all the time. If you don't want to RP with me, I completely understand, there should be no reason or excuse for me to have to keep you waiting …
[
Full reading
]
Comments: 2
Explanations and Apologies
Sun Mar 18, 2018 10:02 pm by acuya
Okay, so.
As some of you may have noticed, the Entropy Title Match from last year's Summer Splash has come to an abrupt conclusion.
The reason for this is because my match with Lies was taking too long, and with the next Summer Splash coming up, the Entropy Belt needed to be put in play for this year.
I won't get into the specifics of WHY that happened, suffice to say it ultimately comes down to my fault, I think. For those who haven't been here long, back in the day, I had a problem with …
[
Full reading
]
Comments: 1
A match for Takeichi
Mon Mar 12, 2018 7:31 am by GrandAkumaShogun
Since both Imai and Takeshi are currently involved in matches I was wondering if anyone is interested in taking on my first wrestler I made for here, Takeichi Mori. His profile says he's a jobber but I intend to change that and hoping a match can help with that. Anyone interested please get in touch with me on here in a pm.
Comments: 1

Name: Laura Castle
Nickname: Rook
Sex: female
Age: 18
Eyes: blue
Hair: blond
Height: 5'6"
Weight: 126
Nationality: British
Entrance music: Derezzed
Wrestling Information
Style: Laura likes to experiment on her opponents to find out the perfect strategy to use against them, typically keeping her distance until she has figured out a plan of attack that satisfies her. She is most dangerous when she can use her custom made sex toys, considering herself a master of using toys in a match.
Preferred Attacks: Whatever is best suited to countering the style of her opponent. Toys
Preferred Matches: wet and messy, hentai, bed, toys
Combat
Endurance: ★★★★
Strength: ★★★★★
Speed: ★★★★
Defense: ★★★
Technique: ★★★
Wrestling
Strikes: ★★★★
Submissions: ★★★★
Powerhouse: ★★★★★
Aerial: ★★★
Counters: ★★★
Hentai
Endurance: ★★★★★
Defense: ★★★
Arousement: ★★★★
Technique: ★★★★★
Pacing: ★★★★
Finishing moves:
Big Boom: Laura grabs firmly onto one of her opponent's tits if they're big enough, their neck if they are not, and grabs onto their crotch with his other hand, lifting them high up over her head before turning them a bit so their head is pointing forward. If she can Laura fingers her opponent while doing this. To end the move she drops down onto her butt with her legs spread out in front of her, bringing her opponent slamming down onto their neck and shoulders in front of her, never taking her fingers out of them. She can transition into a pin by placing her legs over her opponent's arms and using her arms to grab her opponent's legs, all to keep their shoulders flat to the mat.
Characteristics
Visual Appearance:
In her ring attire:
In her favorite underwear after a swim:
In one bikini:
In another bikini:
In bed but not to sleep:
Eager to see them?: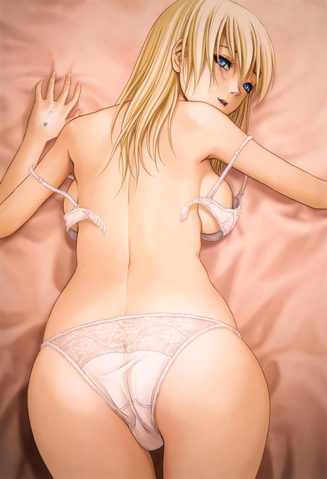 Taking a shower:
Personality: Laura is an inquisitive girl who always loves to experiment and tinker with new inventions, even as a child she could be found constantly taking things apart and at least attempting to put them back together again. While generally upbeat with a cheerful personality Laura also has a sadistic side when it comes to matches, typically not satisfied with just winning a match she likes to use defeated opponents as test subjects for her latest sex toys or for her newest wrestling moves.
Past/History: Laura grew up the child of a single mother who worked long hours to maintain a comfortable lifestyle for her daughter, meaning Laura was often left alone after the age of three giving her a lot of time in which to try and amuse herself. This is where her fascination with how things work began, taking apart anything electrical or mechanical in the house and even as a child managing to put a lot of it back together. Her mother would often buy her toys such as legos and old metal construction sets for Laura to build to her imagination, this would bring joy to Laura's otherwise lonely days which lasted all the way until she entered high school as she was home schooled by her mother when the woman wasn't working.
In high school Laura found herself falling into the classic loner type, but it was not because she couldn't make friends but rather because she rather enjoyed it that way. Like most home schooled kids she was smarter than her peers but she barely noticed that, so lost was she usually in whatever project she was working on at the time. Her inquisitive mind would keep her very busy indeed and eventually she would gain a couple friends who admired her work, though as she got older Laura shocked these few friends of hers by beginning to work solely on sex toys for a while. As was natural for a growing woman who liked to keep to herself Laura had experimented with her body to find what brought the greatest pleasure, but unlike most she began inventing toys to continue her experiments on herself.
When she graduated High School Laura took on a job working for the AFW, not as a wrestler but instead as a backstage worker. It was her job to come up with both new match types and new ways to give the fans the quality entertainment they demanded from the AFW, accomplishing this by making all kinds of hidden cameras that could be run wirelessly and in full HD video and audio. Curious as she is Laura tried her hand at sparring with some of the new talent one day and luckily for her a scout was taking her lunch in the gym, the woman seeing Laura pick apart her opponents and soon decided to hire the girl on as more than a mechanic.
Fun Facts:
Laura likes to invent all manner of sex toys, both for work and on her time off, keeping the best stuff for herself.
Laura has tried her hand at chess a couple of times, each time defeating her supposedly skilled opponent with ease.
She has taken apart her own motorcycle and reassembled it no less than 32 times, each time making a slight adjustment to improve its performance.
AFW Information
Record:
Wins:
Losses:
Draws:
Championships/Accomplishments:
Friends:
Allies:
Rivals:
Enemies:
Crushes:
Last edited by 10067 on Fri May 09, 2014 2:41 am; edited 7 times in total



Posts

: 3861


Join date

: 2012-03-31


Age

: 27





Similar topics
---
Permissions in this forum:
You
cannot
reply to topics in this forum