Champions & #1 contenders
Highfly Flying Out Of Town
Tue May 22, 2018 1:31 am by HighFly
Hello everyone, I just wanted to inform all I have threads with that I will be gone from this coming Wednesday through Sunday. I won't be able to post consistently if at all during this time, but I will try to make up for it next week! I am sorry for the inconvenience to everyone.
Comments: 3
Moonhearts Promo intro thread is O p e n.
Mon May 21, 2018 4:21 am by XSirenX
Feeling brave?, lost?, or without a thread to post in?, hit up the newest Moonheart if any of those apply!
CLICK HERE
What Moon has to offer?, many things...:
Comments: 0
Page 1 of 7 • 1, 2, 3, 4, 5, 6, 7


Standard Sauna match

Win through Pin, submission, or KO. Only allowed attire is one (1) towel. Wrestlers will also be allowed to cover themselves in oil before the match
Having just finished stripping herself down and oiling her body up, Megumi bounced on her heels, her towel in hand, as she awaited the start of this match. She was facing off against a certain Sharaiya Drackanov, an AFW veteran that Megumi knew more by reputation than by actual meetings. Sharaiya was a tough and sexy girl, one of the stronger girls in the league for sure, and even though Megumi wasn't sure how this match was going to go she was eager to pit herself up against someone of that caliber. Of course, she didn't really expect this to be an all out fight that pitted their skill and endurance against one another. This was a sauna match where they were expected to get naked (as the towel wasn't going to stay on for long) and probably do some rather hentai things to each other. That was fine in Megumi's books. To fight at the AFW meant proficiency in both sexual and actual combat, and Megumi was sure that she was more than a match for Sharaiya in both.
The idol made her way first to the venue, which was the largest sauna room the AFW had to offer. Inside the normally unused room (since it was so expensive to run a sauna of this size) was a full wrestling ring. The idol saw that the room was already filled up with steam, so much so that the entire inside of the door was fogged up. She opened the door and a blast of hot air smacked her across her entire body. She stepped in, feeling the heat warm her skin, then penetrate all the way to her bones. It felt extremely good. Megumi enjoyed herself for a moment, letting the camera run its way up and down her body, which was now covered by the moist towel, before making her way into the ring. She rolled under the bottom ropes before lounging in her corner, not wanting to waste energy and heat herself up more by doing some audacious entrance. There would be plenty of heat to go around soon enough.
"Ahh... just let me relax a bit," Megumi said softly as she leaned against the red turnbuckle. Megumi certainly didn't mind Sharaiya taking her time to come to this match. She almost didn't want Sharaiya to show up, that's how relaxed she was. But while her body was relaxed, her mind was focused and ready to give Sharaiya the toughest fight of her life!
[align=center:1m0vq8h1]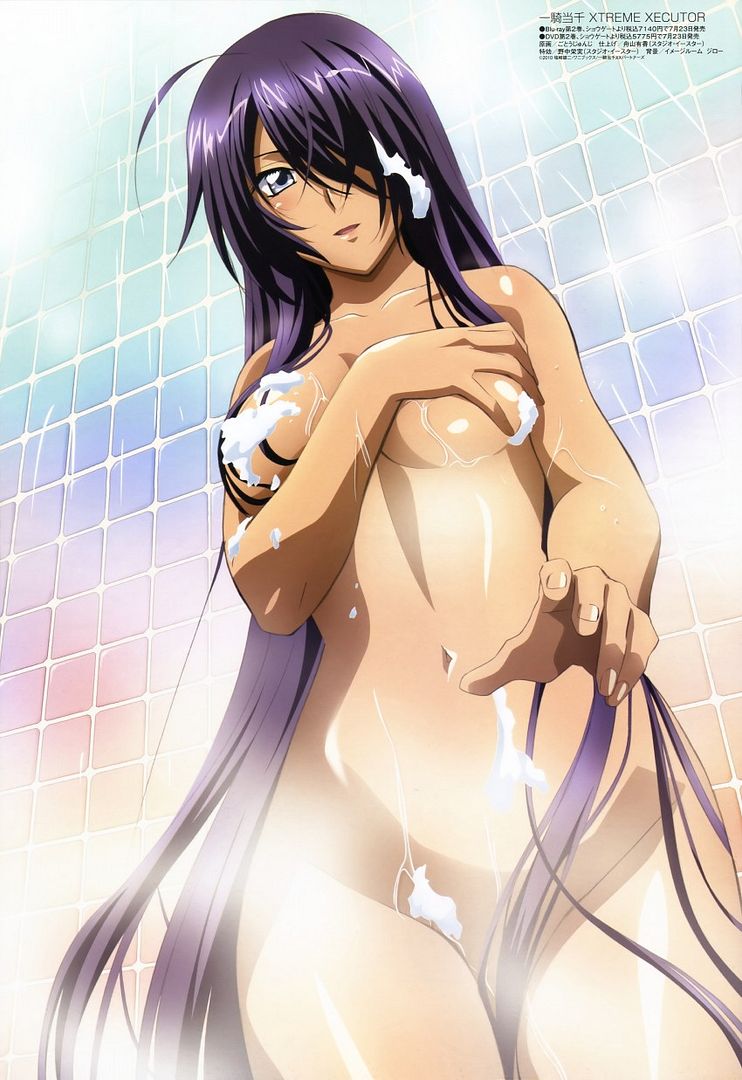 [/align:1m0vq8h1]
From one oil match to another, it seemed that the girls of AFW were either enjoying having the Lunatic Princess in oil, or just like the slippery wetness. Well, at least she was doing a whole lot better then she had done in her very first match against Tana, heck she wasn't that lazy any more, she was enjoying her time in the AFW again and this time, she was going to face one of it's popular idols. Though she had never met Megumi in person, she had heard alot about her, both beauty and power in one body, this was going to be a match that Sharaiya will enjoy. The purple haired beauty was just finishing up with the oil she was given, her entire body filled with it's rather comfortable liquid. After she was sure it was massaged against her entire body, she pulled out her own dark purple towerl from her locker and wrapped it around her waist.
She made her way towards the room where the match was taking place, softly humming to herself as the oil felt quite pleasant and she wasn't sure she even wanted it to be taken off her. Arriving at the door, she would let out a gentle sigh, bracing herself from the heat though when she opened the door and the fog pressed and rolled over her body, a shudder of delight came from the Russian. She quickly stepped in and closed the door behind her, allowing the heat to absorb itsself in her body. The feeling of both the oil and the heat working together in blissful action that kept Sharaiya standing still and just focus on that for at least half a minute before she snapped herself out of it's delightful trance and headed for the ring. It was quite foggy, almost an excellent enviroment to fight and relax at the same time. Maybe after she would best Megumi, she could cuddle up with her in this same room!
Finding the idol inside the ring, she joined her and let out a soft groan of delight when she saw the idol's body. " Megumi, you look absolutely beautiful. " She would compliment the idol right away, maybe it was because this setting was so perfect that Sharaiya couldn't even bring herself to be that competitive, she was definitely going to enjoy this, even if it had standard rules, she was going to play with this idol. " It might be too early to tell but.. This is turning out to be quite the perfect match.. "
Megumi heard the door open behind her, turning around and peering through the mist to see who it was that entered. At first it was only an unclear outline, but soon Sharaiya's sexy form emerged from the mists, her tanned and toned body covered by a purple towel that clung to her curves from the moisture. Megumi licked her lips. She could already tell Sharaiya was a rare combination of sexyness and strength, a true beauty even by AFW standards. She smiled at her opponent, beckoning with one finger for her to enter the ring. After she entered, Megumi stepped right up to the taller Russian, looking at her with a mixture of desire and determination.

"And you look stunning as well Sharaiya-san," she said, "Trust me, I already know this will be a great match." She stepped a little closer, so their busts were touching gently, pressing together a little tighter with each breath the girls took. "Who knows... maybe if you impress me I'll even treat you to a surprise after!"

She gave Sharaiya a cheeky little wink before turning around and walking back to her corner, her barely covered butt swaying from side to side on purpose just for Sharaiya to see. In this kind of up close and erotic match, any kind of distraction would prove to be an advantage. And Megumi knew her body was plenty distracting. She didn't think Sharaiya was the type to get embarrassed easily, so she might have to try a bit harder to get Sharaiya off her game, but she was confident in her abilities. And even if it came down to a brawl, Megumi thought she could go toe to toe with Sharaiya. This, in her mind, was an even matchup.

"So Sharaiya-san, let's get started!" Megumi said, turning around and awaiting the bell that would start the match.
The Lunatic Princess was trying hard not to make a move on Megumi, who came at her so alluringly, their breasts pressed against one another as she synced herself with Megumi's breathing rate so both chests would hit eachother as they breathed in. Still, it was rather hard to breathe calmly, she figured a heated tussle was only going to make it harder, they would have to be careful. " You're amusing too, Megumi. I was thinking the exact same thing if you could impress me.. " She gave the idol a nod when she was ready, the sound of the bell started their match and Sharaiya ran in, though not to tackle Megumi.

Sharaiya wanted to lock up with Megumi and start their match off with a sort of test of strength, she wanted to guide Megumi to her corner to keep her trapped their, plus in this heated enviroment, doing something rash like tackling and missing it, would not be the nicest feeling in the world.
As the bell rang, Megumi pushed herself out of her corner and got into a fighting stance, moving forward towards Sharaiya with the intention of locking up with her. Sharaiya seemed to have the same idea, moving forward with her arms raised ready to recieve Sharaiya's grasp. Megumi still felt a little too relaxed, so she clenched her hands into fists a few times to wake her muscles back up. It would be bad if she didn't use her full strength against Sharaiya; just looking at the Russian's physique told much about her power. Megumi knew that she had to give it her all or else she would be overpowered.

Locking fingers with Sharaiya, Megumi grunted as she pushed hard against the sexy Russian's arms. She wasn't making any progress though, as it felt like pushing a brick wall. Still, Sharaiya wasn't moving her either. Megumi wondered how much strength her opponent was expending right now, hoping that it was her all because Megumi did not want to be surprised.

"Tch... You're strong," Megumi said, panting a little from the heat. She decided a stalemate wasn't what she wanted. So Megumi changed tactics, bringing her arms towards the outside and pushing her body forward. She decided to change this test of strength into a full body contact sexy pushing match, to see whose body was the stronger one! Stepping in, she pushed her breasts against Sharaiya's, sexy toned tummy against sexy toned tummy. She looked Sharaiya in the eyes, her face practically touching Sharaiya's as she pressed her body in against the Russian's sexy nubile form.
And the Lunatic Princess was pressing with everything she had. She wanted an early advantage, pushing with full strength right off the bat but Megumi did the exact same thing, neither one of them moved an inch as it seemed they were on equal ground in terms of strength. " Heh... You're no slouch yourself.. " She would give the girl a wink, complimenting Megumi's strength that she found hard to deal with. Megumi took the lead though when she pressed right into her for a full body push, forcing Sharaiya a single step back before she woul press back against the idol, letting out a gentle sigh into Megumi's face as she stared into her eyes.

The heat was just making it more erotic, even if that was barely possible with both of them being half naked, feeling her breasts squishing up against Megumi's pair, it made Sharaiya let out a soft groan of excitement, it almost made her think that this wasn't a match were it not for both of them trying to get on top of the other. She licked her own lips as she leaned against Megumi's body, trying to force her entire weight forward against the idol. " Not bad at all.. "
Hearing Sharaiya's words gave Megumi some more confidence, as it seemed her opponent was pretty close to her in terms of strength. This made the match much more even in Megumi's eyes. Sharaiya was bigger than her but if they were about equally strong, Megumi knew she could beat Sharaiya if she played it smart. Which was what she did with the full body push. It was simultaneously a surprising and distracting attack, and with Megumi's strength a dangerous one too. She forced Sharaiya back a step just from moving to this position. But Sharaiya recovered quickly, and pushed her body back up against the idol's. Megumi felt like she was pushing against a brick wall. Sharaiya was softer and her body felt nicer, but she was just as unmovable.

"Back at ya," Megumi said through gritted teeth. The idol grunted as she pushed as hard as she could to force Sharaiya back. But she was making no progress. Megumi decided enough was enough. She pulled her hands out from Sharaiya's grasp, wrapping them tightly around the girl's lower back. "Let's see how you like this!" Megumi said, as she tried to lift Sharaiya up first in a tight bearhug, before throwing her over backwards with a belly to belly suplex!
Sharaiya loved the close contact she had with Megumi, it was definitely pleasant and welcoming in this steamy room that they were fighting in. She wanted to press against Megumi, trying to find a way to break the girl's strong push while maintaining her own but it seemed the idol had something different in mind, suddenly those hands removing themselves from her own and then the pair of arms around her waist and even hugged tightly against the idol's body and up. " Ngh! Didn't expect this--aah! " Then she was suddenly thrown over Megumi and onto her back by that follow up suplex, making the russian fall flat on the back, her towel loosening from the impact.
The suplex worked like a charm as Sharaiya hit the mat with a wet thud. Megumi quickly rolled up and got o her feet. Sharaiya wasn't expecting that attack, that was for sure. She was going to be stunned for a few moments, Megumi thought. The idol also saw the towel loosening around Sharaiya's body. She knew the Russian was probably as shameless as her since she took this match, and that perhaps fighting naked in this hot environment was better than fighting with the moist and hot towel. Megumi considered taking her towel off, but decided to give Sharaiya the chance to do that instead, whenever the Russian got such a chance.

"There's more where that came from!" Megumi said as she jumped up and tried to land on the Russian's stomach, knocking the air out of her with her butt. If she was successful, Megumi would plant her hands on Sharaiya's breasts and give them a rough groping to humiliate her, pushing down as well to secure and early pin!
The Lunatic Princess was left sprawled out after that hit, she was surprised that Megumi did that before her, she was actually out to try and overpower the girl in that lock that she completely forgot about using that strength against her opponent properly. Before she could get back up though, the idol came down upon her stomach, making the oxygen leave her lungs while her breasts bounced from the slam, though soon they were caught by Megumi's hands, who began to give those firm yet soft breasts a rough treatment while Sharaiya was trying to get some air back into her starving lungs.

While she was trying to summon that strength though before she could concentrate, a referee came down to start the pin count, though that referee was well.. Naked.. " One! " The first count came, Sharaiya inhaling as much air as she could and arched her body up to try and break the pin.
Page 1 of 7 • 1, 2, 3, 4, 5, 6, 7


---
Permissions in this forum:
You
cannot
reply to topics in this forum