Champions & #1 contenders
Highfly Flying Out Of Town
Tue May 22, 2018 1:31 am by HighFly
Hello everyone, I just wanted to inform all I have threads with that I will be gone from this coming Wednesday through Sunday. I won't be able to post consistently if at all during this time, but I will try to make up for it next week! I am sorry for the inconvenience to everyone.
Comments: 7
The Austrailian Mudslide is Back.
Sat Apr 21, 2018 6:20 am by Softsquad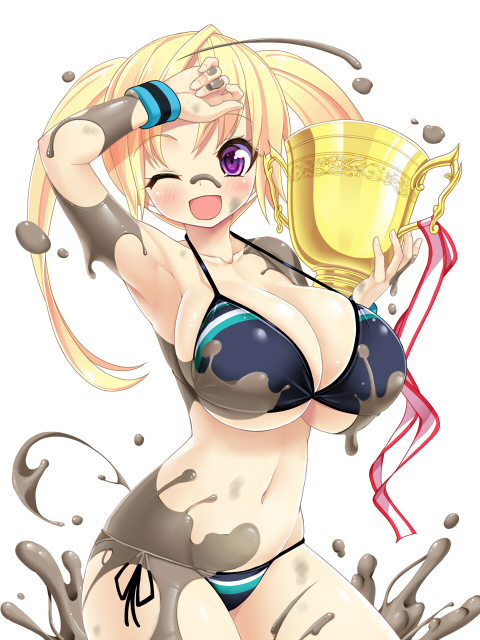 Granted that most of you won't know me or remember me, but I've had a few matches here and there some time ago. Well I think its time to become a regular around here and try to have some fun again, but at the same time keep coming back. Anyway I think its time to jump into some matches with Zoe Taylor, my mud wrestling character from Australia and get her back into the squared circle. Furthermore I will update my characters as I think some proper changes need to happen.
So if anyone would …
[
Full reading
]
Comments: 5
Page 1 of 5 • 1, 2, 3, 4, 5


NHB Match
Win by Submission/Pinfall
Winner does whatever to loser.
The animal, the beast, Killer King hunting for more prey to play with and he's booked to face up against Eva Mayu. **Sound like a delicious opponent to me** the sick monster licked his lips as he puts on his signature black leopard mask and adjusting it to fit perfectly, changing in his locker room into his white n red tennis shoes, pants with white flame-like designs, black n red wrist guards, and flexing his hard muscles in front of the mirror just freaking strong. "Rahh... that bitch is going down!"
After that, he took off from the locker room and heading to the arena where he'll beat that girl down to the count, his music starts playing and as soon it does, the crowd roaring out loud booing at him due to the reputations he have, just destroying ladies left and right making an impact in AFW, finally the beast shows up and raising his arms while standing at the center of the ring, roaring out loud with the light fireworks of yellow sparks behind him, he responded to the crowd with his fists up at him as he heading down to the ring, then looking up to grab onto the ropes to pull himself in, again, raising his arms up while the beast climbing up on the turnbuckle and roaring even more to the booing obnoxious crowd. "Fuck you! RAHHHH!" Finally, he hopped off the turnbuckle and turning around looking out at the entrance, lowering himself with his hands on his knees, checking out of what this girl look like and see what kind of moves he'll be enjoy using on her. "Mmm mmm, come on out girl.... your ass is mine!"
Last edited by 6075 on Mon Dec 17, 2012 5:17 am; edited 1 time in total
Eva was beyond nervous for her first match. Sitting on the bench in front of her locker after changing into her standard match outfit of tight spandex that fit her curves perfectly, she would take in a few deep breaths. After all, what was there to be nervous about? Aside from the cheering, gawking audience, the possibility of losing, and being utterly humiliated in front of thousands of people... yeah, there was a lot to be nervous about. Eva had trained in high school as a wrestler for the team, but that was nothing compared to how this felt. She never performed in front of an audience this size, not NEARLY this size. And on top of that, her opponents were always in her weight class, and she was a very light girl at only 102 pounds. She had read up on who her opponent was. This, Killer King. Just his size enough was to make her want to puke from nerves. He was almost a whole foot larger than her, and more than twice her weight. If she was at a bigger disadvantage, she'd cry. Not that she didn't already feel like doing so.
With one last deep breath, Eva stood up. "You can do this Eva. Mind over matter... mind over matter..." she repeated to herself, trying desperately to calm herself before the match. When one of the personnel came in and told her it was her turn to enter, she gave a firm nod and made her way to the Entrance of the ramp. This was it, here and now, this was it. Once her music began to play, even would put on her bravest face and move out into the bright lights of the arena. Cheers erupted from the audience when the purple haired girl made her way out. She wasn't expecting such a warm reception. Then again, that might have to do with her opponents reputation, which was not all that great from what she could understand. She made her way down the ramp, looking up at the ring. Her heart sank a bit. He was DEFINITELY bigger than she had expected. An entire foot of height difference felt so much bigger when you saw it in person.
Remember Eva, he's big, but slow
, she told herself. That didn't help her much at all.
Climbing up into the ring, Eva would move to her corner, not wanting to get too close, too fast. God forbid he got his hands on her too early. it could be over before it started. She kept her eyes on the giant man, Killer King, awaiting he inevitable start of the match, which was sure to be one of the hardest challenges of her life.
King waiting patiently for his opponent and not sure what she looks like, prefer to get excited and surprised of how fine this girl can be, thinking all the painful possibilities he could do to her but for now, setting his mind and see what she looks like, small or big, thin or muscular? Whatever it may be, he'll break em down to size. Once she makes her appearances, King's eyes looked on focusing any sudden movement from the entrance and there she is, a girl in that fine tight spandex and shes quite small too, fun for King to throw around in the ring, grinning widely under his ferocious leopard mask, just watching her entering the ring with the deadly beast.

"Well who the hell are you? Eva Mayu isnt it? Never heard of it but then again.... someone been 'feeding' me some newbies to play with hah!" King slowly, feeling very confident as he stop about few feet and lean forward to get into her face, speaking in a slow deep intimidating voice. "Ready to turn... into a jobber?" He leans back out and slowly gets into his stance and ready to go, waiting for the bell to start dinging so he can pounce onto her. "Dont disappoint me now, your body will feel all the 'excitements' soon enough!" As soon as the bell rings, King hopes he could get in close to her enough that he can snap his right foot out aiming right to her stomach just to watch her double over, if he could course. "Hurah!"
It was scary, to say the least, being face to face with a man his size. Eva had never wrestled someone outside of her weight class before, so she didn't really know what to expect, aside from the fact that throwing him was pretty much out of the question. There was no way she was going to be able to throw a man who easily weighed over 200 pounds. She could barely bench press over 100, let alone 200. Still, she put on her bravest face when King moved closer, putting hiw own face near hers. "I'm no jobber. And I'll prove it you... monster!" she would shout at him, watching as he moved a way a bit and got into a stance. Eva would do the same, getting ready for whatever was to come.

When the bell rang, King made the first move, snapping his right foot at her, aiming at her mid section. To her surprise, she was right on the money. Big and slow, she thought to herself. Eva would use her speed advantage to sidestep, just in the nick of time. Assuming her wasn't quick enough to stop her, Eva would attempt to send a punch straight to King's gut, as hard as she could, hoping it would have enough effect for a follow up.
With King face leaning up right to hers, she was impressing King as she stood there not moving nor showing her feared face, when he said to her, his 'famous' quote, he chuckles at her respond and said. "Haha! We shall see about that little girl!" Then backing off and getting into his wrestling stance before the bell rings, once the match gets started, he moves in leering at the girl and soon enough, he kick out his right foot for her stomach hoping to catches her off guard but she was quick, quick enough to avoid getting hit and just right after dodging his foot, she comes right in hitting his hard abs as she could where King grunted lightly from her punch. "Unnnn... nice shot there... twerp!"

What he loves about taking on his opponents, for most of em that is, is that they're weak and light weighted, but of course some actually managed to beat him and most lost to him within minutes. So compared to him and this girl Eva, her only abilities she could use again him is with speed, the beast didnt get angry from getting hit to the gut but instead, he tries to snap his hands out reaching for her throat and hopefully he could grab her and using her throat to lift up, hanging in front of him and watch her struggle for his own sick fun. "Hurgh!"
Eva knew that if that kick had connected, she would have been in some serious trouble. There was no telling what the giant man, King would do to her if he got the right chance. After dodging his kick, she would send a punch straight to his gut, effectively doing... almost nothing. She felt a trickle of sweat run down her face. He was strong, strong enough to take her strongest straight punch with little difficulty. This was bad. It would only get worse, as she found Kings hands around her throat, lifting her clear off the mat.

Eva's eyes went wide from the sudden strain on her neck, and due to the lack of air she was getting. Her legs kicked helplessly, trying in vain to try to get any foothold she could to relieve the pressure of her own body weight pulling down on her neck. The only thing that kept her from being in worse pain was that she had a firm grip on King's wrists, helping to hold some of her weight. This was very very bad. She had to act fast, or King would have her for sure. Thinking quickly, and out of pure desperation, Eva would lit her legs up to her chest, and kick them out toward King's chest, hoping that the force of the double kick would force him to not only let go, but to get him to back up a few steps at the very least.
King stood there after his missed kick to her stomach, she counter attack him with a somewhat her hard punch hitting right to his hard abs, it does sting just a tiny bit which it definitively didn't take him down nor making him double over either, just slightly as King looked at her with a smirk hidden under the mask, small light evil chuckles seeping out from his lips, King can feel this match going to be easy as dominating a jobber, which he could really that dream come true. "Is that all?!"

Without warning, he reaches out for her throat with both of his strong hands to clamp right around it and up she goes! He chuckles a bit louder than before but was washes down by the crowd booing over him, makin him more irritated as his hands tighten more around her neck, in his mind he wanted to shout at the crowd. **you know people, you're the one causing ME choking her even harder!**. Looking at her fine body as he couldn't wait to use her like a ragdoll throwing her around in the ring, treating her like a test dummy to see how much she could handle it. "Bwhahaha!"

While he was laughing, very confident man beast he is, not realizing her body were moving in his hands until he stop his evil laughs to looked straight in front of him and see her feet against her chest, his eyes wide open under the dark leopard mask and out she kicks! Kicking hard right to his chest causing him to let go of her throat and stumbling backwards to the ropes to keep himself up standing. "Son of a bitch!" He felt really embarrassed when that happen, even the crowd growing laughter at him which he gotten even more angrier than ever, more like her biggest mistake to tick King off. " Rahhhhh!!!"

King roared out loud to everyone and to Eva, he glares at her and pushes himself off the ropes, slowly movin towards her and stomping down on the mat like a mad man, his hands tighten nearly white as snow just could wait to teach her a big lesson, 'never make King mad'.
When Eva's kick managed to get him to let go, and push him away to the ropes, she would fall to the mat, sucking in air desperately, and coughing immediately after getting some. His grip had been hell! And all he did was choke her. She didn't want to imagine how bad he could hurt her if he got his hands on her in any other way. She was thankful that she managed to get out of his grip, but thanks to the intense strain on her neck that her own weight put on her, she was definitely feeling the effects as she tried to get to her feet. Her legs felt a little wobbly, but she managed to stay up, and not fall back down, completely helpless.

Though, it seemed she may have gotten out of the frying pan and into the fire, as King started to approach her, looking BEYOND pissed. The crowd had even laughed at him. Had this really happened so rarely that it warranted laughter? In a way, it made her feel a little good. She managed to best this beast with just a few small moves, effectively pissing him off and getting the crowd to mock him. It brought a slight smile to her face, which quickly went away as he got closer. Not wasting any time, Eva would try to send a kick at King's gut, hoping to send him back a few steps at the very least.
King always angry with things that didnt pleased him, from people laughing to getting humiliated or even worst losing a match, which he definitely wouldnt take that in this very ring against Eva, he would flip out if she manage to beat him, that would completely ruined his reputation for sure, all that thinking just pissing him off even more than ever, pushing himself out from the ropes and out towards her as shes struggling to breath thanks to the tight grip to the throat, hanging her up in the air just only for few moments before she miraculously escaping the beast's hands, now coming back to her once again to beat the life out of her.

Once King storming his foot down closer to her, he can feel his tight fists just waiting to send out full force of pain right into her tiny body. Eva then kick her foot out right at his stomach, he growls lightly as he went to grab onto her kicking leg and with his free hand, again to reach for her small throat to hold her tight and shouting at her. "Think you'll hit me again?!" King then tries to release her leg so that hand could go down and cupping her crotch before lifting her little body up and above his head, showing off his strength to the hungry yet rude crowd, body pressing her up and down before he would drop her behind him, thinking she'll landed on her front, maybe her face as well, not bothered to turn and check, just gonna wait and let her scream in pain from the landing as he moves up to the ropes, roaring at the crowd. "RAHHHHH!"
Eva couldn't help but feel a twinge of fear, seeing King so worked up. Surely he was a mad man. How could he not be? Something so simple as being pushed back by her got him so angry? He must have some serious problems. Even so, she didn't want to get caught by him, so she would kick out, hoping to hit him in the gut. But it would seem he had other plans for her. He managed to catch her leg with one of his arms, and as he did that, grab her by the throat once again. She couldn't believe he was doing it again! She would try to pry his fingers apart, but he was definitely a lot stronger than expected. Her eyes would shoot wide once she felt his hand shot to her crotch. Unable to protest due to his grip, she could do little else but squirm as she was lifted well over his head.

It was high... scary high. Fear ripped through her as she knew exactly what was to come. Once he let her go, ot was a free fall, until her body slammed down onto the hard mat below. "AHHH!" she screamed, rolling onto her back and covering her now aching face and chest, having landed on her front. Such a simple move had caused such unbearable pain, and left her completely vulnerable to King for a follow up.
Page 1 of 5 • 1, 2, 3, 4, 5


---
Permissions in this forum:
You
cannot
reply to topics in this forum