Champions & #1 contenders
The Austrailian Mudslide is Back.
Sat Apr 21, 2018 6:20 am by Softsquad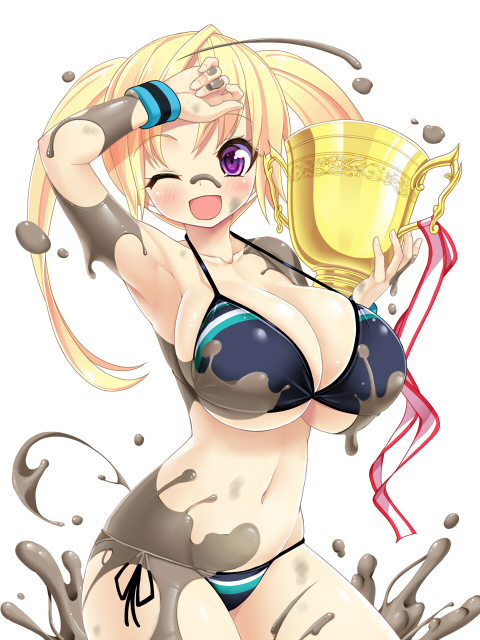 Granted that most of you won't know me or remember me, but I've had a few matches here and there some time ago. Well I think its time to become a regular around here and try to have some fun again, but at the same time keep coming back. Anyway I think its time to jump into some matches with Zoe Taylor, my mud wrestling character from Australia and get her back into the squared circle. Furthermore I will update my characters as I think some proper changes need to happen.
So if anyone would …
[
Full reading
]
Comments: 4
Looking for debut thread.
Sat May 12, 2018 9:28 pm by Hedgehawk
Hello All.
I am looking for a debut for my girl Trinity (http://www.afwrpg.com/t18107-trinity-cordova#495678).
This doesn't have to be a match, it could be a gym battle, interview or anything else. I just want something to help get Trinity off the ground. If you wanna plot feel free to reply to this message or fire me a PM.
Many thanks in advance and thank you for reading my message,
Hedge
Comments: 0
Page 1 of 10 • 1, 2, 3, 4, 5, 6, 7, 8, 9, 10


A couple of days had passed since Azami's debut match, which ended gloriously for her. Today, the blue haired princess was relaxing at the indoor pool not too far away from the AFW building. She was lying on a bench on the poolside, her long blue hair, and bikini was still wet as she had just gotten out from the pool a few minutes earlier. The place was surprisingly quiet today that it almost felt like a private pool, but that's all the better for Azami. This was she felt that she could relax and enjoy her time to the fullest without being disturbed by unnecessary noises of other visitors. Taking a sip from a glass of iced lemon tea she ordered, the blue haired girl would let out a relaxed sigh before she put the glass on the round table next to the bench.
"Ahh... if only this place could be like this everyday..." she said softly to no one in particular, thinking out loud.
Covering herself with a towel, Azami would close her blue eyes as she's thinking of lying down for a bit before having a nice shower and returned to her apartment. The quiet place helped her to relax and fall into a half sleep state. She was only hoping that she wouldn't fall asleep for real.
To say Sora was smarting from her loss to Tsuki-hime a few days earlier would be an understatement. After her debut, she'd thought she'd been good enough to mix it with the best in AFW, but her humiliating defeat had brought her right back down to size. She'd been keeping low for the past few days, especially after she'd seen a picture of Tsuki posing on top of her, while she was laid out below her foot. Her feelings were mixed between absolute humiliation at how she'd been beaten, and a want for revenge on her opponent. Training for so long, almost her entire life, and to then be so thoroughly beaten was frustrating and annoying. To be humiliated on top of that was just infuriating.
Sora had been lucky that she'd been able to get an apartment only a few blocks away from the AFW complex, and she'd been beginning to make it a habit of heading down to the pool that wasn't too far away from both places. As she stepped out of the changing room, she noticed the pool was almost deserted today. It wasn't a huge surprise for Sora; she'd seen it both packed and almost empty before, it was just a case of picking the right time. It wasn't completely empty though; there was some girl almost asleep with a towel over her. Still, Sora didn't take much notice of her as she placed her towel and clothes down on an empty deck chair near the pool, and moved towards the deeper end of the lap pool in her blue and white striped bikini. Diving in, she'd begin to swim laps back and forth, concerntrating on her strokes.
Last edited by 10193 on Sun Dec 30, 2012 2:13 pm; edited 2 times in total
The sound of splashing water caused Azami to open one of her eyes, and she noticed a girl swimming on the empty pool. She was about to ignore whoever it was and continued lying down when she thought she knew the girl. Azami opened both her eyes and leaned forward to finally notice that it was Sora, the girl she fought on her debut match.

As she was briefly remembered what happened during their match, especially at the end of it, Azami put her hand in front of her face to hide her smile. It's not like she hated the girl or anything, but she had a feeling that Sora might held some sort of a grudge because of it. Azami herself always thought that what happened on the ring stayed on the ring. It's a part of her job, and if she happened to make any enemies out of it... well, such is life, she thought to herself. Still, there might be a chance that Sora saw things differently, sharing her thought that it's all just business and nothing personal, which was why she decided to take her chance.

"Oh my, Mizumi-san?" Azami greeted her as she stood from her bench and walked towards the pool's edge. "What a coincidence meeting you here, ohoho~" she said in a friendly manner, placing her hand in front of her mouth as she laughed softly.
Swimming laps down the pool, Sora could only hear a muffled voice as the water lapped up against her ear. At first she took no notice, not properly hearing Azami call her name. However, one thing did come through the water clearly, and that was the blue haired girlâ€
s distinct laugh that Sora instantly recognised from the ring. Sora would almost freeze mid-stroke, accidentally swallowing a bit of water in surprise.
"PFF, T-Tsuki?! Wh...what are you doing here?" Sora would call out as she up righted herself, treading water in the middle of the pool. A slight tinge of red would come to her cheeks upon seeing the girl, making her evil eye not quite so menacing. Had Tsuki followed her here to taunt her even more? Sheâ€
d heard that some of the girls in AFW took their wins and losses a bit more personally than in other sports. Still, Sora wasnâ€
t so much angry at Tsuki, but she was angrier at losing the match in such a fashion, and being so...humiliated.
Okay
, she thought to herself,
maybe I am a bit angry at her, but not personally. Just professionally.
After all, what was so necessary about making Sora cum in front of the entire audience after she'd beaten her? And then posing like that? Sora's blush would deepen a bit just thinking about it.
Azami chuckled at Sora's reaction to her calling. It seemed that she kinda did some mental damage on the girl judging by the blush the girl had on her face. The blue haired girl would sit on the edge of the pool, her legs dipped in the water while her hands placed on her sides. She gave Sora a gentle, but still teasing smile.

"Oh, I was just relaxing, you see..." she glanced at her seat a few meters behind her, the towel that covered her body was on the bench now. "Are you working out? It seems that your body is already fit again. I was kinda afraid that I broke you... Ohoho~" she put one hand in front of her mouth to cover her signature laughter.

Azami would lightly swing her legs in the water, while still looking at Sora with her teasing expression. She wasn't sure whether the girl was angry at her or not. Regardless of what the girl felt, though, Azami thought that she would try to be nice to Sora now that they're not on the ring. Unless, of course, the girl decided to attack her out of revenge or something.

"Ah, sorry... I hope I didn't remind you of any... unpleasant memories... I had nothing personal against you, Mizumi-san," she would say with a smile.
Seeing Azami's reaction, Sora believed her. If she wanted to get back at her, she'd have been a bit more aggressive. Still, it didn't stop Sora keeping a close eye on her clothes on deck chair at the other side of the pool.

"Ahh, oh right, I didn't know you came here too."

Hearing her laugh though, Sora would blush deeply and sink her chin into the water. "W..wha-? Broken me? Jeez, n-no, I'm fine...was a bit sore afterwards, but I'm okay now. You're finisher's really strong though..." Sora would let out, tilting her head a bit away from Azami. "I've never been in a submission move I couldn't break out of before. It was a bit...humbling. Um..."

With Azami now sitting with her legs in the pool, Sora would begin slowly making her way closer to her. Sora wasn't one to hold a grudge, but losing was something new to her. She'd always been the top girl, top of her class, any loss just a minor setback with an excuse behind it. But against Tsuki...well, there was none. She was just beaten by the better girl; that was it.

"I...it's okay. I know you don't, and neither do I for that matter...I mean, I...I'm still a bit pissed off about what you did to me, and I don't really understand why. But I don't have anything personal against you Tsuki-hime."
"I see, that's good to now," Azami replied with a pleasant smile on her face.

It's good that Sora didn't seem to hold a grudge towards her after what she did to the girl on the ring during their match. It'd be nice if they could be friendly outside the ring, while keeping their competitiveness whenever they're pitted against each other on a match.

"Oh, thank you. I came up with that myself, ohoho~" said the blue haired girl as Sora complimented her finishing move.

Azami wasn't bothered as the girl slowly began to swim closer towards her. She continued swinging her legs playfully in the water, even when she heard Sora said that she was a bit pissed about what happened in their match. It's only normal after all that one would be pissed being forced to beg and cum in front of the audience like that. Maybe she did go a little overboard.

"Good!" said Azami with a delighted expression. "I'm glad that you didn't take it too personally, Mizumi-san."
Swimming over to the edge of the pool, not exactly next to but close to Azami, Sora would lean up and grab hold of the ledge, resting her arms out of the pool to hold herself up. Being short came with the disadvantage that she couldn't actually stand up anywhere in the pool except right down the shallow end. Holding on, treading water, Sora would have a little half sigh, half giggle at Azami's comments, especially seeing the girl's face light up with delight knowing Sora wasn't angry at her.

"-san now? It was -chan in the ring" Sora would say with half a smile. "I'm curious though Tsuki, why you did...what you did. Like, not cause I'm angry but...I just want to know." Sora would say, looking up at Azami as she sat there, making little waves as she softly kicked away at the water. Sora's expression was one of genuine interest than anything else. She was a lot more open to Tsuki now that she thought her intentions were genuine; she seemed like a really nice girl. Which just made her actions in the ring all the more puzzling to Sora.
Last edited by 10193 on Tue Nov 27, 2012 6:53 am; edited 1 time in total
"Oh, you prefer to be called with -chan, instead?" Azami teased and chuckled. "Hmm, why indeed..." said the blue haired girl as she tilted her head to the side a bit, smiling to Sora but didn't answer the girl straight away.

"There's a few reasons actually," Azami would say afterwards as she looked away from Sora. "The first is that you're cute, and sometimes I can't resist myself to do that sort of things to cute girls~ Ohoho~" she explained, looking back at the girl with a teasing expression. "The second... is a matter of putting a good show to the audience. It's all just business, so to say. The place we're working in is a unique one, you know?"

The blue haired girl would gave a pause afterwards, wanting to see how Sora would take her reasonings. They're might just sounded like excuses, but she wasn't lying about Sora being cute and all. Her smile would then turn into a slightly mischievous one as she's about to give the most blunt answer she could came up with to the girl.

"But the most important thing... because it's fun."
Leaning up on the ledge of the pool, Sora would listen carefully to Azami's explanation, staring straight ahead. Upon hearing Azami calling her cute, her cheeks would turn red once more, but Sora found herself nodding in agreement with Azami when she was talking about putting on a show. It was certainly the angle Sora sympathised with most, although it did bother her that the show was at her expense.

Upon hearing Azami's third answer though, Sora wouldn't respond. Fun? What did that mean? Fun humiliating her in front of all those people? Or fun just playing with her in general? Who knew. Sora pondered over it for a few moments before turning back up to face Azami. "So, you would have left me alone if I wasn't as cute huh?" she'd tease, reaching her closest hand out to rest it on top of Azami's knee, slowly rubbing it back and forth. "I knew you were oggling my butt all along." Sora was more curious than ever now. It was all business, but it was also fun. So, what Tsuki would do now Sora couldn't even guess.

"You're a really good opponent Tsuki-san. I enjoyed fighting you, you're a challenge I haven't faced in a long time, if not ever." she'd say honestly, openly, looking up with an intrigued look on her face, her hand still resting affectionatly on Azami's knee.
Last edited by 10193 on Tue Nov 27, 2012 7:49 am; edited 1 time in total
Page 1 of 10 • 1, 2, 3, 4, 5, 6, 7, 8, 9, 10


---
Permissions in this forum:
You
cannot
reply to topics in this forum