Who is online?
In total there are
62
users online :: 13 Registered, 0 Hidden and 49 Guests :: 2 Bots
acuya
,
bricktown
,
Cicilia
,
Daaharu
,
Harrier
,
LilyStar
,
Lobo
,
LunarWolf
,
OmegaVan0
,
Person
,
RadiantKarna332
,
Tarantulust
,
Teenwrestler
Most users ever online was
390
on Tue Jan 02, 2018 2:02 pm
Champions & #1 contenders
Kawaii Opportunities
Sun Jun 17, 2018 3:04 pm by Daaharu
Hey, guys!
With the kawaii title match at Avalanche taking on an interesting wrinkle with the interruption by the Brat Pack, we are moving forward with the overall kawaii storyline, and at this point I'd just like to take stock of what kawaiis are out there that are interested in participating in a cohesive storyline.
Can't make any promises about titles or what exactly each girl's given role would be. We can talk a little more about the specifics of where the story is going soon, but I …
[
Full reading
]
Comments: 3
Match for Takeichi
Tue Jun 12, 2018 6:13 am by GrandAkumaShogun
So with my other two guys having their own matches I figure I should do something with my first character on here, Takeichi Mori. If anyone is interested feel free to post here or get in touch through a pm so we can plan it out. I can either have Takeichi remain a jobber or begin to work him towards being a more serious competitor.
Comments: 1
Match or RP?
Wed Jun 13, 2018 3:48 pm by Lotuswarrior
I'm just looking to do something while I wait for match replies. Really want to get some characters cemented a bit with a rival or some interactions with other characters here.
If anyone wants to do something hit me up.
Comments: 0
Page 4 of 5 •

1, 2, 3, 4, 5


Sephora panted lightly as she curled up in a defensive position, her eyes were in total focus as Gil'dala had suddenly taken measures to a whole new level. Seeing Excalibur planted in the ground as it was, she let out a growl of disgust. However, seeing the demi-god unleash her armory had left Sephora baffled. Her eyes were riddled glaring at so many fabulous weapons of legend most were too old and archaic for her to identify. However, the weapon that she had chosen had a great deal of foreboding about it. With Crateris in hand, she repaired her wing as a golden light had healed the wing up. Gripping the blade with two hands, she looked on unafraid but on edge as she simply had no idea what she was up against. However, every weapon the demi-god had pulled out so far were all pretty amazing and yet she had survived all of them. Yet, she still felt so wary about this lance, it slightly disturbed her.

"Such arrogance...befits you..." Sephora proclaimed. "... you think I'd quiver from a weapon... death has found me and will find me unafraid. A knight knows no fear nor does his resolve weaken!"

She crouched down as wind began to surge around her as she prepared herself to take flight with her sword ready to swing as she reeled it back
Gil'dala for once in this entire encounter had a truly serious expression, if there was one thing she hated more than anything it was that one of her prized possessions got scratched or dented in any way, and her hair was one of them, which was why Gil'dala was pretty serious about hurting or possibly killing Sephora.

She looked on as the little angel like girl got her wing back and decided to show herself getting ready, the mighty Gil'dala though would raise her lance and point it towards Sephora, she'd keep her serious expression and then let out a soft voice that carried only disaster, " Breaker of worlds, ruler of power...bring about disaster." And with that her lance would shine brightly with the same kind of red like glow as her spacial magic that held her arsenal of weapons. With that she would thrust the lance forward and point it towards Sephora. " Begone...mongrel." the blond goddess let out before a great red light would fire out of the tip of the lance, and burn and break through anything it's path, the pillars the ground and the walls, there was no telling how far the mighty magic traveled as it made glass of the sand in the temple and the desert outside the temple it passed, if Sephora was fast enough she might be able to get away from the mighty power of the Goddess of desire.
Sephora stood her ground as she squeezed tightly onto the grip of her sword as she prepared her own attack as well. The blonde knight lifted her blade as she felt an incredible sense of foreboding but she couldn't run away.
"UUUUUAAAHAHHHHHH!!!!" Sephora waited for the beam of energy to come at her and spun towards cleaving up with her blade. A brilliant light shone through the red light as it curved upwards into the sky. Her blade cut into the sea of red light as it shielded herself from it's power. Crateris was a powerful weapon and could not be damaged. All she could do was try and redirect the red energy elsewhere. Pouring all her strength into her blade, she soon felt her strength overwhelming her. Shutting her eyes, her blade was quickly torn from her hands as she was blown back by the red light but not directly into it. Sephora had tried to spin away from the beam of energy but it still hit her indirectly.Once the beam cleared, Sephora stood admist the dust and ruins. The knight fell to her knees before crashing to the floor on her side.
[align=center:d8a5a5dw]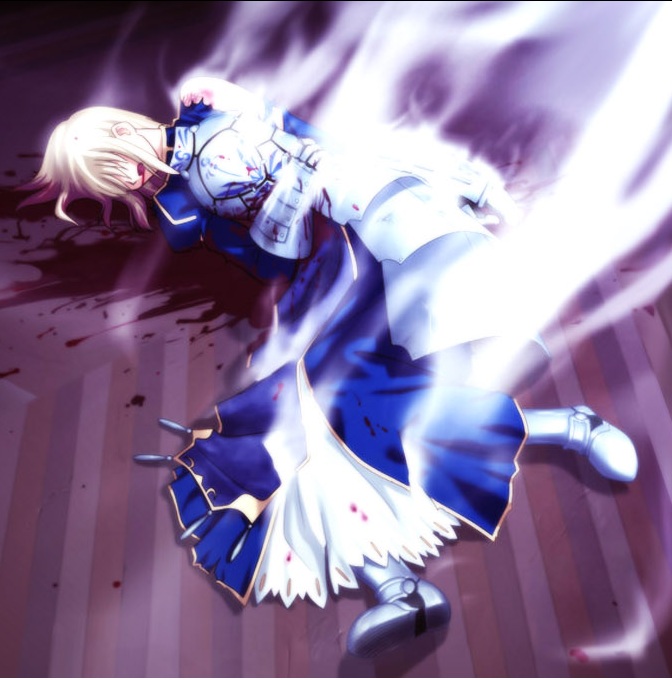 [/align:d8a5a5dw]
Her armor quickly dissolved into yellow sparkling particles of gold as she lay beaten unable to move. She lay defeated bleeding unable to move just scarcely able to breathe as she spluttered blood from her mouth.
Gil'dala would look on as she watched the beautiful blond knight fight against her power as she did for as long as she could, an impressive display of determination and will that Gil'dala couldn't deny that she loved, an a part of her attack overpowering Sephora's was simply within Gil'dala's nature, the more she desires the more powerful she becomes in order to attain what she want...of course there are limits, but with her being a demi-god there are few things in this world that could ever stand against the mighty of her.

After the light had vanished Gil'dala would simply vanish in a coat of red energy around her, and appear right next to the blade that had been throw out of Sephora's arms, Crateris was a lovely blade and Sephora had taken a liking to it much as the knight had done. She'd try and take it within her hands and then that red coat of energy would cover her and the blade and move them over towards Sephora, as if she was simply stepping through rifts in the world itself.

" Aaah....You're all broken." Gil'dala said as if her toy had just fallen into pieces. " Why'd you have to make me do that?" Gil'dala said as she would soon make her armor vanish, leaving her in a lovely white dress adorned with golden jewelry, bangles, necklaces, leg braces, armbands. Following which she would lean down next to Sephora's head, stepping on the scoldering hot former sandy ground, now a red hot glass like substance that was slowly starting to cool. It seemed as if it didn't really pain Gil'dala though as she would try and soon move her hands to Sephora's head and slowly start to stroke the girl's hair.
Sephora lay unmoving her features were so angleic and doll-like that she looked like a broken figurine. Motionless as Gil'dala walked towards her, her eyes were heavy with exhaustion as she slipped in and out of consciousness. The girl let out a groan as she felt Gil'dala's fingers course through her golden strands of hair. Her green eyes which seemed to lose a bit of their brilliance opened slowly. She seemed to be vaguely awake as she lay unable to do much but eye Gil'dala while she petted her hair.

"Uhh...." she panted weakly.
Gil'dala would softly stroke her hand through Sephora's golden hair for few seconds until she saw that the girl seemed to be more awake than she first had thought. " Your sword and you are both masterpieces, I hate to have had to do this to you." Gil'dala let out sounding like she had a fair bit of regret from hurting Sephora the way she had hurt the girl. " But, if you became an avatar of me and my powers I could fix you. Right now I don't know how my powers will affect you. We can always try and see if healing and fixing you will work. But it would work better and be safer if you were to become my avatar." Gil'dala spoke as it did kinda sound as if she wasn't completely truthful, but when it came to healing Sephora she herself was certain that that was something she could do.
Sephora's eyes seemed to drift out to another section of the room as Gil'dala spoke to her. It was hard to say if she fully comprehended what Gil'dala was saying to her. She took another long breath as she felt the pump of her heart beginning to slow as more blood rushed out of her. Her eyes lookedso very tired as if staying a live was a chore all on it's own. Sephora debated what the proper course of action was. She herself was a sworn knight of her faith and becoming Gil'dala's avatar was benign to her. However, she also sworn an oath to live for the greater good. It was hard to say if Gil'dala stood for good but she wasn't evil that much she could decipher. She felt something surge in her as the closer she came to death, she became enlightened with her answer from her own god. Opening her eyes, she looked at Gil'dala weakly.


"...Ugh... my life will be owed to you if you spare it... Therefore...if you wish for me to be your vessel then I have no right to deny it..." Sephora answered.
Gil'dala would slowly nod and with that she would then lean down to softly kiss Sephora's lips, she'd slowly have her lips linger and from them a surge of red light would slowly flow into Sephora's mouth, that red light would start to spread then to fill through Sephora's body, slowly filling the knight with the power of the Goddess of desire, and along with that part of her power the healing process would begin. But within Sephora's body a cleansing would being as Gil'dala's power slowly burnt away any trace of any other source of magic and power but hers.

After which Gil'dala would slowly lean back, her hands went down a bit towards the girl's body and slowly and softly was placed down on top of Sephora's chest and side. " Don't worry my little knight. You can serve me how you see fit. Too bring glory to my name, all I ask is that what I desire you shall bring me from time to time ~ But I shall not sully your name nor honor as a knight." Gil'dala spoke softly towards Sephora,the more Sephora was healed the more Gil'dala would slowly place herself on top of Sephora, attempting to place herself mounted on the girl's stomach and her hands moving down to cup Sephora's chins, red eyes looked deeply into those green eyes of Sephora. " You're power will be as I desire them to be. And with how much I loved you as that angelic knight. Nothing will change. Though I shall give you something more, something greater shall you ever need it." Gil'dala said with a smile as she'd make a ball of red light in her right hand as she moved that away from Sephora's cheek.

Her hands slowly started to move towards the girl's chest and when she reached the girl's heart she'd slowly push the sphere of energy deep into the core of Sephora, slight heat would center within Sephora's chest, pain was a possibility from some, but it would not be great in level.
Sephora groaned slightly as Gil'dala kissed her feeling her power course through her. She felt it cleanse over her which wasn't painful but also somewhat relieving. She looked up at the goddess blushing as the red eyed woman mounted her stomach. she shuddered at Gil'dala's light touch as she saw the red sphere enter her body. It wasn't painful but it was an intense sensation and somewhat overwhelming as she felt a burning sensation in her chest before it faded. Sephora took a breath as she found herself beginning to breathe easier. After a few more breaths, she tilted her head to the side.

"Something more? What?" Sephora asked curiously enough.
" Well it's something you yourself covet, I saw it in your heart from the moment you notice the blade." Gild'ala said with a smile as she would then try and look on at Sephora to see if the girl could figure out what Gil'dala said, she would then try and slowly rub her hand up and down along Sephora's lovely chest. As she did she would then say it " I gave you the blade that all knight wish to have, a weapon only fit for my Avatar....for my own personal knight." Gil'dala said with a on her face as she would then slowly try and move her mouth down towards Sephora's chest and gently kiss it.

" As with me though little angle.....You're powers are stronger when you do what you desire, when you are chasing what you desire. But....I made sure too keep your powers as similar to your original ones as possible." Gil'dala said with a smile as she would then move her mouth up towards Sephora's lips and give the girl another soft kiss.
Page 4 of 5 •

1, 2, 3, 4, 5



Similar topics
---
Permissions in this forum:
You
cannot
reply to topics in this forum