Champions & #1 contenders
Looking for a debut (Tag Match)
Sun Jan 14, 2018 10:29 pm by Person
I am looking for a debut for my new tag team:
Rulers of Divinity
Something to build them up before I start their main feud.
Comments: 0
Trying to get back into the saddle.
Sat Jan 13, 2018 8:11 pm by Deus001
Hi all. Deus here.
You may have noticed I am a bit quiet on the forums these days. My parents split up, I split up with my girlfriend and moved house. I am moving house again in February as well. 2017 was one slow motion punch to the dick for me and my balls are still numb to be honest.
However now that I have some semblance of normality I felt why not see if anyone wants to talk RP ideas, I have a long work week ahead but a clear weekend it seems. If you have any ideas you want to do send me …
[
Full reading
]
Comments: 3
Post Delays after Winter Storm
Sat Jan 06, 2018 4:38 pm by BrittanyW
Cause the best thing after coming back from holiday is for a bomb cyclone to hit where you are. -_-
So yeah, expect more delays of posts and stuff while I have to sort out problems from this shit.
Fuck my life.

Comments: 1
Page 1 of 10 • 1, 2, 3, 4, 5, 6, 7, 8, 9, 10

Tables Match
Victory Condition: Put your opponent through a table to win.
[url=http://www.youtube.com/watch?v=YHrXXTZCmhk:3odutq88]A familiar rock beat[/url:3odutq88] hit the speakers of the AFW arena, the attending audience of the night instantly going nuts at the sound. They knew who the entrance theme belong to, the always popular teacher Miss Spencer. She had been in a series of matches lately, each one exciting the crowd more and more. It seemed that win or lose, Miss Spencer's popularity in the AFW was on a steady rise, and today's crowd was more than happy to be able to see one of her matches in person.
Almost as soon as the music started playing, the teacher stepped out onto the stage atop the entrance ramp, dressed in her normal, usual match attire.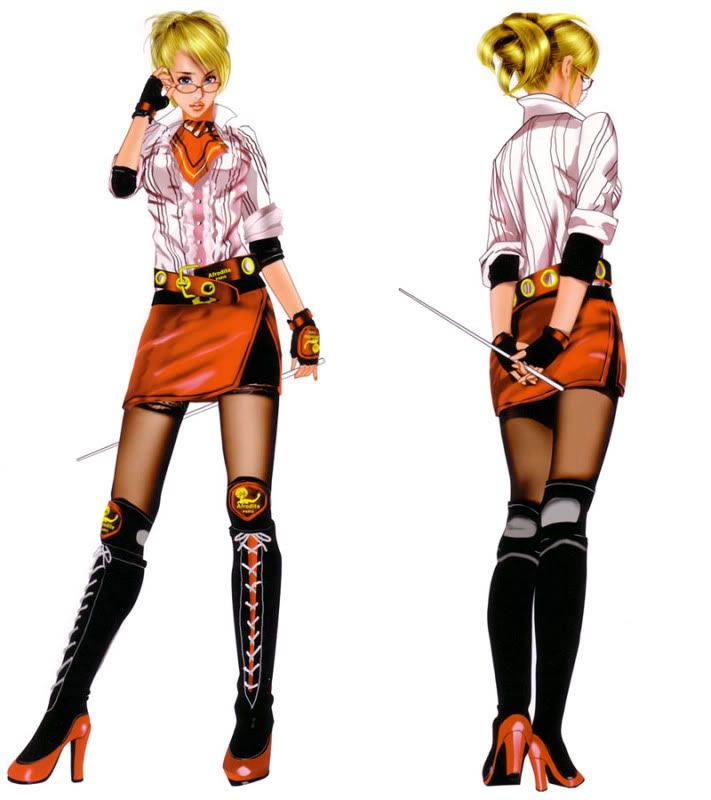 In one hand, Miss Spencer held tightly held the ruler that she had brought to the ring for her match against Chigusa Yuuki, and had been bringing to the ring in every match since. There was something comforting about it, something that helped the teacher focus, and fall more into the character of the strict teacher that she was trying to play up for the cheering crowds. It was relaxing, and helped her get into the proper mindset for her matches. Unfortunately for the teacher tonight, she didn't think anything was going to be able to help her relax.
She began to head down the ramp towards the ring, reaching up with one hand to adjust her glasses as she strode with confidence towards it. Already she could see the tables that were lying around the ring, and the blonde teacher had no doubt there were several more underneath the table waiting to be used. She had no idea why the management had set her up for a tables match; the teacher wasn't exactly known for being a hardcore wrestler. It was something that was completely out of her element.
I suppose the higher ups want to try and push me more. I guess I shouldn't complain
, she thought inwardly to herself, moving towards the ring steps once she hit the bottom of the ramp. She climbed up them, then ducked over to step through the ropes and into the ring, heading straight for the furthest corner from the entrance. She wasn't quite sure who her opponent was tonight, but if the last few matches she had were any indication, it would probably be a younger girl, the AFW trying to push their 'teacher versus student' angle on her further...
A few minutes later, a familiar, arcade-esque sounding theme began to play in the background, which prompted the cheers of a few fans who knew who the theme belonged to. A second later, there was a burst of pyrotechnics, and a familiar masked, buxom figure entered the arena, putting her hands on her hips and raising an arm to flash a V-sign to her cheering fans.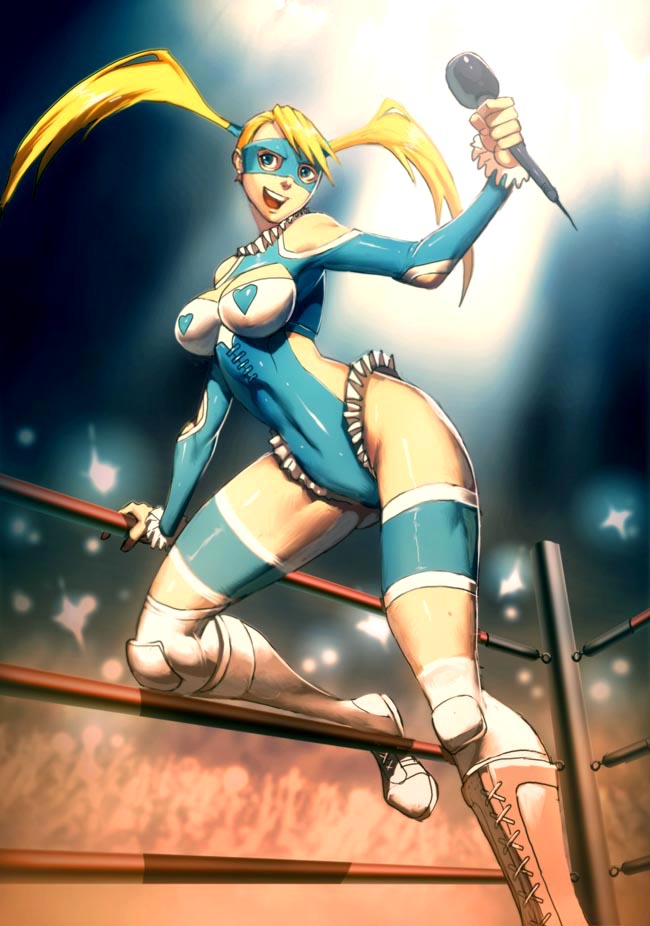 As the pyrotechnics died down, Rainbow Mika strode down the ramp, smiling and waving to her fans as she went. Breaking into a run, Mika launched herself into a backflip, expertly latching her legs onto the corner post and using it as leverage to pull herself to a standing position atop the turnbuckle, where she once again flashed her trademark V-sign to the crowd. After a few seconds, though, she finally noticed Spencer, and flipped down to her feet to stare her opponent down, tossing her head to the side to straighten out her pigtails.
"Heeeey, nobody told me I had to take geometry class again!" she said with a frown. Her frown quickly lifted into her usual smile, however. "Just kidding! I'm Rainbow Mika, soon-to-be World Champion, and you are....?"
Miss Spencer waited patiently in her corner, looking curiously towards the entrance as she waited for her opponent to arrive. When the busty blonde made her appearance, the teacher couldn't help but look a bit surprised. She was so sure that the AFW was going to put her up against another younger, smaller girl that the sight of Rainbow Mika left her momentarily in shock. She watched as the masked woman raced down the ramp, flipping herself up onto the turnbuckle, then flipping back down again. She was impressed, Mika seemed to be in rather good shape. She had seen a few of her matches before, but never met her in person like this.

She cleared her throat as Mika stepped forward to address her, trying to stifle a small smile as she fell into the stern teacher persona she had been trying to push lately. Sending a glare Mika's way, she lifted her arm, pointing her ruler towards her as she stared at the girl over the tops of her glasses. "Geometry class...?" She asked, her voice taking a stern tone. "You'll be learning a lot more than geometry when this class is over, Miss Mika!"

She paused a moment, then lowered her arm, letting out a soft tsk under her breath. "I am Miss Spencer, and I'll be your teacher for this match! Soon-to-be world champion?" She paused again, trying to stifle another smile as she continued with her rant. "I think not! I think I'll have to teach you a particularly hard lesson tonight, after a declaration like that!"
Mika remained unperturbed by Spencer's trash talk. Admittedly, the blonde teacher, despite her little gimmick, did look like she would be a tough customer, and she had heard a little about this woman from the...what was it called? Rumbling Violets?...league, but she wasn't one to back down from a challenge. Even when that challenge was pointing a ruler at her and glaring disapprovingly.

Mika put a hand on her hips as she stared Spencer down. "I learned all the lessons I needed to years ago," she replied, pointing defiantly at the teacher, "and my classroom was rings and fighting tournaments all around the world! But if you want to fight me, then fair enough-- I'm going to end school early! Bring it on-- I just hope you won't need the table this curricululm, because you're going to be slammed right through it!"
Miss Spencer let the faintest hint of a smile creep onto her face as she listened to Mika's rant. Judging just from her big words and her strong appearance, the teacher had a feeling that Mika was going to be a tough match. She wasn't worried though; she had fought girls just as tough before and came out the victor.

Once Mika ended her rant, Spencer raised her voice again, pointing her ruler towards her once more. "The only one going through a table is you, Miss Mika! I'd tell you to take notes tonight, but I don't think you'll have the chance!"

With that said, the buxom teacher turned away from Mika, nodding towards the referee, who stepped over towards her. In one smooth motion, Spencer reached up, removing her glasses and handing them to the referee along with her trust ruler. She then turned back towards Mika, her face the very picture of determination.

"Consider your class now in session!" She called out, the bell ringing to signal the start of the match, as the teacher lifted her hands up in front of her, into a defensive stance. She stared into Mika's eyes, watching the girl closely, waiting to see her reaction.
By this point, the tension in the crowd had risen as the two blonde superstars exchanged trash talk, the antagonism between the two of them plain for all to see. It was clear that, the moment the fighting started, it would be a brutal match with neither woman holding back...which would make this table match that much more intense.

The moment the bell rang, Mika grinned a little and matched Spencer's defensive posture. Meeting the teacher's gaze head on, she circled her, mirroring her movements, before suddenly rushing in, aiming to lock up aggressively with Spencer to get a feel for just how strong she was.
When the bell ranged and the masked fighter came charging forward, a grimace crossed Miss Spencer's face, the teacher bracing herself for the impact. Her arms came up arm, accepting the lock-up from Mika, straining herself to push back against her.

Unfortunately for the teacher, while she had a fair bit of strength in her arms, she wasn't as strong as Mika. Spencer held her ground for a few moments, but slowly, surely, the opposing blonde began to pick up the advantage, forcing the teacher back several steps as she struggled to push back against her opponent.
"Nnnegh..." Mika gritted her teeth as she shoved and twisted against Spencer, her forehead pressing lightly against her opponent's as the two of them grappled for control. She could feel that Spencer wasn't a pushover in the strength department, but all the same, she slowly but surely managed to force the teacher back. Breathing through clenched teeth, she moved to grab for Spencer's shoulders, getting a better grip overall on her arms.

Twisting her body sharply, Mika tried to throw Spencer towards the ropes. If Mika managed this, then she would backlflip and jump up in the air, hoping to time it so that once Spencer came bouncing back, she would collide head-on with her airborne posterior. "FLYING PEACH!"
A bead of sweat rolled down the side of Miss Spencer's face, as her masked opponent pushed against her. Mika was strong, she felt just as strong to her as Dixie Clemets, who she had fought with many times during her days in the Rumble Roses.

She took another step back, then yet another, realising now that she was in a bad place. Before the teacher could make an attempt to turn things around though, she felt Mika grabbing for her, suddenly twisting to toss her towards the ropes. Right into them Spencer's body crashed, bouncing back off and flying towards Mika. Her eyes widened for a brief moment as she saw the girl flipping up, spinning in the air, her large ass aimed right for the teacher...

WHAM!

Spencer collided facefirst with Mika's buttocks, hitting it like a brick wall. The sudden impact was enough to take the teacher right off her feet, placing her on her back against the canvas, looking up with a dazed expression on her face.
Feeling her ass impact solidly against Spencer's face, Mika fell down to her hands and knees, and was satisfied to hear Spencer crash to the mat behind her. Kneeling upright, she raised her arms victoriously to the crowd. "SUCCESS!" she cried, spurring a chorus of cheers from her fans. It was the start of the match, and already, the Rainbow Warrior had managed to get one of her trademark moves off.

Getting back to her feet, Mika decided not to waste any more time, feeling adrenaline pumping from her successful attack. Grabbing Spencer by the head, she moved to drag the teacher up by her head, before grabbing at one of her arms to tuck it behind her own head and arching back, aiming to slam Spencer to the mat with a suplex before the teacher could recover.
Page 1 of 10 • 1, 2, 3, 4, 5, 6, 7, 8, 9, 10

---
Permissions in this forum:
You
cannot
reply to topics in this forum