Who is online?
In total there are
38
users online :: 5 Registered, 0 Hidden and 33 Guests :: 2 Bots
Cy_Man
,
Lobo
,
Old_Man_Tai
,
TiefBlau
,
Underdog21
Most users ever online was
390
on Tue Jan 02, 2018 2:02 pm
Champions & #1 contenders
Looking for a few matches.
Thu Mar 29, 2018 11:14 am by Yori
As the title suggests, I am in the market for a few matches, specificly for...
Luna
- Vampire themed wrestler who prefers to play with her food before she sinks her fangs in. Prefers no DQ or hentai stipulation matches. Preferred in a more dominant role, fills a more heelish role.
Reiko
- Punk upstart with more experience fighting in the streets than the ring. She takes part in hardcore matches primarily, using weapons far better than she can wrestling techniques. Strictly heel.
Leah
- …
[
Full reading
]
Comments: 6
A match for Brie.
Thu Apr 12, 2018 5:15 am by BootsForSpooks
A week ago, I made my own character named
Brie Schuhart
. I thought it would be best to post a notice here. I'd like to have an opening match with her.
I also understand that a lot of characters here have story lines. I'd like to start one for her too. Her opponent can lead to a romance, it can be something that turns into a grudge over time, or it can be something more complicated. Whatever the case, we can discuss. I'm open to a lot of things. We'll make it work.
[
Full reading
]
Comments: 5
Taking on a thread or two
Wed Apr 11, 2018 12:50 am by LtLukas
I don't really have a plan in mind. If you want to throw something out there, be it a storyline, match, or whatever, I am willing to entertain it. Let's talk about it.
Specifically, I have two ladies that I want to have a thread with:
The inimitable
Jessica Wright
. With her, I am leaning for some more hardcore stuff: no DQ, shit outside the ring, coffin matches. But I am willing to listen to anything that you want to try.
The lovely
Eka Guramishvili
. She has a new flag-based outfit. So maybe …
[
Full reading
]
Comments: 0
Page 1 of 3 • 1, 2, 3


Smother Match
Victory Conditions: Make your opponent tap or pass out to a smother hold
Attire: Bikinis
Akira Saeki was set to be in her very first match in the AFW in just a few minutes, but instead of being nervous the woman was just excited from having been put in such a fun sounding type of match. The blue haired girl was dressed in quite a tight swimsuit, a pink and white bikini which did quite a good job showing off her womanly charms. Looking down at her own pair of large breasts Akira felt she certainly had the assets to make another woman pass out beneath her heavenly bust, but of course there were other somewhat more amusing ways to smother someone too. One of the crew came over to tell her it was time to go out and with a smile and a nod she gave him the ready and headed for the entrance ramp, literally jumping for joy as her music began to play.
She jumped out onto the entrance ramp, her breasts bouncing despite her bikini top as she ran down the ramp much to the delight of the crowd. She ran all the way to the ring where she slid under the bottom rope, sliding all the way to the center of the ring where she jumped right back up to her feet. Dashing over to the turnbuckle Akira was obviously enthusiastic about being in her first match as she jumped onto the second rope waving to the crowd. She was quite used to being adored by masses of fans in her job as a model, actress, and all around idol, in fact a lot of her fans were in the crowd tonight as the AFW had a similar audience to herself, and hearing them chant her name was quite the morale booster.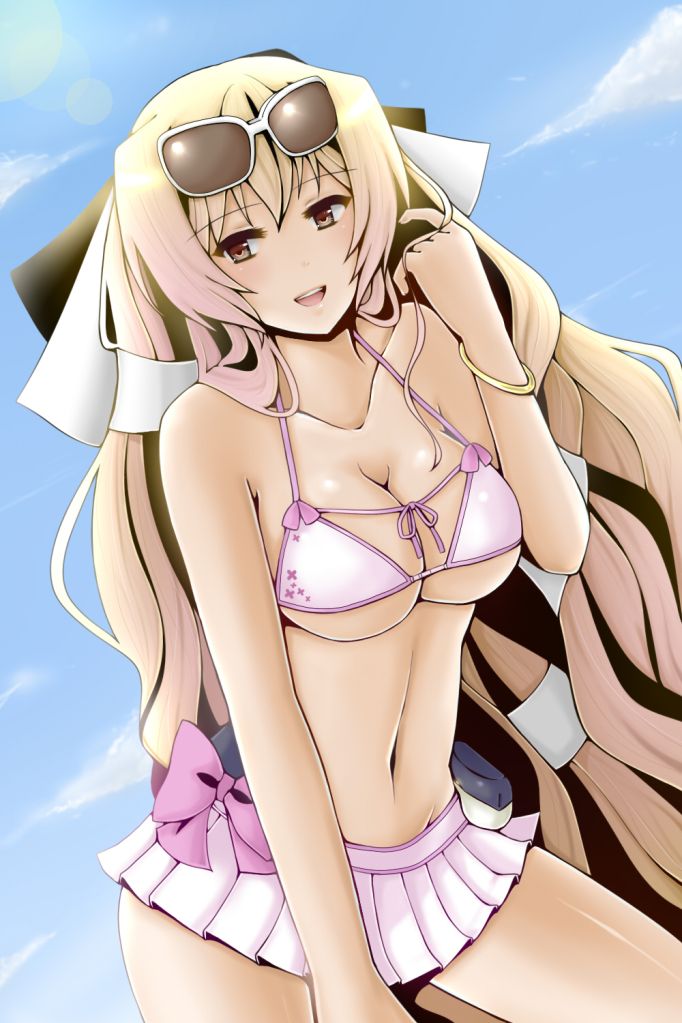 " Mh Mh~ I suppose this outfit will do for the match. " She posed infront of the large mirror, checking out the bikini she had chosen for this match, a beautiful shade of pink with a large ribbon adorned at the side of her waist, she really did look stunning. She huddled to the backstage and charmed her way for her theme to start quicker, seeing that her opponent was ready for it, she wanted to put on a little show for the crowd to win them over. Once her theme song started, Stella stepped out and onto the ramp, bending over with one hand pressed against her knee, her cleavage obviously showing to the crowd, getting roars of approval while Stella gave them a playfully wink and blew them a kiss with her other hand.
The pose lasted for a few seconds before she would rise back up straight and head down the ramp to meet her opponent in the ring, hopping onto the side of the ring and seductively got inside, soon standing face to face with her opponent and gave her a kind smile, though her eyes betrayed her lust. " You look absolutely delicious.. You don't mind if I nibble on you, right? "
Last edited by 131 on Tue Oct 23, 2012 3:25 pm; edited 1 time in total
Her time with the fans seemed to be cut short as she heard the music of her very first opponent begin to play over the speakers, turning her head as she stood there upon the turnbuckle to see quite the buxom woman appear on the stage. Suddenly some of those who had been chanting her name a moment ago were now cheering for this new woman, it was hard to blame them though as she was putting on quite the little exhibition with her giant tits on display for all to see, Akira even blushing a bit when she blew that kiss. Dropping down onto the mat Akira walked to the center of the ring smiling wide while crossing her arms right beneath her breasts, pushing them up to give the stunning blond woman a perfect view.

Looking into the woman's eyes Akira could tell she really did want to nibble on her, bringing her left hand up to cover her lips as she giggled under those lustful eyes. "Not at all, just don't complain if I take my time enjoying that amazing body of yours. The names Akira Saeki, can't wait to start fucking you in front of all these nice and I suspect very horny people." Akira replied dropping her hands to her sides and taking a few steps forward to press her breasts against those of her opponent, a bit curious at how they stacked up to this woman's amazing chest.
Stella first blinked when Akira stepped right up against her, pressing their breasts together, it was something that Stella herself wanted to do. Still, she smiled brightly and closed the distance even more until their foreheads would touch each other, rubbing her breasts teasingly against her opponent's. " Ahaaa~ Miss Akira.. My name is Stella Nareha.. Just call me Stella! " She then gave the girl a playful wink and bumped her body against the girl to try and make her take a step back, Stella wanted to at least be in charge at that, she could tell that Akira was going to be one hell of an opponent to conquer. Though, that only made Stella more excited to play with her.
Akira seemed to have surprised her opponent with her forwardness, giggling herself as she loved the way their breasts felt squished together like this, though she had to give her opponent credit where it was due, the woman's tits were just massive. It was her turn to look surprised as Stella pressed her forehead to her own, Akira sticking out her tongue to brush against the blond's lips just as a light blush came to her face as she felt Stella rubbing her breasts against her in the sexiest way imaginable.

"Hehe, just call me Akira, the miss part makes me sound old Stella-chan!" Akira replied with a cheerful smile of her own, gasping in amusement as the woman bumped up against her forcing Akira to take a step back, unable to withstand being pushed around by those no doubt heavy breasts of hers. She could already see that Stella was going to be quite a lot of fun to go up against, win or lose she doubted either of them would feel anything but pleasure when the match was done. "Oh you're gonna be fun I can tell Stella!"
Being able to make Akira withdraw just by her breasts, Stella knew she was going to have a good time, this full figured woman standing infront of her was going to learn what it means to fight Stella. She stroked her tongue over her lips, just to taste Akira on them, giving her another playful wink as she made a kissed sound towards her opponent. " Tasty.. Can't wait to taste more of you.. "

The bell rung to signal the start and Stella made a slow, seductive walk over towards Akira, seeming to be set on distracting the girl with the movement of her body alone, though once close she will leap forward to try and wrap her arms around the girl's waist and pull her back in for a rather tight bearhug, wanting to close not only the distance between them, but also to have her powerful breasts battle with Akira's own formidable pair.
Akira got the feeling that they both were her to enjoy themselves as much as possible, the blue haired woman feeling quite pleased with her luck of the draw for her first opponent as she figured they'd get along well. Giggling in reply to Stella's wink Akira blew a kiss of her own in the blond's direction, leaning over somewhat to strike a sexy pose with her breasts swaying somewhat as she put them on display for her opponent and the crowd.

"The feeling is mutual believe me!" Akira called out just as the bell rung out for the match to start, not wanting to be outdone she stepped towards Stella letting her hips rock back and forth along with her breasts, putting on a little show for her opponent. She didn't expect the lunge however, letting out a nervous laugh as Stella wrapped her arms around her and lifted her up into a bearhug, showing just how strong she was and leaving Akira squirming to get free. She had raised her arms up just before the hold had been applied which gave her a good advantage, though at the moment all she could focus on was the feeling of her breasts being squished against Stella's own amazing mounds, blushing as she let out a light moan.
Stella was now in control and she was going to make it worthwhile, both for herself and her sexy opponent. She needed to keep distracting her while punishing her. Stella leaned in closer, their lips brushing against eachother, just to bring that soft, sensual touch to her opponent before she whispered oh so seductively. " Tonight.. I will make you feel like you're in heaven. " She would then plant a passionate kiss upon Akira's lips, her arms snaking tighter around Akira's waist, constricting her opponent's waist while she tried to pull her harder against her, to mash their breasts together and to have her own dominate Akira's formidable pair as she tightened the hug, another wink given by Stella to her sexy opponent, whom was definitely going to make her enjoy this match.
Akira squirmed around inside those surprisingly powerful arms of Stella while doing her best to push against the woman's shoulders to try and free herself. She slid her hands from Stella's shoulders to her arms to try prying them off her waist instead, but when she glanced back up from her waist Stella's face was an inch away from her own, feeling herself shudder at the girl's words before the blond pressed her lips to Akira's for a deep kiss. She didn't shy away from it either, moaning into the mouth of Stella as she slid her tongue into the woman's mouth for a little kiss domination as she wrestled the girl's tongue with her own.

It wasn't often that Akira felt upstaged in the breast area but Stella's lovely pair were rather incredible, blushing brightly as she felt those massive mounds pressing down on her own. While she certainly felt some pain in her midsection from the bear hug she wasn't going to complain, the kiss and breast play more than made up for the bear hug and she felt like repaying Stella for them. She brought her right leg up as high as she could, turning it towards the outside and bending the knee just so she could press her toes against the edge of the woman's bikini bottom, pushing down to remove the annoying piece of clothing so that she could rub Stella's sex directly with her foot.
Stella had to admit that Akira was pretty flexible, she managed to attack her while being in a bearhug, with her foot no less. She gave a soft moan within Akira's mouth when those digits on her foot were pressing against her bikini bottom and even pushing them away enough for those toes to start stimulating her directly. Stella closed one eye as this new feeling took over for a moment, though she quickly speared her tongue into Akira's mouth to try and surprise her, to explore her mouth in a dominant way, her leg lifting up from the mat to try and force Akira's foot away with her thigh.
Page 1 of 3 • 1, 2, 3



Similar topics
---
Permissions in this forum:
You
cannot
reply to topics in this forum