Champions & #1 contenders
Kawaii Opportunities
Sun Jun 17, 2018 10:04 am by Daaharu
Hey, guys!
With the kawaii title match at Avalanche taking on an interesting wrinkle with the interruption by the Brat Pack, we are moving forward with the overall kawaii storyline, and at this point I'd just like to take stock of what kawaiis are out there that are interested in participating in a cohesive storyline.
Can't make any promises about titles or what exactly each girl's given role would be. We can talk a little more about the specifics of where the story is going soon, but I …
[
Full reading
]
Comments: 2
Match or RP?
Wed Jun 13, 2018 10:48 am by Lotuswarrior
I'm just looking to do something while I wait for match replies. Really want to get some characters cemented a bit with a rival or some interactions with other characters here.
If anyone wants to do something hit me up.
Comments: 0
Match for Takeichi
Tue Jun 12, 2018 1:13 am by GrandAkumaShogun
So with my other two guys having their own matches I figure I should do something with my first character on here, Takeichi Mori. If anyone is interested feel free to post here or get in touch through a pm so we can plan it out. I can either have Takeichi remain a jobber or begin to work him towards being a more serious competitor.
Comments: 0
Page 1 of 7 • 1, 2, 3, 4, 5, 6, 7


Hentai Match
Victory Condition: First to score pinfall, submission, or hentai fall.
The lights would dim while a thousand tiny led lights came on to make the arena ceiling resemble the night sky, a waterfall forming over the entrance as Natasha's music began to play. The waterfall would split apart a few moments later to allow Natasha Loclear to appear from backstage, the blue haired woman smiling wide as she waved to the crowd and struck a sexually suggestive pose for all to enjoy. Dressed in a yellow bikini top and matching skirt Natasha skipped down to the ring slapping the hands of the fans as she passed by, stopping by one fan who held up a "marry me natasha" sign and giving him a deep kiss before moving on to the ring, sliding under the bottom rope and jumping to her feet. Running to the far side she climbed onto the turnbuckle and pumped her fist for the crowd, enjoying the attention from the fans before dropping back to the mat to wait for her opponent.
Natasha had become rather good friends with Heather Sunderland since joining the AFW and had watched on as Karina used a strap on against her idol in their beach bout, Heather might have had her fun after that but Natasha couldn't help but want to enjoy Karina a bit for what she had done.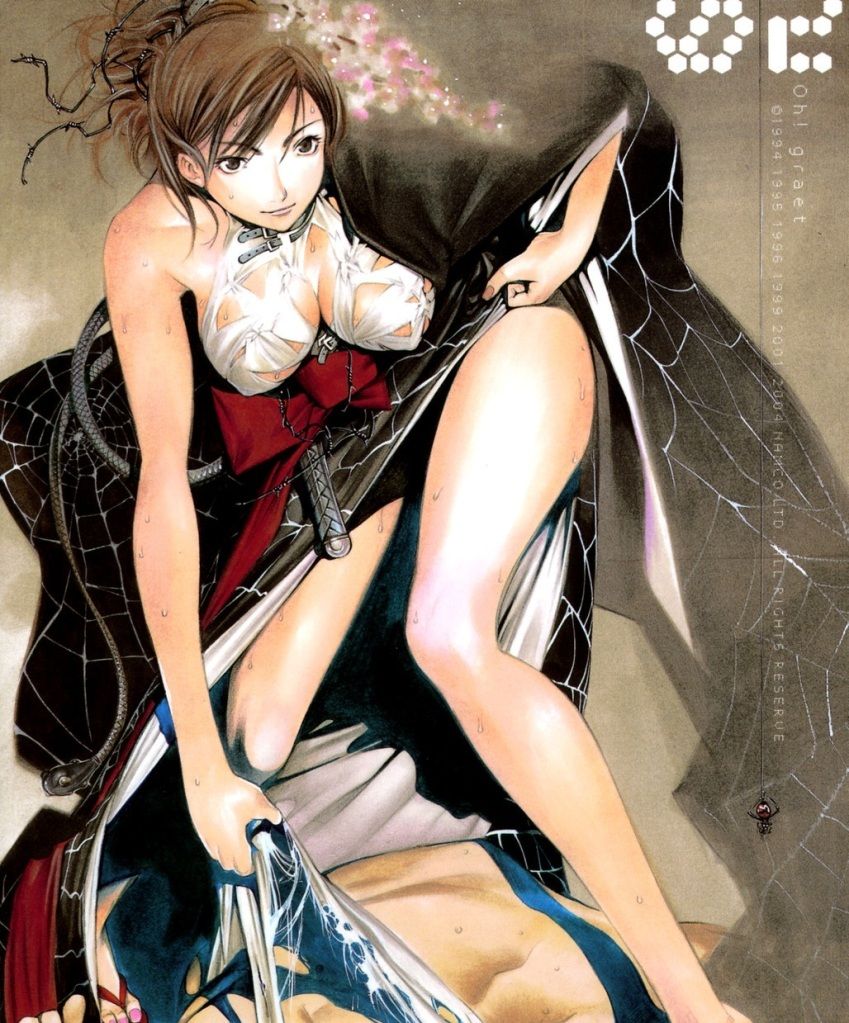 Karina was getting awfully busy with matches these days, more and more people wanted a piece of her now that she had opened up to the more erotic side of wrestling, having shown what she was capable against Heather, who even in their last match had won over her, still got fucked to submission by Karina. It didn't really matter that much to Karina what happened that night, other then that she had gotten closer to Heather and the two became better friends from it, heck Heather even taught her a few things about domination that she would probably show in this match.
Once the staff members gave her the signal to start, Karina threw a few quick punches in the air to warm herself up before her theme song would start. " Alright then, Let's see who I have to lay out the mat this time! " Were her excited words, always eager for a fight that was presented to her. She stepped out, dressed in her usual black widow kimono with the bandages over her chest, which would be easy to rip off, which was something Karina started to find alot easier to work with rather then that old kimono she had. She made her way down to the ring, a knowing grin on her face as she looked over at her opponent who had already ascended inside that ring.
When she rolled inside and got back up to face her opponent, she immediately caught notice of her opponent's looks, long blue hair, matching blue eyes, it was something she had never seen before in the league, which had been gifted with the many hair colors. Still, she gave the girl a confident smirk and stretched her arms up in the air, tensing up her muscles. " I hope you're ready to moan like a bitch for me. "
Natasha's lips curled upward into a wide smile as she heard the music of Karina begin to play from the loud speakers, the crowd going silent for just a moment before switching from chanting Natasha's name to chanting Karina. She didn't take such a thing personally since the crowd would always be going back and forth in who they cheered for the most, but at the end of this match she knew they would all be in her favor for the show she would give them. Natasha wasn't the type of girl to obsess over petty things like winning or losing, still she was a competitive woman and Karina would be getting nothing but her best and if she won then great, if she lost the match then she knew she would have no regrets on her performance.

Once Karina came into sight Natasha once again found herself feeling something close to jealousy at just how beautiful all of Heather's friends were, hopefully at the end of this match she would be able to count Karina as a friend too. She would worry about that later however as the woman entered the ring, Karina wearing quite the adventurous outfit with nothing over her large breasts but bandages along with a kimono that likely wouldn't last too long either if she put any effort into stripping her of it. Natasha could feel the woman's eyes gazing upon her body, not minding at all since she was doing the exact same thing to Karina and she liked what she saw even better from up close.

Natasha blinked her eyes a few times in mild amusement at Karina's words, seeing them as playful teasing rather than anything insidious, flashing her a smirk as she crossed her arms beneath her breasts to pose for the woman. "Oh I've been known to moan quite enthusiastically, just ask our mutual friend Heather if you don't believe me Karina." Natasha answered back before sticking her tongue out at Karina. "This should be quite a bit of fun Karina, hope you're not looking for an easy win, otherwise you'll be very disappointed when I make you submit to me."
Though Karina was a bit surprised that her opponent knew her name and spoke it out so loosely, it seemed that the girl was a friend of Heather, and perhaps she had seen the match between them that led to the current one she was in now. Honestly, she didn't mind though, just another opponent she will overpower physically and sexually. She decided to close the distance between them, taking her steps to the girl and soon pressed her chest straight against Natasha's, giving no regards to the girl's private space, looking deep into the girl's eyes as she maintained the grin on her face. " I submit to no one, I'm considered a beast, untamable! And like a predator.. What I want.. I will have. " She then tried to kiss Natasha square on the lips and bring one hand to the girl's butt and the other to the back of her head to keep her in place for the kiss!
If Karina was expecting her to be as shy as Heather in such a match she would soon find out just how wrong she was, the blue haired woman puffing out her chest as Karina pressed their breasts together, grinning wide at the chance to compare the size of their tits. Natasha was looking forward to all the fun she would have taking this woman down, eager to dominant her sexually and physically as Karina had done to Heather. "A beast in need of breaking, you will be fun to ride around on once I'm through with you Karina dear." Natasha replied in a casual tone as if stating a fact, she had been about to say more but as she saw Karina leaning in for a kiss she decided to meet her halfway, pressing her lips to Karina's and slipping her tongue into the woman's mouth to get a taste of this so called beast. She released a soft moan into the mouth of Karina as she felt her ass being cupped by the woman, not to be outdone she would slide one hand down to cup Karina's sex while the other rose up to fondle the woman's right breast.
Karina didn't relent in the kiss, even when the girl was the first to slip her tongue into Karina's mouth, the rocker pushed against her tongue ,trying to force Natasha's tongue back into her mouth with Karina's following. She was going to teach this girl all about why she was called the beast, both hands now coming down to take a hold of Natasha's ass, groping it firmly. Karina paused for a few moments when she felt one hand going for her sex, this girl was not going for the foreplay, which didn't matter to Karina, she was going to finish this girl off the same way she did with Heather.

She suddenly solidified her grip on the girl's butt and attempt to lift her clean off the mat and then walk up towards the nearest turnbuckle to pin Natasha against it, just to show the clear dominance between them.
Natasha was not about to be outdone in the art of the kiss and did her best to keep the eager tongue of her opponent backed up in the woman's own mouth, showing Karina just which of them was going to be dominant in this match. She knew Karina was going to be aggressive and would have to take advantage of that, hoping to be able to turn some of the woman's offense against her or at least slow her down. Natasha felt some of that aggressiveness early as the woman's hands both took a firm grip on her ass, the blue haired woman wincing as those fingers dug deep into her soft rear, knowing what Karina would likely do next as she had seen her use it against Heather to great effect.

Just as Karina would start to lift Natasha would shoot her left leg up in between Karina's own, stopping herself from being picked up for the moment. Meanwhile the hand she had over the woman's sex begin to slowly rub along Karina's womanhood, meaning to distract her while her other hand left the woman's breast and slid up to try and hook around the head of Karina. If the so called beast was thinking that Natasha was all about using hentai she would get a surprise as she would lean twist her body and lean back, looking to toss Karin over her body with a standard judo throw hoping to slam her back down to the mat.
Karina was showing her dominance right at the start, she had expected the girl wouldn't be accustomed to it but it seemed that Natasha was quite prepared for her, that only roused Karina to keep going with sheer sexual aggressiveness. Her plan didn't go like she wanted though, not being able to lift Natasha up thanks to the newly created leverage she used between Karina's legs. The thing that truly kept Karina from taking total control was that hand upon her crotch, that kept on stroking her, causing several shivers to go down Karina's spine but still she pushed forward, which only helped Natasha achieve the impressive toss over her and making the rocker land upon her back.

She grunted out from the impact, though she wasn't going just lay there and wait for Natasha's next attack, she quickly tried to take a hold of Natasha's ankles while she was still on her back and yank hard on them, trying to make Natasha fall onto the mat as well to buy some time for herself to get back up again.
Natasha kept herself on the ground by sliding her leg up in between Karina's own to stop herself from being lifted up like Karina had wanted, Natasha knowing that she needed to find ways to slow down the aggressive offense this woman used and that was certainly one way. What really seemed to be effective however was the hand slowly stroking the woman's crotch, with Karina pressed so close to her Natasha could feel the woman's body shuddering lightly at her touch, bringing a smile to her lips even as Karina kept trying to push forward. Taking advantage of this she used the woman's momentum against her with a basic judo toss, landing Karina flat on her back behind Natasha who turned around to face her.

"You should slow down and just enjoy my touch Karina, it will go a lot smoother for you." Natasha said with a laugh as she leaned down to take Karina by her head, only to stop when she felt the woman's hands on her ankles. Glancing down she could only let out a surprised gasp before the strength of Karina pulled her feet out from under her. Natasha however would keep her body upright to try and come down with her ass planting right onto Karina's lovely face for a face sit.
Karina knew that once she could bring Natasha to the ground, she could scramble her brain a bit from there, with Karina favoring ground combat in a situation like this, all she had to do is straddle the fallen Natasha and start dominating her! That was the plan off course, Natasha did fall but not in the way she had planned, suddenly Natasha's ass came right upon her face, letting out a muffled grunt at first before she realized that she was in a very humiliating position, one that she really didn't like being in because it made her blush all to quickly, as her face was doing right now.

" Mmm! Mmm! " Releasing muffled sounds of protest as she flailed her arms and legs about, trying to get free from Underneath Natasha, she didn't want to be caught like this!
Page 1 of 7 • 1, 2, 3, 4, 5, 6, 7



Similar topics
---
Permissions in this forum:
You
cannot
reply to topics in this forum