Champions & #1 contenders
The Austrailian Mudslide is Back.
Sat Apr 21, 2018 6:20 am by Softsquad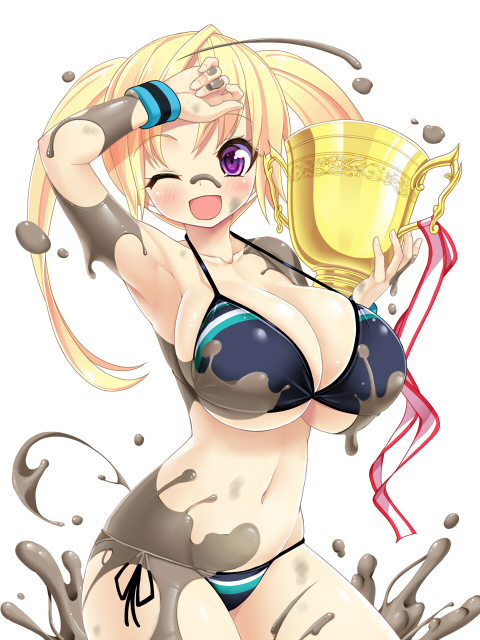 Granted that most of you won't know me or remember me, but I've had a few matches here and there some time ago. Well I think its time to become a regular around here and try to have some fun again, but at the same time keep coming back. Anyway I think its time to jump into some matches with Zoe Taylor, my mud wrestling character from Australia and get her back into the squared circle. Furthermore I will update my characters as I think some proper changes need to happen.
So if anyone would …
[
Full reading
]
Comments: 4
Looking for debut thread.
Sat May 12, 2018 9:28 pm by Hedgehawk
Hello All.
I am looking for a debut for my girl Trinity (http://www.afwrpg.com/t18107-trinity-cordova#495678).
This doesn't have to be a match, it could be a gym battle, interview or anything else. I just want something to help get Trinity off the ground. If you wanna plot feel free to reply to this message or fire me a PM.
Many thanks in advance and thank you for reading my message,
Hedge
Comments: 0
Page 6 of 7 •

1, 2, 3, 4, 5, 6, 7


Seeing Natasha push her breasts up with her arms, Heather's eyes would widen, looking away quickly as she realized that Natasha saw where she was looking. She would quickly grab for her drink and take a big gulp of it, tapping her foot afterwards nervously as she did. She didn't notice that the people in the restaurant had taken notice of the two or else she would have been even more embarrassed at what they were talking about and what she had just been caught doing.

As Natasha rested her hand upon her's for a few seconds, saying that she would take her on in the match before giving her that warning, Heather would blush a little more before grinning. "Well, I can't say I've ever wrestled in water before..so I'll be glad to beat you on my first shot." Heather would say to her, jokingly, but trying to be as serious as she could through the situation.

"Heh...good." Heather let out, a wave of relief coming over her as Natasha said she'd finish their date. However when she pressed her for a better question, Heather would look forward. She thought a minute before a deep blush came over her face. She wondered if she should really ask what she was thinking, but she honestly wanted to know, so she would finally speak up. "Um..well a-alright..this..may sound a bit weird but..I..was wondering..s-since I didn't really realize it at first A-and I don't know much about it at all..was wondering if..y-you always knew you were attracted to women or..if it took a while l-like it did for me. I-I was sure I was completely straight u-until just this past year...s-sorry if it's a bit of a personal question..y-you don't have to answer it if you don't want to but..I was just wondering is all."
_________________
Friction/Tension:
| | | | | | |
| --- | --- | --- | --- | --- | --- |
| Heather Sunderland| | Alessa Mason| | Sena Iwakura| | Cristina LaBrie| | Victoria Baynes| | Cheryl Pride |
Alternative/FnF
Trisha Birkin
Tension:
| | |
| --- | --- |
| Dante Sunderland| | Ambrogio Mastrostefano |
Heather reacted just as she had thought she would, delighting Natasha to no end as she was clearly embarrassed, looking quite cute in the way she gulped down her drink. She hadn't expected to be talking about future matches between them tonight but thought it was a great idea, after all it was only fair considering she had competed in Heather's favorite match. As she waited for the woman to come up with her next question she turned to her food, finishing the last few bites she had left before pushing the plate away, a bright smile on her lips as she had loved the meal immensely, though now she wanted to taste Alessa's version. "That was delicious, you sure picked well Heather."

She tiled her head to the side as Heather seemed to be unsure of whether or not to ask what she was thinking, though once she had Natasha could see why. Though for her it wasn't as personal a question as Heather thought it was, she had come to terms with her sexual desires a long time ago and had the full support of her parents on top of that. "Oh that is a good one, don't worry I have no problem answering that Heather. I've pretty much known since I was fourteen actually, I grew up with tutors so I didn't go to school like most people do, but when I was out and about I always found myself feeling attracted to men and women. I actually thought other people were weird for not appreciating beauty in all its forms if you can believe that. It was quite the funny scene when my mother explained it to me."

Natasha laughed at her own little story before picking up her wine glass and finishing it off, holding the glass up in the air to make sure she got every last drop before placing the glass back on the table. "That was quite good, we should come here again sometime." She said just before their waitress came over and asked if they wanted desert. Natasha took a moment to look over the items and since Heather ordered the pasta she decided to pick the desert. "Bring us the chocolate cake please, oh and two forks alright." The waitress nodded and went off to place the order, Natasha placing her elbows on the table and resting her chin in her hands, looking over at Heather. "So...Heather...I still feel like I owe you for telling my about your past, is there anything else on your mind?"
"Hah yeaaah, this place really does do it well. Though, still, not as good as Alessa's..but really good." She would finish up her own plate, wiping her face a bit with the napkin before she pushed her plate away as well. Letting out a long sigh, she would nod her head. She was quite glad that this was the place that they went to, enjoying the food quite a bit before she would look up over to Natasha.

She went on about the question that she asked Natasha, really listening to the girl's answer as she nodded her head. That certainly wasn't something that Heather had thought of, thinking about it quite a bit. "Wow...that's definitely an interesting way to put it." Heather let out, looking down as she would think even more about it. When it came for her, she had no idea that she could have some sort of affection for the same sex, thinking one hundred percent that she was only into guys. However over time she realized that that wasn't true. "Hm...well...I like the way you think about it..I really do."

"Heh yeah we definitely do need to come back sometime." Heather let out, finishing out her wine as well before she saw Natasha order dessert at the waitress's question. Heather would laugh a little, nodding her head. "Wasn't even thinking of dessert, but I'm all for it." Heather responded, hearing Natasha go on afterwards. "Um...I don't know. I..can't really think of much else. I'm..not that good at coming up with questions." Heather responded, blushing a bit.
_________________
Friction/Tension:
| | | | | | |
| --- | --- | --- | --- | --- | --- |
| Heather Sunderland| | Alessa Mason| | Sena Iwakura| | Cristina LaBrie| | Victoria Baynes| | Cheryl Pride |
Alternative/FnF
Trisha Birkin
Tension:
| | |
| --- | --- |
| Dante Sunderland| | Ambrogio Mastrostefano |
"I would love to try her version of this sometime Heather, perhaps sometime you can bring her and your brother over to my place and she can borrow my kitchen." Natasha said as she now looked to her empty wine glass with an almost saddened expression, though she resisted asking for more as she actually wanted to remember this night clearly. Looking back over to Heather she reached up and brushed some of her wavy blue hair back behind her shoulder while listening to Heather's response to her answer. "Heh thanks Heather, I had an artsy phase when I was a teenager so maybe thats why I think of it in art terms."

Natasha nodded in agreement about the desert but couldn't help but giggle when Heather said she couldn't think of any questions, reaching over to pat Heather gently on the shoulder. "No need to worry, I've come up with a list of things you probably want to know but just can't think to ask." Heather might have thought she was joking but Natasha would then lean down and pull a folded piece of paper out of her boot, opening it up before giving it to Heather. Upon it were indeed a list of questions but instead of reading them all of Natasha jumped right into some answers.

"My cup size is an E, yes this is my natural hair color, yes I can turn on both a french and russian accent at will, no I don't have access to all my family's money, no my family isn't mafia no matter what those newspapers say, yes I have been looking for a nickname of some sort, no I don't have a wrestling manager, and for the last question on page one yes, I did record all your matches as well as most every AFW match."
"Um..Sure! That would be a great idea actually." Heather responded to her, nodding her head. It HAS been a while since Heather had really sat down and shared a conversation with her brother and Alessa. She remembered when they were the only people she talked to for a while. It would be nice to get together with them, and with Natasha as well it would be quite the good night. "Ooh? An artsy phase huh? That's pretty interesting." Heather responded to her, nodding her head a bit.

"Um..what?" Heather let out as she heard Natasha's words, watching her pull out a piece of paper from her boot. She would look over it, blushing a bit at some of the questions before Natasha started to read off some answers. Of course she would start with cup size, furthering Heather's blush a little more before she would blush quite a bit more at the last answer she gave.

"Uh...w...wow...so...damn I owe you quite a few answers now huh.."
_________________
Friction/Tension:
| | | | | | |
| --- | --- | --- | --- | --- | --- |
| Heather Sunderland| | Alessa Mason| | Sena Iwakura| | Cristina LaBrie| | Victoria Baynes| | Cheryl Pride |
Alternative/FnF
Trisha Birkin
Tension:
| | |
| --- | --- |
| Dante Sunderland| | Ambrogio Mastrostefano |
"Eh not really, I was pretty bad at being an artist." Natasha admitted to Heather, remembering some of the truly terrible paintings her parents had tried to convince her were great. One of them still decorated their main house in France much to her embarrassment, her father even showed it off to every businessman that came to meet him. She had written that list in the days leading up to their date, it had started off as a way to plan for anything Heather might ask her but she quickly realized how funny it would be to use in this manner instead. "Oh don't worry about that, though I wouldn't mind hearing what your cup size is." She said with a mild laugh afterward, looking up as the waitress arrived with their desert, placing the delicious looking dark chocolate cake between them and leaving two forks as well as a folded note.

The waitress left without explaining the note leaving Natasha to open it, giggling as she read it before handing it over to Heather. The note consisted of two telephone numbers and names to go along with them, the names Jessica and Lisa at the top along with an arrow pointing at a nearby table where a sexy red head and brunette sat. Natasha nervously laughed while waving in their direction before she picked up a fork and took a bite of the cake, smiling wide as it was ice col but delicious. "Oh wow you have to try this Heather!"
"Oh, well that's too bad. Was going to ask to maybe see some of your work." Heather responded to Natasha, shrugging a bit as she did. After that though, that list was definitely something that took Heather by surprise. Natasha had quite the plan for her when it came down to it, fortunately it was a little amusing, Heather appreciating that Natasha had her covered when it came down to it. However what she said afterwards caused her to blush deep again, averting her eyes. "Ah-egh...It's..D..if you really wanted to know." Heather let out, embarrassed quite a bit as what she revealed.

Soon, Heather would watch as the waitress placed the chocolate cake on the table, along with a note. Heather would tilt her head, watching Natasha read it before she giggled and handed it to her. "W-wha?" Heather let out before she would look over at the table, seeing the two girls. Heather's eyes would widen as her face would turn a complete red, putting the note down and looking down. "A-are you serious?" Heather let out, her embarrassment showing quite a bit before she heard Natasha's words.

"U-Umm..right." She let out, taking a bite out of the cake as well, taking the t ime to taste it before nodding her head. "Aah heh, that's really good!"
_________________
Friction/Tension:
| | | | | | |
| --- | --- | --- | --- | --- | --- |
| Heather Sunderland| | Alessa Mason| | Sena Iwakura| | Cristina LaBrie| | Victoria Baynes| | Cheryl Pride |
Alternative/FnF
Trisha Birkin
Tension:
| | |
| --- | --- |
| Dante Sunderland| | Ambrogio Mastrostefano |
Natasha never took her eyes off of Heather's face as she waited for her own question to be answered, lifting her fork laden with chocolate cake up to her lips for another bite without ever looking away. She made sure to eat nice and slow, letting some of the chocolate remain on her lips just so that she could lick it all off a moment later with her tongue, winking to Heather to tell her she knew what she was doing. It was rather fun to tease Heather like this, especially now that the mood had become so much lighter with the mutual admittance of how they each felt. She wasn't sure yet that Heather would ever leave Cecilia for her, the woman had been there for her after all, but nor did she want her to, so long as there was that chance she would have to be happy with it.

"D you say, well from what my hands remember that sounds about right." Natasha replied before she glanced over at the two women herself, giving them a polite wave but shaking her head to tell them it wasn't going to happen. "Im surprised this doesn't happen to you everywhere you go to be honest, but don't worry, while they look like fun I wouldn't think of inviting them over."
Heather would meet Natasha's gaze as she watched the girl pick up her fork and eat the cake slowly in the way she did. Just watching the way that Natasha was going about it, seeing the girl lick her lips and winking at her, Heather blushed deeply as she had to look away. The girl definitely knew how to tease her and it seemed that Natasha enjoyed doing it quite a bit. Alot of people did, much to Heather's dismay. Natasha however seemed to do it quite well, something that Heather couldn't really fight back against.

"A-ah...d-do you really have to word it that way?" Heather let out, blushing wildly at not only what Natasha was saying, but to what had just happened with the two girls. Fortunately, Natasha could easily handle that situation. "a-ah..well ...that's a relief at least." Heather let out, still blushing quite a bit as she took another bite of the cake.

"U-uhm..th..that show is starting soon..the illumination fountain."
_________________
Friction/Tension:
| | | | | | |
| --- | --- | --- | --- | --- | --- |
| Heather Sunderland| | Alessa Mason| | Sena Iwakura| | Cristina LaBrie| | Victoria Baynes| | Cheryl Pride |
Alternative/FnF
Trisha Birkin
Tension:
| | |
| --- | --- |
| Dante Sunderland| | Ambrogio Mastrostefano |
After quite a bit of practice Natasha had gotten teasing Heather down to an art form, one she quite enjoyed as her reward was the blushing face of the purple haired beauty, giggling as she saw the girl avert her gaze while her cheeks burned crimson. Her body felt a bit warm from the affects of the wine but she didn't mind at all, in fact she rather enjoyed the feeling of wine running down her throat as well as the feeling she got afterward from it, remembering her mother scolding her for liking it a bit too much from time to time.

Natasha merely nodded in response to Heather's question, a sly grin on her lips as she took another bite of the cake, closing her eyes and sliding her tongue out between her lips to wrap it around the cake, pulling it into her mouth with a pleased moan. When Heather mentioned the show Natasha put her fork down and waved for the waitress asking for the check as she was quite interested as to what this show actually was, having never heard of it until tonight. "Can't be late for that now can we, after all you put a lot of work into planning this night and now that its back on track we can't let it go to waste."
Page 6 of 7 •

1, 2, 3, 4, 5, 6, 7


---
Permissions in this forum:
You
cannot
reply to topics in this forum