Champions & #1 contenders
Match For Max.
Thu Jan 19, 2017 5:52 pm by Scarf
Just wondering if I could get something going for my
newest Friction wrestler.
If anybody finds themselves interested or has any possible ideas for the future don't hesitate to hit me up, I'd be happy to hear from you.
Comments: 0
Inconsistent posting
Mon Jan 16, 2017 8:53 pm by RJD
I have stuff coming up in the next couple of weeks and will not be able to post anywhere near as often as usual/before. To be honest this has already been showing it's effects lately but it will do so even more from now on. I'll prioritise my Avalanche match and multi character matches but other than that I'll respond probably once every few days, I'll try not to leave anyone hanging though.
Comments: 10
Looking for Friction matches!
Sun Jan 15, 2017 2:07 am by tehbohemian
Hey everybody just posting a notice I have 2 wrestlers that could use some love!
Shinobu just got out of her match and I'm looking for some wins or losses to add to her record, she is a serious fighter and is looking for more straight forward fights, she could be a good match up against other "martial artist" type characters looking for a challenge or she could stand up to a violent heel, anything works.
Sonic is also up for matches, people familiar with Ring Dream or Wrestle Angels should …
[
Full reading
]
Comments: 3
Page 3 of 6 •

1, 2, 3, 4, 5, 6

"Ghhhh...grrrr.. Rei was less than happy when Heather brought up their first match as she vividly remembered Heather making her submit to her in the ring. Growling, Rei tried to sit up but, was slammed back down onto her back as Heather was now sitting on her face. Rei's eyes wide with fear as she could feel the warmth and softness of Heather's sex against her as she smothered her. Her feet slid across the hardwood floor pathetically as she twisted and withered under Heather pathetically. "Mhhhhhhh!" Rei cried out into her crotch as her voice broke out into a whimper. The girl then realized how pathetic she sounded and growled in frustration as she let Heather hear her whimper like she was her bitch.
As Heather was able to take her seat on Rei's face, she would let out a little laugh, shaking her head. "Looks like your 'maid' just bested you Rei." Heather would let out, unable to hold back her laughter as she heard Rei's whimpers. She would lift her skirt up a bit to see the look in her eyes as she grinned down at her, knowing that she had her in a pin. "One!" she let out, beginning the count, though dragging it out quite a bit to get as much pleasure as she could having Rei under her.
_________________
Friction/Tension:
| | | | | | |
| --- | --- | --- | --- | --- | --- |
| Heather Sunderland| | Alessa Mason| | Sena Iwakura| | Cristina LaBrie| | Victoria Baynes| | Cheryl Pride |
Alternative/FnF
Trisha Birkin
Tension:
| | |
| --- | --- |
| Dante Sunderland| | Ambrogio Mastrostefano |
Rei growled as her opponent laughed at her in this position, the girl let out a grunt as she heard her opponent taunt "Mhhh!" Humiliated and humbled by Heather, Rei struggled to get out of this as best as she could. 'This was not supposed to happen!' Rei thought to herself as she cringed not believing Heather was about to pin her. Despite her efforts, she would be powerless from getting Heather off of her as she just couldn't bear to hear Heather count down.
Last edited by 863 on Thu Oct 18, 2012 4:48 pm; edited 1 time in total
"Hahaha I love how you won, and you're my 'mistress', but here you are being smothered under my ass." Heather let out, laughing out loud at Rei's struggles. In reality though, her struggles were actually providing quite a bit of difficulty for her. She should count faster, but she was enjoying her position too much, thinking regardless that she can remain on top of the girl. "Twooo!"
_________________
Friction/Tension:
| | | | | | |
| --- | --- | --- | --- | --- | --- |
| Heather Sunderland| | Alessa Mason| | Sena Iwakura| | Cristina LaBrie| | Victoria Baynes| | Cheryl Pride |
Alternative/FnF
Trisha Birkin
Tension:
| | |
| --- | --- |
| Dante Sunderland| | Ambrogio Mastrostefano |
Rei groaned as she wriggled helplessly while her opponent had the time to lecture her over how humiliating this was. Pinned under Heather's ass as she suffocated while her opponent sat there taunting her. Heather was supposed to be hers and yet she was the one being humiliated. The girl growled, Heather's over confidence was her over confidence, she finally had come up with a counter attack but, she had reacted to late. She needed just a little bit more time.
"What are you doing to my roommate?" Hikaru said blinking as she stood before the two with an empty mug in her hand. She had just finished her studying and was now going to take a well deserved break and drink a nice cup of tea. She silently walked up to the two while they were wrestling and just looked down at them.
[align=center:2sr3baq6]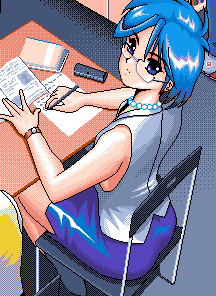 [/align:2sr3baq6]
Hikaru stood there wearing white socks, a short skirt, a white vest and a pair of glasses. The blue haired girl looked dumbfounded as she was fairly sure the girl currenlly sitting on Rei's face was Heather Sunderland but, why was she here. The better question was why is she on maid costume sitting on Rei's face? Blinking as she looked back and fourth slowly at Heather and then to Rei.
"Uhh... I am so...sorry.. I uhh..." Hikaru said with a flushed face as she began backing away., "I didn't mean to interrupt anything!"
Taking this as her chance, Rei would try and hook Heather's arms with her legs and try to roll her over in a sun set flip pin!
It was all going so well for Heather, she had Rei pinned underneath her and she was just one count away from besting the one who she's supposed to be serving. Her grin was as wide as it could get, about to revel in her pizza and free PPV. She would let out a long, satisfied sigh, just about to count to three before she would hear someone else's voice suddenly, startling her a bit as her head would shoot up, looking over at Hikaru, her face growing quite pale at the fact that someone else is now seeing her like she is.

"Wh-wha..who..Roomate??" Heather let out, shaking her head before she heard the girl continue on, causing her eyes to widen. "N...n-no that's not-Whaa!?!?" Heather would be startled again by Rei suddenly throwing her legs up and hooking her arms, rolling her over into the sunset flip pin, Heather quite a bit stunned and dazed to do anything.
_________________
Friction/Tension:
| | | | | | |
| --- | --- | --- | --- | --- | --- |
| Heather Sunderland| | Alessa Mason| | Sena Iwakura| | Cristina LaBrie| | Victoria Baynes| | Cheryl Pride |
Alternative/FnF
Trisha Birkin
Tension:
| | |
| --- | --- |
| Dante Sunderland| | Ambrogio Mastrostefano |
"Oh hey Hikaru!" Rei said in a very quick and formal fashion.

"H-hey...." Hikaru said watching in confusion as it appeared the two were wrestling. She just sort of stood there like a ref hovering over them still trying to piece this madness together.

Having a grip of Heather's inner thighs she spread them open and a good view of Heather's cotton white panties, Rei had successfully turned the tables. Panting through her teeth, the Cosplay fighter took a breather as she had just been smothered for a very long two count. After regaining her breath, she found it ironic that her opponent's over confidence proved to be her downfall yet again.

"I got you now maid! One!" Rei teased as she smirked holding Heather's shoulder's down for the count.
"Tch..d-damnit." Heather let out as she would find herself pinned by Rei. Hikaru provided quite the unintentional distraction, leading to Heather being put right into this position.

With Rei firmly gripping her thighs, spreading her legs open and pinning her arms down with her legs, Heather wasn't finding a way to escape anytime soon. She was still a bit stunned and dazed from the sudden reversal, and the embarrassment of Hikaru standing there watching t hem was getting to her quite a bit, her almost freezing up.

"N-nooo!" Heather let out, struggling in the pin, though not as fiercely as she might have wanted it to be.
_________________
Friction/Tension:
| | | | | | |
| --- | --- | --- | --- | --- | --- |
| Heather Sunderland| | Alessa Mason| | Sena Iwakura| | Cristina LaBrie| | Victoria Baynes| | Cheryl Pride |
Alternative/FnF
Trisha Birkin
Tension:
| | |
| --- | --- |
| Dante Sunderland| | Ambrogio Mastrostefano |
"Twooooo~" Rei counted again as she would save her gloating for afterwards not making the same mistake Heather made. Hikaru watched on as the two with a shake of her head, this has gotten to crazy for her tastes. She was ready to leave when Rei's lips formed a smile as she held Heather in place as she struggled desperately to escape. Hikaru tried to ignore Heather's white panties but, they were hard to tear her gaze away from. The reserved Hikaru flushed a bit at this display as she finally turned her head unable to watch any longer only to turn her head back.

"Why don't you finish the count... Heather?" Rei would ask as she would hold her down as long as she could. This was a pretty much a slap in the face cause Rei felt she could hold Heather here all day.
"Haah!" Heather let out as she heard Rei count to two. The girl wasn't wasting any time like she did. Heather knew she was in trouble now and it seemed Rei wasn't going to give her any room to escape. At the same time, she could feel that Hikaru was still in the room, observing what was going on, causing Heather's face to turn a deeper and deeper red by the second. Heather knew she had to get out of this pin, but she wasn't sure how she was going to do it, Rei had it quite secure and Heather was still quite taken back.

"Wh-what!? That's ridiculous no way" Heather would let out, shaking her head as she continued her struggles, refusing to count herself out.
_________________
Friction/Tension:
| | | | | | |
| --- | --- | --- | --- | --- | --- |
| Heather Sunderland| | Alessa Mason| | Sena Iwakura| | Cristina LaBrie| | Victoria Baynes| | Cheryl Pride |
Alternative/FnF
Trisha Birkin
Tension:
| | |
| --- | --- |
| Dante Sunderland| | Ambrogio Mastrostefano |
Page 3 of 6 •

1, 2, 3, 4, 5, 6

---
Permissions in this forum:
You
cannot
reply to topics in this forum