Champions & #1 contenders
Highfly Flying Out Of Town
Tue May 22, 2018 1:31 am by HighFly
Hello everyone, I just wanted to inform all I have threads with that I will be gone from this coming Wednesday through Sunday. I won't be able to post consistently if at all during this time, but I will try to make up for it next week! I am sorry for the inconvenience to everyone.
Comments: 7
The Austrailian Mudslide is Back.
Sat Apr 21, 2018 6:20 am by Softsquad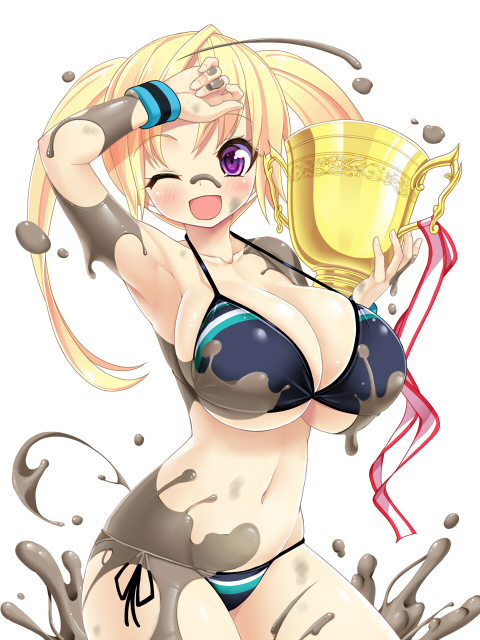 Granted that most of you won't know me or remember me, but I've had a few matches here and there some time ago. Well I think its time to become a regular around here and try to have some fun again, but at the same time keep coming back. Anyway I think its time to jump into some matches with Zoe Taylor, my mud wrestling character from Australia and get her back into the squared circle. Furthermore I will update my characters as I think some proper changes need to happen.
So if anyone would …
[
Full reading
]
Comments: 5
Page 1 of 6 • 1, 2, 3, 4, 5, 6


Giving a yawn, Rei wiped her watery eyes awakening from her bed. Curled up in her cocoon of sheets, she turned over only to fall over onto the hardwood floor. "Mhh!" Rei grunted followed by a long but, low groan of pain and displeasure as her comforter unraveled exposing her to the cold. Turning her head, she watched her Gurren Lagann clock, a prize she won from an anime convention, turn from 10:29 to 10:30. Rei got off the floor with a yawn kicking her comforter into a corner as she began her morning stretches as she looked at her walls which were littered with anime posters, some memorabilia of her days at Wrestle Angels and some pictures of her and her friends having fun. Looking skyward she stretched her wrists up while cracking her knuckles, she stretched onto her tip toes and doing so revealed the flesh on her stomach. Giving a groan, she began unbuttoning her red pajamas and taking off her pants also tossing them aside as she somehow avoided knocking over her tower of empty energy drink bottles she collected in her corner or stepping on any of her anime DVDs which were littered on the floor.
Wallking down the hallway naked, she could hear the itching and scratching of her roommate's pencil with a bit of music coming from her headphones no doubt studying for another exam. After taking her morning shower, she came out of the steamy shower with a smile after wiping the mirror with her towel. She examined her body with a grin all of her bruises were gone. Her ladder match with Heather a week ago left her in quite the mess but, after a week of well deserved rest her bruises left. However, she was still tender and sore in a few places but, it was a lot better than she was in the infirmary. She put on a black sports bra and a loose long sleeved shirt and a pair of black shorts that hugged her body that came to her thigh and not wearing any underwear.
[align=center:2e3id2ws]
[/align:2e3id2ws]
Munching on a piece of her toast while she browsed through the manga, she swung her legs back and fourth as the clock in the dining room chimed signaling that it was 11am on this fine Sunday Fall morning. Unknown to Rei, she was going to have company. She had told Heather to come today in a maid outfit today at 11 to be her personal maid for the day. However, it had somehow slipped Rei's mind as she placed the toast in her mouth and munched it making her hands free for flipping through her manga.
"This..is the worst.." Heather was making her way over to Rei's place, per her commands as she was now her property, which in itself wouldn't be so bad but the fact of what Rei told her to wear was incredibly humiliating for Heather. "The..absolute worst.." She kept repeating to herself, her face a full red as she drove in her car, just hoping that no one could see her through the windows. Her heart was pounding fast and she had a whole lot of pent up anger and frustration in her, as well as quite the sore body from their ladder match.
Finally, Heather would pull up to the apartment building she lived in, taking a long deep breath. It was 11 o' clock, the appointed time, but Heather was quite reluctant to get out. She looked at the paper with the room number on it and shook her head again. "Damnit..why can't she live in a house or something.." Heather would say before taking another deep breath, stepping outside her car, revealing to anyone who was looking exactly what she was wearing.
[align=center:1m47raip]
[/align:1m47raip]
The blush on her face was quite deep as she walked into the building, earning stares from the few people that were out of their rooms. She would curse under her breath, never having been more embarrassed in her life as she would go to Rei's room as quickly as she possibly could, knocking on the door hard when she reached it. "Rei! I'm here! Open the door!!"
_________________
Friction/Tension:
| | | | | | |
| --- | --- | --- | --- | --- | --- |
| Heather Sunderland| | Alessa Mason| | Sena Iwakura| | Cristina LaBrie| | Victoria Baynes| | Cheryl Pride |
Alternative/FnF
Trisha Birkin
Tension:
| | |
| --- | --- |
| Dante Sunderland| | Ambrogio Mastrostefano |
"Hmmm....?" Rei said as she had the piece of toast in her mouth as she got up scratching her leg with her foot before getting to her feet. Hearing the knock on the door, walking over Rei heard a familiar voice but, she just couldn't identify who it was just right away. Grabbing the door nob, Rei turned the door open and before her stood Heather in a pretty little maid outfit. Her jaw dropped to the floor and so did her toast. Speechless, Rei's face turned red as she looked upon Heather with fascination. She looked so angelic, so beyond words and the fact Heather detested enjoy looking this way just made Rei become infatuated with her outfit even more. Eyes unable to close, Rei just stood there in the door way.

"Heath-....uhh..." She began at a loss of words

"Ah!!" Rei would squeal putting her hand over her face and more specifically her nose as Heeather would get a glimpse of blood trailing down her face before Rei shut the door hard in Heather's face. Pressing her back against the door, she pinched her nose and ran straight to the bathroom to clean herself up. Her face red with humiliation at her body reacting that way. "One second!" She would call out.
Last edited by 863 on Sun Oct 14, 2012 9:04 pm; edited 2 times in total
Heather would cross her arms as Rei opened the door, expecting her to laugh and let her in, but what she saw surprised her. She watched as Rei's jaw dropped, standing there stunned as she looked at her. This caused Heather to blush even deeper, gritting her teeth a bit as she let out a groan of frustration, tapping her foot on the floor. "A-are you going to let me in or what???" She would let out, wanting to get out of the hallways as soon as she possibly could.

"..What is wrong with you??" She let out as Rei seemed to be speechless in front of her. She would see a small glimpse of blood trailing down her, seemingly from her nose before suddenly the door would slam shut in her face, Heather's eyes widening before she grit her teeth, growling out. "What the hell Rei!! Let me in!!" She let out, pounding hard on the door in frustration, wanting the embarrassment of being in the pretty much public eye to end.
_________________
Friction/Tension:
| | | | | | |
| --- | --- | --- | --- | --- | --- |
| Heather Sunderland| | Alessa Mason| | Sena Iwakura| | Cristina LaBrie| | Victoria Baynes| | Cheryl Pride |
Alternative/FnF
Trisha Birkin
Tension:
| | |
| --- | --- |
| Dante Sunderland| | Ambrogio Mastrostefano |
While Rei washed up, Heather's knocking and yelling drew more attention as she wasn't the only wrestler on the floor. Ayame Kurosagi came from the elevator living on the far end of the hallway was coming back from the gym with a towel over her shoulders wearing a casual pair of jeans and a red sports bra ontop. Heather would hear a whistle behind her as Ayame walked past her giggling mockingly as she happened to live in the same apartment as Rei. "Cute..." she said mockingly before going into her own room.

Rei finally opened the door and let Heather after washing up. The girl would pull Heather inside and shut it behind her. She was still a bit flustered seeing Heather in her costume unable to tear her gaze off of anything else. "Sorry... About that!" Rei said as she scratched her head as she took a step back extending her arm to her place. "Well! Welcome to my place... It's not luxurious but, It's home."

The apartment was in two sections it had a wide open space area with a TV and a dining table with the kitchen behind a wall and a counter. The other part was the hallway that had 4 doors:two of which were bedrooms, the other a closet and a washroom at the end. The apartment seemed to be clean in open space but it was also cluttered with textbooks and Manga.
Heather kept tapping her foot on the floor, waiting quite impatiently for Rei to open the door back up as she stood in the hallway. She had just stopped her pounding and yelling, realizing that she would probably attract attention doing so. However she would find out that it was quite a bit too late as she would suddenly hear a whistle from behind her, causing her to jump a little, turning to see Ayame giggling at her, hearing her call her cute before she would go into her own room. Heather's face would light up a complete red, stomping on the ground and clenching her fists tightly. "Y-YEAH WELL YOU'RE...GH..DAMNIT OPEN THE DOOR REI!!"

Finally, the door would open as she would be pulled inside, Rei shutting the door behind them. Heather glared at the girl before Rei would give her a little quick introduction, quite the variety of mess all around it seemed.

"..It's nice.." She let out, it sort of reminding her of the apartment she held for a while, though a bit more messy. She would shake her head after, tapping her foot with her hands on her hips. "Alright so..what are we doing? Making me come here in this outfit and everthing...absolutely ridiculous."
_________________
Friction/Tension:
| | | | | | |
| --- | --- | --- | --- | --- | --- |
| Heather Sunderland| | Alessa Mason| | Sena Iwakura| | Cristina LaBrie| | Victoria Baynes| | Cheryl Pride |
Alternative/FnF
Trisha Birkin
Tension:
| | |
| --- | --- |
| Dante Sunderland| | Ambrogio Mastrostefano |
Rei giggled at how flustered Heather was as she didn't seem to be enjoying herself all that much. She folded her arms over her chest. Giving Heather a crooked smile as she walked around her examining her.

"What do you mean Heather?" Rei said slyly as she would wrap her arms around her waist from behind her pressing her mouth to her ear. "I thought it was pretty obvious why I called you over in an outfit like this. I own you now. I can only sit and wonder what you would do to me if I lost so don't hold it against me if I take full enjoyment in humiliating you."

Rei smiled, she would turn Heather around and get uncomfortably close to her. Pressing her body against Heather's as she tried to grab her hands and pin them to the wall as their fingers entertwined together. Pressing her forehead against Heather's she spoke with a lower register to sound more seductive.

"As my first order Heather, you must now address me as mistress. Is that understood, maid?"
"Tch..I know that much.." Heather said in response to Rei reminding her that she owned her. Heather had to hold in her frustration as much as she could, it really brewing inside her and dying to burst out, but she was doing a good job of making sure that she played along, knowing that truthfully so, she had to.

"Egh...C-can't really say anything to stop you..I'm yours.." Heather let out reluctantly as Rei would turn her around and press her body against her's, causing her to blush deeply before Rei pinned her hands to the wall, entertwining their fingers together and pressing her forehead against her's, causing Heather to actually gulp a bit.

"Gh....y...yes..mistress.." Heather would look to the side, gritting her teeth, feeling utterly helpless and humiliated just from this.
_________________
Friction/Tension:
| | | | | | |
| --- | --- | --- | --- | --- | --- |
| Heather Sunderland| | Alessa Mason| | Sena Iwakura| | Cristina LaBrie| | Victoria Baynes| | Cheryl Pride |
Alternative/FnF
Trisha Birkin
Tension:
| | |
| --- | --- |
| Dante Sunderland| | Ambrogio Mastrostefano |
Rei blushed as she heard Heather say that she was hers. The thought of having this much control of Heather was intoxicating. Loving every second of this moment, she kissed her on the cheek lovingly. "That's a good girl you're better than this servant stuff then I thought." Rei smirked as she took a step back from Heather, "First things first! Oh miss maid! I need you to clean my room can you do that pretty please? It's the second door on the right, if you need cleaning suplies it'll be in the closet and try to keep it down."

Rei would then grab the manga she was reading before as she sits down at the dining room table. Occasionally, bursting out into chuckles as she munches on her toast resuming her late breakfast not even giving a second glance back at Heather.
Last edited by 863 on Mon Oct 15, 2012 4:56 am; edited 1 time in total
"Tch.." Heather didn't know whether to take Rei's words about her being a good servant as a compliment or not as she would keep her eyes averted, blushing at the girl's kiss on her cheek before she would take a step back. "Ugh....yes..mistress?" Heather would hear the girl's first order, listening in quite disbelief to what she was asking of her. Cleaning her room? Heather kept running through her head that she was the number one contender for one of the biggest titles in Japan, yet here she was about to clean someone's room in a maid outfit.

"...r...right away...mistress." Heather bit her tongue as she grabbed the cleaning surprise, letting out a long sigh as she saw Rei's messy room. She would spend quite a while cleaning up her mess until it was very nice and orderly looking, putting the supplies back and heading back over to Rei. "...The cleaning is done...mistress.."
_________________
Friction/Tension:
| | | | | | |
| --- | --- | --- | --- | --- | --- |
| Heather Sunderland| | Alessa Mason| | Sena Iwakura| | Cristina LaBrie| | Victoria Baynes| | Cheryl Pride |
Alternative/FnF
Trisha Birkin
Tension:
| | |
| --- | --- |
| Dante Sunderland| | Ambrogio Mastrostefano |
Page 1 of 6 • 1, 2, 3, 4, 5, 6


---
Permissions in this forum:
You
cannot
reply to topics in this forum