Champions & #1 contenders
Match For Max.
Thu Jan 19, 2017 5:52 pm by Scarf
Just wondering if I could get something going for my
newest Friction wrestler.
If anybody finds themselves interested or has any possible ideas for the future don't hesitate to hit me up, I'd be happy to hear from you.
Comments: 0
Inconsistent posting
Mon Jan 16, 2017 8:53 pm by RJD
I have stuff coming up in the next couple of weeks and will not be able to post anywhere near as often as usual/before. To be honest this has already been showing it's effects lately but it will do so even more from now on. I'll prioritise my Avalanche match and multi character matches but other than that I'll respond probably once every few days, I'll try not to leave anyone hanging though.
Comments: 10
Looking for Friction matches!
Sun Jan 15, 2017 2:07 am by tehbohemian
Hey everybody just posting a notice I have 2 wrestlers that could use some love!
Shinobu just got out of her match and I'm looking for some wins or losses to add to her record, she is a serious fighter and is looking for more straight forward fights, she could be a good match up against other "martial artist" type characters looking for a challenge or she could stand up to a violent heel, anything works.
Sonic is also up for matches, people familiar with Ring Dream or Wrestle Angels should …
[
Full reading
]
Comments: 3
Name: Robin Nask
Nickname: Noble Justice
Age: 20
Eyes: Blue
Hair: Grey
Height: 5'7
Weight: 177 lbs
Nationality: British
Entrance music
God Save the Queen (Not the version we all know)
http://www.youtube.com/watch?v=6tTFB28xhPQ
Wrestler Type
Backbreaker-Slam
Favored moves
Reverse Tower Bridge- Robin leaps off the ropes while the opponent is on the mat backside up and upon descending rams her head into the opponent's back.
Human Rocket- Robin launches off the ropes at her opponent like a rocket.
Robin Course of Death- Very similar to the reverse Tower Bridge only after slamming her head into the opponent's back, she holds onto the opponent's legs and head and repeatedly jabs her head into the opponent's back.
Suplex- Need I describe this?
Boston Crab- I don't think I need to describe this either.
Bow and Arrow Lock- Robin kneels on her opponent's back with both knees, hooking the head with one arm and the legs with the other. She then rolls back so that her opponent is suspended on her knees above her, facing up. Robin pulls down with both arms while pushing up with the knees to bend the opponent's back.
Finishing Move
Tower Bridge- Robin mounts her opponent faceup across her shoulders and grabs the opponent's head and legs, pulling down on both ends.
Ropework Tower Bridge- Similar to the Reverse Tower Bridge only Robin sends her opponent into the ropes while jamming her head into the opponent's back.
Robin Special- With her opponent falling headfirst towards the ring, Robin jumps up and catches the opponent's head with her feet. She then flips up so that the opponent's head is now between her knees and then wraps her arms around the opponent's body and drives the opponent headfirst into the canvas. It's similar to a Tombstone Piledriver.
Robin Special v. 2- Just like with the first version, she catches her opponent's head with her feet. She then extends her arms so that she lands on her palms. Right before they hit the canvas, she briefly lets go of the opponent's head only to capture it in a Triangle Choke as both wrestlers touch down.
Match Preferences
Anything that doesn't come across as "too pathetic" for her.
Physical Appearance
Personality
She can come across as a bit of a roughneck in the ring, but overall she is a nice person at heart, just tends to get a little too into matches if you know what I mean. She will gladly take a dive for someone fighting under a disadvantage and complement opponents for good strategy as she was taught to be polite. She often shows opponents sympathy after beating them as to her, wrestling is just a fun sport and nothing more. She still prefers a challenge over anything else, though, and hates being humiliated.
Edit: Due to her match against Taylor and how traumatizing the shattering of her armor was, she still shows respect for tough opponents, however, she no longer shows mercy during matches. No more does she follow the "Ladies first" code of honor and let opponents get the first move. Nor does she believe in fair chances anymore. She still does what she can to win fairly, but she's a lot more aggressive and has developed a new style of fighting: Never let the opponent out of her grasp no matter what or who this opponent is. Wrestling has become a lot more serious in her mind as she now treats it like life or death and can occassionally take things a little too far.
Background
Robin grew up in a rich mansion. She was never allowed to leave her house to play as her parents wanted her to study her whole life. Alas, she grew tired of her life after a while and ran away from home to become a pro wrestler like those she watched on TV in her spare time. She joined friction not only to be able to fight but to also make her first friends.
Edit: After her match with Taylor, her armor was broken. As a result, she started questioning whether or not her polite nature should stay out of the ring. She believed the breaking of her armor was caused by her own carelessness, and as a result, she has become more ruthless in matches. She temporarily left the grounds to train extra hard in the hopes that she could become stronger and crafted herself a stronger armor, one that will never be broken no matter what.
Attire
A silver breast-plate and Speedo is all she feels she needs, but occassionally, she'll wear a simple bra and panties combo. She feels no need to be overly dressed for wrestling matches.
Edit: Due to her silver breast plate being destroyed, she now wears a solid gold breast plate and golden Speedo. She no longer relies on simple clothes, even for opponents who deserve a slight advantage.
Record:
Carol- O (Knight Kick--->Pinfall)
Shizuka- O (Suplex Pin)
Shizuka- X (Girl's Game--->Pinfall)
Cheryl/Isabella- O (Robin Special)
Taylor- X (Flying side-kick)
Seraph- X (Pinfall)
Ashley- X (Hard punch--->Pinfall)
Akashi- O (Tower Bridge--->Forfeit)
_________________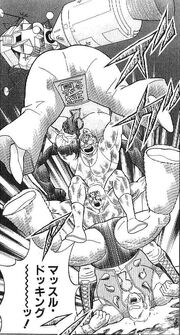 MUSCLE DOCKING!!!!!



Posts

: 1489


Join date

: 2009-02-10




Similar topics
---
Permissions in this forum:
You
cannot
reply to topics in this forum