Who is online?
In total there are
35
users online :: 4 Registered, 0 Hidden and 31 Guests :: 2 Bots
Cicilia
,
LunarWolf
,
M.J.Caboose14
,
pu-level-up
Most users ever online was
390
on Tue Jan 02, 2018 2:02 pm
Champions & #1 contenders
More balanced match simulations and new content!
Tue Feb 12, 2019 2:56 am by WrestleMind
Howdy, everyone! I've recently put some work into making the match simulations more balanced and inclusive of a greater variety of stats.
New stuff:

Since many of you have expressed interest and provided helpful feedback I decided to add a few other tools people can use on the site.



a tournament simulator! Essentially you enter a list of wrestlers decide the odds for each individual match and the tournament bracket will automatically adjust.

A random character creator. Press a button and a character …
[
Full reading
]
Comments: 9
open for Matches or rps
Wed Feb 13, 2019 7:02 am by kiranar
I have several characters open if someone wants to wrestle them. Message me if you want to face one of them with the match ideas. If you have a character that was wanting to hunt we can somewhat copy the concept of the new Monster Hunter movie to warp your character into that dangerous world or your character contacts mine to hire me guard them while they gather herbs or minerals from the area.
Comments: 0
A fight wanted for a furry
Tue Jan 29, 2019 7:00 am by Sebastian
Would like a fight against my fighter which is included in the signature.
Wrestling matches. Bar fights, Street brawls etc. I'm all too it
Comments: 1
Page 1 of 2 • 1, 2


Anna was in the gym resting after her recent match. She was relieved to have won her first 2 matches, but for both, she had gone so far as to use moves that preferred to avoid. One almost killed her first opponent while the other was just downright degrading. She was determined to win her next match in a better fashion.

She sighed, hoping she could at least find an opponent first.
Last edited by 383 on Fri Feb 20, 2009 10:21 pm; edited 1 time in total
_________________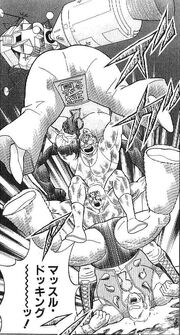 MUSCLE DOCKING!!!!!
A few lockers down, there was an orange haired woman, dressed in a black leotard and pantyhose. She stood at 4'11, and was busy doing some stretches. She had lifted one leg up all the way to her shoulder, counting 10 silently before alternating legs, then lifted her first leg up in the same fashion, except behind her! She had her eyes closed, pulling her leg up behind her as high as she could, counting to ten again before doing the same with the other leg. She didn't seem to notice the girl nearby her, too busy with her warm ups. Her next stretch caused her to slowly lean backwards and make a bridge with her body, not even using her arms to hold herself up, just using her head, then after holding that position, she would slowly flip her legs backwards until she was back up to her feet.
Anna noticed this new girl. The way she was dressed didn't matter to Anna, but this girl looked like a promising opponent. She walked over to her saying, "Sorry for interupt, but how would you like to face me in the ring?"
_________________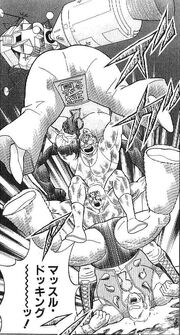 MUSCLE DOCKING!!!!!
Nadya opened her eyes at the sound of someone speaking to her. She glanced over to her, then turned away, resuming her stretches. However after a moment or two, she would speak up, her voice with a romanian accent. "Quick to challenge, are you not? You know not my name, nor anything about me. I must assume the only reason you picked me is because of my size, no? Or do you find my stretches to be arousing to you?" She asked her. "For that matter, what makes you so sure I'm even a wrestler?"
Anna bowed and said, "Sorry. I should have asked first. You just look so strong and skilled..."

She let down sweat thinking, 'This is embarassing,' then said, "I'm Anna."
_________________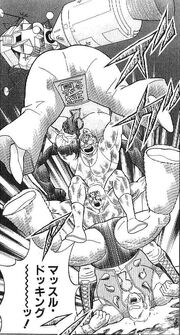 MUSCLE DOCKING!!!!!
Nadya raised an eyebrow at the compliments. "Do I now?" She asked, then turned to face her for a moment, seeing her bowing to her. "Hmm... I am called Nadya." She replied. "What kind of moves do you prefer doing?" She asked her.
Anna smiled and said, "I have no specific style. I have developed moves from watching others and have my own style. For me, if it can harm an opponent, it doesn't matter whether it's submission, direct or slam."
_________________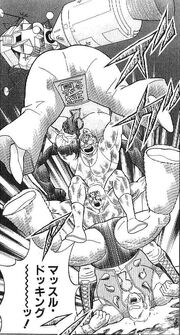 MUSCLE DOCKING!!!!!
Nadya thought for a moment before resuming her stretches. "If we are to fight, I have only one request." She declared.
Anna was a little tensed up now. She had to agree to something, but she was ready for it, she was sure. She put on a serious look and asked, "What is it?"
_________________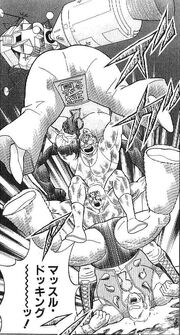 MUSCLE DOCKING!!!!!
Page 1 of 2 • 1, 2



Similar topics
---
Permissions in this forum:
You
cannot
reply to topics in this forum