Champions & #1 contenders
Moonhearts Promo intro thread is O p e n.
Mon May 21, 2018 4:21 am by XSirenX
Feeling brave?, lost?, or without a thread to post in?, hit up the newest Moonheart if any of those apply!
CLICK HERE
What Moon has to offer?, many things...:
Comments: 0
The Austrailian Mudslide is Back.
Sat Apr 21, 2018 6:20 am by Softsquad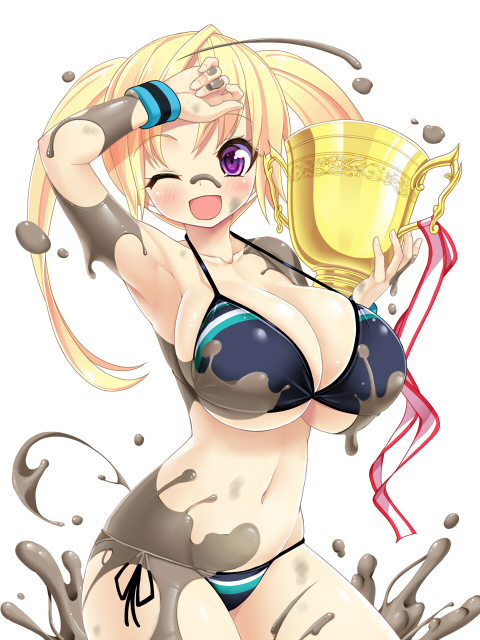 Granted that most of you won't know me or remember me, but I've had a few matches here and there some time ago. Well I think its time to become a regular around here and try to have some fun again, but at the same time keep coming back. Anyway I think its time to jump into some matches with Zoe Taylor, my mud wrestling character from Australia and get her back into the squared circle. Furthermore I will update my characters as I think some proper changes need to happen.
So if anyone would …
[
Full reading
]
Comments: 4
Page 1 of 3 • 1, 2, 3


Allison slept soundly, despite the evening's events, until she was roused in the early morning by the nightmares. They were never about anything she could place, nothing in particular, but she was used to spending time while the black sky turned gray sitting quietly by herself. Often, she got back to sleep. Sometimes she didn't.

She thought back to her days in London, as a younger, less refined girl. She remembered them not fondly, but with a sort of professional satisfaction. One instance in particular occupied her thoughts.

After her time as an amateur, as a mud-wrestling gentleman's club attraction, she spent a good deal of time in an organization that handled both men and women. There was a girl there, a crowd favorite, named Priya. She was vaguely middle eastern, she referred to herself as Persian though she was likely just American, with glossy dark hair and exotic-looking eyes that were always dramatically made up. She often wore sheer, loose fitting clothes like a harem girl that showed off her feminine, curvaceous silhouette, while concealing just enough to make the crowd scream when she removed them. She was Priya the Snakecharmer, an ill-thought out marketing gimmick, Allison always thought.

The girl was fed matches competitive enough to be interesting, but always ones she could win. Management made sure to keep her healthy and keep her winning, and she built her winning streak until she was brimming with confidence that spilled over as more eye candy for the salivating masses.

Allison couldn't pass up the opportunity, and she began antagonizing the girl at every given opportunity. Priya wasn't used to such treatment, and, convinced she could beat anyone, challenged Allison to a match in front of the entire arena. Allison suppressed her smile long enough for Priya to see that she wasn't quivering with fear at the thought of facing her, so she added a stipulation: a cage match. Allison was delirious with joy.

The match came, both girls stood in the ring and the cage descended. Allison wore her usual red and black bustier with coat tails and matching bikini bottoms with red knee pads and a pair of boots made to look like sheer black stockings, laced up the front. Priya wore a slutty combination of black spandex shorts that failed to cover her entire ample butt, ever so slightly transparent, with the pink strings over her thong rising up over her hips, and a strapless pink bikini top that showed off her sizable breasts. She wore a black leather belt that supported large silver rings all the way around her hips, bracelets, a necklace, and other than an anklet, she was barefoot. The crowd enjoyed them both, but was madly in love with Priya.

The two exchanged holds, neither girl gaining the upper hand or doing any real damage. That early in Allison's wrestling career, at the age of 22, she was not yet a dominant wrestler, and Priya was experienced, even if not against top level talent. It was not until Allison caught Priya in an inverted facelock and dropped her back over her knee that things began to go her way.

Priya stayed down, writhing in pain. Obviously, the way Allison's knee had hit her spine had done damage that she couldn't just shake off. She was hurt, and Allison's pulse quickened.

Allison gave the girl a savage, merciless beating, stomping her back until she turned over and then planting her boot on her throat until she turned purple, then grabbing the poor girl's legs and kicking the toe of her boot into her crotch. That one drew a scream of pain from Priya that quieted the crowd. She grabbed the Persian girl Allison could have climbed the cage and won at any time, but she didn't. She stayed, not just to hurt Priya, but to destroy her.

The girl laid in a pitiful heap, obviously broken, tears running down her face, leaving trails of black makeup on her cheeks. Allison stepped on her hair to hold her in place and leaned down while Priya began to realize that there was no way out.

"Help! Somebody help me!" Priya wailed. Allison laughed delightedly.

"Awwww..." She said through laughter, as if the girl was the most adorable thing she'd ever seen. She leaned down until she was face to face with her. "Pretty Priya, what's the matter? Tell me what's wrong." She said, her voice loaded with fake sympathy, as if she were speaking to a child. Priya only covered her face and tried to turn away while she shook with heavy sobs.

"Oh, but I want to see your pretty face!" Allison said cruelly. She grabbed the girl's wrists and began yanking violently on them, trying uncover her face. She stepped on Priya's arm, pinning it to the mat, and finally yanked the other one away. She then slapped her, not on the cheek but with her palm slamming into the bridge of her nose, again and again until blood ran down to the girl's chin.

Allison stood back, grinning from ear to ear and turning to look at the crowd to see if they were appreciating her masterpiece, but they only watched the beating in muted horror.

"Alright, that's quite enough." Allison said. "I think you've earned it, not go ahead and climb out. For your bravery, the match is yours." She gestured up to the top of the cage. If the girl could climb out, she would win the match and escape her torture at Allison's hands, but Allison had devoted time to torturing her legs and her back. It might as well have been a mile high.

With some gentle coaxing from Allison, Priya eventually pulled herself up with help from the ropes and began trying to climb. It was her only hope. Several times, she made it a couple steps up the cage, and then fell, with Allison watching her all the while. Every time she fell, Allison was on her to dispense more abuse, slapping her face, kicking her in the spine, a knee dropped between her legs. Even Allison wondered how the league had not put a stop to this yet, though she wasn't technically breaking any rules, and the girl was not unconscious. And she was sure it made excellent television.

It wasn't enough to hurt her, not for Allison. Priya had one hope, and that was to escape the cage, and Allison wanted to take that from her. She wanted to watch her confidence melt through pain into terror, and then watch that terror slowly dissolve into resignation.

She was eventually interrupted, but not by security of by other wrestlers. Priya's 15 year old sister charged the ring and climbed the cage and threw herself over her sister's body to protect her. "Stop it! Please!" She begged. Allison made her pay for that, and she delighted in every scream she drew from the teenager, and in every facial expression the sight drew from Priya.

When Allison did finally leave the cage, she left Priya and her sister a bloody, beaten mess. It was Priya's last appearance in a ring, but for Allison, it was just the beginning. She became the villain, the one everyone feared but wanted desperately to see beaten to a pulp by some scrupulous, moral heroine. She was never cheered by the crowd, but people paid to see her in hopes of witnessing her demise and the league loved it. It was where Allison belonged.

As the sun began to peek over the horizon and the gray sky began to run with color, Allison got up from her chair and walked softly over to the closet where she'd stashed Jocelyn for the night.

"I despise you, Jocelyn," She began softly, loud enough that she could only just be heard through the door. Jocelyn could well have been asleep, but she spoke to her all the same. "I know what you are, and you should know that I love you. With the sort of love that you can't suffer quietly, darling. Jocelyn. You want to destroy me, but you cannot. I will devour you. And I will make you whole." And then she added in a voice only barely above a whisper. "I have a job for you."

She went back to bed and slept until late in the morning.
Jocelyn had gotten as well a night's rest as she could considering the circumstances. Bound and shoved in a tight space, the sheer fatigue rendered upon her from the day's activities. She was thankful for that and sleep was a blank, black void that peacefully interrupted the waking nightmare that she was entrenched in.

She woke up stiffly a few hours later and after a bit of struggling, she let her body go limp. The binds were tight. The skill of the woman, even wen she was inebriated made Jocelyn scowl. 'She would be good at it' Jocelyn thought as she stared at the blackness that swallowed her, that had been the world for her for a time. As her thoughts drifted, her cheeks felt hot. They began to meander to a slightly more provocative place and she curiously wondered if Allison preferred that sort of thing inside the bedroom as well. Jocelyn sighed and pushed those thoughts aside. They wouldn't do now. Not in this predicament. The last thing she needed was to start getting heated.

Jocelyn turned her neck and groaned when it ached. Her head pulsed. She opened her mouth and began to pant. Her head was cold and sweaty despite the warm confines which were heated by her own hot breaths. The stale air she'd been recycling for some time now. Her nose twitched, she sneezed with a dainty 'achoo' the force of which, smacked her head into the door. Jocelyn growled and smacked her head against it once more in spite before letting out a sigh.

"Christ."

She muttered the word and closed her eyes, trying to get back to sleep. She was too weary to try and think of what would happen when she finally got out. IF she got out. With the crazy bitch who had a firm grip on the Chistralian's heart, that certainly seemed like a possibility. She was lucky though. She managed to drift off to sleep again but the respite was short and the next few hours were spent waking and nodding off. Too tired to sleep, too eager get on with the next phase of the sinister woman's plot.

When Allison finally woke, Jocelyn's eyes were already opened listening for the first rustling sheets, the first padding of feet on carpet. The first opening of doors and turning on of faucets. Jocelyn's ear wiggled at every breath of sound that came her way. When she heard the footsteps approach and Allison lean in and speak, Jocelyn sucked in a breath and bit her lip. Hear heart raced with each new utterance.

When Allison finished and walked away, Jocelyn's head fell. She closed her eyes as tears formed and dripped off her cheek. She wasn't even sure why she was crying. The woman had just told her that she hated her. A knife right in the chest. But she said she loved her. Enough to make that heart of hers burst with joy. Either way, Jocelyn had decided that she was crying tears of Joy. Allison was hers. Hers. Whatever Allison claimed, Jocelyn knew she had triumphed. Even if she had to be locked into a closet to be victorious. They would be together, forever. Allison just didn't know that Jocelyn didn't mind destroying herself if it meant she got to destroy Allison as well. And once she learned that, the blond would certainly conclude that love was more ideal than hate.

Jocelyn was able to fall asleep more peacefully after Allison left, her lips curling into a slight smile at her perceived victory. But even if she got to sleep, she wasn't able to STAY asleep. This time, however, it wasn't because she was having troubled thoughts or stiffness. This time it was because of something much more biological.

"BLOODY FUCKING HELL!" Jocelyn shouted. She rattled her body against the door and began banging against it as hard as she could, banging her head into it to make it louder.

"SARAH! WAKE UP YOU DISH LICKING OLD CUNT!"

She let out a breath and sucked in a new one. "I gotta take a ragin' fuckin pisser! Shit! Mother fucker!" She growled squirming as she clenched her teeth and closed her eyes. "Fuck. Fuck. Fuuuuuck....' Jocelyn then slammed her knee into the door and cursed at the self inflicted pain.

"Dammit! Fuck! I'll do it!" She yipped. "You want that!?" Jocelyn growled again. "You'd probably love the fact that I'd piss myself you cunt." She muttered to herself. "I'll do it!" She piped back up. "Piss all over your fancy closet! Open the fuck up, dammit! Gaaah! I gotta peeeeee!" Jocelyn whined out the last bit. She really had no idea if Allison had a fancy closet or not, but she assumed that the closet she was stuffed in was like everything else in Allison's life. Pretentious and more valuable to the blond devil than Jocelyn was. At least, she hoped so. She wasn't really looking forward to the alternative no matter how much spite she may be able to relish in.
Last edited by 445 on Sat Sep 22, 2012 10:22 am; edited 3 times in total
Allison's eyes opened, but the rest of her remained perfectly motionless. Awakened prematurely by the rather unpleasant things being shouted from the closet, she was instantly angry enough to kill. She took a deep breath before rising.

"Just a moment, darling." She said in a soft, pleasant voice like red velvet as she passed the closet. She put the kettle on the stove and prepared her french press, she cleaned herself up and fixed her face and hair until she deemed herself presentable, and then selected an outfit. She put on a pair of loose, silky, midnight blue pants and a long sleeved red shirt with lace and gold thread embellishment around the hem. She remained barefoot but for a gold toe ring, and when she was perfectly ready, she opened the closet door.

She seized Jocelyn roughly by the hair and physically dragged her to the bathroom, totally unconcerned by her inability to keep up after the long, cramped night in the closet. She flung her into the bathroom.

"There you go." She sang, softly and controlled. In the kitchen, the kettle was whistling, and with a smile she moved off to prepare her coffee.
Jocelyn heard Allison wake when she began to make a nuisance of herself. But she heard that the footsteps didn't come to the closet either. "Damn you..." She growled in a brief moment of clarity before her overwhelming urges claimed her again and she shut her eyes, clenched her teeth and began to wiggle against her tight confines once more.

When the doorfinally opened, there came no respite and Jocelyn was yanked out of the claset and dragged to the bathroom. She whined and cried, letting out terrible shrieks as she was dragged by the hair. Not only was Allison's purposefully rough treatment and hurried pace enough to keep the bound girl from regaining any balance, Jocelyn was also trying to keep herself from leaving a trail along with her. It was the worst kind of humiliation she could suffer, or so she thought. She managed to hold it in until she was tossed unceremoniously into the bathroom.

Her naked body was flush against the cold bamboo flooring and her head sank to the ground, pressing her forehead against it. Jocelyn let out a moan and slowly opened her weary eyes. She rolled onto her knees and looked at the toilet.

The lid was closed and her heart sank. She inched towards the porcelain bowl that served to taunt her thoroughly and tried to inch up it, her cheek smearing along the side of it as she tried to use her nose to pry open the lid. A difficult and shameful task. For once in her life, she had to thank Allison for being so meticulous. Surely this toilet was probably as clean as anything in the house. Her struggles proved fleeting though. She managed to get her head wedged in between the lid and the bowl and looked down at her reflection in the darkened pool of water.

She sniffled and watched the water ripple as tears dropped from her face, followed by a gooey string of snot that she tried to sniff up to now avail. For a moment she was free from her urges until she was hit with a bolt up her spine and tried to muscle upwards.

Her stiff legs only managed to push her halfway up before they gave in and she slammed chest first into the toilet seat. She groaned as her head dipped and her forehead touched the cool water of the toilet.

"uhnnneeehhh..."

She moaned. The water felt cool and refreshing and that fact alone caused fresh hot tears to roll down her eyes. While she cried, she could feel another hot sensation running down her leg. She had been naked except for her thong but in that moment, she wished that Allison had finished stripping her. The thong made a mess of her as she felt her body release and she cried into the toilet. After she was finished, she slid out of the toilet and flopped onto her back. She looked up at the ceiling. The liquid she was laying in, she could feel it almost crawling on her.

After about five minutes of staring, Jocelyn finally willed herself do a standing position, this time using the wall. She walked out of the bathroom, feeling everything she wallowed in dripping down her body and causing her to shiver. But when she entered the kitchen, she stared at Allison. Her eyes were red, leaking tears. Her nose had a dribble of snot running down it. Toilet water glistened along her forehead, running down along with the partial wetness of her bangs. Worse yet, most of her lower body was coated in her own urine in some fashion. She eyed Allison with dead eyes and finally spoke up, muttering more than anything.

"Clean it... the mess you made... clean it up. Clean it up, Sarah. Clean up your mess."
Last edited by 445 on Mon Sep 24, 2012 1:55 am; edited 1 time in total
Allison was very intentionally unfazed by the grisly sight of Jocelyn, mostly naked, disheveled, and soaking in her own filth. It was just another pathetic attempt to fight Allison, and she wasn't going to give her an inch. If she wanted to behave like an animal, so be it, but she wasn't going to bring Allison with her.

"Do take some time to clean yourself up, darling." Allison said evenly while pouring steaming coffee from her press pot into two coffee cups on her table. "But don't take too long, don't let your coffee get cold. There are clean towels in the cabinet, and please use the robe until we can find you a proper change of clothes."

Allison moved to a chair between the table and three large windows. She sat down and crossed her legs, holding her saucer in one hand and her coffee cup delicately in the other, and breathed in the rich smell of her coffee while taking in the view through the windows.
Jocelyn looked at Allison with wide eyes as she spoke. She couldn't actually believe that she was speaking the way she did. Jocelyn sucked in a breath through her nose as deeply as she could and then narrowed her eyes. She looked at Allison and then spat at the blonde, trying her best to hit her in the face.

"Untie me, you cunt!" Jocelyn screamed. "Why the fuck do you think I'm even like this!?" She shouted shrilly. "If I wanted to piss myself, I would have done it in the fucking closet or while you were dragging me!" Her tone went from hopelessly dead to fiery and full of life. Maybe Allison was right about Jocelyn acting like a beast, but Jocelyn was definitely sure that Allison wanted her this way.

"Let me tie you up and throw you in a closet for a night and then see how well you make it to the loo with a closed, FUCKING lid!' She snarled. Don't be a certain way, even though you have no choice. Jocelyn's hate for this women, was slowly overriding the passion she had felt before. Maybe once she got cleaned up, she would feel differently but right now, she didn't care.
Last edited by 445 on Mon Sep 24, 2012 2:30 am; edited 1 time in total
Allison calmly put her saucer back on the table and wiped the spit off her cheek with a red cloth napkin. Jocelyn's childish tantrum was not going to force Allison's hand. Allison was quite sure that Jocelyn still had no idea who she was dealing with.

"Oh, terribly sorry, I'd forgotten that you were still tied up." Allison said. "But that's hardly the proper way to ask for my help. Perhaps you'd like to remember your manners?" She sipped her coffee and gave Jocelyn an infuriatingly composed look.
Jocelyn gritted her teeth at Allison's words. She clenched her fists as much as she could in her bindings, hearing the tightening of the ropes. Her bloody hand ached as she felt the burn of the cut.

She lowered her head and let out a sigh. "I'm not." She said evenly. "I'm not going to say it that way. I'm sore, and covered in... fuck..." Jocelyn panted out softly but she didn't raise her tone. "I didn't sleep because I was stuffed in a closet. I couldn't even go tot he bathroom because I was bound. I'm naked. I just want a shower. I want to clean myself up. You want to have this conversation, we'll have it when I'm finished. But..."

Jocelyn took a deep breath and took a step back. She then pushed forward and turned her body to shove the table towards Allison with her butt. "I WILL NOT SAY PLEASE TO YOU!" Jocelyn had been stripped and left in a closet. In her weakest moment, Allison did not even bother to lift a finger. Now that Jocelyn was starting to recover her senses, she certainly wasn't going to Allison take anymore of the few scraps of dignity she could muster.
Allison was jostled ever so slightly by the table. Were it not so heavy, Jocelyn would've been more successful. She sighed.

"Well." She said quietly. "You don't get any coffee."

She stood up and looked down at Jocelyn, locking eyes with her for a long, silent moment. There was nothing she needed to say. Jocelyn's defiance, while in itself somewhat off-putting, was also the only thing that made controlling the girl worthwhile. If Jocelyn just gave in to Allison, she'd had no interest at all in her. Meanwhile, her refusal to say please was hardly significant, given what Allison had taken from her.

She reached a hand around behind Jocelyn's back, careful not to touch any part of her disgusting body. She grabbed the end of the rope between her thumb and middle finger, and with a slow, gentle tug, unraveled the entire knot. It was her favorite knot. So restrictive for the person tied, and so compliant to her.

With a slight smile, she returned to her chair, poured Jocelyn's coffee back in the press pot, and sipped her coffee.
Jocelyn certainly wasn't concerned about coffee in that instant. She watched Allison with fierce eyes until she could no longer see the woman. She closed her eyes as she felt the tug of the rope. She then pulled her arms in front of her and winced at the stiffness. She rubbed her wrist and looked at her bloody hand. She bit her lip and then turned around. Jocelyn let out a deep sigh before looping her thumb around and her thong and then tugging it enough so that it fell down her body. She stepped out of them and walked back down the hall, completely naked before she went tot he bathroom and closed the door.

Jocelyn looked at herself int he mirror and then clenched her fist. She grimaced at the thought of everything that happened and when she went and turned the water on in the shower. While she waited for it to heat up, she turned on the faucet and cupped her hands. She began to throw water on the floor and then she was finished she stepped back out of the bathroom and grabbed a few towels. She threw one down onto the floor and soaked up her mess before she set the others aside. She then climbed into the shower and let the water wash over her as she oozed to the bottom of the tub and finally, for the first time in a long time, smiled a real, pleasant smile.

She hated herself for being forced into a position where a hot shower felt like heaven. Still, she couldn't help but even let out a pleased moan as she just let it splash on her face. After a long moment, Jocelyn stood up and began to meticulously scrub her scrapes, and cuts and the gunk off her thoroughly. She greedily grabbed Allison's shampoos and conditioners, soaps and whatever else the regal woman had to offer. She drowned herself in them and became intoxicated by their fine scents.

Jocelyn took her time with the shower and when it was over, she stepped out feeling refreshed, feeling good. She ran her fingers through her short hair and spiked it up to where it needed to be, not even needing the foggy mirror. She then swung open the door and looked around. She grinned mischievously. Who cared where Allison actually was. Jocelyn decided that she would find her own clothes and made a bee line for Allison's bedroom.
Page 1 of 3 • 1, 2, 3



Similar topics
---
Permissions in this forum:
You
cannot
reply to topics in this forum