Who is online?
In total there are
40
users online :: 10 Registered, 0 Hidden and 30 Guests :: 2 Bots
anime_hentaifighter
,
dlamp
,
Gwyndolin
,
Harrier
,
Jaystar
,
kerflubble
,
PrizewellStar12
,
RadiantKarna332
,
starvalentine
,
xalex
Most users ever online was
155
on Sun Oct 09, 2016 8:33 am
Champions & #1 contenders
Apologies to those I have threads with.
Sat Apr 22, 2017 5:11 pm by Iron Soldier
The last few of weeks have been difficult Irl, and left me with neither the time nor the mental energy to Roleplay. 
That said, things appear to have eased up and I should be all caught up by tomorrow. Looking forward to continuing with my current RP partners and meeting new ones going forward.
Comments: 6
Holy not dead moly.
Tue Apr 18, 2017 12:17 am by Fluffy Tail
Not sure how long it's been but it's fair to say I have not been back here in a long time.
To cut a long story short after a trip to the docs office I found out my life was in serious potential danger and I ended up disappearing for a long time. But after treatment was successful and I ended up not being dead I decided to come back. Big sorry if I left anybody dead in the water but my main focus was getting better. Hope there is not too many hard feelings as now that I am better I want to …
[
Full reading
]
Comments: 6
Two matches need for two new characters
Fri Apr 21, 2017 8:04 pm by LunarOcean
Hey there, looking for two matches for each of two of my new characters Laurukka and Tatsuta. Both will be submission/hentai/knockout and will likely feature quite a bit of submissions and lewd. I had one for Laurukka but it's DOA right now and I figure I might as well get another up. Laurukka is very tall but for a heavyweight has a more technical, cunning style as opposed to raw power while Tatsuta is kind of like Linh and Jiayi although she's more face-leaning as a whole and practical.
My …
[
Full reading
]
Comments: 0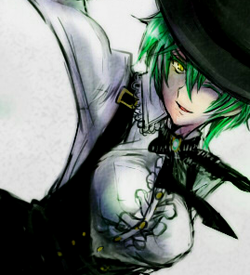 Name: Irene Rayzama "The Broker"
Sex: Female
Age: 29
Eyes: Gold
Hair: Green
Height: 5'10"
Weight: 145 lbs
Nationality: British/American
Alignment: Heel
Entrance music: [url=http://youtu.be/5fZOoeHFG6s:2higrgv3]Gluttony Fang[/url:2higrgv3]
Wrestling Information
Strategy: "It's a war baby! Ain't no such thing as 'unfair'."
Cheap Shots, Illegal Maneuvers, and whatever the hell she can get away with. Often attempts to pay off referees or other wrestlers in tag matches with varying success. In a tag match, she'll even pay off ONE of the wrestlers to take a dive or leave their teammate hanging. If she's forced to play fair she's a striker, aiming for her opponent's weak spots in their defense to bring them down easily. Has been known to keep weapons stashed in her coat pockets for when the ref is distracted.
Preferred Attacks: Dirty tactics that can seriously injure an opponent who'd not careful. She's been fined more than once for her disregard for the rules- but the crowd loves her so AFW keeps her signed. If she's in a situation she can't cheat her way out of she uses quick, sudden strikes and holds to incapacitate opponents
Preferred Matches: Any Match that she thinks she can easily cheat in.
<Out Of 5>
Endurance:★★★
Strength:★★★★
Speed:★★★★★
Defense:★★
Technique:★★★★
Favored moves:
Down n' Out - a counter move used to get her out of sticky situations, the Broker sidesteps and swings her knee up and around, jamming it into an opponent's stomach, hard. Often done as a counter to an opponent's rope work or high flying maneuver.
Snake Fang - A Hentai Move, always started on an opponent who can't defend herself. The Broker seats herself, then lifts her opponent's legs over her shoulders, placing her legs over the unwilling target's arms. She then hooks two fingers, slipping them into her opponent's waiting slit, going to work and attempting to make the poor girl cum all over their own body.
Finishing moves:
Cash Out - An 'Illegal' Finisher that The Broker can only use if she's not going to get caught. Reaching into her coat pocket, The Broker lifts a stunned opponent off the ground by the neck or collar and tosses them into the turnbuckle. Throwing her weight into the opponent and pinning them to the position, she withdraws her pocketed hand to reveal a brass knuckle. One quick, hard shot to the gut later and an opponent is easy pickings. She'll then hide or discard the the weapon
Last Deposit - Often done when an opponent is draped over her knee after a Successful Down n' Out, The Broker wraps her arms around her opponent's waist and lifts them, upside down and facing outward. Holding them for a few seconds, she then drops straight down, slamming them into the mat headfirst.
Characteristics
Physical Appearance:
[url=http://i32.photobucket.com/albums/d10/Grim_Angel_DarthMalice/BrokerFmain_zps32c92307.png:2higrgv3]"Oh? Are we going to have some fun?"[/url:2higrgv3]
[url=http://i32.photobucket.com/albums/d10/Grim_Angel_DarthMalice/BrokerFnude_zps4b57c5df.png:2higrgv3]"This one goes out to my fans..."[/url:2higrgv3]
[url=http://i32.photobucket.com/albums/d10/Grim_Angel_DarthMalice/BrokerF1_zps2d5481c3.png:2higrgv3]"Some Rough drawings..."[/url:2higrgv3]
Personality: Cruelty and Sadism are The Broker's bread and butter- and at times it seems to be her only traits. But she's more than that. The Broker is a snake of a woman; cold, calculating, quick witted. She strikes at any opening, and she's even more dangerous when backed into a corner. The Broker simply adores toying with opponents and making them squirm, but will never do so if there's a risk to her. She's the type who is able to judge when to tease and torture and when to simply end a match. The Broker's most unsettling trait is her psychotic smirk, though- no matter what happens it seems to always be on her face, a reminder that she doesn't care about right or wrong... just to play the game
Past/History: Originally wrestling under the tagline of 'Snake Oiler' in a minor league, Irene started her career as a face. She was pretty good at it too... but she was also a habitual underdog. constantly billed and asked to job matches, Irene felt she was being severely short changed, which was when she went heel. Suddenly and without warning she began to cheat- cheap shots and illegal moves, Irene became both dangerous and cruel in the ring. The crowd loved it and her league responded by giving her more matches. But, eventually, the league she was in got worried and kicked Irene out, and she thought her career was over.
Until she got an anonymous call from the AFW management. Simply put, Irene's aggressive, cruel tactics- not to mention her disregard for the rules and deep pockets- drew crowds. More importantly, she actually did have the skills to back up her ability, which was crucial in Friction. Hired into the dual role of a Wrestler and a Manager, Irene took on a new in-ring persona as The Broker. She's a heel with a plan, though she won't say what it is to anyone. The Broker's cheating nature extends to her clients too- she can often be found ringside at their matches, pulling every dirty trick in the book. Her first clients are the newly re-formed 'Era of Hell' team... and she promises them big things
Fun Facts:
>>> Has a One in Five chance of having successfully 'bought' the Referee in a match she participates in. While this will never guarantee her win, it does make her more likely to blatantly cheat.
>>> Loves the taste of sour things and can often be seen eating them before or even during a match.
>>> While she always pays her fines promptly and on time, her record for racking them up is rather impressive
>>> The Broker loves to make deals in match that seem odd at the time... and only makes sense when she calls them in later as part of some grand scheme.
AFW Information
Record:
Wins:
Losses:
Draws:
Championships/Accomplishments:
Friends:
Allies: Era of Hell
Rivals:
Enemies:
Crushes:
Last edited by 10855 on Thu Sep 20, 2012 12:51 am; edited 2 times in total

_________________
You know what really grinds my gears? When you send someone a PM and they don't answer back ever, just ignore it.

"I think I've played this song before-
The Melody is Different but I hear the Drums of War.
And so it seems my mission is the same;
What always ends in bloodshed begins as just a game."
History Repeating Pt 1, The Megas

Thursdays I work, so my responses will be slow on them. Sorry ^^;;
My Wrestlers:

Kawaii Division; [url=http://afwrpg.informe.com/forum/kawaii-league-f27/maria-aschcroft-t7092.html#p173019:19t4qz8t]Maria Aschcroft[/url:19t4qz8t]
Friction; [url=http://afwrpg.informe.com/forum/friction-roster-f10/irene-rayzama-the-broker-t7106.html:19t4qz8t]The Broker- Irene Rayzama[/url:19t4qz8t]
Fur and Feathers; [url=http://afwrpg.informe.com/forum/fur-feathers-roster-f52/blueberry-the-slime-girl-t7226.html:19t4qz8t]Blueberry[/url:19t4qz8t]



Posts

: 114


Join date

: 2012-09-17



---
Permissions in this forum:
You
cannot
reply to topics in this forum