Who is online?
In total there are
38
users online :: 9 Registered, 1 Hidden and 28 Guests :: 1 Bot
BlueMeanie
,
DizzyKnight
,
GrandAkumaShogun
,
I_care_not_till_I_must
,
Nelv
,
Old_Man_Tai
,
RadiantKarna332
,
Teenwrestler
,
Vcom7418
Most users ever online was
155
on Sun Oct 09, 2016 8:33 am
Champions & #1 contenders
Seeking new matches
Wed Oct 18, 2017 6:14 am by GrandAkumaShogun
I've been absent from here for a good while so I want to get back into the swing of things. If you have any interest in taking on either Takeichi Mori or Takeshi Kawai get in touch.
Comments: 2
My apologies for the small hiatus
Wed Oct 18, 2017 5:20 pm by Vcom7418
Apologies to all who have threads with me, but my midterms hit me hard. Thought I could balance stuff out while I revised...buuuut I failed. I will be back to posting either tomorrow or on Friday.
Good day, everyone

Comments: 0
Will be offline next 2 weeks
Tue Oct 17, 2017 7:51 pm by peek6
Hi all. I've been enjoying all the great threads I've been having on here with many of you. I need to take a short break and go dark for the next 2 weeks or so. Apologies in advance for leaving threads hanging. See you in November!
Comments: 2
Page 1 of 15 • 1, 2, 3 ... 8 ... 15

Beach Battle
Required Attire: Bikinis
Victory by: Pinfall, Submission, KO, or Hentai finish
Match is contested on a ring set up on the AFW Beach
Spoiler:
"Alright...I'll beat her for sure this time..I have to.." Heather would say to herself as she was on her way to the AFW beach area. She remembered how badly she was beaten the last time she fought Karina, and she wanted more than anything to erase that from her memory and make up for it on this night. She felt more than prepared now with the advice and training she took from a few people, and now she felt ready. The fact that there was that possibility for hentai involvement, she thought she was prepared for as well, mostly thanks to her good friend and fan Natasha for really giving her all that sort of stuff recently.
Though the place she got her biggest source of help was some place unexpected, from her opponent's sister Yuriko. She definitely had to thank her for what she did, even if she did take advantage of her quite a bit during their 'training session'. All that was adding up and now Heather was ready to take on Karina in this unique rematch. Finally arriving at the place, she wore a black T-shirt and booty shorts, just so she wasn't heading here in just her bikini, which she wore underneath her clothing.
"Hoo...alright...now just have to wait." Heather would let out, stretching herself out a bit before she would slide into the ring. The outside was of course surrounded by sand, it being in the middle of the beach, with the ocean in the distance. Heather was looking to keep it in the ring as much as she possible could, but she wasn't sure what Karina's plans may be. All she could do now is wait for Karina's arrival as her heart was beating extra fast in anticipation.
Last edited by 1905 on Fri Sep 07, 2012 5:09 pm; edited 2 times in total
Karina wasn't far from the ring. Rather, she was laying in wait to ambush Heather. It wasn't because she wanted to hurt the girl or anything, just to surprise her and embarrass her before their match would start. She made her way towards the ring, coming in from behind until she was in range of Heather, taking out her water pistols and aimed at Heather's butt, taking only a few seconds to keep her accuracy at it's highest and shot out a powerful stream of water right against Heather's butt. Upon it, Karina would chuckle in a rather evil manner, entering the ring after she had managed to hit Heather.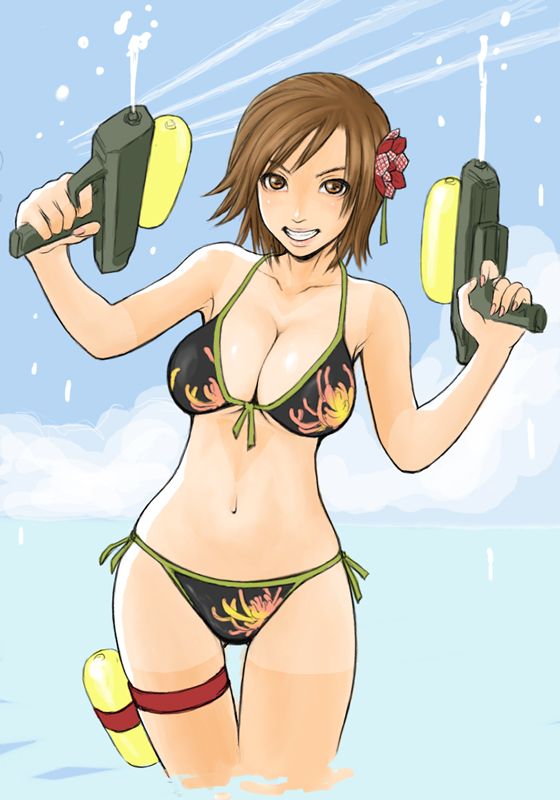 " Ready to lose again? " She said with such a confident tone of voice, throwing the water pistols out of the ring following by the extra bottle of water she had for one, making her way towards Heather to try and press against her and stare into her eyes, Karina showing that dominance as usual. " And be my bitch? " She was confident that she was still better then Heather, she hadn't considered Heather to do much or even any training towards this kind of battle, she also figured the girl was easy to humiliate when put into certain holds, holds that Karina had learned and mastered, she was going to make Heather beg for her, just thinking about that made her lick her lips with anticipation of doing so, she just wanted to do all sorts of things to Heather to make this girl beg for mercy, regardless of what has happened after their first match that resulted to them becoming friends, she wanted to dominate, and Heather was the target this time.
Last edited by 131 on Fri Sep 07, 2012 5:23 pm; edited 1 time in total
As Heather stood in wait for Karina's arrival, she had no idea the girl was actually there the whole time. She would remove her shirt, tossing it aside before slipping out of her shorts, leaving her in the white bikini that was required for the match. Just as she was about to take a relaxing sigh, she would suddenly feel two powerful jets of water hit her butt, causing her to let out a yelp, jumping up before turning to face Karina, seeing her enter the ring. "Hah..very funny.."

Heather would let out a little sigh, blushing from what happened as she shook her head. The girl was already messing with her before the match had even began. She was sure she'd be ready for such a thing, but of course, Karina would still be able to catch her off guard with that move. "No not this time Karina, I'm NOT going to lose.." Heather would say with as solid an expression as she could make before the girl would walk up to her and press against her.

Heather unavoidably had a little blush develop on her face from the feeling, but she would grit her teeth, trying to ignore it at much as she could, that is until she heard Karina's next words. "What??...H...Hell no Just....I'm gonna kick your ass this time alright? It's not gonna be anything like out first match." Heather would say, clenching her fists as she tried to stand her ground as much as she could.
Just when it seemed they would clash right then and there, Karina would actually step back and away from Heather, walking to the center of the ring. " Good, you seem to be confident enough. I don't like weaklings, Heather. " She would bring her arms up and decided to go for a lock up rather then just charging up at the girl, she was going to surprise this girl in more ways then one, she wanted to overpowered Heather and show the girl that Karina was just better then her both physically and sexually, this was the perfect match to do so.

" Don't disappoint me now. " She would wait for Heather to accept the lockup, not really looking to take the initiative for now, she wanted to test Heather and see if she had become any stronger or not, this was the perfect way to do it. Still, Heather looked quite good, especially in that bikini of hers, though she couldn't wait to tear that right off the girl and make Heather her bitch for this match, oh she was going to enjoy this indeed.
As Karina stepped away from her, Heather would relax just a bit, dropping her shoulders just slightly before she heard Karina's words. "Well good, because you know I'm not a weakling Karina. I'll prove that even more to you now." Heather would respond. She watched at Karina brought her arms up, signalling for a lockup. Heather would take a breath before she would bring her arms up too, meeting Karina in the center and taking her up in the lockup.

"Don't worry, I won't." Heather would say in response to Karina's next words, trying to push hard against her in the lockup. She wasn't sure how much she could say in her strength, but she was pushing that as much as she could from the start. She knew she had to stick to her speedy and fast moves, but starting it out with a test of strength didn't seem to be a bad idea at all to her as she did it, pushing against Karina with all that she had.
Feeling Heather already pushing with full power, she managed to get Karina back three steps before she created a solid ground, pushing forward against Heather with a lot more power, knowing that if she didn't, Heather would actually push her back to the turnbuckle and she couldn't have that! She pressed forward with her entire body, even driving her chest against Heather's own as she began to advance into the lock. Karina was a power house, a very strong one at that, what changed from that is that she now knew when or how to exploit her strength to defeat her opponent.

She tried to force Heather backwards, not only to get those three steps forward back but also trying to push Heather further back so she could try and make her crash into the turnbuckle and pin her there.
"Heh.." Heather would let out as she was able to push Karina back a few steps. The grin would widen on her face, inside thinking that she could push Karina fully back into the corner before the girl would suddenly brace herself, stopping Heather's pushing. Heather's eyes would widen a bit before she would grit her teeth, trying her best to hold her ground, but with KArina's entire body pushing against her she would end up getting pushed all the way back into the turnbuckle, being pinned to it by the girl.

"Gh..g-get out!" Heather would let out, struggling as much as she could to try to push Karina away. She didn't want to already be in a bad spot, but it seemed like Karina wasn't wasting her time getting her there.
After forcing Heather to be trapped against the turnbuckle, it was time for Karina to pick her apart. She already knew what she wanted to do the girl, releasing the lockup entirely so he could bring her hands to the top ropes and grip them tightly, making it seem like Heather was able to push her back and away but after her hands tightened the grip on the ropes, she would suddenly launch herself forward. She wanted to crash into Heather, squish their breasts together aswell as the rest of their bodies, as if wanting to flatten Heather between her and the turnbuckle.
As Karina would release the lockup, starting to move back a little, Heather was more than sure that she was pushing Karina back off her. She would feel a little relief inside as she would go to slip away from her afterwards. However, right when Heather was about to slip away, she would instead be met by Karina's splash as the girl launched herself forward, crashing into her and squashing her breasts and body between her and the turnbuckle. "Gaagh!! D-damnit.." Heather would let out, regretting inside her ever having taken Karina up on that lockup in the first place.
Karina now had the advantage over Heather and she was going to use it. After that successful splash she kept herself pressed against Heather, deciding to put a little sexual nature in this battle now that she was this close to Heather and began to rub her chest into her opponent's, making figure eight patterns with her own breasts. She leant forward to whisper into the girl's ear. " You're making me hot, Heather.. " She said to keep Heather distracted so she could keep advancing against her, she needed to exploit weaknesses Heather had, which was for Karina to be dominating in a more sexual position.
Page 1 of 15 • 1, 2, 3 ... 8 ... 15

---
Permissions in this forum:
You
cannot
reply to topics in this forum