Champions & #1 contenders
The Austrailian Mudslide is Back.
Fri Apr 20, 2018 11:20 pm by Softsquad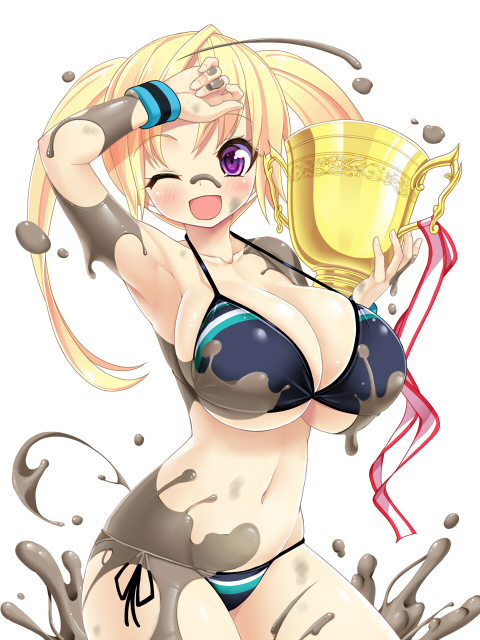 Granted that most of you won't know me or remember me, but I've had a few matches here and there some time ago. Well I think its time to become a regular around here and try to have some fun again, but at the same time keep coming back. Anyway I think its time to jump into some matches with Zoe Taylor, my mud wrestling character from Australia and get her back into the squared circle. Furthermore I will update my characters as I think some proper changes need to happen.
So if anyone would …
[
Full reading
]
Comments: 4
Looking for debut thread.
Sat May 12, 2018 2:28 pm by Hedgehawk
Hello All.
I am looking for a debut for my girl Trinity (http://www.afwrpg.com/t18107-trinity-cordova#495678).
This doesn't have to be a match, it could be a gym battle, interview or anything else. I just want something to help get Trinity off the ground. If you wanna plot feel free to reply to this message or fire me a PM.
Many thanks in advance and thank you for reading my message,
Hedge
Comments: 0
Page 1 of 3 • 1, 2, 3


It had been a long week both inside and outside the ring for the self proclaimed Queen of the North, Isabella Snow . After a long and hard fought toys match against the tough as nails Megumi and a chocolate pudding match with Erica she had been feeling quite filthy and now that she had a day off from action she had come to the AFW spa for a little relaxation. It didn't bother Isabella that there were secret cameras all over the place either, any chance she got to show off her incredible body she was more than happy to do so. After checking in at the front desk she flirted with the sexy red head she had caught admiring her body, the counter girl melting beneath her eyes just as Isabella had known she would, bringing a deep satisfaction to her as she left her behind begging to be taken with her.
Spoiler:
Walking down the hall Isabella made her way to the hot tub room, stepping inside the changing room before closing the sliding door. Forgetting to lock the door behind her Isabella unwrapped the silk sash from around her waist and let her blue dress fall from around her shoulders onto the floor, her perfect curves on display in her pure white bikini which had taken hours of washing to get clean after the pudding match. Admiring herself in the mirror for a moment, thinking to herself just how damned sexy she was, Isabella then moved to the back of the room and slid the door open which led out to the hot tub. She closed the door behind her and like the first failed to lock it or slide the sign to occupied, nothing on her mind but relaxation.
Being a traditional Japanese hot spring style spa the area was more or less all outside, soft grass over the ground with a high bamboo wall separating this room from the others, the hot tub however was modern and exceptionally large, surrounded on all sides by wood planks. Jumping from one stepping stone to the next Isabella climbed up over the side of the hot tub and slowly let her body down into the steaming hot water, a low moan leaving her lips as the water seeped into her skin. Isabella splashed about in the breast deep water for a couple minutes before wading over to the far side, leaning back against the side draping her arms over it Isabella closed her eyes and just let herself enjoy it.
It had been a longish few months for Jess. Having to head for home before her career at the Friction & Tension had even gotten started after a close friend had died and after that deciding to take some time off to backpack and train a little more while engaging in some extra-curricular activities on the side as she travelled across Europe and beyond. The English high flyer learning some new skills inside the ring and out had left her a wiser girl. So it was with some relief that she landed back at Narita airport refreshed and ready for a second go at the AFW. Her brother had stayed behind for a little longer to help some friends in need but it didn't bother her that she was alone. Besides, she needed to make some new friends anyway.
After taking a nap at her new apartment she decided to head in and check out the new facilities at HQ including the gym and spa area which she never really got to use. She had been told about the Japanese bathing areas and wanted to take a look for herself and anyway she couldn't look her best in the ring without a good old soak in the rich hot spring waters that the spa had to offer. So she turned up shortly after Isabella and smiled a cute smile at the receptionist whom it looked like was ready to jump the next person who came through the door. Raising an eyebrow as she went on through she thought: "
theres definitely a lot of sexuality in the air here!"
She wasn't half wrong!
Entering the hot spring changing area she eased off her clothes to reveal her gorgeous bikini. Mindful of the cameras that the AFW media director had mentioned she gave the audience a good show. Jeez! Even when you're meant to be relaxing you're actually
working!
The thought did put her off a bit but then she couldn't say no to the money that she was being paid to be part of the roster so what the hell.
It just so happened that she chose the hot spring bathing area already occupied by Isabella and as she quietly opened the door with her towel her eyes fell over the form of the white haired beauty before her. Smirking a little she thought to herself, "hullo, what do we have here?" Before coughing softly and remarking "aw, bloody hell! Is this one occupied too?" She turned and smiled cutely with a wink, making sure she got a good look at her own stunning form complete with a sculpted toned ass, "I'd best be off and find a bath for myself, sorry to bother you!"

_________________
Friction & Tension Pro Females: [url=http://afwrpg.informe.com/forum/tension-pro-females-f61/jessica-jess-easter-t5137.html:oj93t0ov]Jesssica[/url:oj93t0ov]

Tension Pro Males: [url=http://afwrpg.informe.com/forum/tension-pro-males-f60/robert-robbo-easter-t5136.html:oj93t0ov]Rob[/url:oj93t0ov]

Tag-team: [url=http://afwrpg.informe.com/forum/tension-pro-teams-f63/the-axis-of-awesome-t5148.html:oj93t0ov]Axis of Awesome![/url:oj93t0ov]
Isabella had slipped so far into the relaxing waters of the hot tub that only her face was above water, even her chin resting in the steaming waters. The sounds of crickets chirping and running water somewhere behind the bamboo wall blocking out any other sounds so that all she knew was silence and utter comfort. With her eyes closed Isabella had no idea someone else had entered the spa area, still not realizing she had failed to lock the doors behind her. She thought she heard something there for a moment but didn't react to Jessica's presence until the girl spoke, startling the white haired vixen badly enough for her to rise suddenly out of the water, her pillow like breasts threatening to bounce free of her top and slap her in the face as they emerged from the water, a short wave pouring over the side as she stood there blinking at Jessica.

"Where did you come from?!" Isabella cried out, utterly shocked that someone else had intruded upon her time to relax. But as the water cleared from her eyes and Isabella got a good look at Jessica her attitude quickly changed, a wide and wicked grin coming to her lips as her eyes roamed along the curves of this stranger's body. Her breasts were a decent size being about a handful, her ass though was incredibly sexy with its perfect shape and firmness. Almost running in the water to the other side of the hot tub Isabella leaned over the side, giving Jessica a lovely view of her large breasts.

"Now now slow down there, I don't mind a little company, come join me in the hot tub. I promise not to bite.....much." Isabella may have come to relax but what better way than with such a sexy little treat for her to play with. The woman looked like she would make a good fuck and Isabella could always use that, now she just had to seduce her, easy. "Please call me Isabella, and lock that door behind you if you don't mind."
Jess stopped midway through the door to the changing area and turned her head nonchalantly before smirking a little. The Brit's eyes wandering discreetly over Isabella's fine Nordic pedigree and definitely liking what they saw. She also saw her grin and that set off alarm bells in her head. Anybody in this kind of business inspecting Jess with a grin like that was trouble. Big trouble.

She liked big trouble. It was in her blood as a high flyer after all.

"Oh really now?" Jess purred as she turned and let a hand settle onto her hips, cutting a mildly interested pose when the reality was anything but and she'd be jumping Isabella's bones if she had the chance. "Well maybe I will but remember, if you do bite.." she said as she sauntered over to the tub and put on a good show for the AFW.com audience watching "..I think you'll find that you'll have bitten off more than you can chew!"

Slowly she eased into the tub and shivered happily as the hot water and inbuilt air jets soothed her body "ooooh blimey! This eases a 12 hour flight no end!" She giggled happily as she opened her eyes slowly. Seductively. And looked over at Isabella. Was she playing her own game? Maybe. It was the Nordic-American knockout's job to find out.

_________________
Friction & Tension Pro Females: [url=http://afwrpg.informe.com/forum/tension-pro-females-f61/jessica-jess-easter-t5137.html:oj93t0ov]Jesssica[/url:oj93t0ov]

Tension Pro Males: [url=http://afwrpg.informe.com/forum/tension-pro-males-f60/robert-robbo-easter-t5136.html:oj93t0ov]Rob[/url:oj93t0ov]

Tag-team: [url=http://afwrpg.informe.com/forum/tension-pro-teams-f63/the-axis-of-awesome-t5148.html:oj93t0ov]Axis of Awesome![/url:oj93t0ov]
Isabella had known the woman would be unable to turn down her offer, there were none in the AFW who would even consider turning down the beauty that she was, and this little intruder was no different. She saw this woman as her prey at first but the more she studied her the more Isabella became convinced this girl thought she was the hunter, her entire demeanor not one of embarrassment or intimidation but instead was one of intrigue. Her suspicions were only confirmed much to her delight when the slender woman teased Isabella right back, drawing only a wider grin from the queen of the north.

"Oh is that so?" Isabella asked with a bit of a laugh as she pushed herself off the side of the hot tub returning back to where she had been when Jess first entered. She had given the woman her name but so far her little plaything had yet to introduce herself, a bit disrespectful to Isabella but something she would just make her pay for later on.

Isabella looked on with parted lips as the woman lowered herself into the steaming waters of the hot tub, sinking down into the water herself so that she was completely submerged for a moment, rising back up with her long white hair now clinging to the sensual curves of her body. "I agree, the waters just wash away all your tension am I right?" Isabella said, her voice dripping with lust that the other woman would pick up on rather easily. Walking around the edge of the hot tub she playfully splashed some water in her direction before sliding in right beside Jessica, leaning sideways against the wall of the hot tub facing her prey, Isabella's arms reaching up to drape around the girls neck giving her a gentle massage. "I'm glad you're enjoying yourself, but you never did give me your name. I wouldn't want to have to punish you for being rude now."
Jess happily squirmed at the lovely feeling of the hot tub and took the time to laugh a little after Isabella splashed water her way, "hah! I'm Jess and its a pleasure" she giggled as she splashed a little back, making sure the water fell short of the white haired girl as she approached. After all she may be cocky but she wasn't a dick. "Sorry about that, had a retard moment there!" she winked, hoping there weren't going to be many of them in the next couple of hours.

She watched Isabella as she reached over and pulled the Brit closer, her eyes meeting the Americans and their lusty competitive gazes met full on for the first time. She shot Isabella a sexy confident look and received one right back. That and her fingers kneading the top of her neck made Jess's spine tingle a little although she was wise not to let it be known how good that felt. As their covered breasts met and pressed she purrred a little in arousal.

"And you punishing me?" She smirked a little before leaning in and nipping Isabella gently on the lower lip before pulling back while her own hands drifted down to cup her firm ass cheeks, squeezing gently as she gave her a look of hot dripping lust "...I think I should punish you for even thinking that!" She winked with a smile, always adding a drop of respect to every cocky remark.

_________________
Friction & Tension Pro Females: [url=http://afwrpg.informe.com/forum/tension-pro-females-f61/jessica-jess-easter-t5137.html:oj93t0ov]Jesssica[/url:oj93t0ov]

Tension Pro Males: [url=http://afwrpg.informe.com/forum/tension-pro-males-f60/robert-robbo-easter-t5136.html:oj93t0ov]Rob[/url:oj93t0ov]

Tag-team: [url=http://afwrpg.informe.com/forum/tension-pro-teams-f63/the-axis-of-awesome-t5148.html:oj93t0ov]Axis of Awesome![/url:oj93t0ov]
This day had certainly taken an interesting turn for the better Isabella thought to herself as she moved in beside Jessica, her hand massaging the back of her neck as she was eager to see just what effect her touch had upon her. This Jessica was quite the catch it seemed, most women would have simply melted at her touch but not her, despite how good that had to feel Jessica wasn't showing any sign of pleasure, truly she was a master of her body. As she leaned in to press her breasts against those of Jessica Isabella smiled after hearing the blond woman purring, "The pleasure is all yours apparently Jessica, or were you not just moaning from brushing against my perfect tits?"

Her left hand rose up and laid itself upon the top of Jessica's left breast, rubbing it gently for a moment before giving the soft mound a good slap, giggling as she watched the woman's tits bounce in her bikini top. Staring down at Jessica's chest with a wide smile on her lips Isabella was caught off guard by the quick nip of her lower lip, licking her lips as her eyes glanced back up to look into the fiery gaze of Jessica, gasping as she felt the woman's hands take a firm grip on her sculpted round ass. Laughing Isabella took a firm hold of Jessica's left breast, staring into her eyes as she massaged the breast in answer to having her ass groped like that, not that she was complaining of course.

"Is that so? You know you're cute when you're being delusional Jessica, you're lucky this is just a happy accidental meeting, since if this was a match I would show you what real dominance was." Isabella leaned forward and licked up along Jessica's face, pulling back just a couple inches afterward so that her lips were right in front of Jessica's.
"Yours are great but I think mine...are better.." Jess gasped softly as Isabella played with the Brits firm bust "..after all, you can't keep your mits off of it!" She was intrigued by the little game the two were playing. Both were both predator and prey at the same time as the balance of power shifted back and forth between the two. She stared back, enjoying the feeling of Isabella's touch which was exactly as she expected: impeccably soft and almost surgically arousing. There was nothing wrong in enjoying the feeling was there?

No, but maybe it would be better to get back into this game. Isabella had mentioned a match but they both knew the match had already started.

"Dominance? Alright lets keep this simple. How about a best out of three orgasms with a minute break between rounds-..?!" She said, making it clear for the cameras as she felt Isabella try and impose herself upon her, feeling that tongue run up her cheek and realising she'd have to work hard to stay strong against such a competitor. She watched Isabella pull back and focus on her like a snake observes a mouse. Maybe a little too focused.

So much so that maybe Jess saw an opening.

"Mmm...!" Jess shivered visibly, looking a little taken aback by the lick "...that was...nice" she purrred softly as she stretched a little before moving up and easing into Isabella's lap facing her as she idly draped her arms around the white haired beauty's neck and let her head hand back slightly "please..don't stop..." she whispered softly as she eased her chest into Isabella's hand. Her legs slowly inching forward almost silently as she eased more and more into her lap...

_________________
Friction & Tension Pro Females: [url=http://afwrpg.informe.com/forum/tension-pro-females-f61/jessica-jess-easter-t5137.html:oj93t0ov]Jesssica[/url:oj93t0ov]

Tension Pro Males: [url=http://afwrpg.informe.com/forum/tension-pro-males-f60/robert-robbo-easter-t5136.html:oj93t0ov]Rob[/url:oj93t0ov]

Tag-team: [url=http://afwrpg.informe.com/forum/tension-pro-teams-f63/the-axis-of-awesome-t5148.html:oj93t0ov]Axis of Awesome![/url:oj93t0ov]
"I take what I want Jessica, and while they are certainly not as nice as mine your breasts do look quite tasty." Isabella listened to the match suggestion from Jessica, her smile growing with every other word out of her lips. This match idea sounded like quite the fun little diversion, she may have come here to relax after several tough matches but she just couldn't pass this opportunity up. After all it wasn't every day that a sexy woman like Jessica walked in eager for some fun. Isabella shifted her eyes upward to stare into the night sky as if she were having to think about whether to say yes or not, in truth she had decided she wanted this the moment Jessica showed up but she didn't want to seem too eager and scare her prey away.

"Only three orgasms you say? Hmmmm, no that sounds like too little time to really enjoy your body Jessica. Perhaps first to make the other cum twice in a row wins, I may even let you make me cum just to make the match last all night." Isabella said in a whisper, keeping her face a mere inch away from hers. Isabella leaned back against the hot tub wall as Jessica lowered herself into her lap, not about to deny the woman her desire of getting closer to her Isabella gripped the woman's neck a little harder and pulled her face close to hers for a deep kiss. Her other hand massaged Jessica's left breast happily, her fingers digging in deep into her mound before she would give the top a sharp yank to remove it.
Jessica cursed her luck as either Isabella had cottoned onto her plan or was just that insistent on a hook up that she was hell bent on kissing the Brit anyway. Mmmfing softly into the kiss she kissed back just as firmly, tongue sliding deep into the sexy white haired girls' mouth and attacking her dead on as battle was joined. Her mmffs combining with soft whimpers as she felt that hand tease and tease her now exposed left tit. She felt the tingling sensations run up and down her spine making her frown a little in arousal.

Breaking the kiss, she felt she had to continue with the other half of her plan and panting softly she smirked as her legs completed their journey and hooked up around Isabella's waist, slowly tightening until they were now scissoring the sexy American and squeezing in constant rhythmic motion like a python.

"Ooooh but its gotta best of three!" Jess protested with a smile as her own hands ripped off Isabella's top with one cupping her right breast and starting to knead the undersides ruthlessly. She leant in and nipped at her neck and whispered "I want to decide who is best and decide quickly because when I win I want you to be at my beck and call all night!"

_________________
Friction & Tension Pro Females: [url=http://afwrpg.informe.com/forum/tension-pro-females-f61/jessica-jess-easter-t5137.html:oj93t0ov]Jesssica[/url:oj93t0ov]

Tension Pro Males: [url=http://afwrpg.informe.com/forum/tension-pro-males-f60/robert-robbo-easter-t5136.html:oj93t0ov]Rob[/url:oj93t0ov]

Tag-team: [url=http://afwrpg.informe.com/forum/tension-pro-teams-f63/the-axis-of-awesome-t5148.html:oj93t0ov]Axis of Awesome![/url:oj93t0ov]
Page 1 of 3 • 1, 2, 3



Similar topics
---
Permissions in this forum:
You
cannot
reply to topics in this forum