Champions & #1 contenders
Summer Splash interest in Natasha Loclear?
Mon Apr 09, 2018 11:30 pm by daemongirl
Well my girl hasn't missed a summer splash yet, would anyone be interested in a match with her? Open to just about anything match wise, just pm me!
Comments: 1
Been Out with the Flu
Sun Apr 22, 2018 7:47 pm by daemongirl
Just letting those I have threads with know I've been out with the flu since early last week, but I will be back to posting tomorrow.
Comments: 0
The Austrailian Mudslide is Back.
Sat Apr 21, 2018 6:20 am by Softsquad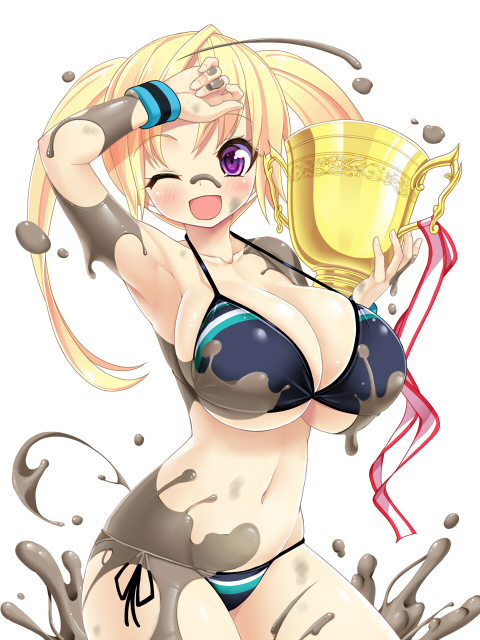 Granted that most of you won't know me or remember me, but I've had a few matches here and there some time ago. Well I think its time to become a regular around here and try to have some fun again, but at the same time keep coming back. Anyway I think its time to jump into some matches with Zoe Taylor, my mud wrestling character from Australia and get her back into the squared circle. Furthermore I will update my characters as I think some proper changes need to happen.
So if anyone would …
[
Full reading
]
Comments: 0
Page 4 of 5 •

1, 2, 3, 4, 5


"mmmm...well you sure seem keen on keeping me down..." Natalia said giggling cutely as she unleashed the power of her legs to crush Tasha's sides. Tasha had such a delicious body that Natalia couldn't resist not to crush it. "It is not that I don't enjoy having you between my legs, Tasha-chan..." Natalia said, looking up in her opponent's eyes while Tasha trapped her hands with the forearm. "...but I got the feeling you are enjoying this a lot more than you should...".

Natalia shivered as Tasha's fingers tickled her sides, arching her body as the touch made her tremble. "Tasha-chaaaaan!" she complained, and then her eyes opened wide when she realized where her opponent's fingers were going. "And you also seem awfully determined to fuck me...." Natalia moaned feeling how her legs began to lose their crushing power. Tasha's fingers slid inside her wet pussy and The Dream began to purr like a kitty, unable to crush her opponent any more. "mmmm....mmmmmmm....I think I am going to make you one of my girlfriends, Tasha-chan..." Natalia said between moans, her body relaxing with Tasha's touch. "mmmmmm...you know making me cum won't win you the fight, don't you?"
Natasha giggled to herself as she thought that Natalia was loving this just as much as she was, how could the woman not with their naked bodies drenched in both sweat and water from the steam pressed tightly up against one another, their breasts fighting a little battle of their own as Natasha felt her now quite hard nipples rubbing against the cute little pink nipples of Natalia, drawing a low moan from the French woman. Even as she experienced such rapture Natasha managed to remain focused enough to pin down the woman's wrists above her head, her lips barely a couple inches above the hentai champion's face now as the woman cried out her name.

"Oh? Is there a limit to how much I should be enjoying your naked body Talia-chan?" Natasha replied cutely as she looked back into the woman's eyes as they went wide at her touch, thinking that Natalia had figured out what she was planning for her, but seeing as the girl had no way to stop her Natasha merely smiled innocently as she slid two fingers into the hot, wet embrace of Natalia's sex. She could feel her body shuddering lightly upon hearing Natalia purr like that, saying "I would be lying if I said it hasn't been my goal from the start, but..." Natasha leaned in closer until her lips were brushing along the girl's ear lobe. "Can you tell me you wouldn't do the same to me?"

Natalia's legs were weakening now as her fingering continued, it seemed she was indeed enjoying this as much, if not more than she herself was. Her fingers slid deeper inside of Natalia until they were entirely swallowed up by the girl's pussy, curling them upward to feel along the Dream's inner walls for her g-spot. "One of them you say? That doesn't sound bad at all...." Natasha said now back to staring deep into the girl's eyes as her lips drew even closer to the Dream's own. "Oh I know the rules very well Talia-chan, but..I..just..can't..resist..myself."
Natalia's body began to relax more and more and she closed her eyes enjoying so much the way Tasha held her down and fingered her. The Dream began to purr softly, arching her body to rub it against Tasha's own curvaceous figure and raised her head a bit so her lips could rub against her opponent's delicious mouth without kissing it yet. The champ tried to fight the urge to let herself succumb at the hands of the rookie, but since an orgasm wouldn't mean the end of the fight, she felt less motivated to do so. Natalia knew very well how devastating an orgasm could be, specially in a place like a sauna where recovering or catching a second wind was nearly impossible, but she also knew she was very hard to exhaust, specially sexually... and the idea that she could fight back after cumming made it even more tempting to let herself go.

"Oh...oh...ahhh..mmmmmm...ok....you got me..." Natalia admitted blushing bright red as she finally stopped resisting and in a matter of seconds Talia squeezed the orgasm out of her sex. The blue-eyed cutie bit her lower lip to somewhat contain her moans, not wanting to make Talia think she was getting her too good. Still The Dream's curvaceous body shivered and trembled violently under Tasha as Natalia purred and groaned in pure delight. Her pussy soon gushed against Talia's hand with her honey, her body tensing and relaxing as she reached the climax.
Natalia was proving to be everything she had hoped she would be and oh so much more, everything the woman did was ungodly sexual and alluring, driving Natasha mad with lust to the point that she had almost forgotten this was a match. Her fingers explored the Dreams incredibly wet sex nice and slow, taking her sweet time as she ran her finger tips over every inch of Natalia's inner walls, looking deep into those blue eyes of the Dream soaking up every cute reaction the girl gave her. Her body rose up beneath her, rubbing their sweat drenched forms against one another drawing a string of low moans from Natasha, the French woman finding herself wishing their positions were reversed for a moment there.

Natasha couldn't hold herself back as the Dream's lips brushed against her own to tease her, embracing Natalia in an aggressive kiss which saw her tongue moving to force its way into the beauty's mouth . A moment later Natasha would feel the breath taking woman underneath her let herself succumb to the pleasure no doubt begging to be released inside her, the Dream moaning into her mouth as Natalia's body quaked under the intensity of her orgasm. Natasha's ears were soon filled with a delicious wet sound as her fingers became drenched in the woman's juices as they overflowed from the Dream's sex, Natasha pulling her fingers back to gently rub against the woman's clit in an effort to prolong her orgasm as long as she could.

"Well, thats one dream of mine come true Talia-chan." Natasha admitted while blushing bright crimson, withdrawing her fingers from Natalia's sex to find them dripping with her sweet nectar. She licked one of her fingers clean herself, purring softly as she reveled in the woman's taste before she placed the other fingers against Natalia's lips for her to enjoy. Once her fingers were cleaned Natasha would reach up to once again grab the woman's wrists with each of her hands, pushing down to keep them down while she slid her body up over Natalia to put her in a schoolgirl pin.
Once she had let go Natalia made no effort to hold back anything, she moaned, purred, squealed, squirmed and squirted in Natasha's embrace, loving how skilled her opponent seemed to be with the fingers. It was one delicious orgasm and thanks to Tasha's efforts to prolong it, it was also a very draining one. Natalia felt her whole body relax, almost melt, in Tasha's arms and once the French girl removed her fingers from The Dream's pussy Natalia let out a soft purr. Natalia licked Tasha's fingers tasting herself a bit and offered no resistance as Tasha mounted her and pinned her, looking up at the French girl with dreamy eyes.

"Well... I am happy you fulfilled your dream..." Natalia said purring, as she was trapped, looking like she was ready to fall asleep with a smile on her lips. Natalia shivered under Tasha, shaking her body from side to side, not trying to buck of the French girl but attempting to get into a more comfortable position under her. "what you plan to do now?" Natalia asked giggling as she looked up at Tasha with curious eyes.
Natasha had held incredibly high hopes for this match when she had found out about it, a dream match against a woman she had lusted after ever since she first saw her in a match back when she was still living in France, and so far Natalia was exceeding every expectation of hers. She stared down into the woman's deep blue eyes as the Dream went wild beneath her, showing no sign of resistance against Natasha and her fingers which worked to keep the Dream in a state of absolute bliss for as long as she could. When Natalia finally came down from the high of her orgasm Natasha slid her fingers from the woman's sex, gently moaning as Natalia licked her own juices from the French woman's finger, the look in her eyes as Natasha took a dominant position over her making her feel as if she were about to melt herself.

The Dream lived up to her name as she looked divine underneath her like this, not even struggling to free herself as if she were perfectly happy being pinned down like this. "Hope you enjoyed yourself my sweet Talia-chan." She said before pressing a single finger against the woman's lips telling her to be quiet, though at the moment she truly did not know what she wanted to do to Natalia and so remained quiet herself for a moment. Only then did she realize that Natalia's shoulders were pinned against the ground, giggling as she knew what she needed to say. "We must make this a regular thing Talia-chan, oh and one." She said beginning to count, lifting her finger from the woman's lips while her other hand reached behind her to gently rub along Natalia's dripping outer labia. "Two...."
Natalia laid on the wet wooden floor of the hot sauna enjoying herself way too much. She looked at Natasha and purred softly, loving the feeling of the French girl on top of her. She stopped purring when Tasha put a finger on her lips and obediently kept quite, almost looking submissively. The Dream didn't moved at all as she was spent after that delicious orgasm and her will to fight seemed to have been drained completely. Only when she heard Natasha count did Natalia remembered this was a fight. She blinked surprised upon hearing the first number and realized immediately that her shoulders were indeed pinned on the wooden floor.

Her mouth opened wide as she heard the number two and she blushed again, this rookie was about to defeat her? As good as the orgasm had been and as much as she liked Natasha, The Dream just couldn't let herself be pinned like that, she was the Hentai champion and she was not going to go down so easily. The orgasm in the sauna was sure more devastating that a normal one would be...but if there was something Natalia was good at was enduring sex. The blue-eyed cutie set her body in motion in an instant, trying to react before Tasha finished the count to roll in between her opponent's legs and lift up her left shoulder to break the pin.
Natasha had day dreamed quite often about how a match between her and Natalia would go ever since she first saw her on tv. In her head she had come up with dozens of possibilities, most involved the Dream dominating her in some incredibly sexy fashion while a few had her winning mostly out of luck and pure determination, but in none of those did Natalia ever obey her like she just did. She was actually a bit disappointed that she no longer got to listen to the girl purr like a sexy kitten, she even almost told the girl to keep purring but she chose instead to begin the three count as she did have the girl pinned after all.

Natalia looked quite shocked when she seemed to realize her shoulders were indeed pinned to the wooden floor with Natasha on top of her, likely the Dream had never considered she could lose a match to a new girl like Natasha but then again this so called match had been more about resisting their own desires to be pleasured by the woman they each faced, which for a woman like the Dream who seemed to be the embodiment of lust and desire had to be an uninteresting concept. Natalia could have stopped her a few times Natasha knew that, but the woman had let the rookie pleasure her as well as allowing her to climb on top, though she likely forgot all about this being a match just as Natasha had. However the hentai champ was that for a reason and Natasha could feel her body starting to rise beneath her, and so in an action Natasha, someone who liked to think of herself as fair and honest, never thought she would do the woman quickly counted to three before the shoulder could rise.

"Thats three Talia-chan, seems like I win this little pleasure fest huh?" Natasha let out with a bright smile and laugh, leaning down to plant a quick kiss on Natalia's cheek before sliding her body back off of the woman to let her get up. She couldn't really believe what she had just done, beating the Dream in such a match as wild as this one had never even occurred to her as a possibility, but it seemed she had gotten Natalia to like her just enough for her to slip up. "How was I?"
Natalia was left in a state of shock when she heard Natasha claim the victory, and was left even more shocked when she heard a bell sounding outside of the sauna, meaning that the officials watching the fight through the hidden cameras were actually taking that count as valid. She looked at Natasha pouting and frowning cutely, feeling so deeply humiliated and wronged. "That...." Natalia began saying but she just couldn't muster the words. She was the champion, how could she have lost to a rookie. No, she knew she hadn't lost, not cleanly at least. "That was an uber fast count!" she whined as she got on her knees, fists closed and ready to throw a tantrum.

"This wasn't fair!!" Natalia sneered growling at Natasha and for a few seconds it seemed as if she was going to pounce on the French girl and start another fight right there. For Natalia to have her record tarnished with a defeat against a rookie was simply unbearable. But Natalia controlled herself and took a deep breath; there was no way to change the result now, they had declared Tasha the victor. Natalia got on her knees and moved to Natasha to get in her face, pressing her naked sweat covered tits against the French woman's own breasts. "You are going to pay for this, Tasha..." Natalia threatened, a smile returning to her lips as she now had a good reason to go all out on the sexy Natasha.
Natasha had never been in a match quite like this before so the ringing of the bell confused her for a moment. "What is that?" She said before the look on Natalia's face made it click in her head that the bell signaled the end of the match, sitting there on her knees Natasha breathed out a sigh of relief that the match was done, though at the same time she was a bit disappointed it was already over. Glancing back from the direction of the ringing bell to Natalia she found her pouting, Natalia seemingly unable to speak which told Natasha how bad she had to be feeling. It was Natasha's turn to look shocked when the Dream accused her of fast counting, in the back of her mind she knew the woman might be right, but she wasn't about to admit that to herself nor to Natalia.

"I didn't count fast, at least I don't think I did, and if I had wouldn't the refs outside have discounted it?" Natasha said trying to defend herself even as the woman rose up onto her knees with her hands closed into fists, sure that Natalia was about to attack her the french woman brought her hands up in preparation for round two of their match. Fortunately Natalia looked to calm down after a deep breath, Natasha doing the same as her hands dropped back down onto her knees, quite glad what had been a quite enjoyable night wasn't about to turn into a slug fest. Her eyes widened however as Natalia moved in close, smiling at the girl as she pressed her naked body firmly up against hers, their breasts squished together in quite the pleasurable embrace. "I guess being one of your girlfriends is off now? I'll happily have another match with you Talia-chan, I'd hate t disappoint you."
Page 4 of 5 •

1, 2, 3, 4, 5



Similar topics
---
Permissions in this forum:
You
cannot
reply to topics in this forum