Champions & #1 contenders
Summer Splash interest in Natasha Loclear?
Mon Apr 09, 2018 11:30 pm by daemongirl
Well my girl hasn't missed a summer splash yet, would anyone be interested in a match with her? Open to just about anything match wise, just pm me!
Comments: 1
Been Out with the Flu
Sun Apr 22, 2018 7:47 pm by daemongirl
Just letting those I have threads with know I've been out with the flu since early last week, but I will be back to posting tomorrow.
Comments: 0
The Austrailian Mudslide is Back.
Sat Apr 21, 2018 6:20 am by Softsquad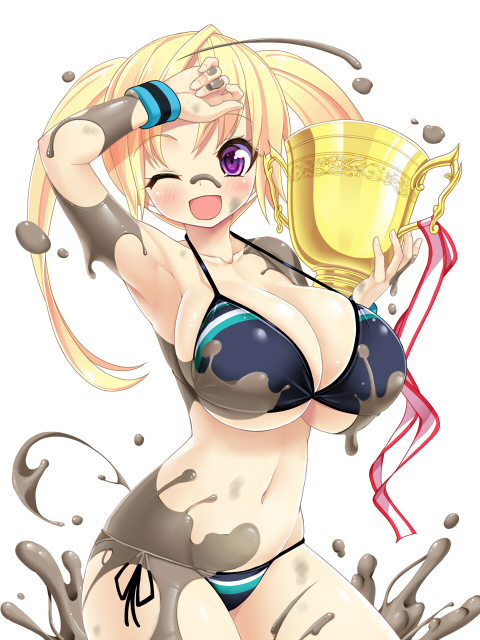 Granted that most of you won't know me or remember me, but I've had a few matches here and there some time ago. Well I think its time to become a regular around here and try to have some fun again, but at the same time keep coming back. Anyway I think its time to jump into some matches with Zoe Taylor, my mud wrestling character from Australia and get her back into the squared circle. Furthermore I will update my characters as I think some proper changes need to happen.
So if anyone would …
[
Full reading
]
Comments: 0
Page 2 of 5 •

1, 2, 3, 4, 5


"ahhhh..not like this!" Natalia complained cutely as she kept pushing on Natasha's orbs, they felt so good in her hands that she wanted real bad to play with them, but right now she was more worried about not ending with her face trapped between them unable to breathe. The Dream blushed a bit as she feel quite embarrassed by being caught daydreaming while staring at her opponent's tits. Natalia hated to be caught off guard like that and although she was used to have to fight defensively she sure didn't liked how Natasha was starting her attack.

And she liked it even less when Natasha dropped down, placing her chin on The Dream's jaw to take her down. NO! Natalia thought because she couldn't speak as she was going down like this. She closed her eyes and braced herself for the impact but no amount of preparation was going to make this any less painful. As Natasha landed on her knees the force was transmitted fully, and concentrated, to Natalia's jaw, sending The Dream's head flying up until she stared at the lights above them. Natalia didn't saw anything but a white flash and felt how the shocking pain spread from her skull all the way down her spine as she landed on her back on the wooden floor still not fully sure what had just happened. "oughhh...." she groaned cutely as she held her jaw with one hand, grimacing and still trembling on the floor.
Natasha was finding Natalia to be just as tantalizing as the matches she had seen of her made her out to be, even her complaints sounding incredibly delicious in that cute tone of voice she was using. Of course from everything she had seen Natalia in she knew that there was a much more dominant side to her that could come out at any time, the blue haired beauty remaining cautious even after her little stunner worked to perfection. "From how intently you were staring one might thing you were envious of my mounds Talia-chan." Natasha said in a cute voice barely above a whisper as she gazed upon Natalia laying sprawled out on the sauna floor, the steam causing both woman to be covered in a layer of sweat which made the Dream glisten under the lights.

She reached up and gingerly rubbed the top of her head where Natalia's sexy chin had landed, gasping and pulling her hand away quickly from the sharp throbbing pain. Turning her attention back to where it belonged, the sweet Natalia's naked form, Natasha giggled as she got on all fours and began to crawl over the woman. Dragging her breasts up along the Dream's incredibly hot body Natasha reveled in the feel of her nipples digging into the soft skin of Natalia, playfully moaning as her ample chest slid over her opponent's own lovely pair. She wouldn't stop until her tits were hanging right over Natalia's face, reaching out with her hands to try and pin the woman's wrists above her head before lowering her breasts over the girl's face.
Envious...as if... Natalia thought unable to answer as she moved her jaw like gnawing trying to make the pain go away. The Dream's curvaceous body laid on the wooden floor as she groaned cutely; she tried to recover her senses and make the buzz in her skull go away, but before she could do anything her wrists were captured by Natasha who easily pulled them up and pinned them over her head. It was then when Natalia realized Tasha had sexily crawled all over her and now was pinning her. The Dream blushed feeling so humiliated by the position in which she was and by having been surprised by a girl who was pretty much a rookie. The blue-eyed cutie shivered as Tasha rubbed her tits over her own pair letting her feel just how hard their nipples were... and then Tasha's tits were right over her face.

Natalia squirmed uncomfortably under Natasha but still too weak attempt to escape, she knew what the Russian girl planned to do now and that made her cute face blush even more; this was so humiliating. Natalia tried to roll her head and turn her face to the side but that didn't helped much as Tasha's gorgeous tits came down and covered her face. Natalia's nostrils soon got filled with Tasha's tits sweet scent and that made The Dream's body shiver. Tasha sure had a gorgeous pair, not perfect like Natalia's but more than yummi for sure...and more than enough to smother. Natalia squirmed a bit more violently now as she struggled both with Tasha's grip and with the urge to lick those delicious tits all over her face. With Tasha over her like this Natalia couldn't do much but kick her legs uselessly on the wooden floor... until she decided maybe licking Tasha's tits wasn't a bad idea after all. She kissed Tasha right between the girl's two huge orbs and then slid her tongue as she turned her head to the side to let her tongue come out and fickle the girl's nipple...all the while Natalia's legs moved slowly, like two snakes, trying to wrap themselves around Tasha's calves to then with a sudden push attempt to roll their bodies to revert the positions.
Natasha had never seen herself as much of an actress though she had played with the idea as most rich kids did growing up. But here she found herself eagerly clinging to the role of the innocent and unsuspecting rookie that she knew Natasha had thought she would be, it was both quite a bit of fun and would only help her out in the match so long as Natalia underestimated her. The thought that she might be overestimating herself did cross the always confident woman's mind, Natalia was a champion after and for good reason, but if she went around thinking she would lose all the time she would never have any fun, and she wanted to enjoy her sweet Talia-chan to the fullest. "Ahhhh Talia-chan, let me give you exactly what you wanted." Natasha said in a voice barely above a whisper yet dripping with lust, speaking as if she were with a lover and not an opponent.

The french women giggle for Natalia's enjoyment as she lowered her more than ample chest down over the woman's face, smiling wickedly as she struggled beneath her rather violently though she knew the woman was secretly loving this. Pushing down harder against Natalia's wrists to further impress upon her that Natasha had the dominant position she was loving every bit of the woman's cute reactions. Just as she was about to laugh Natasha found herself suddenly moaning lightly, Natalia's tongue going to work on her breasts which only aroused the blue haired woman further, her eyes fluttering closed for a moment as she relished in the feeling. "Oh that feels amazing cutey, keep it up for me will ya?" She said just as she opened her eyes to stare down at the girl's silky raven hair. Just this little bit of foreplay wasn't going to distract Natasha though, noticing what Natalia was doing with her legs Natasha slid hers up just a little bit so that her knees were on either side of the girl's hips, giving her a solid stance on top of the woman. "Nah uh, I'm not done up here yet Talia-chan."
Natalia could easily tell Natasha wasn't a rookie; The Dream had fought countless rookies before and none of the executed a breasts smother this well. Certainly Tasha had the tits to do it and that helped a lot, but this was too much. To Natalia, her opponent's attepmts to play innocent sounded more like taunting and in that it was being very effective as Natalia felt completely humiliated.

If there was any doubt in Natalia's mind about how truly dangerous her opponent was it got dispelled immediately when she felt how dominantly Tasha held her wrists down. This was a woman tryi g to own her and so far Tasha had done exactly that, own The Dream. Licking Tasha's nipples hadn't helped at all, and although it was quite embarrassing, Natalia kept doing it because it felt awesome.

When Natalia felt how Tasha pressed her hips she couldn't help but purr. The French girl had applied it so nicely that Natalia couldn't help but feel aroused. Getting out of this was going to take a lot of effort but Natalia trusted in her strenght and flexibility, specialy since the fight was just starting. She planted her feet on the wooden floor and with a loud groan she pushed her hips up, ramming her sex into Tasha's at the same time she pushed with her upper body with all she got in an attempt to bridge and roll with Tasha to the side.
This was one of those moments she had dreamed about many times, the Dream herself Natalia pinned beneath her with the beauty's face smothered by Natasha's ample mounds. Never would Natasha have believed that she would end up in this situation but here she was, the hentai champion Natalia at her mercy, at least for the moment. Relishing her dominant position Natasha released a series of low moans which grew louder with each one, her eyes closed as she let herself fully enjoy the sensation of the Dream's tongue lapping at her hardened and quite sensitive nipples.

"Oh god d..don't stop Talia-chan, your tongue its...ahhh...incredible!" Natasha cried out in her cute little voice, knowing full well her innocent act had been working wonders on Natalia so far in their little match. She couldn't afford to take this woman lightly no matter how secure her position seemed, if there was one thing Natasha had learned from watching Natalia's matches it was that the woman could win a match at any time, truly worthy of being champion and a woman she hoped to one day face for that title. With her new position on top of her Natasha could feel her sex rubbing gently against Natalia's own mound, her grin growing even wider as she began to move her hips back and forth, her movements nice and slow as she rubbed her sex over the Dream's own, her moans growing faster as Natasha took full advantage of being on top.

Just as she was really beginning to enjoy playing with the girl's tight little sex Natasha was reminded that this was a match as Natalia bucked her hips upward, both women's pussies being rammed together sending a jolt of pleasure coursing through the blue haired girl's body. Her lips flew open as did her eyes as a near scream like moan came from Natasha, the pure ecstasy she felt weakening her hold on the Dream just when she made her move to escape. Natasha couldn't hold on and found herself sliding off to the side of Natalia, the woman rolling a few feet away before getting up onto her knees facing her opponent. "Done so soon Talia-chan, weren't you enjoying yourself beneath my breasts?"
Natalia panted heavily letting out a sigh of relief as she finally got rid of Natasha's delicious body and round tits. She could almost miss them already and it had been quite hard to give them away but breathing was more important and Natalia was happy with the trade. Natalia rolled to her side and got to her hands and knees, sitting on her haunches as she breathed deeply, the sauna made it impossible to breathe any fresh air and Natalia realized then that smothers like the one she suffered were a lot more damaging in this situation than in a normal ring. The arousal was also going to be a trouble and the delicious cozy sensation of being something warm and humid like Natalia loved so much, this was going to be a lot more difficult than she had expected. Natalia blushed a bit as she heard Tasha teasing her.

"Oh... I was enjoying it... but I prefer to be on top..." Natalia said with a soft voice, taking her time to recover, trying not to think about how aroused she was, how hard her nipples felt pulsing on her perky tits and how damp her pussy felt aided in part by the sweat that was running all over her body. She moved her thoughts from how hot it had felt to be under Tasha to think how hot it will feel to be on top of her, dominating the girl and making love to Tasha after having conquered her. This helped her set herself in the right mindset to fight again. Natalia raised her head and smiled again at Tasha. "Come Tasha-chan... show me what else your body can do?" Natalia said challenging the French girl to come closer to her while she focused her thoughts on how delicious it was going to be to tame Natasha.
Natasha rolled across the wooden floor of the sauna after being tossed off of Natalia, saddened to no longer have her breasts being licked rather hungrily by her stunning opponent who knew just how to use her tongue to perfection. Even now as she pushed herself onto her knees Natasha could still feel the woman's tongue sliding over her mounds, knowing she had to get Natalia into another breast smother so she could get a refresher on just how good her tongue felt on her tits. She gazed upon the naked form of the goddess that was Talia-chan with a grin upon her lips, watching her lovely opponent gulping down air after being deprived of it for so long, though as she too tried to take some deep breathes to recover Natasha learned that breathing would be an issue in the warm steam of this sauna.

Her left hand slid down along her stomach down in between her legs, gently massaging her sex which had moistened quite a bit after rubbing it against the Dream's own deliciously wet pussy, giving Natalia plenty of time to recover as she wanted this to be more about fun than winning a match. Not that she would just hand herself over to Natalia though, half the fun came from enjoying such a sexy woman such as her as she saw fit after all. "On top huh? Oh I'm sure we can work that into the match Talia-chan." Natasha replied in as cute and innocent a voice as she could manage, batting her eyelashes at Natalia. "Oh my body has plenty of fun tricks don't you fret beautiful, though I'm sure you can teach me a few new ones..." She said in a voice barely above a whisper, speaking as if embarrassed by her own words, before she cautiously approached Natalia on her knees. Bringing her hands up, asking for a lock up, Natasha would hope to grapple with Natalia and pull her hand under her arm for a standard headlock, her free hand moving behind her to slap her ass.
"Tricks?..." Natalia asked with a mischievous smile as she began to crawl on her fours like a cat towards Tasha, getting up on her knees right before they would lock up. "I am not a trickster, Tasha-chan... I am an artist.." The Dream said proudly with an arrogant smile. But the smile didn't lasted long as Tasha quickly moved to trap Natalia's head, pulling it down. "H-hey!" Natalia complained as her head went under Tasha's armpit and then... "Oughh oughhh!" Natalia groaned, her face turning bright red with embarrassment as she was spanked.

The Dream was getting quite frustrated by having Tasha controlling this fight and interrupting her speech. This time however she was in a much better position to do something about it as Tasha had locked the headlock with just one hand. Natalia took advantage that both of them were soaked to pull her head lower than Tasha wanted, both of her hands grabbing the French girl's hand at her head and pulling it back Natalia tried to slip her head free and sneak behind Tasha's back, bringing the captured arm with her to trap her sexy opponent in a kneeling hammer lock.
Natalia certainly knew how to add sexiness into everything she did Natasha thought to herself as the woman crawled towards her on her hands and knees, her breasts gently swaying with every step until she rose up to lock hands with her. Entwining her fingers with the famous hentai champion Natasha giggled at her artist comment, grinning confidently right back at Natalia as she gave the woman her answer. "Hmmm, your body is a masterpiece Talia-chan, but then again so am I as you surely know by now." Her voice dripping with lust just before she showcased her own talents as an artist by pulling her into a headlock, spanking the lovely Natalia afterward as she had always wanted to do so.

The blue haired woman was pondering what to do now that she had such a breath taking woman at her disposal, leaning towards sliding her fingers into Natalia's lovely round ass before the woman turned the tables on her. "Hey what are..." Natasha cried out as the Dream grabbed her hand and moved behind her, groaning from the unexpected pain as Natalia twisted her captured limb behind her. With their positions reversed Natasha's heart began to beat faster with both dread and excitement, her mind racing to figure out what the woman had planned for her from this hold. "A masterful stroke of the brush Dream, you deserve a reward don't you think?" Natasha called out with a bit of a nervous laugh as she slid her free hand down between her own legs, slithering it underneath her and snaking her eager fingers towards Natalia's pussy for a bit of fingering in return for the hammer lock.
Page 2 of 5 •

1, 2, 3, 4, 5



Similar topics
---
Permissions in this forum:
You
cannot
reply to topics in this forum