Champions & #1 contenders
Summer Splash interest in Natasha Loclear?
Mon Apr 09, 2018 11:30 pm by daemongirl
Well my girl hasn't missed a summer splash yet, would anyone be interested in a match with her? Open to just about anything match wise, just pm me!
Comments: 1
Been Out with the Flu
Sun Apr 22, 2018 7:47 pm by daemongirl
Just letting those I have threads with know I've been out with the flu since early last week, but I will be back to posting tomorrow.
Comments: 0
The Austrailian Mudslide is Back.
Sat Apr 21, 2018 6:20 am by Softsquad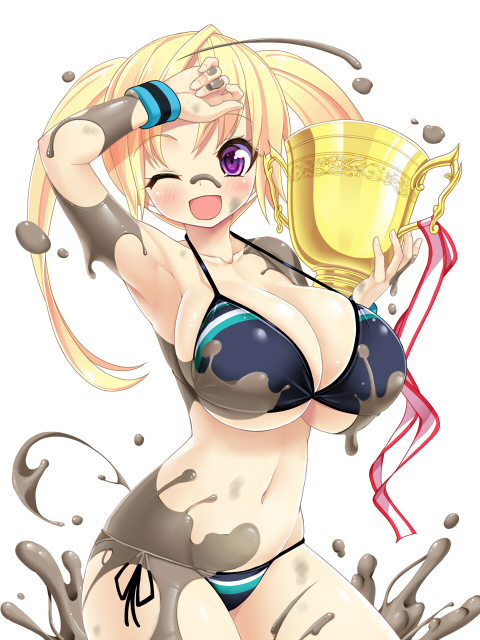 Granted that most of you won't know me or remember me, but I've had a few matches here and there some time ago. Well I think its time to become a regular around here and try to have some fun again, but at the same time keep coming back. Anyway I think its time to jump into some matches with Zoe Taylor, my mud wrestling character from Australia and get her back into the squared circle. Furthermore I will update my characters as I think some proper changes need to happen.
So if anyone would …
[
Full reading
]
Comments: 0
Page 5 of 6 •

1, 2, 3, 4, 5, 6


Kent ankle was sore and yet, he continues to pushes through the pain and hoped to keep at the ladies while they're somewhat downed and tired themselves, he really displeased with them after they did good amount of damages to his body but he was slowly recovering a bit so it wasnt as bad compared to them so far, and he wanted to show his dominance with all his might. "My fault? I'll show you!"

Answering both questions by Sarah as he pulls her to lay on top of Lisa, both facing down at the mat and he got on top to weighting down onto their sore back, reaching down for Lisa's chin and squeezing his arms against Sarah, pulling back at the same time having the girls suffering more of his delicious moves, he felt good as it would seems the girls was in so much pain that they didnt seem to think about attacking his wide open sore ankle of his. **Heh... nghh... good thing ugh...** His ankle still hurting but it'll soon recover just like the rest of his body, applying the hold onto the ladies as they screaming out, squirming in pain unable to escape somehow.

"GRR! If you girls ever gonna meet my partner Killer King, hurrgh!, he'll do much worst than what Im doing to you!" Just to taunt them thinking of what kind of person Killer King is while he punishing the girls with this submission hold, after a while he lets go and slowly standing up to his feet, thinking his ankle probably a little better by now, reaching around his hands to Sarah's waist to lift her off Lisa and trying to get her to spread her legs while standing, drape his leg over hers before pulling her arm back from behind while standing behind her, his one hand on her hip and began to twist her body into an Abs Stretch aka Cobra Twist, twisting her body as well pressuring her down a little bit.
The situation only seemed to get worse and worse the longer this went on. Both Sarah and Lisa struggling in agony though more Sarah than anything else as the hold continued to stress out their bodies giving them no time to rest or recover from the damage that Kent had done to them so far. In too much pain the girls were just crying out not even caring what Kent really had to say at this point. Their bodies trying to squirm free, but the pressure of being stuck together in this hold made it tough for either Sarah or Lisa to really have a hope of getting away from this guy without a little bit of luck.

Of course neither wanted to think about what the heck kind of person his partner was. "Didn't...augh...know you swung that way." Lisa coughed out beneath him able to hold back the strain and weight for enough time to at least throw that at Kent. Though it didn't do much for their situation.

Sarah groaned out in pain as he stood and lifted her up with him. Her legs shaking as she was in so much pain and exhausted that it was hard to do anything. The damage had been focused so much on her in this match that she was struggling to even stand at this point. "S-stop it..." She gasped out as he started to move around her and spreading her legs out for the hold. Eyes going wide as she felt him starting to twist her body and she screamed out in agony as her back was again assaulted by this guy. "Ohhh god stop it!" Sarah crying out and squirming in his grip as her body shook from the pain.

Lisa slowly getting onto all fours panting heavily. The girl trying to crawl over to them to help out but she'd need time to recover before she could do anything substantial to help.
Last edited by 2805 on Thu Sep 06, 2012 8:56 pm; edited 1 time in total
Feeling a lot better right now with him dominating the ladies with that all by himself double teaming the girls punishing their backs, and now, he wanted to picked on Sarah since shes the closest and the weakest, pulling off of Lisa and prepare to hurt her badly. "Swung that way? Hah! You'll find out soon enough Im sure!"

He gets Sarah up and standing behind her, snaking his arms and legs over her body as he twisted her body stretching out in an Abs Stretch just to make her scream in serious pain, shaking her up and down with constant twisting, she screams over and over gasping out in pain begging to stop, he didnt want to just yet as he's having fun, finally, hurting the poor little Sarah. "Mmmm mmm! Lovin it!"

He watches both Sarah and Lisa withering in pain, but Sarah is suffering the most out of the two which he isnt done beating her just yet, giving her one hard twist before releasing the blue haired girl only to scoop her up from behind, hoping to lift her up sideways across his chest, his hand over her crotch as the other grabbing her chin, pulling both back to bend her backward against his hard abs, letting her struggle some more and making Lisa watches her partner in agony. "Hurrrgh!"
Sarah wasn't sure how long she could keep going at this rate. Frankly if Kent just dropped her the girl wasn't sure if she could do much more than help Lisa in a pin her back was that sore and her body was just being put under more and more pain the longer this went on. Her cries only getting louder as he shook her around a bit in that hold making her back only hurt more as he seemed to find more and more ways to make her suffer. "You...brutal...agghhh!" Sarah tried to insult him, but was hurting too much to actually finish what she was saying.

Panting and groaning as he released the hold only to scoop her up. The girl only able to squirm a bit in his grip as she was panting and groaning. It felt like her back might fall off although that was impossible. "Aghhhh!" Sarah screamed out as he used a new way to beat her back into submission. "Please god stop it..." Sarah cried out struggling to not lose it completely under this hold which was making her back give out.

Lisa crawling faster hearing the screams trying to get close enough where she could sit down and try to kick at Kent's ankle. All she could do at this point to help her friend was attack Kent in whatever way she could no matter how exhausted. But it was a rather obvious move for her to be making.
Kent feeling his male domination over the lovely ladies, mostly right now against Sarah with her body twisting into his Abs Stretch as she cries out in pain, and barely able to insulting him due to the pain was unbearable to speak, making it worst for her he releases the hold only to scoop her up from behind and pulling her backward stretching out more of her back and body, pushing her beyond the limits he would think and making her scream even more which all she can do at the time being. "Scream Sarah scream!"

While he was tormenting the poor blue haired girl Sarah, wasnt aware that Lisa crawled toward to him and kicking his weaken ankle which brings back the memory of how much he was in pain. "Augh! Damnit!" Dropping Sarah to the mat as he kneel down clutching his ankle once again, looking right at the attacker, Lisa, and glaring at her while showing his teeth. "You.....!"

It feels like his sore ankle wanted to give up and taking a break to hold up his weights, so Kent kneel down and not putting any pressure or using his sore foot into any use at the moment. He tries to reach for her ankles to yank her closer to him and just letting go one of her leg to keep hold of the other. "Want to know how I feel about my ankle?!" Getting on his knees which he use as a substitute to keep him up barely, trying to get the back of her knee to go around his neck like a scarf and pulling onto her leg, stretching her knee out and trying to get her facing down to bend her backward too, Stretch Muffler with a Single Boston Crab combo. "Hurrgh!"
At the time all Sarah could do was keep on screaming in agony. Her body was hurting too much to worry about anything else but how much it did hurt to hang in there like that. But there wasn't anything Sarah could do in that condition but squirm and express her agony. She wanted to make Kent eat his words, but right now she did hurt too much and was going too far beyond her limits to taunt him or try and insult him. When finally that kick forced him do drop her Sarah fell in a heap. Rubbing at her agonized back the girl could barely do more than squirm in place.

Lisa on the other hand was panting as she managed to free Sarah up thanks to those attacks. It wasn't a preference to sneak attack, but right now they had to do whatever they could to wear this guy down. If he was too exhausted to finish them off them somehow they could find a way to win this still. "How about using your ears when people are telling you things." Lisa groaned out struggling to keep on going though she knew that she had to.

Squirming as he grabbed onto her ankles to yank her in not wanting to know what he was going to do. "I don't really care to know." She groaned squirming as she felt him slipping her knee back around his neck realizing quickly what he was trying to do. Loud cries leaking out from Lisa as she felt her leg getting stretched badly in the wrong way and feeling her body throbbing in agony. "Let go of me!" She squirmed and whimpered struggling with a very difficult position and being attacked in a completely different way by this guy.

On the other hand Sarah looked over panting and groaning in agony, she started to slide herself along the mat a bit to try and close into range to attack in some fashion. But she was moving slowly and in a lot of pain herself.
Kent dropped Sarah onto the mat after Lisa kicked his ankle as he goes down to the mat, now reaching for her leg to go around his neck to stretches her knee out while pulling backward in his Stretch Muffler/Single Boston Crab. She screams out in pain while he was stretching her out, though he would love to lift her up to slam down somehow but his ankle isnt doing well at the moment.

Pulling onto her a little bit before getting his knees over her back, trying to lock her legs together and grabbing her chin, rolling onto his back and pushing his knees up and watching her back bending further without using his ankle to support. "Hurrgh!"

Kent trying to torture Lisa as much as he did to Sarah, though he kind of hoped that blue haired girl doesnt attack him while he have his fun hurting Lisa, if he could lock her in that is. Hoping to weaken her as much as he can so he could toy with the ladies some more. "Hurrgh!"
Certainly Lisa would like to appreciate how much worse her situation could be, but as Kent rolled onto his back and she felt additional pressure on hers it was hardly a comfort. "Gah! Just let go!" Lisa gasped out as she could feel those knees pushing right up and into her back. Even though his ankle wasn't in a condition to cause trouble the rest of him was more than managing it.

At the same time as all this was going on Sarah was trying to crawl around towards this scene. Though she was still in a great deal of pain so there was a limitation to how quickly she could move in to help. But after a minute she finally made it. She could see and hear Lisa squirming and crying out in pain from the hold though it wasn't at the point where Sarah had been to. Not wanting to see it go that far either Sarah turned herself so she could use the mat as support as she pulled back her leg. Deciding to take kicks towards Kent's side to try and force him to drop or at least release Lisa. Though she didn't have much left to follow up with she at least could try and keep her partner in this fight in any way she could.
While Kent able to roll onto his back after getting his knees against Lisa's back, grabbing her legs and chin to pulled her backward into submission, bending her the wrong way as she cried out in pain, he was enjoying it every time his knees pushing her body to the limit with her back bending that way, he could see her breasts pointing upward while his hand pulling her chin down to make her chest more curved and easy to see from his view. "Hurgh! Not so... tough now huh?!"

He was distracted dealing with Lisa and not thinking much of Sarah situations, but soon he was kicked at his side where it was stinging and easily hurting him a bit, grunting from the kick with his head turn to the direction where Sarah is. "Still alive?!" Releasing Lisa and let her roll off away from him so he could get up on his knees, wiping more sweats and just flick it into the girls face or body just being a jerk. Panting a bit from having to deal with both of em, both really persistence not staying down like a ragdoll.

Grtting from the pain on his side, he tries to grab both girls by the hair with both of his hands, gripping and pulling them up so that they were standing infront of him. Though his ankle is a bit better from the recovery, he tries to pull Lisa's head under his left arm, while moving Sarah under the same arm so they were side by side. Holding the two girls heads tight, he grabs both of their left arms to put around his neck before sliding his shoulders underneth Sarah's body, using the force of his upper body and arm strength to lift both girls up, pressing his arm against Sarah's front while Lisa's is pushing down from the back of Sarah, attemptiong to hold both girls up on his shoulders, sideways, before grabbing behind both of their necks, holding the top of Lisa's neck and Lisa's middle leg for a double Torture Rack like move, pulling for a few seconds before their weight was too much, so that he can end by falling backwards, slamming them both.
Last edited by 6075 on Sun Sep 09, 2012 7:17 am; edited 1 time in total
Lisa was certainly struggling at this point her back throbbing in agony and her voice unable to contain her cries of pain. Barely able to endure the sensation of her back being bent as far as it could possibly go and her breasts bouncing a bit, following her movement. "Let go!" Lisa cried out in frustration at his taunting unable to do anything but squirm in his grip.

All that Sarah could do to help was keep in kicking and hope for the best. The girl at her own limit there. Her legs were the only thing she could really count on and right now that just meant kicking the heck out of Kent to distract him. "If I wasn't you'd be done already." She panted and groaned as he flicked sweat at her though she managed to duck that well enough. Still Sarah knew this was looking bad and her only hope was to just keep him distracted and tire him out somehow.

Feeling Kent grabbing for their hair both girls groaned out in pain shakily getting onto their feet. At this point neither was in a great condition to keep up a struggle against this guy. Trying to deliver some light kicks at his side before he just literally lifted the two of them up. "Now what are you doing?" Sarah groaned out breathing harder as she just tried to stay in this thing. Regardless of how ridiculous it looked the girls were actually pulled right into that double torture rack. Both girls just crying out in agony as their bodies were bent once again. "Enough of this you damn-whoa!" Lisa started to call out her own complaints and insults before they started to go down.

The slam into the mat made both girl scream out in pain. In a sense used again to do damage to each other the combined weight of that slam really made both girls just collapse onto the mat in pain. Sarah was already at her limit and now even Lisa was struggling just to get onto all fours. Neither was in a condition to take action for several minutes at this rate.
Page 5 of 6 •

1, 2, 3, 4, 5, 6



Similar topics
---
Permissions in this forum:
You
cannot
reply to topics in this forum