Champions & #1 contenders
Highfly Flying Out Of Town
Tue May 22, 2018 1:31 am by HighFly
Hello everyone, I just wanted to inform all I have threads with that I will be gone from this coming Wednesday through Sunday. I won't be able to post consistently if at all during this time, but I will try to make up for it next week! I am sorry for the inconvenience to everyone.
Comments: 7
The Austrailian Mudslide is Back.
Sat Apr 21, 2018 6:20 am by Softsquad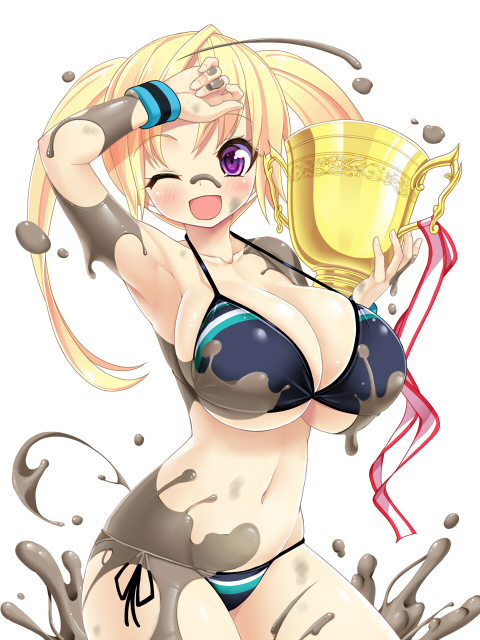 Granted that most of you won't know me or remember me, but I've had a few matches here and there some time ago. Well I think its time to become a regular around here and try to have some fun again, but at the same time keep coming back. Anyway I think its time to jump into some matches with Zoe Taylor, my mud wrestling character from Australia and get her back into the squared circle. Furthermore I will update my characters as I think some proper changes need to happen.
So if anyone would …
[
Full reading
]
Comments: 5
Page 5 of 10 •

1, 2, 3, 4, 5, 6, 7, 8, 9, 10


"Not really all that long Natasha, just long enough really." Heather would let out with a grin as Natasha would awake after the kiss. She would see the girl tug at the ropes, noticing that she was indeed tied up, causing Heather to let out a little laugh. She was incredibly proud of herself that she was able to get Natasha in that position, and she would watch her tug at it like mad, trying to loosen up the knot. "Forget it Natasha. No way in hell are you going to break yourself free from that. Let's just say...I have experience in that sort of thing. I wouldn't make a lose knot, trust me." Heather would let out, grinning wide until she would see Natasha grin right after.

"Trying to be funny in the position you're in right now? I don't know if that's the smartest thing you can do Natasha." Heather would say, shaking her head before she would see the girl start to kick her legs, trying to kick at her head. Heather would quickly dodge one and then grab both her legs, planting them on the mat before trying to place her knees on her ankles, trying to pin her legs down in front of her, wanting to render all of her limbs completely useless in this position.

"What happened? You were so excited in having fun with me earlier I thought that you would be all for this." Heather would say, trying to slide her hand towards the girl's exposed sex and rub it with her palm a little.
_________________
Friction/Tension:
| | | | | | |
| --- | --- | --- | --- | --- | --- |
| Heather Sunderland| | Alessa Mason| | Sena Iwakura| | Cristina LaBrie| | Victoria Baynes| | Cheryl Pride |
Alternative/FnF
Trisha Birkin
Tension:
| | |
| --- | --- |
| Dante Sunderland| | Ambrogio Mastrostefano |
Natasha may have been smiling but the blue haired girl knew she was in a bit of trouble with her hands tied up like this, especially since in a ladder match she would have to get free if she wanted to climb up and win the match. Hearing what Heather said about the knot she realized the woman was right, she had seen her tie a few woman up in the past and she couldn't remember any of them getting free, and if the knot hadn't been pulled free by now tugging would only make it tighter. "Ahhh why not Heather? Even tied up theres no way you're gonna keep me from getting back at you." Natasha said continuing to tease Heather showing her she was as defiant as ever, it would take a lot more than this to embarrass her after all the things she had done to Heather and others in her time in the AFW, though it looked like Heather was eager to try anyway.

Trying to fight out of this before Heather's fun could really begin Natasha kicked out towards her head, but the woman was fast and managed to not only grab both of her legs but pin them down, Natasha gritting her teeth as she tried to pull them free but couldn't make them budge. Her eyes glanced back up from her trapped legs to the eyes of Heather, seeing in them a hunger that took her back a little, surprising her since Heather had always been immensely embarrassed by hentai moves even when in private, but it seemed being forced to cum in font of the audience had a way of helping her get past those inhibitions.

"Have to admit I was never that into bondage, though for you I suppose I can give it a try Heather. Think you can really make me cum for you?" Natasha said with a mocking laugh as the crowd around them began to cheer, looking up Natasha saw a close up view of her swollen and quite wet labia up there for everyone to enjoy, blushing deeply as the camera continued to zoom in closer until she would have sworn the camera was penetrating her. Watching the screen she saw Heather's hand sliding up over her pussy, a light moan escaping her lips as her eyes fluttered closed for a second. It was just a little petting but she had been close to cumming earlier and she could feel her body quickly building back up towards it, biting down on her lower lip to resist it she just flashed another confident grin at heather and said "Is that all you want to do with me? I'm hurt Heather."
"Really? Is that what you think? The only thing stopping me from climbing the ladder right now is the fact that I owe you an orgasm...actually quite a few, but I'll get those from you at some other time." Heather would say, laughing a little before she would give Natasha another quick kiss on her lips. When it came down to it, she had nothing against the girl. She admitted to loving this sort of thing with Heather, and Heather didn't see anything wrong with giving that to her every once in a while, though she didn't want it as much as Natasha wanted it, though she was more than eager to get back at her and do it to her when she was tied up to get back at knowing that Natasha would rape her anytime without much concern.

Pinning down Natasha's legs, Heather would cup the girl's sex as she did, looking into the girl's eyes as she heard her words. "Hah, you talk like you have a choice in the matter Natasha. I..love..to tie people up like this and have my way with them. Only you and one other person knows that right now." Heather would say to her, whispering in her ear so the cameras wouldn't pick up what she was saying. She would ignore Natasha's challenge in making her cum before she would slide three fingers into her sex.

"Of course not..This is just the beginning." Heather would let out, pumping her fingers in and out of her sex more as she would press herself against Natasha' their breasts pushing against eachother as she would lock in a deep kiss on the girl as she fingered her intensely.
_________________
Friction/Tension:
| | | | | | |
| --- | --- | --- | --- | --- | --- |
| Heather Sunderland| | Alessa Mason| | Sena Iwakura| | Cristina LaBrie| | Victoria Baynes| | Cheryl Pride |
Alternative/FnF
Trisha Birkin
Tension:
| | |
| --- | --- |
| Dante Sunderland| | Ambrogio Mastrostefano |
Natasha had to admit she was quite enjoying this more dominant Heather, not even fighting the woman as she stole another kiss from Natasha, the blue haired woman licking Heather's lips as she pulled away. Ever since her idol had agreed to that firs hentai match she had been unable to sate her hunger for Heather's cum, wanting nothing more than to pleasure the woman every chance she got. Tied up like this there wasn't much she could do to her physically but that wouldn't stop her from teasing Heather just like she knew the woman loved.

"You sound like you've already won the match Heather, but its still far from over. I plan to leave you exhausted on the mat covered in your own juices, begging for more as I climb that ladder and claim my prize." Natasha spoke with confidence in her voice despite her situation, showing Heather her spirit was far from broken while she worked to slide her sweat covered hands out of the knot. Gasping as she felt Heather cupping her wet sex Natasha suddenly began to struggle against her, listening intently to the woman's words as Heather told her she was one of only two to know this side of her, that fact bringing a wide grin to her lips. "We'll have to plan a weekend around this then, just you...and...me, alone."

Her smile was soon replaced by a look of orgasmic pleasure as Heather began to pump her pussy with not just one but three of her fingers, clearly wanting to make Natasha cum like a fountain as she relentlessly fingered her pussy. There was nothing she could or even wanted to do as Heather pressed her hot body against her own, Natasha's large mounds squished against Heather's with their her nipples being painfully stabbed by Heather's/ Moaning like mad Natasha embraced the kiss with fire, passionately making out with Heather as the pleasure built within her sex until at long last she simply couldn't hold herself back. A powerful orgasm rocked her body, Natasha screaming her moans into Heather's mouth as her pussy began to spasm around the woman's invasive fingers, her juices flooding out over her hand and onto the mat. A few of her spasms squirted out her cum so that the undersides of their breasts and stomachs were soon covered in her sweet nectar. Her orgasm seemed to go on forever and for a moment Natasha only saw white light, never breaking the kiss either as she rode the waves of immense pleasure.
Last edited by 10067 on Mon Sep 17, 2012 5:32 am; edited 1 time in total
"I don't think so Natasha. You beat me in both our little matches that we made for ourselves, this time it's my turn. I can't let you beat me again, especially in a match like this. Now just sit back and enjoy this." Heather would let out as she would feel Natasha begin to struggle against her a bit. She would then see that wide grin on Natasha's lips with what Heather revealed about herself, hearing Natasha's words in response. "Hah, You think so huh? Maybe I'll be in the mood to plan that after I beat you. I'll give you that as a compensation award." Heather would let out, teasing her back before she would press against her in the kiss.

With her fingering building in intensity, she would finally feel Natasha erupt in her hand, her cum splashing out onto her lower body areas as well. Heather would rub herself up against Natasha a bit, using her breasts to play with Natasha's larger ones before she would back off her and stand up over her, looking at the mess that she made with her juices. "You don't hold anything back with anything do you Natasha?" Heather would let out, sighing a bit as she would slip off her boots and the socks that she had under them.

"Since you aren't holding back, I won't either. Here's another thing I like to do." Heather would say with a grin on her face, raising her foot up and going to press her toes on Natasha's lips. "I want you to kiss them and lick them, and then I'll untie you and we can continue the match. Otherwise I'll set up that ladder and climb right now with you tied up. I'm sure your a little tired from letting out all that cum."
_________________
Friction/Tension:
| | | | | | |
| --- | --- | --- | --- | --- | --- |
| Heather Sunderland| | Alessa Mason| | Sena Iwakura| | Cristina LaBrie| | Victoria Baynes| | Cheryl Pride |
Alternative/FnF
Trisha Birkin
Tension:
| | |
| --- | --- |
| Dante Sunderland| | Ambrogio Mastrostefano |
Natasha did indeed let herself enjoy every last ounce of pleasure Heather saw fit to give her, screaming in ecstasy as her orgasm washed over her like a tsunami, so intense that by the time it had subsided her cum covered them both and left her panting for air. She lightly moaned as Heather slid her body over hers, spreading her cum over them both which would have brought a smile to her lips if she wasn't utterly exhausted for the moment. She wanted to answer Heather but every time she went to speak all she could do was breathe deeply, it would be a minute or so before she could finally speak a few words. "I'll...still...win Heather."

Looking up as she finished speaking Natasha smiled up at Heather, her breathing slowly coming under control as she came down from the orgasm. She even continued to smile as the woman pressed her foot against her lips, glancing down at the foot and then back up to Heather with eyes wide with surprise. Natasha would never have guessed that Heather had been hiding this sort of fetish from her this entire time, remembering nothing of it back during their fun in her apartment but then again that had been more about pleasing herself. Under normal circumstances Natasha would never have even considered saying yes to this, she was too good to need someone to let her out of something, but knowing Heather there was a good chance if she didn't the match would be over before she could free herself.

"There you go again underestimating me Heather, maybe later I'll help you with your fetish but for now I have to decline. I will free myself however and make you feel that orgasm yourself a hundred times over Heather." Laughing softly Natasha brought her foot swinging up to kick Heather right in her sex, looking to take advantage of her being on one leg before she would lift her head up and begin tugging at the rope with her teeth.
Last edited by 10067 on Mon Sep 17, 2012 6:22 am; edited 1 time in total
"No you won't NAtasha. I can't let myself lose here." Heather would say solidly as she looked at the girl. She would watch her breathe deeply in and out, clearly exhausted because of how much she just let out as Heather would stand up in front of her. Heather was feeling that wave of dominance that always gave her that rush. She loved it so much and she was more than ready to show the girl that she meant what she was saying. Heather was going to do whatever it took to win the match. If she couldn't beat Natasha here, she didn't know if she'd be able to win that title.

As she pushed her foot up against the girl's lips, she was expecting NAtasha to just go with what Heather was suggesting, seeing it as an easy way for her to get free. However, she would instead hear Natasha's words refusing that, hearing her laugh before she would suddenly feel her kick collide with her sex, causing Heather to quickly remove her foot and stumble back, falling to her side as she rubbed her crotch from the pain.

"Gaagh..N-Natasha..I-I swear I'll get you for that." Heather would let out, breathing in and out steadily as she couldn't stop Natasha from freeing herself with her teeth as she was doing.
_________________
Friction/Tension:
| | | | | | |
| --- | --- | --- | --- | --- | --- |
| Heather Sunderland| | Alessa Mason| | Sena Iwakura| | Cristina LaBrie| | Victoria Baynes| | Cheryl Pride |
Alternative/FnF
Trisha Birkin
Tension:
| | |
| --- | --- |
| Dante Sunderland| | Ambrogio Mastrostefano |
Natasha wasn't sure how she should feel about this little offer from Heather. On one hand it was rather interesting to see just how kinky she was when she felt in control, but then again if she really believed that Natasha would say yes just to get herself free then she didn't give her much credit. Pushing that aside for now Natasha focused on taking full advantage of the opening created by her little stunt, only pausing to stare and giggle at Heather for a few seconds before going after the knots which bound her hands to the top turnbuckle. It was tough work as the knots were indeed quite tight but it wasn't long before she felt the ropes growing slack, her sweaty hands slipping out much to the joy of the crowd as they cheered her on. Waving to them all Natasha knew they were just pleased to see the match was no where near finished but she enjoyed it all the same.

"Oh I don't doubt that you will Heather, but that doesn't change the fact that I will win this match for not only myself, but for my team as well. Got to prove I'm more than just a sexy fuck toy right?" She said letting her french accent flavor her last few words just to tease Heather as she lay there clutching her sex. Seeing a chance Natasha walked up behind Heather and leaned over to push her onto her front before sitting down on her lower back. "Just lay there and enjoy this Heather." She would say before attempting on of her new finisher moves, reaching behind her to grab the woman's legs and pull them under her arm pits, sliding her legs under Heather's arms as she rubbed her now quite sore pussy. With a mighty pull Natasha would lean forward so that her breasts pressed against the back of Heather's head while the rest of her body was bent backward for a painful submission move she called Waterfall.
"Egh..d-damn.." Heather would let out as Natasha ended up freeing herself from her restraints. She would click her tongue in frustration, cursing herself for not making the knot tighter on that rope as she was trying to recover herself. She knew Natasha would be right on her, but her sex was throbbing in pain from that kick, causing her movements to be a bit slower than she would have hoped they would be. Hearing the crowd's reactions, Heather knew that Natasha was heading towards her, causing her to frantically try to push herself up.

She would hear Natasha's words, causing her to let out a little groan, shaking her head and blushing. She knew that Natasha was more than that, she was clearly proving it by taking her to the limit like she was, but it seemed Natasha was going to keep pushing that, wanting to take Heather down to prove it even more. Heather couldn't let that happen. She had her own things to prove. She needed to put the idea in people's heads that she was the next champion, she wanted to erase all doubts from their minds, and she couldn't afford losing her specialty in the process.

Soon though, Heather would feel Natasha push her onto her front and sit on her lower back, grabbing her legs and rubbing at her pussy, causing Heather to let out a little moan before Natasha would pull hard, leaning forward and pressing her heavy and huge breasts onto the back of her head, locking her in one of her finishers. Heather would yell out in pain, scratching at the mat as she shook her head. "Haagh!!! G-god! N-Natasha...let go!! Please!!" Heather would yell out, the pain really getting to her as she struggled to kick out of the hold.
Last edited by 1905 on Tue Sep 18, 2012 5:36 am; edited 1 time in total
_________________
Friction/Tension:
| | | | | | |
| --- | --- | --- | --- | --- | --- |
| Heather Sunderland| | Alessa Mason| | Sena Iwakura| | Cristina LaBrie| | Victoria Baynes| | Cheryl Pride |
Alternative/FnF
Trisha Birkin
Tension:
| | |
| --- | --- |
| Dante Sunderland| | Ambrogio Mastrostefano |
Natasha could see just from her sluggish movements that Heather was struggling to recover from her little kick, the blue haired beauty felt a little bad about such a dirty move but all was fair in this kind of match. Heather had started it after all with that nasty bit of bondage and Natasha was not about to just let that slide, not with everything this match represented not only for her but for her team. These other groups like Heather's own team had high profile names and both former and current champions, the blue team had a couple big names but for the mast part it was newcomers. She was going to prove the newcomers could unseat the stars of the AFW.

"Now lets play a game, it might not count but lets see how long it takes before you tap out okay?" Natasha teased her idol in a clam seductive voice, as confident as ever despite her recent experience in being tied up. Feeling how weakly Heather resisted her advance she knew she had an opening and took full advantage of it as she planted her nice, round ass down upon her back before she took hold of the woman's legs and pulled her into a rather painful submission hold she had come up with herself. "I call this one the Waterfall, tell me, what do you think of it?" Natasha whispered into Heather's ears as she increased the pressure, pressing her massive breasts further down on the woman's head.
Page 5 of 10 •

1, 2, 3, 4, 5, 6, 7, 8, 9, 10


---
Permissions in this forum:
You
cannot
reply to topics in this forum