Champions & #1 contenders
Looking for a debut (Tag Match)
Sun Jan 14, 2018 10:29 pm by Person
I am looking for a debut for my new tag team:
Rulers of Divinity
Something to build them up before I start their main feud.
Comments: 0
Trying to get back into the saddle.
Sat Jan 13, 2018 8:11 pm by Deus001
Hi all. Deus here.
You may have noticed I am a bit quiet on the forums these days. My parents split up, I split up with my girlfriend and moved house. I am moving house again in February as well. 2017 was one slow motion punch to the dick for me and my balls are still numb to be honest.
However now that I have some semblance of normality I felt why not see if anyone wants to talk RP ideas, I have a long work week ahead but a clear weekend it seems. If you have any ideas you want to do send me …
[
Full reading
]
Comments: 3
Post Delays after Winter Storm
Sat Jan 06, 2018 4:38 pm by BrittanyW
Cause the best thing after coming back from holiday is for a bomb cyclone to hit where you are. -_-
So yeah, expect more delays of posts and stuff while I have to sort out problems from this shit.
Fuck my life.

Comments: 1
Page 1 of 9 • 1, 2, 3, 4, 5, 6, 7, 8, 9

Hentai Submission Match
Standard Rules
Darkness fell across the AFW arena. A brief pause, then the entrance ramp lit with a deep red light. Through a cloud of smoke, a masked figure appeared, clad in traditional-style (if rather revealing) ninja robes.
She raised an arm, the lights returned as if on her command. She began to skip confidently towards the ring, springing lightly on her bare feet.
"Representing the Red Lotus Clan… Irezumi!!" the announcer boomed. The crowd were eager to get a look at the new girl, but her costume hid her features, apart from the pretty, almond-shaped eyes glittering blue from behind her mask.
She jumped effortlessly onto the apron and nimbly vaulted the ropes, agile and confident. Irezumi was clutching a microphone, and waited for the applause to subside before making a speech to the watching fans.
"You do not know me, but you will know the Red Lotus soon enough! We will conquer all through devotion, discipline… and downright sexiness!!" Her serious tone fell into an impish giggle, and Irezumi reached behind to pull aside a little of her robe, showing the red lotus tattoo on her lower back, as well as a generous eyeful of ass cheek. She leant forwards and wiggled her derriere seductively for the cameras, before going over to her corner to await her opponent.
Last edited by 1043 on Sat Sep 01, 2012 6:54 pm; edited 1 time in total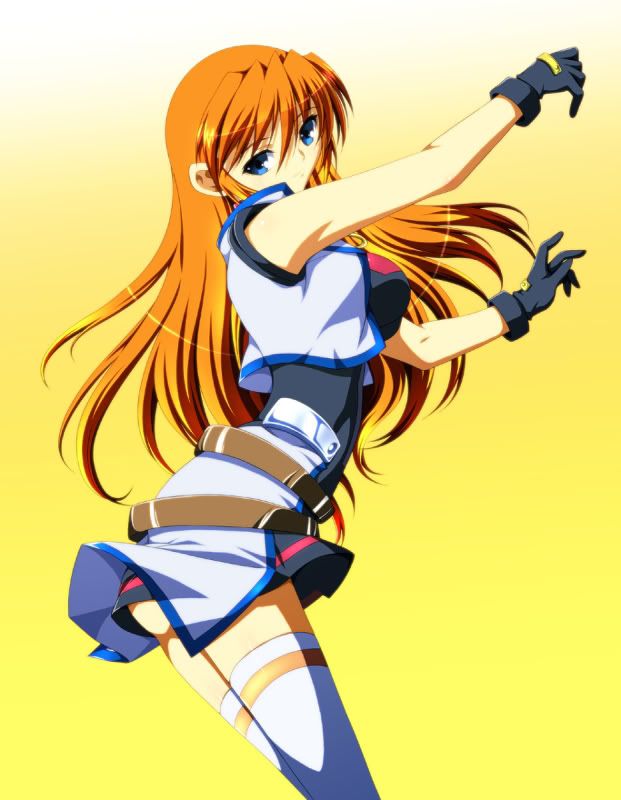 Tia had stolen a peek through the certain watching the somewhat over the top entrance of her opponent. She had heard that this would be a newcomer which gave Tia some hope that she could push ahead and get a win here. Always feeling a bit on the weak side for these kinds of matches, Tia was hoping to show this unusual girl what she could do. Checking her black glove the girl was ready to head out in her usual attire. Since it was a match in a fairly normal location there wasn't any need to do anything fancy or wear less than she had to.
For now all she could do was take in what her opponent had said. It seemed like she was hoping to make her mark for the 'Red Lotus.' "Well not my issue." She commented to herself waiting and finally hearing her music starting up. Heading out she waved knowing the crowd always loved these sorts of matches. Tia was glad for the applause long as it didn't turn to cheering at how things would be going poorly for one of the girls.
Finally she closed in and slipped into the ring. There still wasn't much to see with her costume covering up pretty effectively. For now Tia just tried to stay confident and believe in her own skills. She hadn't come this far to lose to someone just starting out. "Well nice to meet you and good luck." Tia did manage to smile and try to keep a positive atmosphere. Nothing against this girl after all, though they'd be competing for the victory soon enough.
"Well hi there, thanks," Irezumi smiled, dropping the mic in her corner and padding across to meet Tia in the centre of the ring.
"Iâ€
d rather trust in skill, than luck, though," she added.
"Anyway, I like your hair. I like redheads. This should be fun," Irezumi beamed. She was sidling up pretty close to Tia now.
This girl seemed serious and focused, not bad traits as far as Irezumi was concerned, though sheâ€
d need to get her to open up if she wanted to secure a hentai win over her.
"Be warned, I intend to dominate you completely before the night is through - I hope youâ€
re ready to test yourself!"
Whilst talking, Irezumi would creep within striking distance. "Ready?" she asked. Suddenly, she would lift her right leg with lighting speed and fire a surprise snap kick at Tiaâ€
s chest.
Tia shrugged with a smile when she saw the mic get dropped and Irezumi moving right up. "Well that's true. But a good combination of both can never hurt I think." Tia figured if she had the luck and the skill then victory would be all that much easier to attain.

At least it seemed to Tia like this girl was the type that really enjoyed what she did. It would make it tough to break her down since she looked capable of bouncing back from most. But on the positive it seemed like she would be fairly easy to get armed up. In this kind of match the most important thing was getting on a roll and quickly scoring the fall.

Even Tia couldn't hold back a blush at that kind of declaration. "Well I'll be sure to keep that in mind. But I plan on winning this thing." She replied trying to not get mentally shaken up in the first few moments of the match. Right now she had to stay calm and firm.

Tia misjudged how close her opponent was getting. Before she realized it the girl was right up in striking distance and right after the ready she coughed feeling a snap kick striking her. Gasping a bit from the strike Tia knew it was on. "Oh I'm ready." She replied trying to reply with a roundhouse kick to Irezumi's side. If she wanted to start off a bit with some strikes that was fine by her.
"Unh!" Irezumi grunted as her kick was immediately answered, bruising her ribs. But the quick-witted ninja would move to grab Tiaâ€
s ankle before she could withdraw her leg, trying to hold the redheadâ€
s limb at her side, under her arm, to pull the smaller girl into an uneven grappling position.
"Good! I want you to give as good as you get!" Irezumi replied, trying to keep up the banter during these opening exchanges.
Tia did enjoy replying to the kick that she took, but groaned as her ankle got snagged. Leaving her in a very unstable position standing there on one leg. Trying to pull her leg away Tia knew she needed to do something about this before Irezumi took advantage of the situation.

"Well...in a case like this I think I'd rather be giving than receiving." Tia replied trying to grab onto Irezumi's shoulders to balance herself. Thinking if she could do that then she could try to balance on those shoulders for a moment and raise her free leg to go for a knee. Figuring either Irezumi would let go of her leg or she could use her weight to hold Irezumi in place and get that attack in.
"Hu-nnghh!" Irezumi started to smile at Tiaâ€
s reply, but was cut short by the sudden jumping knee to her gut, which she was forced to take at point blank range. The sharp blow made her grunt and left her partially winded. She started to stagger back a little, but held onto her awkward grip on Tia to keep her balance.
Irezumi felt herself losing her footing but she would try and make the most of this position. Using her hold on the smaller girlâ€
s leg, she would turn and let herself fall backwards, while grabbing Tiaâ€
s foot in both hands to try and toss her opponent across the ring. Putting the weight of her fall into the leg drag, she hoped to send Tia crashing into the mat.
If anything Tia was simply surprised that her strike actually didn't pay off. Even after managing to drive that knee into Irezumi's gut she wasn't able to free up her leg. "Talk about being built tough." Tia commented trying to figure out if she should go for another strike and see how that went.

"Whoa!" Tia could feel Irezumi going over and the girl actually managing to use that position to send Tia flying. Groaning as she slammed into the mat rolling a bit until she stopped. "Ugh..." She just complained to herself feeling sore from that landing though slowly making her way to her knees. There was no getting around that not being fun, but Tia just tried to stay aware of her surroundings.
The satisfaction in seeing Tia go flying was tinged with the aching pain in her abs; Irezumi lay on her back, rubbing her bruised belly. She was new to professional ring wrestling, but the familiar thrill of combat was starting to kick in.
Frowning a little at the pain in her stomach, Irezumi sat up, watching her dizzied opponent clamber unsteadily onto her knees. Keen to keep the initiative, the ninja girl would start to crawl over, hoping to get to Tia before sheâ€
d fully recovered. If successful she would try and grab the kneeling girl from behind, wrapping an arm around her neck.
"Sorry hun, did you want me to just lie down and take it?" she purred as she pressed her head against the side of Tiaâ€
s face.
Well things weren't going amazing for Tia right now, but the girl at least feeling like she had a reasonable chance here. Still she'd like to avoid going flying again anytime soon if she could help it. Regardless of being new it was clear to Tia that her opponent wasn't some pushover who didn't know how to defend herself. If Tia wasn't careful she might kick her butt all over the ring.

Tia gasping a bit in surprise when she felt that arm slipping around her neck. "Wha?" She heard the girl purring and Tia started to squirm underneath the hold. Her hands coming up to grab the air trying to pry it off. "Would...have been nice." She replied to the question trying to just stay focused and not get distracted by this mysterious girl. Right now Tia had to do something about that arm or else who knows what Irezumi might try to do next.
Page 1 of 9 • 1, 2, 3, 4, 5, 6, 7, 8, 9

---
Permissions in this forum:
You
cannot
reply to topics in this forum