Champions & #1 contenders
Summer Splash interest in Natasha Loclear?
Mon Apr 09, 2018 11:30 pm by daemongirl
Well my girl hasn't missed a summer splash yet, would anyone be interested in a match with her? Open to just about anything match wise, just pm me!
Comments: 1
Been Out with the Flu
Sun Apr 22, 2018 7:47 pm by daemongirl
Just letting those I have threads with know I've been out with the flu since early last week, but I will be back to posting tomorrow.
Comments: 0
The Austrailian Mudslide is Back.
Sat Apr 21, 2018 6:20 am by Softsquad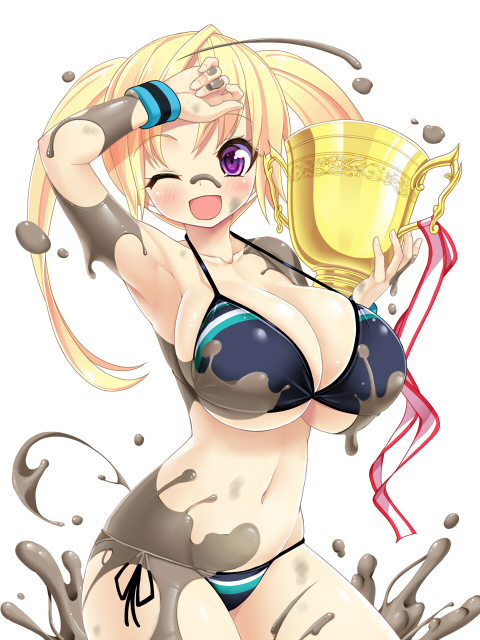 Granted that most of you won't know me or remember me, but I've had a few matches here and there some time ago. Well I think its time to become a regular around here and try to have some fun again, but at the same time keep coming back. Anyway I think its time to jump into some matches with Zoe Taylor, my mud wrestling character from Australia and get her back into the squared circle. Furthermore I will update my characters as I think some proper changes need to happen.
So if anyone would …
[
Full reading
]
Comments: 0
Page 4 of 8 •

1, 2, 3, 4, 5, 6, 7, 8


There was nothing that Lisa could do right now. The girl just getting overwhelmed by Maya's intense passion and efforts. The girl seemed to be only getting bolder and more intense the longer this went along. Unable to hold back any moans which got more intense as the fingers found another gear inside of her increasingly wet sex. It felt like her breasts would be devoured by this girl's intense activities at this rate. "Wait a sec! I...ohhh!" Lisa barely able to clear one thought before those fingers and that mouth seemed to drive her further into a corner that she couldn't climb out of this round.

Lisa felt her will to battle on decreasing the longer this went on. She'd have to wait for Maya to separate from her before she could really have a chance to mentally recover. Right now the girl was just left moaning again and again seemingly without end. Even as her breasts were released and Maya moved down Lisa wasn't immediately sure what the girl was up to. "W-what are you..." Lisa started to question but what she saw in the eyes of Maya just silenced her. Only voicing herself again when she gasped feeling those fingers getting removed.

Eyes wide open in shock as she felt that tongue diving inside of her. Lisa already at her limit and the sensation of getting licked out like that pushed her over the edge. "Maya...I...I...ohhhhhh!" Lisa crying out loudly in pleasure as she came over the girl's active tongue. Her mind going a bit white as she was sucked up into the pleasure unable to even think straight for the duration of that orgasm.
At this point she knew it was only a matter of time before Lisa inevitably could take no more of this and came over her face, Maya not letting up in the slightest in her desire to repay the white haired woman for all the pleasure she had given Maya. Hearing her name screamed out by Lisa she lifted her head just enough to better see her face distorted with pleasure, the tip of her tongue still teasing the girls inner folds when her prediction came to pass, Lisa finally unable to hold her body back as she released her juices over the face of Maya. Only now did some of the embarrassment return to Maya as she pushed herself up away from Lisa's pussy, eyes wide and staring at the juices freely flowing out of her sex onto the ice cream beneath her.

"I....I...can't believe...I....did that to you Lisa! I c..c..couldn't stop myself." Maya said stunned by what she had just done, her eyes not leaving Lisa as she writhed about in her orgasm. Maya was almost envious of Lia in that moment, her lust beginning to grow yet again as her hand slid down to her own sex, reaching beneath her bottom to gently stroke her own pussy, her moans like whispers as she unthinkingly pleasured herself.

Leaving Lisa to enjoy her orgasm Maya leaned back down and began to lick up the mixture of cum and vanilla ice cream, pulling her hand from her sex to scoop up what remained after she had eaten her fill. Her hands reached up and roamed over Lisa's hot body spreading the mixture of cum and ice cream slush over her pussy and breasts, a faint smile on her lips as she began to enjoy humiliating Lisa, each of her hands resting on the girls mounds before giving them a good squeeze each. "But, you did enjoy it no?"
It was hard to Lisa to believe what had just happened. A girl she had read as being pretty relaxed and calm ended up driving her this far into a corner. She certainly wasn't holding back like she might have expected from someone as new to all of this as she was. Regardless feeling that tongue teasing away at her folds and being already at her limit there was nothing left for Lisa but to cum as hard as she could. Left to writhe a bit in the ice cream as Maya pulled off and just left her to moan on her back. "Ohhhh..god..." Lisa panted and whispered unable to believe that this really just happened. Her body hot with arousal as she tried to calm herself down and recover.

What made it hard to do though was watching Maya afterwards. Her eyes spotting the girl starting to pleasure herself like that and then starting to lick up the ice cream and cum mixture. Lisa starting to feel the embarrassment though of getting so heated in this match and cumming like that. Sure it was possible, but so had been winning 3-0 and that wasn't going to happen now. Regardless she had to pull it together and started to do so until she saw what Maya was doing next.

"What are you do-hwaaa!" Lisa gasping as she felt those hands spreading the mixture over her body and especially her pussy and breasts. The girl's face getting even more red as she was getting marked with her own initial defeat there. "S-stop that, ohhh!" Another moan leaping from her lips as she felt those hands resting on her mounds. "Be quiet." Lisa whimpered feeling embarrassed even more by all of this. Quickly the girl just felt herself losing it and tried to snake her legs around Maya's waist to try and spin them over. She couldn't take just being teased like this and losing lopsidedly. "Seemed like you were the one enjoying herself." Lisa mumbled as she tried to get herself on top of Maya and right off the bat sneak a hand in behind and go down to rub at Maya's sex. If she wanted to rub herself off them Lisa was going to help.
Never would Maya have believed she was capable of something like this, not only fingering someone but even going so far as to lap at their pussies until they came over her face. Even when she had seen Lisa in the pool of ice cream she had been sure the white haired woman would be winning the match 3-0, knowing she would be unable to do the things she needed to in order to win, but now she was going even further as she spread the girls cum over her naked body. Her pupils were wide from the endorphins running through her system and Maya was still breathing heavily after fighting to be the first to score a fall in the match, "What if I don't want to stop Lisa, your body drives me crazy with lust and desire, I can't stop myself from wanting you." Even as the words left her lips Maya was shocked she had said them aloud, she had thought such things about others before but never had she actually said anything like that.

Suddenly she was pulled away from her inner struggle as Lisa wrapped her legs around her waist, Maya grabbing onto the woman's thighs but could only squirm from between her powerful grip. "N...n...no I wa, I um, well you were too!" She had started to try and deny it but gave up halfway through as her body refused to speak such a lie. Caught in the woman's legs she couldn't stop Lisa from rolling them both over, Lisa ending up on top of her just as they splashed into the chocolate part of the ice cream pool. Now well on its way to melting the ice cream had the consistency of of slush, Maya becoming covered in the desert even as she reached up after the woman's breasts, looking to at least give them the attention they deserved. "Hey, get that away from there!" Maya cried out even as she began to moan lightly, every stroking of her sex sending ripples of pleasure through her body.
No matter what was going on with Maya Lisa knew that she could at least control her own actions in this match. Even though she was in a rough spot it wasn't like she'd lost the whole thing yet. It was rather embarrassing and humiliating to have her own juices being spread over her body like that, but she just had to keep pushing and try not to think about what Maya was saying and what she was doing to her. "T-that's....at least try to control yourself." She managed to stutter out just not sure how to respond to someone who was saying things so straight forward like that. It was almost shocking to Lisa to hear that from Maya. Still for that moment her goal had to be to turn this match around.

At least Lisa was confident in her thighs and that she could hold onto Maya for now. "I don't recall rubbing myself off." Lisa tried to joke a bit feeling a bit more confident while on top of Maya. But she had to keep taking action or else that girl might turn the tables on her once again. A gasp leaving her lips as she felt her breasts getting grabbed again by this girl. "Unless you plan to finish the job I will." Lisa panted out rubbing against her sex harder for a few moments, before slipping a finger underneath to start rubbing against her sex directly. The girl knowing she needed to take action and really it seemed like Maya had already done some of her job for her. To test that Lisa tried to slip a finger in and see how that went.
Maya was starting to regret having pleasured herself after bringing Lisa to orgasm now that their roles had been reversed. With her face a bright crimson Maya held back the moans her body was begging to release as the white haired woman rubbed her bikini bottom, thankful that was all she was doing at the moment. Hearing Lisa telling her to control herself Maya was reminded at just how dirty she had been acting in the last few minutes of their match, still surprised she had done and said those things Maya kept her lips shut as she was afraid at just what she might say in reply to Lisa. Her eyes went wide as the girl mentioned what she had been doing to herself just a moment ago, averting her eyes so she didn't have to look at Lisa as she was too ashamed of herself, yet she knew deep inside she didn't regret what she had done to Lisa.

Her will was shattered however leaving her moaning beneath Lisa as the woman went underneath her bottom and rubbed her sex directly, Lisa not wasting much time as she soon thrust one of her fingers deep inside of her pussy. Her back arched as far as it could under the weight of Lisa while she cried out in ecstasy, she wanted to tell Lisa to stop but knew she had no right to do so and just continued to squirm beneath her. Slowly she turned her head to look back into Lisa's eyes, her lips curling back into a smile as she gave into her darker thoughts, taking one hand off of Lisa's breasts to try and slide two fingers into Lisa's pussy for a little payback.
Lisa knew she had to keep this up since Maya was actually a pretty unpredictable person to be up against. Not sure at all what the girl was thinking, but knowing she just had to keep pressing. It was pretty tough to know how to read her since she would look so embarrassed and be silent before doing something extreme that Lisa wouldn't even consider doing in that position.

It almost made Lisa sigh in relief as she slipped that finger into Maya and watched the effect unfold. That only encouraged her to quickly start fingering into that wet sex wanting to even up the score in a hurry. Not like she could say anything since this was the kind of reaction she was hoping for. But when she saw that look in Maya's eyes a shiver went down her spine. Eyes opening wide in shock and a moan leaping from her lips as she felt those fingers slip into her pussy. "S-stop it!" Lisa gasped and tried to use a hand to grab onto Maya's wrist while her other hand tried to step things up. Unable to afford falling behind she slipped another finger in and started to really just finger into Maya as quickly as she could. She had to throw off this girl's focus.
The sensation of the girls finger pumping her tight sex so rapidly grew a series of moans so loud they might as well have been screams, these only increasing in number as Lisa added a second finger to punish Maya for her intrusion into the white haired girl's own pussy. Even so she refused to cease her own attack, the mix of ice cream and Lisa's juices coating her arm helping her to keep it free of Lisa's grip as the woman tried to pull her hand away. Hearing Lisa screaming at Maya to stop only drove the woman to increase her pace, panting from the effort of not only fighting the orgasm she knew was coming but also working over Lisa's sex, her eyes open wide as she experienced sheer ecstasy from the girls fingering of her pussy which was now dripping onto the ice cream covered floor.

Rather than to distract her all this pleasure only drove Maya to double her efforts, the one hand which remained on Lisa's mounds giving her nipples on last hard twist before she slid it around the woman's body and then down her back until she was cupping her ass. "This is, this is...... incredible Lisa! I've...n...n..never felt such mind numbing ecstasy before, don't stop, no don't stop!" Maya cried out as she slid her hand down between Lisa's ass cheeks, staring up into the woman's eyes as she slid in not only a third finger into her sex but a single finger into her tight ass as well, moving her pointer finger nice and slow into her most embarrassing hole.
Lisa was trying to keep the focus in on Maya who was making it tough for her to keep it going easily. Even though she slipped in that second finger and began to finger a bit quicker the girl only seemed to get more fired up. It seemed like a terrible cycle where Lisa would try to get ahead and it would only make Maya push harder. Getting to the point where Lisa wasn't even sure she was ahead anymore. No matter how hard she tried with her one hand she couldn't get a good enough grip to try and yank Maya's hand away from her own sex. All she could do was give it up and grab hard onto one of Maya's breasts to just hang on.

A scream of pleasure leaping out when her nipple got one hard twist and she felt this girl cupping her rear. Lisa was struggling to fight off her second orgasm of the match. She knew if she didn't stop Maya then she'd be down 0-2 and have little hope against this insatiable girl. Her words and cries revealed a girl that Lisa was worried she wasn't going to be able to put away. She seemed to only get more fired up the loner the match went on. "What are you..." She started to ask feeling that hand trailing down a bit. Eyes opening wide as she moaned loudly in shock feeling that finger invading her ass. "Ohhh god not there!" She squirmed and squeezed down on Maya's fingers trying to endure. "Enough..." Lisa gasping out as she started to finer Maya's sex like crazy. Trying to focus attention as well onto her clit. Her free hand just massaging and palming away at one of Maya's breasts. Lisa knew she had to go all out right now or she'd be the one cumming from this.
While she hadn't been planning that at the time Maya could see her bit of ass play was having a drastic effect on Lisa, the white haired girl on top of her not only crying out for her to stop but squirming as if she was trapped by her somehow, though all she had to do to escape was just to get off of her. But it seemed Lisa was determined to even the score with Maya and refused to back off, her fingering only growing faster as she seemed to be nearing her limit yet again. The same was true of herself however as the fingering was taking a heavy toll upon her, Maya's moans growing louder with every stroking of her clit that was now swollen with arousal, but as before this only drove Maya to finger Lisa even harder.

"Yes, yes, yes, there, don't stop now...I feel like I'm about to....." Maya screamed out, her words being drowned out by her wild moaning as she felt her body about to explode from all the pleasure building up inside her. Angling her fingers with every thrust, Maya found herself struggling to maintain her focus even as she began to spread them wide inside of Lisa's pussy, looking to hit every nerve within the woman's body. Suddenly both of her hands froze up and Lisa would know why a moment later as Maya's pussy tightened around the woman's fingers before beginning to spasm in orgasm, cum squirting out over the hand of Lisa as the girl pumped her sex. "More!" Was all Lisa cried out as her body shook from the intense pleasure washing over her, her fingers which had stopped for a moment were now working in overdrive to pump both her sex and ass.
Page 4 of 8 •

1, 2, 3, 4, 5, 6, 7, 8



Similar topics
---
Permissions in this forum:
You
cannot
reply to topics in this forum