Who is online?
In total there are
38
users online :: 10 Registered, 0 Hidden and 28 Guests :: 1 Bot
321Shazam
,
acuya
,
Cy_Man
,
KillerV
,
Lobo
,
ownagegamerz
,
RadiantKarna332
,
shanecawf
,
Underdog21
,
Vcom7418
Most users ever online was
390
on Tue Jan 02, 2018 2:02 pm
Champions & #1 contenders
Serious apologies to everyone....
Mon Mar 19, 2018 1:59 am by Cy_Man
To those who I RP with, I just want to say that I am terribly sorry for all my delays that I constantly do. I just have been SO unbelievably busy as of late that I hardly have any free time to be able to attempt to make posts to our threads. I really needed to get his off my chest badly, and it makes me feel like a complete piece of shit for doing this all the time. If you don't want to RP with me, I completely understand, there should be no reason or excuse for me to have to keep you waiting …
[
Full reading
]
Comments: 0
Explanations and Apologies
Sun Mar 18, 2018 10:02 pm by acuya
Okay, so.
As some of you may have noticed, the Entropy Title Match from last year's Summer Splash has come to an abrupt conclusion.
The reason for this is because my match with Lies was taking too long, and with the next Summer Splash coming up, the Entropy Belt needed to be put in play for this year.
I won't get into the specifics of WHY that happened, suffice to say it ultimately comes down to my fault, I think. For those who haven't been here long, back in the day, I had a problem with …
[
Full reading
]
Comments: 1
A match for Takeichi
Mon Mar 12, 2018 7:31 am by GrandAkumaShogun
Since both Imai and Takeshi are currently involved in matches I was wondering if anyone is interested in taking on my first wrestler I made for here, Takeichi Mori. His profile says he's a jobber but I intend to change that and hoping a match can help with that. Anyone interested please get in touch with me on here in a pm.
Comments: 1
Page 1 of 4 • 1, 2, 3, 4


Emerald hated this. She was supposed to be stationed at Fiction, but today, something happened and someone played a cruel joke on her. That someone was her manager.

"Stupid bitch..." She growled. She didn't expect her to suddenly go behind her back and signed her up in a tension match up. The match was also against one of the more infamous guys in the AFW. Killer King himself. She knew his disgusting habits of humuliating woman he dominated.

And to be truthful, she was scared. But she was also eager to fight him. She couldn't allow him to roam about freely like before. Her friends the Lockhart sisters kicked his ass once, and she'll honor them by doing the same.

Wearing her standard outfit of a green tanktop and pale miniskirt. The elf made her way down the ramp as her theme played. She didn't like the environment of tension, but what the heck, she'll fight because she has no choice. Might as well aim for a win. She told herself as she entered the ring.
Killer King
Vs
Emerald High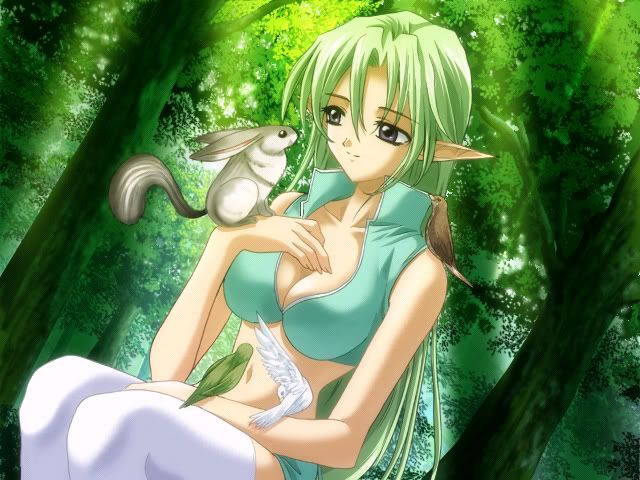 Killer King continues to destroying his female opponents even though some of his prey manages to escape or even beaten him to do so, but now hes up against one of the Friction girls in this rough match and maybe if he gets to beat her, maybe he'll fuck her just like many of his opponent unfortunately crossed path with him. "Mmmm wonder how hot this bitch would be?"
Heading out to the arena after her theme played, its his turn to play the music as he makes his way to the ring, seeing the girl in green as he climbed up to take a better look, shes really short, petite like 5ft or something, much shorter than King for sure, thinks he could dominate her without too much problems, standing before her as he grins in his half black leopard mask showing his human mouth and nose underneath, black trunks, boots to add with, chuckling a little and said. "So you're my opponent, looking good in that outfit, soon... its going to be taken off once Im done with you!"
Getting into his stance ready to take her down, doesnt know much about her only thing he knows that this girl is hot for his craving to beat her and having his way, once the bell rings, circling around her like a beast he is, looking for any opening as he waits for an attack or something.
Emerald is quite distrubed by his huge presence. Thankfully, he seems to be arrogant. Emerald knows that she is going to need all the help she can get fighting a guy easily twice her size. When he comes in to examine her, she would pretend to be tough and stick up for her.

She walked up towards him and jabbed him with her finger. "Off course I look good. Only problem for you is that it's not going to be taken off G-O-T it?" She would reply to his snide comment about taking off her clothes. She specifically spelt out GOT so as to emphasize a question and to play a trick on him.

The moment he replies, she would cut him off by kicking him right between his legs. Afterwards, she would than cock her head back and headbutt him right in the face. It was dirty, but King was twice her size, she needed all the advantage she could get to win.
King stares down at the little pip squeak yet she is sexy in that outfit which he would love to check her out, inside and out that is. He could see that she was being tough and her words were amusing too. "Heh you really think I wont get my hands on you? Think again pussy!"

Though he felt pretty confidently taking on someone nearly half his size but that burst of confident sank quickly when she kicked him right in the nuts, out of nowhere. "UGH!" Dropping down onto his knees to clutch himself, cursing that bitch for doing such a thing, and now she smacked her forehead right at his half black leopard face snapping his head back, she can see he teeth gritting from the impact. "GUGH!"

Though he didnt fall backward from the headbutt, comes back straighten himself on his knees, still clutching himself and thought. **This girl thinks she'll beat me? Think again!**, trying to pull out his one arm between his legs while shes close to him hoping to catch her off guard with an uppercut punch to the crotch and if that works, he'll do 'eye for an eye' and headbutt her face/chin for little payback.
However Emerald is not so naive to just walk up towards him to get to let him counter attack. He is twice her size, something like a headbutt won't be enough to take him down. So to further up the pressure, she suddenly jumps forth and attempts to dropkick him in the face. So that he would be knocked down.

She hoped that it works this time, otherwise King would be able to pick her up when she's lying on the floor for the second because of the dropkick. If he does manage to take the dropkick without being knocked down, she would be in trouble.
Figured that Emerald would be standing close after headbutt him but she was smart to move away from his reach before anything that King would do to her, she went in going for a rush dropkicking aiming for his face, he could only raise his one arm while the other hand clutching his manhood, absorbing some of the damages into his arm as he falls backward to the mat. "Ugh!"

King shook his head and rolling to his side more towards to the green bitch, groaning from the pain between his legs and not much for his face since the balls is in much needs, he tries to get onto her back with one knee and grabbing her hair to pull back, stretching her back and pulling her hair to painfully hurting her scalp. "Grrrr damn you!"
Emerald was successful in taking him down. She thought that she had earned a breather, however that was wrong. For King while injured was able to recover quickly.

He rolled quickly towards her rather than getting back up and that action saved time. It also caught Emerald off guard. Before she was able to get up, King suddenly drops one knee onto her back forcing her to the ground. He follows this up with pulling her hair. He pulls it so hard, that it causes her to scream as it is hurting her scalp.
King's crotch hurts like hell, after what that girl have done to him, his face wasnt an issues at all since his manhood took the nasty blow and he just couldnt wait to crush that Emerald girl.

He was able to get her facing down with his knee pushing against her back, grabbing one handful of her hair and pulling onto her scalp, hearing her sweet screams which its music to the beast's ears. "Grrr... thats for hitting my nuts!"

Exhaling out and in quickly before letting go of his manhood from his free hand, straddling onto her back and tries to get his arms around her neck while pulling back, double submission holds with the Sleeper and Camel Clutch, not expecting her to give up or pass out, mostly just doing as much pain to her while he rest onto her back, recovering his balls.
Emerald groaned in pain. King's weight was crushing her back, and the act of pulling her hair forced her head back, increasing the pressure over her back. Her screams were but music to the beast's ears. She knew that she had to get him to come off quickly otherwise she could get seriously hurt.

When he suddenly wrapped his arms around her neck, she knew that he was going to apply a submission on her. And true enough she did. She gaked when he suddenly pulled. However she wasn't going to let this go so easily. She couldn't overpower him, but perhaps there was another way to trick him.

"You--you fight dirty...and yet you still lost to Aerial and Leila..." She chuckled. Hoping to rouse him by reminding him of his humuliating defeat against the two sisters. She was trying to anger him so that he would break the hold and instead try more physical attacks.
"Grrr... fight dirty?! Im not the one to strike first to the crotch bitch!" He growled in a very angry voice, pulling onto her head with his arm around the neck, his knee grinding her poor back as he watches her stretching out painfully as well choking her a bit, this girl in green thinks she can pisses him off some, well it certainly working for sure.

"Wanna see how I fight dirty? Well I'll give you first hand!" What he means is that while shes still in that painful hold, he get his free hand to go down between her legs, reaching for her crotch and giving it one hard squeeze to grind and claw onto her sex while pulling it back, along with her neck also pulling towards to his knee against her back, going to bend her backward some more in the most painful ways.
Page 1 of 4 • 1, 2, 3, 4



Similar topics
---
Permissions in this forum:
You
cannot
reply to topics in this forum