Champions & #1 contenders
Highfly Flying Out Of Town
Tue May 22, 2018 1:31 am by HighFly
Hello everyone, I just wanted to inform all I have threads with that I will be gone from this coming Wednesday through Sunday. I won't be able to post consistently if at all during this time, but I will try to make up for it next week! I am sorry for the inconvenience to everyone.
Comments: 7
The Austrailian Mudslide is Back.
Sat Apr 21, 2018 6:20 am by Softsquad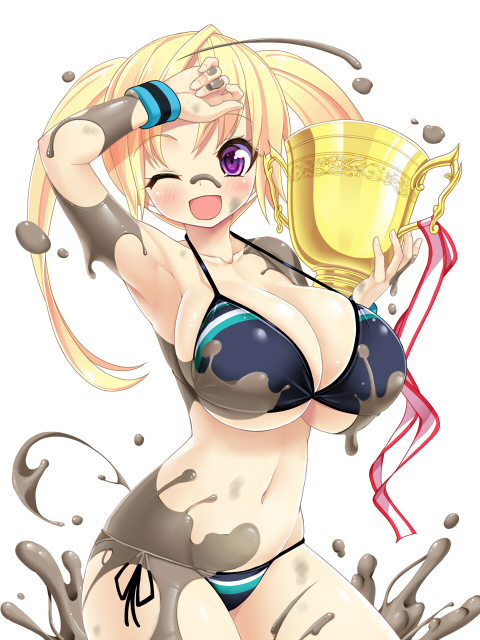 Granted that most of you won't know me or remember me, but I've had a few matches here and there some time ago. Well I think its time to become a regular around here and try to have some fun again, but at the same time keep coming back. Anyway I think its time to jump into some matches with Zoe Taylor, my mud wrestling character from Australia and get her back into the squared circle. Furthermore I will update my characters as I think some proper changes need to happen.
So if anyone would …
[
Full reading
]
Comments: 5
Page 1 of 10 • 1, 2, 3, 4, 5, 6, 7, 8, 9, 10


Hentai P.O.W. match
2 out of 3 falls
Fall earned by making your opponent cum.
Winner will take loser as prisoner for the weekend.
Mayu was waiting inside the preparation room rather nervously. The girl was going to have her Friction debut in just a few minutes, and somehow her first official match in Friction had to be a hentai match. Despite being actually half excited, the thought of what might have happened to her during the match made the girl felt rather uneasy. She wasn't really comfortable with sexual stuffs after all, and the fact that it's going to happen in the ring, in front of an audience only made it even worse. On top of it, today she was going to face a top ranked wrestler known as Natalia "The Dream", and Mayu was told that whoever lose in the match was going to be taken as a prisoner for the weekend.
The short haired girl thought that the odds was kind of stacked against her from the start. She liked challenges, but she wasn't really sure if she was up for that much of a challenge. Mayu walked around the room in circles before she stopped and slapped her cheeks lightly.
"You can do it, Mayu! Ganbatteee!" she would say to encourage herself.
Someone was knocking on the door afterwards, which startled the girl a little. She heard the voice of a staff from the other side of the door telling her that it's about time.
"Coming!" she replied in excitement. "Yosh! Let's do this!"
The lights in the stage would go off before Mayu's entrance theme began to play. After the arena was once again brightened, the slender girl started to skip towards the ring with a cheerful expression on her face. She was still nervous, but there wasn't much she could do about the match now and she might as well give it her all. The Night's Flower wore her black tank top along with a black string pantie. It was quite a daring outfit for her, but since it's hentai match, everyone else would probably think of it as normal. Mayu climbed into the ring and waved around at the crowds while smiling a little before she's waiting for her opponent to come.
Last edited by 10553 on Tue Aug 21, 2012 7:07 pm; edited 2 times in total
A couple of seconds after Mayu's entrance was over the arena lights went out again and [url=http://www.youtube.com/watch?v=kBlVj-aiPcI:1odiwj1m]The Dream's theme[/url:1odiwj1m] started to sound making the fans go crazy as usual. A loud series of fireworks exploding followed, with the lights flashing each time and in the last explosion the lights turned back on showing none other than Natalia standing in the entrance area wearing a lovely [url=http://image.rakuten.co.jp/k-bridal/cabinet/furiz/105.jpg:1odiwj1m]green and white kimono[/url:1odiwj1m] an a pair of
geta
sandals. Natalia smiled friendly to the crowd and walked slowly towards the ring, waving at the fans with a elegant Japanese fan and blowing them kisses.
She climbed onto the ring and slipped off her sandals, bowing politely before sliding inside between the ropes. Once in she raised her hands to receive the cheers of the fans and then turned around to see her opponent. "oh...So cute!" Natalia said smiling as she looked up and down at Mayu's body, hiding her mischievous smile with the fan; once again the AFW recruiters had done a marvelous job. Natalia bowed politely to Mayu and then stepped back, undoing her kimono to let it slip and fall down to her feet, showing off her curvaceous body, wearing a red tank top and white panties.
Natalia licked her lips as she checked Mayu out for a second time; her opponent was definitively a cutie, Natalia thought, but she wondered how much of a fighter this Mayu girl would be. "You look just like a doll..." Natalia told Mayu smirking. "Are you sure you can fight?"
As her opponent made her entrance into the stage, Mayu's heart start racing a bit. She could see now why Natalia was called "The Dream". The blue eyed girl in front of her looked stunning in her kimono. As Natalia called her cute, the short haired girl would blush and gave a friendly smile to her opponent.

"So... pretty..." Mayu would mutter to herself as she watched Natalia undoing her kimono, showing her amazing figure. "B-big..." the short haired girl would inadvertently let out as she stared at her opponent's breasts.

Mayu would then glance at her own body. Her breasts was small compared to Natalia's and she couldn't help but feeling a little bit inferior about it. As she looked back at her opponent, Mayu blushed as she heard Natalia's words.

"Aa.. thank you, Natalia-san!" the short haired girl would say in a friendly manner while trying to hide her nervousness. "Don't worry! I'll try not to disappoint you! Hehe..." she added with a grin on her face.
Natalia giggled quite amused as she heard Mayu's answer and noticed how the girl stared at her breasts. "Very well, Mayu-chan..." Natalia added as she smiled mischievously to her opponent. "I am not going to go easy on you... It is going to be fun to have you as my prisoner..." and saying that The Dream stepped back getting into a classic wrestling stance, lowering her hips and bending her upper body a bit forward for better balance, which caused her full breasts to spill over her tank top, giving away that she wasn't wearing a bra underneath, showing just how big her cleavage was. If Mayu was paying attention, she would probably also notice the little tents Natalia's nipples were making on her tank top.

DING DING DING!

The bell sounded signaling the start of the match and the crowd roared. Natalia didn't wasted a second as she wanted real bad to see what Mayu had. "Ready, Mayu-chan?" the blue-eyed cutie asked, but she didn't waited to have an answer. "Here I come!" she warned Mayu as she lunged towards the girl, trying to lock up with Mayu. Natalia's right hand moved to Mayu's left shoulder while her left hand went to grab Mayu's right bicep, attempting to trap Mayu and start pushing the girl backwards.
Hearing the word "prisoner" reminded Mayu of the rules and she twitched a little at the thought of being taken by Natalia. As her opponent got into her stance, the short haired girl gulped as she caught the sight of Natalia's cleavage. What's more, Mayu also noticed the little "tents" in the blue eyed girl's tank top, which only add to her own nervousness. Her blush became more apparent as she wasn't sure whether her opponent was doing that on purpose or not.

The sound of the bell made Mayu came to her senses, and she would abruptly got into some sort of Judo stance out of reflex. Natalia immediately lunged at her, and grabbed her left shoulder and right bicep almost at the same time.

"U-uwaah?" Mayu yelped as she was a bit surprised with Natalia's speed.

Normally she would react better than that. However, for some reason Mayu's focus was a little off at the moment. Perhaps she felt a little intimidated by The Dream's presence. Her opponent then started to push her backwards, and Mayu found herself in a bad position right at the start of the match.

In response, Mayu would try to grab Natalia's right wrist and left arm with her hands to pull them away. Her feet would try to hold her ground as she tried to free herself so she wouldn't fall to the mat quickly. A contest of strength wasn't her forte at all, but Mayu refused to be taken down easily just like that.
Natalia pushed against Mayu with all her weight, she even leaned into the girl, placing her chin over Mayu's left shoulder to press her firm tits on Mayu's chest. She wanted to prove Mayu that she was stronger... and that her tits were bigger. Natalia purred softly on Mayu's ear as she felt her breasts mashing up against Mayu. "You are going to be mine, Mayu-chan..." Natalia teased trying to get in Mayu's head, sensing that the rookie was a bit nervous, Natalia wanted to make it all the worse for Mayu.

"mmm... you smell so good..." Natalia said as she sniffed Mayu's neck, gently touching Mayu's cheek with her own, and then The Dream tried to slip her hands and arms free to wrap them around Mayu's waist in one swift motion in an attempt to trap the Night Flower in a sort of tight bearhug.
Mayu was struggling to to push Natalia back when suddenly she felt The Dream placed her chin on her shoulder and pressed her busts against her own chests. Mayu's eyes widened as she felt the softness of the blue eyed girl's breasts and her focus was once again distracted.

"E-eeekk!" she would let out in surprise before hearing her opponent's words. "N-no, I don't think so!"

As Natalia suddenly sniffed her neck touched her cheek with her own, Mayu blushed once again and she'd close her eyes inadvertently, letting out a soft gasp. Not expecting her opponent's behavior, the short haired girl's grip on The Dream's arms became weaker as she was distracted. This allowed Natalia to slip her hands free and wrapped them around her slender waist.

"A-aahh?!" Mayu would let out as she was pulled into a bearhug. "Hhnngg!"

Now she just got into a worse position than before. The short haired girl kinda felt embarrassed at herself for not being able to fight like she usually would. The Night's Flower would grab her opponent's arms again as she tried to break free from the hold by pulling them away. It was painful and her air was starting to get cut, although the feeling of Natalia's soft breasts pressing against her chests kind of distracted her from the pain. Unfortunately, it also distracted her focus to fight back.

"L-let go..." she would say while grimacing on The Dream's clutch.
Last edited by 10553 on Wed Aug 22, 2012 4:24 am; edited 1 time in total
It was the most common mistake among rookies in the AFW, to get distracted by the sensual touch of an opponent teasing them; even Natalia had felt a couple of times to that trick before. It was not easy to resist and making your opponent lose their focus on the fight was one of the keys to winning in fights; the other key was to hurt and drain them enough so that they couldn't fight back, although in Hentai matches you never wanted to hurt your opponent so much that it would turn them off. Natalia wanted to test just how much she could hurt the lovely Mayu, while still keep her distracted and teased.

"oh I think...yes..." Natalia said, still rubbing her smooth cheek against Mayu's own smooth cheek, leaning her head a bit to kiss Mayu's neck; all the while her arms tightened around her opponent's back, crushing Mayu harder and harder, really compressing the girl's slim waist, trying to make Mayu breathless. Natalia also arched her back, letting her tits roll over Mauyu's smaller breasts, both trying to make it even more difficult for the get to breathe and to mess with her. "Don't struggle, Mayu-chan... surrender is your only option..." Natalia teased with her lips on Mayu's neck as she refused to release the short haired girl despite her attempts to pull Natalia's arms down.
"Haaahh..." was all Mayu could let out as she felt the soft sensation of Natalia's smooth cheek and breasts on her own.

She need to act fast before her mind was completely taken over by the feeling of pain and pleasure that her opponent was giving her. Mayu already had a hard time to breath as it is, and she felt that her slender body was about to get crushed by Natalia's hug. However she already said that she didn't want to disappoint The Dream's expectation, which mean surrender wasn't the option.

The short haired girl let out another soft moan as she felt Natalia's soft lips on her neck. Filling with the determination to show what she's capable of to her opponent, Mayu would let go The Dream's arms and gripped the blue eyed girl's shoulders instead. From there, she would lean her head backwards a little before trying to ram it towards Natalia's forehead. She hoped that the headbutt would be enough to make her opponent released her grasps.
"Your body feels soooo good..." Natalia kept teasing as she continued squeezing Mayu's slim body, and she wasn't lying; Natalia was loving how Mayu's skin felt against her, the closeness as so arousing and being in control of another sexy girl's body was one of The Dream's favorite things. Taunting was another. "Can you even breathe?" she would whisper seductively, moving her lips close to Mayu's threatening to kiss her. But then Mayu leaned her head back and, although surprised the rookie would try such thing, Natalia knew it wasn't going to end well.

Natalia braced herself for the impact that was pretty much unavoidable when fighting this close. "OUGHH!" she groaned as her forehead was impacted by Mayu's own, leaving The Dream with a buzz inside her skull and a lot of dazing pain. The blue-eyed cutie immediately let go off Mayu, staggering backwards while holding her head, grimacing in pain and clearly displeased.
Page 1 of 10 • 1, 2, 3, 4, 5, 6, 7, 8, 9, 10


---
Permissions in this forum:
You
cannot
reply to topics in this forum