Champions & #1 contenders
Looking for a debut match
Sat Apr 29, 2017 2:29 pm by SimplyMoon
Hey all, new here. Just got my character approved so I am now looking for a debut match. It can really be anything and it doesn't matter to me if she wins or loses this first one. Just someone whom can be a bit forgiving as I am new to this.
http://www.afwrpg.com/t16742-aisha-love-the-pink-bomber
Comments: 0
Summer Splash with Natasha Loclear?
Mon Apr 17, 2017 7:33 pm by daemongirl
Hey everyone, now that its April just thought I'd begin looking for plans for SS. Now that Natasha is no longer the champion I'm looking for where to go from here so anyone with a fun SS idea that could involve her let me know!
(edited thanks to Lobo pointing out I have WWE on thre brain lol))
Comments: 2
Some updates
Fri Apr 28, 2017 8:32 pm by Winner3
I wanted to make a notice board post to boost visibility on the subreddit I made for this forum. The discussion post where I introduced and explained the sub can be found
here
And the subreddit itself can be found here: https://www.reddit.com/r/afwrpg/
I made various updates since first posting about it. I'm happy that it has a few subscribers, and that despite the fact that the comment count is low, people seem to be up voting and down voting matches and posts. And I hope to see activity …
[
Full reading
]
Comments: 3
BIOÂ 
Name : Michelle Beaulieu
wrestling name : Talia
Age :Â  25
Eyes :Â 
Hair : Short or long. Black
Height :  5 feet ½ inch or 1m55
Weight : 103 pounds or 46 kilos
Sex Orientation : Bi
Nationality : Québecoise
Ethnicity :  Québecoise!
Origins :  Québec city
Alignment : Face...but often use heel submission!
Entrance Music : D'ont stop the music, rihana
[url=http://img45.imagevenue.com/img.php?image=889919849_hope_for_store_by_ganassa_d4m3qps_122_555lo.jpg:3w2p4r8a]
[/url:3w2p4r8a]
Favoured moves: Loot of submission, alwais work the limb of is opponant until he cannot really defend herself before finaly go for the victory hold.
Arial when she an
Finishing move:
Kiss for the roard? : When is opponant lay on is back she just jam is arm under is own body. .Sit on the upper chest of is victime. pinch the nostrils..and kiss him until he past out , out of breath.
Here my feet : force my opponant to standing on the turnbukle...Talia grab is hand and jump to the 3 rope she use as trampoline..and as she fall back on the grounds she pull is opponant hand and body to her, make him fall from is roost .. When Talia back reach the grounds she kick whit is heel join together..aim for the jaw,
Critical finisher :
All is over : When is opponant is weak she trow him on the ground whit is favorite judo trow :ippon seoi nage
http://www.youtube.com/watch?feature=fvwp&NR=1&v=4YAgRSs7Af8
she keep the arm of is opponant in his hand..put one feet in is arm put, the other one on is troath. ..and he fall on is back, to the side of is opponant. Whit is toe she cut the blood flow of the carrotide...she push whit is leg, working the shoulder, whit is tight she put opposite pressure to the elbow, reach the limit of the joint...and twicht to the limits the wrist and one of the finger. Then she wait the submissions . Or the pass out of pain or lack of blood to the brain.
[url=http://img124.imagevenue.com/img.php?image=889798194_Hope___Color_by_Ganassa_123_428lo.jpg:3w2p4r8a]
[/url:3w2p4r8a]
Personality: She is hedonist.
Love to drink, some drug, Love to dance, To have party.
Fun fun fun is what she is looking for.
Really friendly, a little bit naive she think everybody can be gentle and want is good! Lucky for her, training is a pleasure to is eyes, that how she reach that spectacular skill in judo and pro wrestling.
In the ring she alwais see is opponant as partner....exept if he is really dirty whit her!
Ironically is combat tactic are often use by heel : aim the weak spot, cause a loot of pain. 2 seconde after the fight she can be really friendly whit an opponant she slowly slowly destroy and humiliate.
Wrestling is for her an other form of Hedonist. She have PLEASURE to fight, win or loose? Who care! After the fight she almost alwais forgive all to is opponant. As proof : she is really friendly whit Veronique..that injure her into the ring..TWICE.
She can do any kind of fight, she is ALWAIS looking for new thing to try.
History:  Talia have grow into Québec city whit 2 sister and 2 brother. She is the middle age chidren. Grow whit so many sister and brother teach her tot ake care about other, and that what she have done all is life. At 12 years old she was already into volunteering for any good charity organisation she can find. But she never stay for long. Is life is the definition of chaos. The only thing that give her a focus in life was martial art, many of them. When she reach 17 years olds she answer to an advertising ..and begin to work into modelling and as actress.
At 18 she leave the school forever. Use for over 1 years is really good physical apparence as a way to gain is life. Just whit a smile she can convice somone to invite her to restaurant . That was a nice part of is life, where she become a true hedonist. Dancing , have fun, drink was the biggest part of is life whit martial art..and she slowly lost contact whit is family.
At 19 she accept to play in the worst internet movie she have ever saw as wrestler. As alwais she want to know what she is mimics..what is a wrestler..and for that she sucribe to a wrestling school. That how she fall in love whit that part of is life.
Some weeks ago one of is friend of wrestling, Véronique, contact her about league. A league she could really love...one more time she use is charm and body and was aceptted in not time! After 6 years of wrestling into Québec league she finaly join the friction league!
Strenght :Â  3/10 Really Really strong for is size..but she is just tiny!
Endurance :  8/10 She can be put ko before submit..and still say « No » as she is into dream land..but in other hand she have suffer injury because of is refusal to submit that create some weak point .
Stamina : 5/10 really in shape..but is old injury can , for long fight, slow them .
Speed :Â  6/10 ..she is small and fast..but d'ont focus is speed..she just d'ont learn to exploit it.
Agility : 10/10 can put is feet behind is ear! ( But need help after! )
Technique :Â 10/10 She have alwais love martial art..and fight big opponant. Because of that she HAVE to perfectly know how to use the hold...if she d'ont want to fail ALL of them.
[url=http://img169.imagevenue.com/img.php?image=889681799_happy_easter__by_ganassa_d4vllvq_123_739lo.jpg:3w2p4r8a]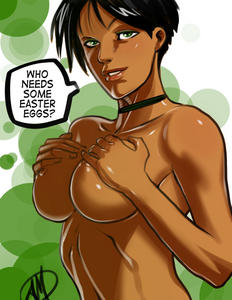 [/url:3w2p4r8a]
Ring attire:
ALWAIS sexy and fulll of color! Prefer pink , white, but could love green yellow, alwais bare foot. Sometime in judo k
Last edited by 10499 on Wed Aug 15, 2012 12:36 am; edited 9 times in total



Posts

: 24


Join date

: 2012-06-12



---
Permissions in this forum:
You
cannot
reply to topics in this forum