Who is online?
In total there are
28
users online :: 5 Registered, 0 Hidden and 23 Guests :: 1 Bot
acuya
,
Cy_Man
,
killcarrion
,
Lobo
,
Tarantulust
Most users ever online was
390
on Tue Jan 02, 2018 2:02 pm
Champions & #1 contenders
Kawaii Opportunities
Sun Jun 17, 2018 3:04 pm by Daaharu
Hey, guys!
With the kawaii title match at Avalanche taking on an interesting wrinkle with the interruption by the Brat Pack, we are moving forward with the overall kawaii storyline, and at this point I'd just like to take stock of what kawaiis are out there that are interested in participating in a cohesive storyline.
Can't make any promises about titles or what exactly each girl's given role would be. We can talk a little more about the specifics of where the story is going soon, but I …
[
Full reading
]
Comments: 3
Match for Takeichi
Tue Jun 12, 2018 6:13 am by GrandAkumaShogun
So with my other two guys having their own matches I figure I should do something with my first character on here, Takeichi Mori. If anyone is interested feel free to post here or get in touch through a pm so we can plan it out. I can either have Takeichi remain a jobber or begin to work him towards being a more serious competitor.
Comments: 1
Match or RP?
Wed Jun 13, 2018 3:48 pm by Lotuswarrior
I'm just looking to do something while I wait for match replies. Really want to get some characters cemented a bit with a rival or some interactions with other characters here.
If anyone wants to do something hit me up.
Comments: 0
Page 1 of 8 • 1, 2, 3, 4, 5, 6, 7, 8


Standard match in a Flower ring

Win by submission, KO, or Pin
A fragrant smell wafted over the AFW outdoor beach complex as the beach ring was set up for the upcoming match. Vines and tresses of flowers were brought in from all over the florist shops in the city to prepare the ring, as workers and stagehands prepared the flower ring. They even sprayed some perfume on the flowers that didn't give off as strong an odor to make sure the entire ring smelled like flowers and the entire stadium could smell it. The cost of setting something up like this was quite astronomical, but luckily the AFW wasn't footing the bill. A major perfume manufacturer was sponsoring the match. It was a chance for good PR, and also a chance to reach out to the AFW audience to boost sales.
And on top of it all they were sponsoring one of the fighters as well. Kanai Mika, the ultra-cute kawaii idol, recently signed on to do a series of commercials for this company. She was their fresh new face, and they were eager to use this match as a chance to showcase both their product and Kanai herself. Kanai was a little bit nervous about the match. She was supposedly going up against a full Friction wrestler, one Katarina de Riva, who had left the league for a while and just came back. Kanai knew she was giving up a lot of height and weight to the girl, but she might have a bit more experience in the fight. Plus the ring gave her an advantage. Being the company's new model meant she had to use their product constantly, and she had gotten used to the overly fragrant perfume. She wondered if Katarina would be able to handle how much the ring smelled.
The stadium was filling up with people, from eager fans to curious beach-goers. The company executives soon arrived, wearing suits and sunglasses, sitting down inside the VIP box. Kanai was getting ready backstage, fixing up her pigtails, slipping a few extra flowers into her hair, and spraying herself with the perfume. Even in this match they weren't letting up on her job. She looked in the mirror, practicing her ultra-cute crowd-melting smile, preparing to use it on both the crowd and her opponent.
A stagehand came in and told her it was time to go out. Kanai bounced a little as they announced her name, getting the blood flowing and putting some color on her cheeks. A little cute blush always helped. "For our main event, brought to you tonight by ----- company, we have a special match between one of our Kawaii veterans and some returning talent! Introducing, Cutie Kanai!"
Kanai stepped out, waving to the crowd as they cheered, waving signs and holding up pictures of her. Desperate fans leaned over the railings, trying to get Kanai to sign their paraphernalia, but Kanai just smiled and waved, walking down the ramp and entering the ring. She took the microphone from the announcer for a moment, turning to address the crowd.
"Minna-san! Thank you all for coming out today!" she said, "This match is going to be awesome and exciting... and it's certainly going to be the one that smells the nicest! So enjoy yourselves, and remember to go buy ----- perfume! It's the perfect scent for that special someone!"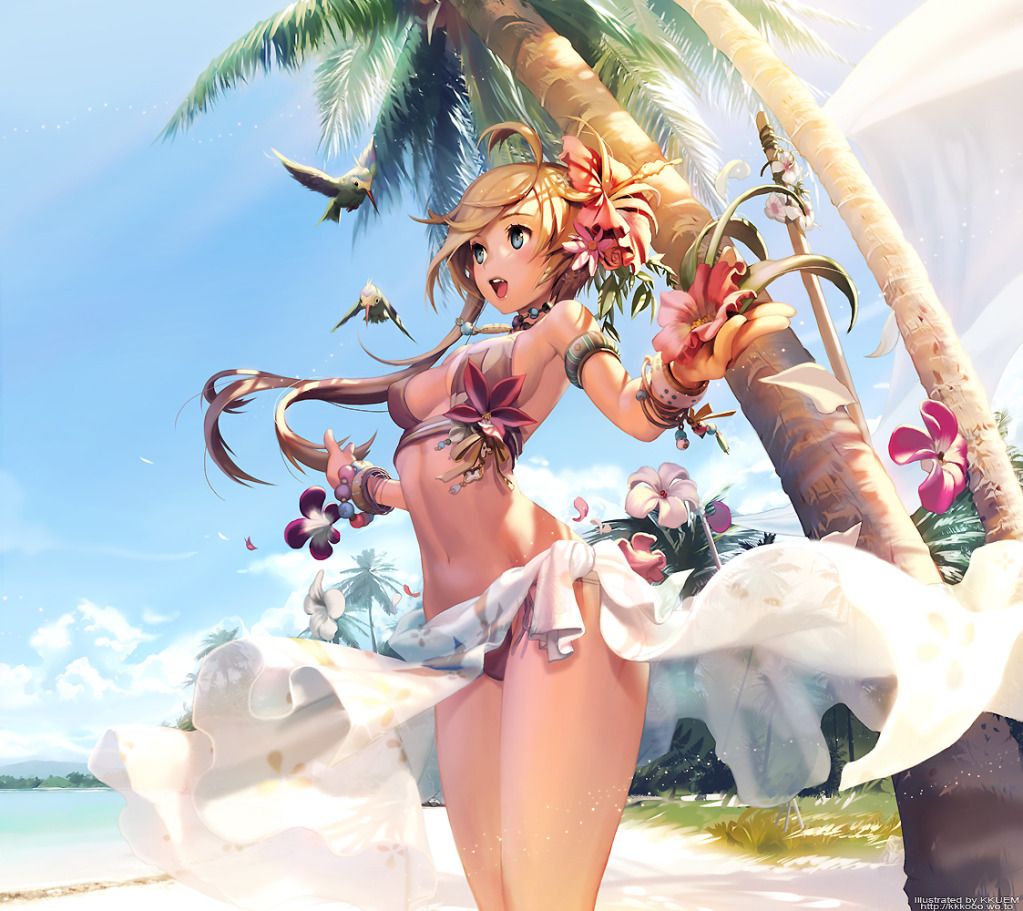 " I can't wait~ "
Katarina had been playing around in the AFW beach. She was a little impatient for the match because she wanted to know who to fight and thank for such a lovely match on the beach. It was something that she always enjoyed, to be around the beach so that after a good tussle, she could hopefully get her opponent to relax on the beach. When a staff member came to tell her that match was getting ready to be started, within an instant, she ran past him, blowing him a kiss and a sign of peace, rushing as fast as she could to the complex.
She managed to get there in time, her opponent apparently made her way inside the ring and Katarina quickly discarded all jewelry from her body so she could not injure herself nor her opponent. Something else caught her mind though. She caught the scent of a familiar kind of aroma that she recognized in her garden, but what was it doing here? Her answer was going to get answered sooner then she expected when the staff member said that she could make her entrance.
She waved her index fingers around eachother in a way to signal them to hurry it up, being very eager to face the opponent she was going to fight today. When she heard her theme song being played, she stepped out excitingly, pumping up her fist as she made her jump upon the stage. Her eyes noticed the flowers right away and like a robot, was attracted towards it. She began to make her way towards the ring, marveling at the sight. It was quite a decoration and it was really beautiful..
" And her opponent, the Beach flower.. Katarina Di Rivera! " as if shook from a trance, she looked at the announcer and then at the crowd at either side of her, just now noticing that she had descended down the ramp and near the ring. She would give each row a bright smile and a wink before she finished the last few steps to the ring, carefully examining it. She looked entered the ring very slowly, making sure she did not hurt or break any of the flowers despite them already being plucked from their rich soil, making her way into the ring and faced the rather.. Small opponent.. Regardless of her size, she looked as beautiful as a perfect cherry blossom. Speaking of which..
" You look stunning.. I have something for you! " She would bring her hand up to her ear and gently took out the small cherry blossom twig that she had adorned in her hair like the many other types of flowers she had stuck in it. She looked at it and examined it, making sure it was in perfect shape as always. A flower meant many things for Katarina and one of them was that they were a gift towards a person one cared for her or liked. She could tell it just from Kanai's behavior and looks that she deserved one." May I? " She would ask and once Kanai said yes, she would lean in and carefully placed the twig over Kanai's ear.
Kanai's was enjoying the sun and the flowers in the ring when her opponent appeared. She looked Katarina up and down when the girl entered the ring. The girl was not only festooned with flowers, her pretty looks made it seem like she was a beautiful flower as well. When she entered the ring, KanaI saw how Katarina was a bit taller than she ws and not quite as slim. But then Kanai was a tiny tiny little girl.

Katarina surprised Kanai though when she took a pretty little cherry blossom out of her hair and gave it to her. She blinked, then nodded her consent, blushing a little when Katarina fixed the flower in her hair just above her ear. Kanai gently reached up and touched it with her fingertips. She made sure it stayed in place, pinned down by her pink hair.

"Thank you Katarina-san. You're too kind," Kanai said. She slowly put her hands down, reaching forward to shake Katarina's hand. "I know I may be small and cute, but don't underestimate me! Let's have a good match ne~?"
This was certainly going to be a great match. It had the perfect setting, the perfect enviroment and the perfect opponent, Katarina couldn't have asked for more! She gave Kanai a friendly smile, taking a step back so she could examine the girl's body. While it was true she was smaller then her, she could never understimate an opponent no matter what they looked like.

She would give the girl a nod, then a wink that followed it. Her arm extended and soon she took a hold of Kanai's hand to shake it gently. " I only give flowers to those with honest eyes. I would never dare to underestimate you, Kanai-chan. " Those were honest words that came from Katarina, she didn't think they would just put up an innocent, weak kawaii against her, she expect Kanai to be as strong as she is beautiful. She was already this excited.
"That's good to hear Katarina-san," Kanai said, "I won't disappoint you!"

The bell rang, signalling the start of the match. Kanai stepped out from her corner, raising her hands. She didn't really know how Katarina fought, or what kind of style she was good at. Kanai was more or less equally proficient (or not proficient) at everything, so she had several ways to attack. Katarina had the obvious height advantage though, so it might be smart to try and get low and go for her legs. Kanai decided to do that.

She knelt down a bit more as she approached Katarina. The latina's legs looked well toned and terrifyingly strong. Kanai kept her eyes on Katarina's body, making sure she didn't make any big moves. She suddenly lunged in, trying to get in close and grab Katarina around her thighs.

"Yah!" she yelled, as she tried to grab onto Katarina and pull back, to unbalance her and drop her on her bum!
Getting int oher stance, she allowed Kanai to make the first move and to her suprise, Kanai went for her legs. Katarina's legs definitely packed with alot of strength, which Kanai was going to find out when she forced Katarina to fall onto her butt. She wasted no time for a counter attack, giving Kanai a teasing wink since now her legs were free to move and latch on whichever they wanted, and their target would be Kanai.

She didn't want the kawaii idol to escape, planting her hands upon the mat to solidify her current position. She tried to wrap her legs around the girl's waist, wanting to pull Kanai against her and capture her in a tight waist scissors.
Kanai's success in sending Katarina down onto her butt elated her and convinced her to press on instead of try and regroup. She followed Katarina down onto the mat, tryingo to scramble onto the girl and hold her down. Her smaller size wouldn't help too much, but Kanai knew that at least the height and size advantage would be irrelevant. But then Katarina's strong thighs snapped around Kanai's slim waist, capturing her in the scissors and pulling her in!

"Ah! Hey, stop!" Kanai gasped. She pulled upwards, trying to get back onto her feet and maybe lift Katarina a little off the mat. She didn't want to stay in between her legs for long, since she knew her tiny body couldn't take a punishing move. So Kanai moved quickly, trying to use her small size to her advantage to wriggle out from the scissors!
Katarina wouldn't let her. She snapped her ankles together and tightened the waist scissors. She was going to show Kanai that she wasn't going to underestimate her nor show her mercy. With the waist scissors secure, she would focus on another advantage on Kanai. " Kanai-chan, I just want us to get to know eachother better! " She would giggle, trying to wrap her arms around Kanai's head instead so she could lay on her back and not only solidify her waist scissors, but also pull Kanai's face right into her chest!
Kanai gasped in pain when Katarina suddenly tightened the hold, locking her ankles together so Kanai had no way of wriggling out of it. She couldn't even pull herself away, as Katarina's arms reached up and grabbed at Kanai's head, reaching around behind her and suddenly pulling her in so she got a fateful of Katarina's sweet-smelling bosom!

Kanai blushed, trying to pull herself free. She had one weapon she hadn't used yet, which was her ultra-cute puppy dog face. She looked up between Katarina's face, making eye contact before letting her expression dissolve into one of completely dominated cuteness.

"Katarina-san, please let me go. This hurts!" Kanai said, her bottom lip quivering and her big eyes slowly watering up. She waited for a reaction, maybe Katarina loosening her grip on her head, so she could pull back a little and send a punch straight down into Katarina's gut to make her release the scissors!
Katarina was sure that she had Kanai right where she wanted her, once she had her legs around her prey she was not letting go! Then came that gaze Kanai gave her, that ultra cute expression that made Katarina ease up right away. " Oh, I'm sorry, Kanai-chan! " Being oblivious to what the kawaii had in mind when the grip was practically removed, Katarina recieved the punch to the gut, effectively removing her arms and legs from the kawaii and brought her hands to her gut. " Ngh..! So mean..! " She would let out, trying to get away from Kanai.
Page 1 of 8 • 1, 2, 3, 4, 5, 6, 7, 8



Similar topics
---
Permissions in this forum:
You
cannot
reply to topics in this forum