Champions & #1 contenders
Hi I'm back...I don't know where to begin...
Fri Sep 15, 2017 6:43 pm by Silentcoins
Hello everyone. I'm not too sure if anyone still remembers me, but if you do thanks.
I haven't been around for a long time for reasons I guess. If there's still anyone out there who wishes to play with me or to continue whatever we left off, please don't hesitate to reply.
It's kind of awkward just saying this.
Comments: 7
I'm Back
Fri Sep 22, 2017 11:57 am by RadiantKarna332
Alright, after a few days of hiatus, I'm back. I'm sorry for my absence, for those who have threads with me here.

Comments: 4
Looking for a match.
Wed Sep 20, 2017 9:27 am by Silentcoins
As the title says, I'm looking for a match up.
I can do just about any kind of match up, though I prefer one with some hentai elements mixed into it. Wonder if there's anyone interested in a match of any kind?
Comments: 0
Personal Information:
Name: Julie James
Sex: Female
Age: 18
Eyes: Brown
Hair: Red
Height: 5â€
4â€
â€
(163cm)
Weight: 126lbs (57kg)
Nationality: Finnish/American
Alignment: Face
Entrance music:
Wrestling Information
Difficulty level:
(Easy-)Medium
Wrestling strategy:
Like her brother, Julie is not the most experienced or strongest girl, but she's resilient and will not give up easily. She will do her best in every situation, and likes to see her opponent's strategy first.
Preferred Matches:
Julie is eager to wrestle, so she's willing to accept a challenge in almost any kind of match. However, she tries to avoid hardcore matches, fearing of getting hurt in them. She's also a little afraid of hentai matches, but secretly hopes to have many of them.
Endurance:
80% - Julie is capable of taking punishment, not giving up easily, but there's of course just so much she can take.
Strength:
45% - Julie is not the strongest girl, but not the weakest either. She has trained in the past, but not enough to be a strong wrestler.
Speed:
75% - Julie has quick feet, but not as quick as they could be.
Defense:
25% - One of Julie's worst weaknesses, she's terrible at defending herself from attacks, often taking bad hits, thus requiring better endurance.
Technique:
60% - Julie has watched a lot of wrestling, and knows a lot of "textbook" theory of techniques, but lacks in actual training and experience.
Favored moves:
Submission moves, although she will try to use anything deeming appropriate for the situation.
Finishing moves:
Jumping scissors: Taking advantage of her speed, Julie will run behind her opponent, bouncing off the ropes back towards him/her. Regardless of whether the opponent turns facing her or not, she will jump against his/her body with open legs, effectively trying to kick them to the ground, eventually ending up sitting on their neck with crushing headscissors.
Appearance: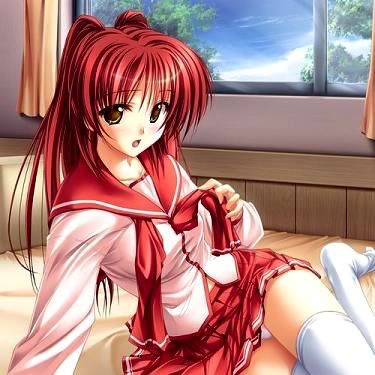 Personality:
Julie likes to keep to herself a lot, being a bit shy as well. But she's not afraid of other people, she just doesn't have the need to be surrounded by others and be social all the time. She has a few friends that are very close to her, and that's enough. She's very smart as well, and believes in herself. She's very independent, and never lets other people tell her what to do, even if they were her own parents. But inside she's curious and adventurous, and has a lot of fantasies, which she rarely lets others know about.
Past/History:
Julie was born in Finland, just after her parents had moved there from America. She was their second child, and had an older brother (Jesse). Growing up, she never really was a typical girl, always being interested in unusual stuff, and hanging out with boys a lot. It wasn't like she didn't get along with girls, just that she didn't enjoy being in a big company. Her closest friends were actually girls, but she just wanted to be a bit different.
Many people considered her a bit of a tomboy, until as a teenager she clearly started dressing up very femininely, and acknowledging her good looks, she liked to show them off as well. However, she still didn't become a typical teenager. She was very smart for her age, and very independent, and was happy being by herself. But even though she became a little shy towards other people, she still secretly enjoyed of people being curious about her, and especially boys who admired her looks and persona. Despite having all kinds of fantasies, she would rarely actually acknowledge them, but few times she actually ended up in an affair with a boy, although she would always break their hearts soon enough.
When she was 16, she realized being bisexual. Although she never really admitted it to herself, she started having more and more fantasies about girls as well. However, she never had any affairs with girls in reality, except for some fooling around in drunk with her closest friends. On the outside she appeared to be a nice and decent girl, rarely showing her wilder side. Her fantasies developed, and started including all kinds of roleplays, including wrestling. She also found out that her brother Jesse had the same interest in wrestling, and told him about hers. They ended up doing a few matches together, before Jesse wanted to stop having them. Julie didn't know exactly why, and they didn't really discuss the subject anymore.
As Julie was finishing her school, to everybody's surprise Jesse had made the decision to move to Japan and join AFW. It was something that nobody had expected, and came as a huge shock to their family. But as an independent young woman, Julie became jealous of this adventure Jesse had decided to set on, and started fantasizing about doing the same. She had developed a huge lust for wrestling, and even though she hadn't gained experience, she decided to surprise everyone as well. Flying to Japan following Jesse, she didn't even tell him about her plans, and the management at AFW couldn't have been any happier about this exciting turn of events. It was her turn to surprise everyone.
Wrestling Attire:
Short red skirt with a matching bikini top. Complemented by thongs and white stay-ups.
AFW Information
Record:
Wins:
Losses:
Draws:
Championships/Accomplishments:
Friends: Jesse James, older brother. Joined AFW without him knowing about it, despite following him there.
Allies:
Rivals:
Enemies:
Crushes:

_________________
My boys:
[url=http://afwrpg.informe.com/forum/tension-pro-males-f60/jesse-james-t5596.html:1ayb7dkf]Jesse James[/url:1ayb7dkf]
[url=http://afwrpg.informe.com/forum/tension-pro-males-f60/josh-judas-t5826.html:1ayb7dkf]Josh Judas[/url:1ayb7dkf]
[url=http://afwrpg.informe.com/forum/tension-pro-males-f60/jay-jobs-t5827.html:1ayb7dkf]Jay Jobs[/url:1ayb7dkf]

My girls:
[url=http://afwrpg.informe.com/forum/tension-pro-females-f61/jenni-jones-t5791.html:1ayb7dkf]Jenni Jones[/url:1ayb7dkf]
[url=http://afwrpg.informe.com/forum/tension-pro-females-f61/julie-james-t6665.html:1ayb7dkf]Julie James[/url:1ayb7dkf]

PM box has an open door policy. Any match inquiries welcome.



Posts

: 279


Join date

: 2012-01-12




Similar topics
---
Permissions in this forum:
You
cannot
reply to topics in this forum