Champions & #1 contenders
Been Out with the Flu
Sun Apr 22, 2018 7:47 pm by daemongirl
Just letting those I have threads with know I've been out with the flu since early last week, but I will be back to posting tomorrow.
Comments: 0
The Austrailian Mudslide is Back.
Sat Apr 21, 2018 6:20 am by Softsquad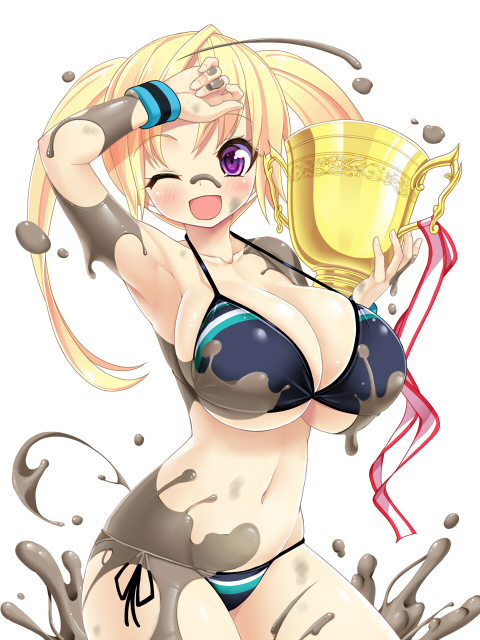 Granted that most of you won't know me or remember me, but I've had a few matches here and there some time ago. Well I think its time to become a regular around here and try to have some fun again, but at the same time keep coming back. Anyway I think its time to jump into some matches with Zoe Taylor, my mud wrestling character from Australia and get her back into the squared circle. Furthermore I will update my characters as I think some proper changes need to happen.
So if anyone would …
[
Full reading
]
Comments: 0
Looking for a debut character match.
Fri Apr 20, 2018 7:44 pm by Tarantulust
Hello everyone,
I am looking for a match to debut my first character, Juno Sawyer, as well as get accustom to the site. I am mostly looking to solidify Junos character, and how she acts.
I would prefer to stay away from hentai right now, though a perverted character or action is fine is fine if its within reason. I don't expect it to be too long, but if you wish to add a rivelry or enemy spin to it I am open. If you are interested, feel free to reply or PM me.
Comments: 3
Page 2 of 3 •

1, 2, 3


Talia was looking straight up the road when she felt Johnny's hands wrap around her with his chest pressed against her back. Her hands shot up to his hands and she nervously gripped onto him. She looked down at them, feeling his body against hers. Looking up, she stood there, once more staring up ahead. After a moment, her hands relaxed though they still held onto Johnny's hands. She had needed a hug so very badly for quite some time. With a choked up voice, she muttered, "It's just...so hard sometimes..."

She wasn't sure what else to say. So they stood in silence. The rose was still in her right hand. She spun it around with her fingers. It lightly brushed against Johnny's hand a few times. Talia's eyes closed, and she took a deep breath trying to figure out what she could say next. Her mind wasn't rushing with thoughts as it usually was. Instead, she felt a certain tranquility in there being no thoughts at all. It made for a silent conversation, but she was finally relaxed. Then, her body decided to speak without her permission. Her stomach growled.

Talia blushed with embarrassment, afraid to have ruined the moment. She smiled right after, though, when she appreciated the humor in it. "Do...do you know of any good places to eat?" she asked, still holding onto Johnny's hands in front of her abdomen. "I've been eating nothing but rice and vegetables since I've gotten here. Well except for that seafood thing ...that...umm...what was it called..." She tilted her head. "Well it tasted good whatever it was."
Last edited by 9943 on Fri Jul 20, 2012 4:55 pm; edited 1 time in total
"Yeah..." Johnny said, fering when she grbbed his hand at first, she would rebuke him. But then his grip eased and he pressed into her, tigtening his gug on her in a sincere way. He didn't realize it either but maybe a hug was exctly what he needed too. In their mutual silence, he had found some comfort and as they pressed together, he was able to enjoy the contact and Talia's gentle scent as he lowered his head a bit. Jonny closed his eyes. How long would this last? Not very long, he thought and that made him sigh a bit. Before his thoughts could drift, Talia's stomach growled and Johnny laughed a bit.

"Damn, man..." He said and smiled at Talia. And... She hadn't brokened teir embrace at all, even. The just loosened a little. He nodded. "Sure! There's a pretty good noodle shop a block or two from here. If... Ya don't mind an junk."

Johnny turned to walk away and realized after a few steps, Talia still haad his hand. Would she let go? Would she hold onto it? Just before the moment of truth, he turned his head with a blush on his face. "T-Talia-chan..."
Talia nodded, "A noodle house sounds good". She passed by so many of them on the way to work every day but never worked up the courage to enter them. She also felt a little awkward walking into restaurants alone. Her back was turned to him so when he started to walk away, she held onto his hand. She looked at him, unsure what to do. The feeling of comfort that their embrace provided was something she didn't really want to abandon just yet.

The girl walked beside Johnny on his right side. She wrapped her left arm around his right arm held together by their hands. Her right hand reached across her and held Johnny's right arm at the bicep. She then leaned her head into his shoulder. "Johnny..." she whispered back to him, her face blushing up. "I ... umm," she started but stopped out of uncertainty. "I'm glad we had that match." She smiled as they walked down the street together.
Johnnywas surprised when Talia took his arm. He blushed and smiled and felt his heart beating a little faster despite being at ease on all other accounts. He began to walk with Talia and when he felt her head against his arm, he smiled. When she spoke, he blushed deepr but then grinned. "Ahh.. Yeah... Actually... In the end, it was probably exactly what I needed. Arigatou, Talia-chan."

Johnny let a pleasant silence wash over them as they made their way to the noodle shop. Talia was so much different than Taylor. She was soft, gentle, almost delicate. She gave off a calming aur that made Johnny just want to melt. Taylor was hyper and full blast. She was all the way live and ad a zest for life that really fired him up. But... Why was he even making the comparison? Taylor was his girlfriend, wasn't she? He'd just met Tali. They were strangers enjoying each other's company out of necessity, misunderstandiing and a common need to fill an empitness they didn't even know they shared. Johnny was slowly realizing that things may have just gotten complicated.

He pushed the thought away as they enteredthe noodle shop and Johnny got them a seat at the bar. He looked at Talia and grinned. "Have you ever eaten at a Noodle Shop before, Talia-chan?"
Talia smiled when the aroma of the shop rushed at them when the door opened. It was refreshing, a scent inviting them in. She followed Johnny in, curious as to what to expect. "I ate at noodle shops back home...but this is nothing like it." She sat at the bar beside him. "I assume we just get...noodles?" she asked him. "What does all of this mean?" she asked as she looked at the menu. Talia had learned to speak most of the Japanese language. Her written knowledge, though, had a lot to be desired. She cringed her eyes as she read the words as if seeing them better would help her understand them.

She tilted her head. "I have to admit...this is the first time I've been eating out with someone since I've gotten here." The girl shrugged at her own confession. It was kind of depressing to think about, but at least now it didn't have to be true anymore. "You've been in the AFW for awhile, right? How many people have you that you would consider friends?" She was legitimately curious about the question. Johnny seemed outgoing and friendly enough to surely meet plenty of people. Talia hoped if he had good friends, she would eventually too. "I mean...do you know people other than your brother in Tension that I could get along with?" She sincerely hoped Johnny wasn't the only guy in the league that she could talk to.

Eventually she stopped looking at that menu and turned to Johnny. "How about you order for me. I'll trust you with that."
Johnny grinned at her as she sat down. This seemed like it might be fun for both of them. He didn't look at the menu and watched her cutely try and figure things out. He waas about to place an order when she spoke up again. "Huh? Really?" He asked. "I an't believe that, Talia-chan... You're cool and junk. You must have tons a friends, man." But he thought about her question. Johnny thought he was pretty cool too and no one really came to mind.

"Um... In Tension I only gt like, one friend, I think. He's ok but I dunno if we're friends. I just help him train a bit, I guess.." Johnny scratched the back of his head. "Man, it seems like aall the dudes in Tension are just lookin to wrestle chicks so they can hurt em or... Touch em without gettin into trouble. Most of the people I know are girls an shit." He flashed her a soft smile before he ordered for them in quick Japanese.

It would only take a few minutes before bowls of thick noodles in broth with scallions and tempura battered prawn were placed in front of them. Johnny smiled. "Talia-chan..." He said quietly. "I... Uh... Think it would be cool if... Uh... We could be friends and junk.." He said trying to hide the blush.
Talia shook her head, "Like you said...Tension is just full of guys looking to hurt or touch girls...really no one I can get along with. I haven't really met any of my fellow female wrestlers; there hasn't been any opportunities to socialize." Well, there has. She just always avoided them out of shyness. But Johnny seemed to have some friends. "Oh? Who do you know in AFW?" Maybe he was friends with some of the more famous female wrestlers that she had heard about and seen on television.

"What did you order?" Talia asked but her question was answered instantly as the food came out. "It looks so good!" she said excitedly. "Oh," she pointed at the tempura fried shrimp. "It's the seafood thing I was talking about earlier," she said with a smile. She reached for the chopsticks but stopped when Johnny said her name. She could make out the blush as he asked the question. Unsure if the question was meant to be literal...or it meant something else, Talia hesitated. When she came to the decision that she'd probably say yes to either meaning, she smiled at Johnny.

"I would like to be friends with you too," Talia said quietly. She reached over and squeezed his hand with hers. She continued to look into Johnny's eyes for a few more moments before her hand and vision turned back to her dinner. "...It smells good..." she stated as she closed her eyes. "It really warms the spirit," though it wasn't the only thing that was warming her spirit right now. Spontaneously, she reverted to the previous topic at hand, as if unsatisfied with how changed it. "What...umm...requirements are there to being your friend?" she asked, unaware of how awkward she had made it sound. "Umm...like...what...what do you usually do with friends?"
"Yeah..." Johnny nodded in agreement at Talia's words. Most guys were like that. HE was like that. He almost confessed to her that he had entered Tension looking to score chicks or grab their boobs or whatever seedy pervert things the other Tension guys did. But all that changed after just one match. He didn't think she minded, but instead of confessing he just said. "I never intended to wrestle guys but... I think I might just have to start..." he said the words mostly to himself.

He brightened up at her next question though. "I know Tay-" He stopped immediately and fumbled before recovering. "I know Akashi Tanikaze! She's like... The best wrestler in the whole cmpany She was Friction champ until some skeezy biker cick beat her up. Well... I don't really KNOW he, know her, but we've talked and se calls me Johnny-kun..." They were friends cause of Taylor.

"And this cute Red head named Cassie Elliot. She's sort of a rookie like you, too but she's sorta weird. If I didn't know she was into chicks, i'd swear she liked me or somethin." Johnny laughed. Someone else he knew because of Taylor. "I guess I know Cecilia Northman too. She's the hardcore champ. She's my brother's girldriend... I think. I don't even know what's going on there... He's such a douche." He let out a sigh and was glad the food came.

"It's udon!" He proclaimed. "Itadakimasu!" He declared and pulled apart his chopsticks ready to eat when Talia asked her question. His heart felt warmer than it would, doused with broth when she said they could be friends. He blushed when she grabbed his hand.

"He smiled goofily at her. "Oh.. Uh.." He took her question literally. "I dunno, man, I guess anyting. Hang out and junk. I mean... I don't remember friendships having limits, right?" He had no lue she might be thinking of the other kind of friends. "We could even spar. You know wrestle and stuff. Train."

!ohnny then looked at her. "Talia-chan..." He said and then nodded. "Noodles." He patted her on the back firmly. "You have to eat them quickly! That's the best way!" Johnny then grabbed a huge chopsticks full of noodles and began to slurp them loudly.
"Oh..." Talia said quietly as he mentioned wrestling guys. She hadn't meant to group him up with all the other guys in Tension. "N-No,that's fine. I mean...You're not going to wrestle me again anytime soon so keep wrestling girls. Especially since the guys are such...well...you'd probably have less fun wrestling them." Hopefully more fun than she had at least. The girl couldn't help but open her mouth in awe when he said he knew Akashi. "You know Akashi Tanikaze?" She knew exactly who she was, only the most famous wrestler in the AFW at the time. She was surprised that he not only knew the hardcore champ, but that she also happened to be his brother's girlfriend. He didn't seem to care much for this fact though, so she didn't ask about it. She did wonder, though, if perhaps he was jealous of his brother.

Talia smiled when he listed things they could do together. The whole friend package. "Oh! We should work out some time. I need someone to train with who can motivate me if I'm ever going to get better in the ring." Wrestling with someone who beat her logically would make her better, right? Regardless, she was just happy to think of doing things involving someone other than herself and an opponent. She didn't really think of Johnny as a rival anymore.

Talia then looked to her noodles and picked up some of them with her chopsticks. Johnny, though, slurped them up in a noisy fashion. She watched for a moment before looking back at her own bowl. Did he ever learn not to do that? she thought to herself. However, now that she was listening, Talia noticed everyone in the place was slurping. Sure, why not? She put the noodles to her mouth and slurped them up. Some of the broth followed the noodles up and touched her nose. She couldn't help but giggle at the experience and wipe herself off. "These are good!" she exclaimed. She repeated the process, slurping up the noodles while taking in a good amount of air. Her parents would hate her at this point.

They did bring a warmth to the girl. It felt good to enjoy an experience with a friend for once in a long time. As she finished, she pushed the bowl back and sighed with satisfaction. "Mmm, that was good," she said with a smile at Johnny. "Thank you for showing me this place. I'll need to come here again some other time." Her mind began to wander. She couldn't help but think about the famous people he knew "How do you know all those other wrestlers? Don't they perform up in Tokyo?" Talia smiled when she thought she knew the answer. "Do you go to Tokyo often?" she asked curiously.
Johnny beamed at Talia's words. "Yeah, Kinda." He said in between slurps as he responded to knowing Akashi. Well, the big sumo seemed pretty friendly with him at least. He nodded along as she zipped through to the next subject. "Yeah, man, totally! I love workin out an junk. Could be pretty fun to train too."

Johnny was loving the noodles and beamed when shewent full in on them. He had expected her to be shy and dainty about it. "That's it, Talia-chan!" He said with a mouthfull of noodles hanging from his lips before he slurped them up and drank his broth. He set his chopsticks on his bowl and nodded.

Johnny then stood up and fished some money out of his pocket andleft it for both their bills. Without letting her ask about it, he nodded too her. "Yep! Anytime you wanna go to a noodle shop just give me a buzz!" He then paused as she spoke.

"Um.. Hey, let's get out of here." This time, the best way to not answer her question was to ignore it instead of dancing around it. He brought her out of the shop and then looked around nervously.

"Uhh... Yeah... So.. I guess ya gotta go and stuff, right?" He said as he scratched the back of his head. "Guess... I'll see ya later an suff..." He said nervously, fidgeting a bit. "It was fun, Talia-chan!" He said with a big goofy smile.
Page 2 of 3 •

1, 2, 3



Similar topics
---
Permissions in this forum:
You
cannot
reply to topics in this forum