Who is online?
In total there are
52
users online :: 11 Registered, 0 Hidden and 41 Guests :: 2 Bots
321Shazam
,
anime_hentaifighter
,
CybeastGregarX
,
Deus001
,
Iron Soldier
,
kiranar
,
LARIATO
,
LunarWolf
,
RadiantKarna332
,
scorn53
,
shanecawf
Most users ever online was
155
on Sun Oct 09, 2016 8:33 am
Champions & #1 contenders
Reduced Post Rate
Tue Jun 27, 2017 12:14 pm by RadiantKarna332
For those who are currently roleplaying with me in threads, you guys may have noticed my reduced post rate. I'm sorry for being so late to inform you guys about this, but due to some real-life businesses, I have no choice but to post infrequently compared to usual. I'm so sorry about that.
So, I will return to my normal schedule next week, so please don't worry about me not posting. Have a nice day.

Comments: 2
Active Kawaiis
Sat Jun 24, 2017 1:25 am by Daaharu
Hey, guys. I'm hoping to get a sense from everyone of where the active kawaii girls are at. No guarantees or anything, but I am looking to figure out who is out there consistently making matches because we are looking to inject some new blood into the kawaii title scene, and I don't want to have tunnel vision on just the players and characters I know.
So, if you've got a kawaii girl who's had at least one match and is currently active, can you let me know either here or via PM or IM? This …
[
Full reading
]
Comments: 6
Ending RPing
Sun Jun 25, 2017 7:04 am by KillerV
After I finishing up couple of threads, I am officially done RPing here. I apologize to you guys currently with me and even the future ones. But I am just tired of it, not going into too much details as it makes me feel like ranting so much, rather not.
But will still be here just to read n respond, as for Trillian, wont able to contact me soon, rather send PM here instead.
Good luck with everything.
Also, NOT gonna give King, rather not see people using him like
[
Full reading
]
Comments: 7
Page 5 of 5 •

1, 2, 3, 4, 5
There was just too little oxygen in Cerbera's lungs to make her keep going for long. Her fingers stroked over the crowbar handle and managed to pull it within her grasp, bringing it to her side and lifted it up, looking like she was about to hit Lucy's leg with it, but Cerbera could no longer keep herself awake any longer, her oxygen was gone and her lungs burned for more, but it never came, her vision had blurred out and soon her body went limp, dropping her arm on the mat again and released the crowbar, whispering softly to herself. " Smy...Ertch.. " The last Russian word that escaped her lips before she passed out in Lucy's dual grasp.
Lucy's eyes widened as she saw how Cerbera managed to get a hold of the crowbar, dreading the actions that Cerbera might take as she would bring it down and maybe start to put the hurt on the little demon, but before that happened she saw how Cerbera started to fall unconscious and how the crowbar dropped even more as she heard Cerbera's soft whisper and then felt how the girl went limp in her arms.

With it she started to slowly release Cerbera after taking a short time putting Cerbera through this for a bit longer to make sure that her sworn sister was out of it. Soon though Lucy would let go of Cerbera and then turn to Genesis. " Stay away from her." Lucy let out sounding rather angry as she glared at the girl with a hateful glare. Lucy would then go down to try and lift Cerbera up for a bridal carry as she would attempt and lift the girl up and start to carry her out of the ring.
_________________

For more info check here:
The Locker Room



Posts

: 15588


Join date

: 2011-02-17


Age

: 24


Location

: The Root



Genesis' eyes were weary as she watched the redheaded girl pop out of nowhere, her vision being so badly blurred. The girl was still groggy and her mind was being tossed as she slowly fazed into unconsciousness. She watched as a a streak of flurry red had ran past her. watching the fight in her lethargic state and blinking as Cerbera had fell unconscious to Lucy rather quick;y. Looking up Lucy, weakly as she told her to stay away from her. The girl grit her teeth a she said to 'stay away from her', the girl wasn't grateful that Lucy came to her rescue. It was as if Lucy had kicked dirt in her face, she roared out in anger as she finally broke free of her weakened state stumbling out of the center of the ring but tripping out of it. The green eyed girl landed on her hands and knees and began pounding the ring until her knuckles were bloody before pressing her forehead against the ring floor as she wept.

She was pathetic in this match... she thought she could measure up to Cerbera but, someone who she never met had stepped into save her.... she looked that...pitiful and it really stung her pride as a fighter.
Genesis was finally allowed to rest after Lucy carried Cerbera off and out of arena. The girl managed to free herself as well and it looked like she really needed that rest. The officials started to lift up the cage, it seemed that all will be well for Genesis. But then it all happened, the lights went out and the crowd was met with a loud bang, the officials were yelling at someone and soon the lights were turned back on, Genesis was not alone anymore, a girl stood infront of her, her back facing Genesis, staring down at the officials outside. The cage had been dropped back down and the officials were trying to get it back up, but it seemed the equipment was no longer working.
" This looks like an appropiate end, don't you agree? " A familiar voice greeted Genesis. The girl wore a long black coat, the rest of her clothing being covered by it, the girl turning so show her face to Genesis, who would surely be shocked to see who came here, holding a pair of scissors that seemed to look like a kind of dagger. Piercing red eyes that Genesis would surely be engraved with, they still held that dominant glare, ready for destruction, anyone that would meet it's gaze would fall by it. This girl that the crowd knew very well, that had taken quite a beating from Genesis before and looked like she wasn't going to fight any longer, but that glare in her eyes, that stance, she didn't look weak, infact, she looked more dangerous then ever.
[align=center:1nbb275r]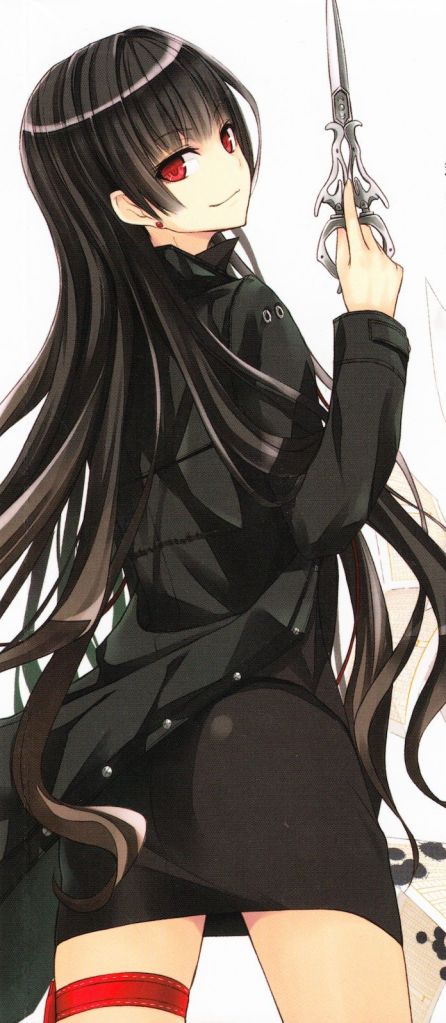 [/align:1nbb275r]
[size=150:1nbb275r][align=center:1nbb275r]" Genesis? "[/align:1nbb275r]
It was Zera.
Genesis' eyes opened wide as the lights shut off, the girl sat up on her knees as she looked in complete darkness and saw the red dominant glare of someoen's eyes. They sent shovers down her spine but, a part of her remembered those eyes. The girl got on one knee and rose to both her feet as the lights revealed the newcomer. At first Genesis didn't even recognize her but, hearing her voice revived her memory as she slowly pieced together who she was. Looking at the girl's weapon of choice, the green eyed girl stepped back.

"Z-zera...." Genesis said weakly gritting her teeth, "Looks like you've come to pay me in kind for what I did to you... though there's very little of e left to peck at anymore...."

The girl wasn't sure if she got braver or, she just felt that after what Cerbera had pulled her through she had nothing more to be afraid of. The girl could barely stand as she put up a pathetic fighting stance.
Zera twirled the handle between her fingers, rather skillfully at that and soon pushed it back into her pocket, turning completely to face Genesis. " I don't fight beaten prey. " She made her way towards Genesis, each step just seemed to brighten the dominant, beast-like aura Zera carried with her. " I've heard what you said to my sister, and it seems your love is pretty twisted. " She crossed her arms against her chest, her eyes narrowing as that dominant look turned into a cold, killer like look, much like Cerbera had not long ago but Zera's was controlled, which made her alot more dangerous then Cerbera.

" You might have broken the ties everyone has worked so hard on, to make Cerbera a normal girl. " She then brought the scissor blade back out, twirled it and pointed it straight at Genesis's throat, though still quite some steps away from her, she mimicked what she would have done, the scissors wide open, pointed towards Genesis's throat. " If that turns out to be true, I'll sever the string of life you cling so dearly on at the moment. " She then twirled the scissorblade back to her side and hilted it, making her way towards Genesis and with one sudden swoop, she was right infront of her, bringing one arm behind Genesis's knees and the other around her back, lifting Genesis off her feet and into a bridal carry, similiar to what Lucy had done for Cerbera not long ago. " I'm giving you only one option. I'm going to bring you to the medical facility and let you heal up, then you apologize to Cerbera for every you have done to her, you got that? "
Genesis looked at Zera with weary eyes taking great focus on the pair of scissors she was now whirling around. It was hard not to control herself, she knew full well what she did to Zera. It was nearly unforgivable which made Genesis a little uneasy that Zera was in such control of her composure. She was relieved to see her put away the deadly weapon as she responded to her question.

"Twisted? And what if I-" Genesis was cut off by the girl's blade point at her throat. Silenced bybeign held at knife point, the girl felt a bead os sweat run donw the back odf her neck. Frozen in fear, she let out a gasp as she was carried in bridal fassion. Genesis blushed in surprise as she tried to resist Zera but, she didn't have an inch of strength left in her. Pouting with red cheeks, Genesis averted her eyes as she contimplated her position.

"F-fine... let's get this over with..." Gensis said finally.
" Not like I'd let you refuse. " She carried Zera carefully out of the ring and up the ramp, making her way to the medical facility where she would get the girl treated without Cerbera getting to know about it, thankful that Lucy was able to stop her before anything worse would have happened.

Cerbera wins via submission
Page 5 of 5 •

1, 2, 3, 4, 5

Similar topics
---
Permissions in this forum:
You
cannot
reply to topics in this forum