Champions & #1 contenders
Highfly Flying Out Of Town
Tue May 22, 2018 1:31 am by HighFly
Hello everyone, I just wanted to inform all I have threads with that I will be gone from this coming Wednesday through Sunday. I won't be able to post consistently if at all during this time, but I will try to make up for it next week! I am sorry for the inconvenience to everyone.
Comments: 7
The Austrailian Mudslide is Back.
Sat Apr 21, 2018 6:20 am by Softsquad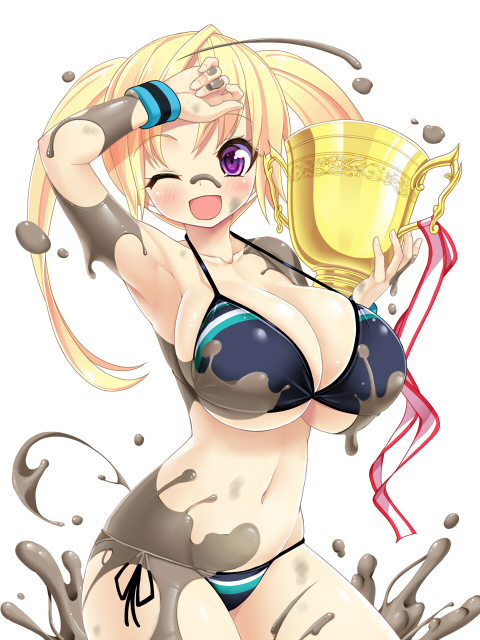 Granted that most of you won't know me or remember me, but I've had a few matches here and there some time ago. Well I think its time to become a regular around here and try to have some fun again, but at the same time keep coming back. Anyway I think its time to jump into some matches with Zoe Taylor, my mud wrestling character from Australia and get her back into the squared circle. Furthermore I will update my characters as I think some proper changes need to happen.
So if anyone would …
[
Full reading
]
Comments: 5
Page 3 of 4 •

1, 2, 3, 4


Akashi's lips curled into a smirk when she put Taylor down. Her head hurt like a bitch, but she wouldn't let Taylor have the satisfaction of seeing that. She could hold it off until she was out of here. She heard Taylor's words and pushed away the sickness that came over her stomach.

"Yeah..." She said as she turned, not saying anything else. Keeping her thoughts to herself beyond a muttered, "Couldn't agree more."

Akashi slammed the door closed and then leaned against it.

"Fuck!" She blurted out and then began rubbing her temples. "Fucking baka.. " She growled as she stepped towards the door. "Wasting my fricken time with all her stupid .. baby.. Don't have time for... holding me back..." She grumbled out a few more sentences fragments of that ilk until she was outside and hailing a taxi to go home and probably break something.
Taylor flopped down flat on her back.

"Fuck." She whispered. She pressed her palms over her eyes as the sobs welled up in her and began to shake her body, the silence in the room only broken by an intermittent sniffle.

It was too much to deal with. She felt like her whole life had just fallen apart before her eyes, and now to keep her company she just had an empty apartment filled with reminders of all the things she wanted to forget. She couldn't train, she couldn't fight, couldn't run, couldn't work out, couldn't do any of the things that she had thought made her who she was. Losing her best friend, her sister, on top of that?

She cried until her face hurt, and then slowly rolled over and began to pick herself up off the floor. The fact was that Akashi had never really accepted her. She'd said herself that she'd never seen them as equals, or something like that. Taylor was always just a charity case that Akashi played big sister for just to feel like a good person. But Akashi wasn't a good person, she was just like everyone else, and everyone else never stuck around with Taylor for very long.

Well, except for Johnny... The thought of him stung Taylor with another bolt of pain and brought a sick feeling in her stomach. She couldn't think about him yet.

She got up and walked into her living/bedroom, skirted around the flattened out futon, and stood in front of the Akashi poster on her wall. She looked at it for a long moment, traced her fingers up the sides and grabbed the top corners, and then ripped it down, crinkled it up into a ball, and threw it on the floor. She pulled down every wrestling-related poster she had until her walls were almost bare and her floor was covered in white crumpled up balls of paper.

She turned around, and looked over the room. That was a bit better, but her eyes eventually settled on her large TV the occupied most of one wall. She'd spent countless hours in front of it watching match after match... She booted it off the stand and if fell awkwardly to the floor, still partly tethered up by the cables coming out of the back. She stomped on it until it was thoroughly broken, and then she carefully laid down on her back on her bed.

She had stopped crying. She didn't have anything left in her. She drew a deep breath and pulled out her phone, thinking about Johnny and how she'd told him to back off... She didn't want him to see her the way she was. She didn't want him to be another person to bail her out when she got in over her head... and she didn't want him to get hurt because she couldn't cut it, or couldn't shut her mouth.

She sent him a text message that read "I think we should take a break".
Last edited by 1167 on Fri Jul 06, 2012 2:09 am; edited 1 time in total
Akashi used the cab ride home to smolder over what had just happened. She couldn't believe Taylor! After everything she had done for the girl, to be treated that way! And to bring Mina into it was the worst thing! Akashi never once mentioned Johnny in a bad light. He was a good kid. Akashi didn't flip out like that when she lost and her title had been far more important than what Taylor had lost. Taylor had been so accusing too! Saying that Akashi didn't give her all in the match. Had she SEEN the match? Akashi huffed and foled her arms under her chest. When she got back home, she was going to fuck Mina so hard. It was always the best stress reliever and her red headed cutie could take anything the big sumo dished out and loved to be romped all over.

Akashi let out a sigh, wiped an errant tear from her eyes and stepped out of the cab smiling a bit. She turned and looked around. Mina's car was gone. Akashi let out a discontented sigh. She'd have to wait even longer! Bah! She fumbled for the keys and pushed herself inside, suddenly feeling heavy from the stress of the argument. Her head throbbed. Why did she always headbutt so much!?

"Mina-chaaaan!" Akashi called out. Maybe the car was just int he shop or something? She frowned when she felt the hollow emptiness and stepped forward to see a plate of food on the table with a note under neath it.

Family Emergency, had to run. Don't worry. I'll call you when I can. Left some food. Love you
-Mina

Akashi gripped the note tightly as tears began to splash onto it. She pushed the plate aside and slumped into the chair letting the note fall to the ground as she began to wail loudly as tears streamed down her face.

***

Johnny had been asleep when his phone buzzed. Even though it was in the middle of the day, he had thrown a blanket over his head and passed out. He had stayed in the hospital as much as he could before they forced him out. He'd cussed out a few nurses that tried to politely get him to leave but when Taylor didn't want him to be around, he reluctantly left. Since then, he'd been working out to the point of exhaustion. It was all he knew. He was staying up at his mom's house for now, since Taylor wanted some space and his own home was far off in Kyoto. But he was thankful for his mom's equipment and put it to good use.

It wasn't until his mom came home one evening and saw him struggling with some free weights without any spotter that she scolded him and told him to relax. He listened to her gfor a while but he woke up rearly and went back to the weights until his body finally collapsed and he fell asleep on the mats doing sit ups. He drug his body to the bed he was using and slept for a long time.

When the phone buzzed, Johnny's ear twitched. He burrowed out of his pile of blankets and grabbed the phone, groaning. He looked at it and warily read the text. He took a moment, rubbed his eyes and read it again. He then hopped up and grabbed a hoodie and made his way out the door at a brisk sprint. He was still wearing his musty tank top and gym shorts but he didn't hair. He fumbled with the phone while trying to get a good jogging pace. He didn't even think to hail a cab.

"What!? No way! I'm omw now!"

Was the text he sent back.
Taylor blinked away tears and checked the new text on her phone, and then buried her face in her hands. She felt like such a coward.

She scribbled a quick note on a piece of paper and taped it to her front door. Johnny had a key, so she couldn't just hide from him in her apartment. The note read "Sorry Jun-Bug, I can't right now". She grabbed her light gray zippered hoodie and started out to walk to the park she liked. It was in the direction opposite where Johnny was coming from, if he was coming from his mom's house, and he wouldn't get to her apartment for at least twenty minutes...

It drove her nuts that she was even thinking like that, planning out how she was going to avoid one of her two... well, her favorite person in the world. But she couldn't do it, she couldn't tell him face to face why she didn't want to see him, and she definitely couldn't see him. It was all too much.
Johnny had shaken the fatigue off enough to turn his light jog into a brisk run. He had made the twenty minute run into fifteen minutes. He got to her apartment and bent over, panting. He made his way inside and found the note. He tore it off and shoved his key in the door and went inside.

He threw the crumbled note on the table and pulled out his cell phone. He looked around and saw the broken tv. "Shit... Dammit, girl..." He pulled the Tv up, pulled the posters up and laid them on the table, uncrumpled. He cleaned up the TV and siged. He pulled out his phone and then dialed Taylor's number. He wasn't expecting an answer.

"Yo, Taylor. I'm atyour apartment. It's cool if you need some time or whatever, but I aint gonna leave. I'll be in the shower if you come home soon. If ya wanna talk, we gotta do it face to face but babe..." He let out a sigh. "... Don't run away from me... Please... Love ya... Bye..."

Johnny then stripped of his clothes and threw them in a pile. He had some clothes here he could change into. He turned on the shower and looked into the mirror as the water heated up and ran his fingers through his hair.
Taylor silenced her phone when it rang, having no intention of answering it, and as she pressed the button she lost all motivation to finish the walk to the bench that she liked in the middle of the park. Instead she knelt down in the grass and very carefully laid down on her back.

She knew perfectly well she was being careless with Johnny. She imagined him waiting in her apartment, wondered what he was doing... Well, it wasn't hard to imagine him in the shower. He'd probably either end up doing pushups or falling asleep afterward. Something Johnny-like. Inevitably, though, Taylor's mind kept drifting back to Akashi until it was all she could think about.

She'd never felt so betrayed. She had actually let Akashi in, all the way in, and she burned her. It turned out they were never all that close to begin with, because if they were Akashi would probably have mentioned that she still thought Taylor was second rate. One moment Taylor wanted to beat Akashi's face in, the next she wanted to apologize, and the next she just wanted to cry. She pulled her hood up over her head.

Eventually, she listened to Johnny's message, and as much as it hurt she knew he was right. She couldn't just dodge him like this. She couldn't just text him like a pussy. She needed to do this face to face.

During her walk back, her eyes dried up and her face became hard. She was done crying. She knew what she had to do. If nothing else, Akashi had shown her exactly that. Still, she hesitated before going inside, and she settled for knocking on the door.
Johnny had come out of the shower feeling pretty refreshed. He almost forgot that there was a situation until he came back out into the front room. He let out a sigh and walked to the kitchen. He opened the fridge and pulled out a rice beer he had stashed away for the times when they didn't feel like going out He cracked it open took a deep drink. He let out a pleasant sigh and set the beer down. He'd probably not finish it.

He pulled open the fridge. He thought about trying to make something for Taylor and himself for when she got back but after pulling out a bunch of ingredients, he ended up just putting it all back and peeling an orange.

By the time he popped the last slice in his mouth, he heard a knock on the door. He raised an eyebrow, it seemed weird that Taylor would get visiters. Maybe it was a package delivery or something? He shrugged and pulled the door open. He was surprised when it was Taylor but grinned widely. "Dude... you ain't gotta knock at your own door.' He said with a soft chuckle. He knew that the mood wouldn't be light, but he had to try at least. "You wanna come in and stay for a while? That'd be pretty cool and junk."
Taylor took a deep breath.

"No. Well, yes. Uh... Hey." Taylor said, and stepped inside. "We need to talk."

She looked around at the apartment and at the cleaning up Johnny had done, which put into perspective the damage she'd done to everything. Unfortunately, she wasn't done yet.

"I don't want to see you anymore." She said, without looking at him. The words hurt to say, but she didn't falter. "At least for now. I've got a lot of stuff to think about, and... I might've been wrong about stuff that, like, I did and that... I let happen. I dunno, but I can't keep seeing you for now, just... don't make this even harder on me, okay?"

Her face remained cold as she looked back at Johnny, though the rest of her felt like it was on the verge of a complete meltdown.
Johnny's eyes widened at the words. SHe had actually said it again! But then, when she kept on going, Johnny furrowed his brow. By the time she was finished, His fists were clenched.

"No way, man!" He said and slashed the air in front of him with his hand, wiping away her words with his subconscious gesture. "Sorry, babe, but I can't accept that!" He shook his head and began pacing. "So... is that like... how it is?' He asked aloud. "Like... it's cool that I can be around and junk when everything's going good but then when things aren't so hot, I gotta step out for a while? No way. What the hell!"

Johnny was confused about things, but focused. It was a strange state for him. He looked up at her and tried to widen his eyes hopefully. "Babe, don't ya see? I didn't just sign up for this so we could chill and have lots of sex and crap. Like... man... I'm here for the bad shit too. That's how relationships work. That's what I thought, anyway. I mean... if I was going through some rough shit,I'd go nuts if there wasn't anyone around. I don't know what I would do with myself if I had to ... I dunno man..." He said. He'd finally run out of steam and passed the ball back to Taylor.
"Yeah, well, I'm not like you." She said in a low voice, but she couldn't help but get a little angry. "And you don't get to tell me when you get to be around! It's still my life, isn't it?"

One thought kept coming back into her head. How long would it be until Johnny betrayed her too? People didn't stick by Taylor, and she was stupid to think that Akashi would. Johnny was just a stupid sex-toy, anyway, and she should've broken things off a long time ago, before he got too attached.

"Now I want you to go home. ALL the way home, go get laid with Mamouru, whatever, just don't come here. If you get lonely, I'll get you Cecelia's phone number, a'right? Just fuckin' get out, I don't need a boyfriend OR a fucking maid service. A'right?"

Her hand was shaking as she pointed at the door. How many people could she throw out of her apartment in one night? How many were left?
Last edited by 1167 on Sat Jul 07, 2012 6:40 pm; edited 1 time in total
Page 3 of 4 •

1, 2, 3, 4


---
Permissions in this forum:
You
cannot
reply to topics in this forum