Champions & #1 contenders
Hi I'm back...I don't know where to begin...
Fri Sep 15, 2017 6:43 pm by Silentcoins
Hello everyone. I'm not too sure if anyone still remembers me, but if you do thanks.
I haven't been around for a long time for reasons I guess. If there's still anyone out there who wishes to play with me or to continue whatever we left off, please don't hesitate to reply.
It's kind of awkward just saying this.
Comments: 7
I'm Back
Fri Sep 22, 2017 11:57 am by RadiantKarna332
Alright, after a few days of hiatus, I'm back. I'm sorry for my absence, for those who have threads with me here.

Comments: 4
Looking for a match.
Wed Sep 20, 2017 9:27 am by Silentcoins
As the title says, I'm looking for a match up.
I can do just about any kind of match up, though I prefer one with some hentai elements mixed into it. Wonder if there's anyone interested in a match of any kind?
Comments: 0
Page 3 of 7 •

1, 2, 3, 4, 5, 6, 7

N is creepy all the time. You may not notice in the games if you play with the male character, but if you are playing with White/Hilda he comes out as creepy emo perv trying to sexually harrass you at all times.

So the pic actually rings true. Is the kind of thing N would do.



Posts

: 7322


Join date

: 2010-03-05



No he doesn't. o_O;

I've played through both Black and White as Hilda, and that never happened. What game were you playing?



Posts

: 10706


Join date

: 2009-06-21


Age

: 31


Location

: Neo Cyber City, 3 A.M.



Bastard never gave me flowers. Not even after the Ferris Wheel.
_________________
Under construction

Adrian Kytes (Face)
Rebecca Tomko (Heel)
Sabine Shanoa (Face)
Tina Armstrong (Face)



Posts

: 6258


Join date

: 2011-04-25



What you mean he doesn't?

Everything about him is creepy, and when he forces you to get wwith him in the ferriswheel.


He is uber creepy and pervy. Your problem is that you wanted him to do you.



Posts

: 7322


Join date

: 2010-03-05



I chose Red back then because he's the only person next to Gary that I consider an actual character.

The rest are just kiddy versions of them but those two are just plain punks.

Always loved Playing Pokemon Red, where I thought Magikarps were meatshields until seeing the cartoon that it transforms into Gyarados, or that Oddish looking like a black disabled kirby on my old gameboy. Oh and where Team Rocket kept saying that they only used the best pokemon, only to throw rattatas and zubats into battle.

Back when pokemon actually looked cool and I had no problem remembering the names.

Back when logic wasn't that important, like Snorlax camping the only road down or that you need to battle him after using the flute, or that a diglett could learn fly.

Ah yes.. Good old times..
Diglett couldn't learn fly. What the hell are you talkin' about?



Posts

: 10706


Join date

: 2009-06-21


Age

: 31


Location

: Neo Cyber City, 3 A.M.



[youtube=425,350:20k8jaxi]Zy0RQLfo0pc[/youtube:20k8jaxi]
Well now...
I've seen a horse fly
I've seen a dragon fly
I've seen a house fly
I've even seen a Dodrio fly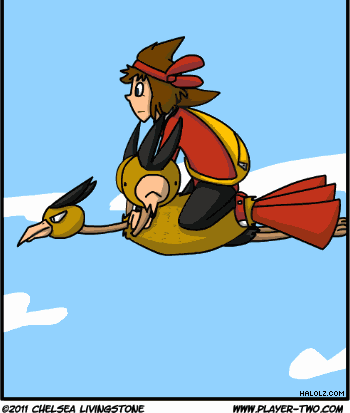 But now I've never seen a Diglett fly.....until now o.o
Also, little kids huh?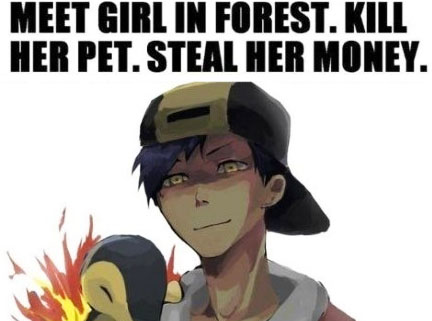 Posts

: 2374


Join date

: 2008-09-21


Age

: 26




Ah, Pokemon, that give the good kids so many valuable impressions:
-Free animals are unhappy. Gotta catch them all!
-Animals in general don't need rooms, they can be stored in crampy spaced balls
-The boss of a megacorp is a bad person. Good persons are either scientists or arena masters, like roman emperors and Frankenstein.
-Nurses and Cops are cloned.
-A mouse can be powered by lightning.
-Give a shit about apprenticeship or college. You can live comfortable on the road and benefit from the kindness of strangers.
-A criminal is either a goof or a scientist.
-Fish are stupid
-A flock of birds is dangerous and agressive. A single bird of the same type is friendly and helpful.
-Stuttering the own name repeatedly is not a disability, its a way to communicate.
-Powerchart: Mouse > Dragon > Plant > Bird > Caterpillar > Cat > Snake

_________________
Friction:
Tessa "Harrier" Price
Barb Wire(Tag Team)
Kelly "Pony" Flowers(Kawaii)
Anja the Raven
Amaya the Maiko(Kawaii)
Senior Officer Ise
Gina "the Brat" Lees

Blog:
Blog and Flock



Posts

: 5843


Join date

: 2011-11-16



Page 3 of 7 •

1, 2, 3, 4, 5, 6, 7


Similar topics
---
Permissions in this forum:
You
cannot
reply to topics in this forum