Champions & #1 contenders
Summer Splash interest in Natasha Loclear?
Mon Apr 09, 2018 11:30 pm by daemongirl
Well my girl hasn't missed a summer splash yet, would anyone be interested in a match with her? Open to just about anything match wise, just pm me!
Comments: 1
Been Out with the Flu
Sun Apr 22, 2018 7:47 pm by daemongirl
Just letting those I have threads with know I've been out with the flu since early last week, but I will be back to posting tomorrow.
Comments: 0
The Austrailian Mudslide is Back.
Sat Apr 21, 2018 6:20 am by Softsquad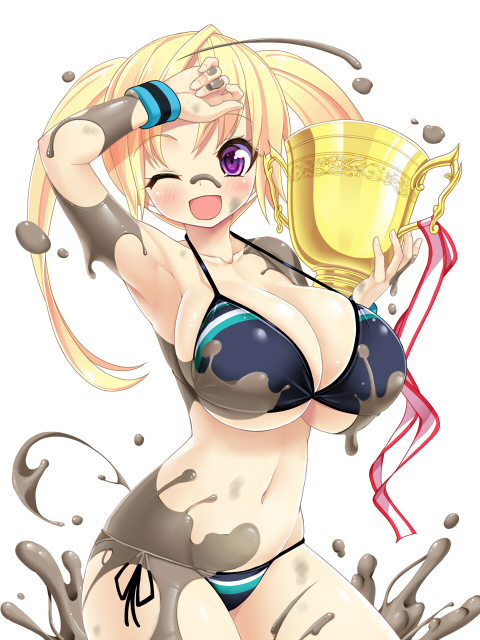 Granted that most of you won't know me or remember me, but I've had a few matches here and there some time ago. Well I think its time to become a regular around here and try to have some fun again, but at the same time keep coming back. Anyway I think its time to jump into some matches with Zoe Taylor, my mud wrestling character from Australia and get her back into the squared circle. Furthermore I will update my characters as I think some proper changes need to happen.
So if anyone would …
[
Full reading
]
Comments: 0
Page 3 of 4 •

1, 2, 3, 4


Sarah gurgled in discomfort as Maeko tightened the chokehold even though Sarah had already told her that such a hold was illegal for a police officer to use. These two may nbot have been dirty cops but they certainly didn`t seem to have any problems not playing by the rules. Shooting a gun into the air, attacking her without provacation, even threatening to kill her. These two were either rookies or sadists.

"Oh yeah, cause ordinary people carry guns around, don't they? Idiots," Sarah chuckled hoarsly. Then Camille kicked her in the stomach a second time, immediately silencing her. "UGH!!" the Friction champ grunted, wanting to double over but Maeko held her up, keeping her trapped and in pain. These two may not have been dirty cops but they were cops none the less. She couldn't attack them without being charged with assaulting an officer. These two may have been unorthodox but they were the real deal.

Sarah coughed in pain, still struggling in the chokehold, looking up at Camille to give her a furious glare. "You two are shitty cops," she spat. "You don't know what the fuck you're doing....do you? Either let me go....or go fuck yourselves!"
Maeko keeps the choking on and on until Sarah mentioned something about them being a shitty cops ,idiots ,more and more bad languages that irritating the French Cop's ears. "Ohhhh...shitty cops?? well Camille ,let's show her how shitty we could be to the suspect" The Japanese wickedly smile at her partner ,signalling Camille to play out of the book and totally beating this bitch like a bitch ,harder than before and a lot meaner without any mercy.

Camille cracks her fists ,a sly and evil smile appears on the French's girl face ,utterly looking evil and her deep purple looking eyes are flashing ,showing Sarah that The French girl really have a bad intention on her.

"Go fuck ourselves huh?? well why don't you go fuck yourself?!!" Maeko releases the choke hold and unexpectedly kick Sarah on her back ,more like shoving her back by using her foot so Sarah would be pushed forward to Camille where the French girl would focused her inner strength and punch Sarah right on the pit of her stomach with all she had and disrupting the other girl's breathing and granting herself an early advantage in teaching this impolite woman some manners.
Sarah continued to struggle in the chokehold of the smaller cop, finding this situtation utterly appaling. If these two girls were punks trying to take her Sarah would have had them beaten and begging in five minutes tops. But these were cops. Sadistic cops but cops none the less. If she fought back here, she could go right back to jail. And there was no way Sarah was going back to jail, least of all in Japan. The Queen of Brawl had a good thing going in the AFW, and there was no way she was going to jepordize that. If she just took this beating the two of them will be satisfied and go home. She hoped.

Sarah soon came to notice the look that came across Camille`s features. She wasn't scared of these two, but she knew whatever was coming couldn't be good. She would be proven right when Maeko suddenly kicked her towards the taller officer, running straight into the girl's waiting punch.

"OOOOOFFF!!!" Sarah cried out, spittle flying from her mouth which opened to scream only for no sound to come out. The strength of the blow was absolutely devastating, leaving Sarah speechless and without air. The Queen of Brawl would soon collapse to her knees, forehead pressing against the dirty pavement as her arms clutched her battered stomach, coughing in pain and trying desperately to get her air back.
Camille actually feel sorry about what the other girl needs to went through ,savage beating from those cops but the girl really left those cops no choice and were really getting under their skins. The same attitude that someone famous showed in the AFW while beating all the crap out of the AFW wrestlers without mercy and pretty much sending some of them to the emergency room afterwards. The person have a surname and it's Gatt ,Camille doesn't realize it until now. The girl who took a beating like a bitch before might be the Queen of Brawl herself!

"So...are you Sarah Gatt?? the famous Queen of brawl of the AFW?? if you are ,i want to challenge you into a duel" Camille then would look down at the famous Sarah Gatt ,dropping to one of her knees slowly in front of Sarah Gatt so she would balance her height on Sarah. Face to face ,The French girl would extend her right arm as an attempt to help the badly injured girl to her feet.

"What??!! so you're the one who beat that tall Russian into bloody pulp??!! hah!! you must be kidding me!!" Maeko yelled out ,the officer seems couldn't believe that the girl who took their beatings like a bitch was Sarah Gatt!
Sarah was not one to take a beating lying down, but these weren't thugs she was up against. Not only were they strong (that French one's punch really hurt !) but they had the law on their side, and while they weren't exactly using it in the correct way they could make Sarah come off as the bad guy each time. Sarah groaned in pain from where she lay. Was she really about to lay dOwn and take it? If it meant her freedom, and the freedom of those close to her, of course she would.

Then the two officers said something that surprised Sarah. The two of them seemed to know her exploits in the AFW quite well, even the stuff that wasn't televised. How could they have known that unless.....? A sudden realization came to Sarsh then and there. These two girls were beautiful, strong, and knew the stories and rumors of the league. So that meant....

"You two....are in the AFW?" Sarah muttered. As soon as she said those words a malicious grin spread across Sarah's face. As she lay there on her knees and the two cops loomed over her, Sarsh would suddenly swing both her fists up, trying to nail both of them in the crotch at the same time with a double low blow. If that worked and the two of them both doubled over as a result, Sarah would grab both their heads with her hands and then try to slam their skulls together in a stunning collision.
Background checks were sometimes useful to handle an ex-criminal like Sarah and it's proven quite effective in this situation or...not. After thinking and knowing those two cops are AFW's wrestlers ,she begins to pull out her attacks and now really attacking the officers on duty which have a severe consequence.

Camille and Maeko had no time for answering the Queen of Brawl's question before she suddenly striking them ,swinging her fists up and hit them both on the crotch at the same time before the cops would sink on their knees and holding their crotches with painful expression draw on it but the criminal now seems not enough with her damage she inflicted to those cops and added it more by grabbing handfuls of their hair ,Camille's silver mane in the left hand and Maeko's raven hair in the other hand before slamming their heads together in a stunning collision before the cops would be fall onto the ground ,holding their throbbing heads and heavily stunned.
Sarah's fists sunk deep into the crotches of both Camille and Maeko, giving back all the pain she had recieved at the hands of these two and giving it back tenfold. And as soon as they were down Sarah would take the opportunity to stun them for awhile by conking their heads together. It all went perfectly, and now Sarah had the two cops laying writhing on the pavement floor, finally at the mercy of the Queen of Brawl. "Ha!" Sarah alughed, slowly getting to her feet, wincing at the pain from the attacks she had taken thus far. "How do you like that, bitches?! How do you like it!?"

While the cops were stunned Sarah would take advantage of this momentary advantage grabbing all their weapons. She would take everything; pistols, pepper spray, tasers, handcuffs, everything. "Want to know something about the AFW, kids?" Sarah asked as she gathered up their weapons. "All fights between competitors are considered legal thanks to the contracts we signed. Anywhere and anytime someone challenges one of us to a fight and we accept, its completely within the law. Cops or no cops, you signed those contracts too."

Taking all their weapons in her hands, being extra careful with the guns, sarah would carry them all over to a nearby dumpster. Opening the lid of it, she would toss everything inside and then slam the lid shut, denying the cops the use of their weapons. She would then turn to both of them, cracking her knuckles in each hand, looking much more confident since meeting these two. "So this is me challenging the two of you. Or are you two cops to afriad to get beat up?" Camille and Maeko wanted the Queen of Brawl, and now they got the Queen of Brawl.
Still down on the floor and now stripped off their weapons while they're still heavily stunned by what Sarah did to them just now. Their heads are still aching and ringing badly inside and the Queen of Brawl had no idea how worse it is while pulling some taunts and disrespecting them as police officers before their weapons are all thrown by Sarah into the dumpster after she stripped them off from it.

Camille was so insulted by every words that came out from the Queen of Brawl's mouth ,especially the "kids" word that Sarah pulled out of her mouth when asking them a question and explaining it about the contracts of the AFW and explaining about how useless their cop status in the AFW but so far as they know ,they're not just ordinary cops who obey every rules ,they act outside the rules sometimes to catch some criminals or just to make them talk. Sarah so far gave them no choice ,the beating clearly didn't work on her ,perhaps mortally injuring her until she is close within inches to death would make her talk.

"I wanted no more than a honored brawl but you changed my mind Sarah" Camille would then speak as she arise along with her partner. Her facial expression looks darker this time and her eyes are now a little bit glowing ,purple it may seem but still it's back. She no longer feels sorry for the Queen of Brawl who took a beating from them earlier ,she cracks her fists along with her partner while they're moving forward.

"Don't you dare to speak to me that way! we...the cops are never afraid with a low life criminal like you and if you want to brawl with both of us then death is what you're seeking for" Camille at some point stops and so does her partner who is still keeping her mouth shut. This is now Camille who does the talking and the Queen of Brawl had no idea what will happen to her.

"I'll give you the first shot low life ,come and get me" Camille takes a stance ,lifting her left arm with left palm facing her face while right arm is folded on her back. Maeko understands what Camille wants and she moves a couple steps away from Camille and getting into her boxing stance ,ready to rumble with the Queen of Brawl.
Now that all their weapons were disposed of Sarah would face the two officers without fear, grinning in great anticipation, more than ready for a bit of payback. Her actions certainly seemed to seemed to have cheesed both of them off, especially the French one. She obviously wasn't used to be talked like that. Sarah was more than happy to educate her a bit in that regard. The brawler would crack her knuckles in each hand as the cops approached her. No longer would Sarah be their punching bag.

"An honoured brawl? How many brawls are honourable, moron?" Sarah laughed as Camille tried to threaten her. It seemed that with the situation escalating the taller of the two officers was doing the talking now. Good. Maeko was a tremendous pain in the ass when she blabbered on. "Now quit barking and let's get this done. I got better things to do then hang out in an alley with a couple of pigs!"

When Camille offered her the first chance to attack Sarah was all but happy to oblige, grinning like a demon before she would take off charging for the officers. She would do so without fear even as Camille took her unique stance. Maybe that was because Camille wasn't her real target. At the last second Sarah would change direction and rush right past Camille, possibly dodging one of her attacks, and head straight for Maeko instead. Hoping to surprise both girls with her sudden change in targets, Sarah would deliver a running boot straight to Maeko's stomach. If it worked and the girl doubled over as a result, Sarah would next grab the girl's hair before rocketing a knee straight into her face.
"What did you call m....shoot!!!" Camille immediately turns her body around and trying to warn Maeko about the switch of the attack but apparently she is too late for that. Her partner takes a boot on her stomach that widens both her eyes and mouth before she cough and doubles over as the result ,only to get a knee that rocketed straight to her face after Sarah grabbed a handful of her black mane.

"THWACKK!!!" The sickening noise fills the entire empty alley before Maeko realizes that her nose is broken and pouring out blood in a relentless way like a waterfall. Camille doesn't stand there and watch her partner suffer that way. The French brute would pull out some attacks on the Queen of Brawl.

"I told you mademoiselle to stop using bad languages!!!" yelled the French cop before she approached Sarah by running and then aiming a drop kick to Sarah's spines/shoulderblades so she would drive her away from her knee drunk partner.
Page 3 of 4 •

1, 2, 3, 4


---
Permissions in this forum:
You
cannot
reply to topics in this forum