Champions & #1 contenders
Looking for character debut
Sat May 26, 2018 9:07 pm by Hedgehawk
Hey Guys,
So i have finished rounding the basics off my new guy
Ichiro Kuo
.
I was wondering if anyone would be up for threading with him for his debut. It doesn't have to be match, it can be some backstage stuff. Just wanna set something up to get the creative juices flowing.
Comments: 0
Highfly Flying Out Of Town
Tue May 22, 2018 1:31 am by HighFly
Hello everyone, I just wanted to inform all I have threads with that I will be gone from this coming Wednesday through Sunday. I won't be able to post consistently if at all during this time, but I will try to make up for it next week! I am sorry for the inconvenience to everyone.
Comments: 7
Page 1 of 7 • 1, 2, 3, 4, 5, 6, 7


Cecilia Northman had had a pretty good time for a while now, her reign as the Hardcore Champion was going well, and she had been keeping out of trouble, at least so far. One thing that they had started a while back, seemed to take it's time. From what she had heard, There was going to be a tournament of sorts arranged for the Avengers, at least when it came to dealing with the Gatt Attack. AFW didn't want to have an all out war and figured that it would be best to settle things within the ring. Cecilia had to agree that, that solution was probably the safest and the best one there was.

But this day was not about The Avengers, or the Gatt Attack, it wasn't about revenge or dealings of that sort, the re-emergence of an old friend had brought back an idea, a concept from the old days, and something that would have to be made real for this league. Cecilia had been asked to search for people that she thought could fit in, to place at the higher positions and fill up the new organization from scratch, that was the job that she was given by her new boss in a sense. What Cecilia had done with that task was to find people that she had had contact with as of late and ask them over for today. Cecilia needed to discuss it with two certain people, these two people were supposed the get two most special positions in the new organization, and they were both two strong wrestlers that Cecilia had a lot of respect for.

Cecilia had called over both Jania Organa Solo and Heather Sunderland over to meet her at home, she was wearing a blue top and a pair of jeans hot pants, her hair was tied up into a pony tail and she had put on a shirt to loosely hand over her shoulder and keep her upper arms covered up a bit, it was unbuttoned so it didn't cover up anything. " Where are they ?.." Cecilia said out loud to herself as she waited in her living room, she was sort of nervous...seeing as she wasn't sure if they would join this new organization.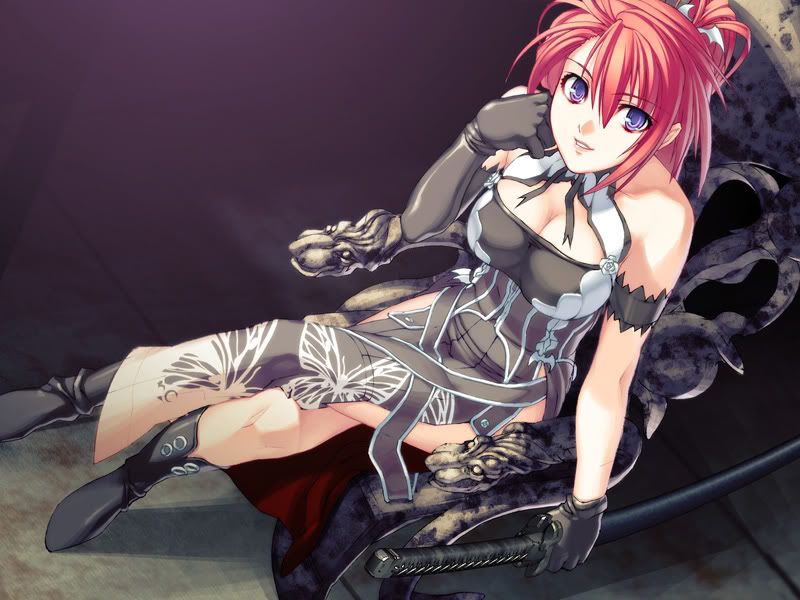 Jania pulled up to Cecilia's just moments ago and she was kinda nervous "Hmmm i wonder why Cecilia asked me to come here right out of the blue., Jania said a she knocked on Cecilia's door. "Hey Cec you home?" Jnai called out as she stood by the door waiting for the blonde to arrive.
Jania's head was filled with thoughts as she wondered what Cecilia wanted as the last time she was here Cecilia claimed her as her own "I hope she doesn't want to wrestle again. i like this dress too much to give it to her." Jania then knocked on the door again as her nervousness was making her impatient.

_________________
Characters

The Den
Cecilia heard Jania knock on the door after the girl had taken the elevator up to the penthouse, when Jania arrived Cecilia who was barefoot walked over towards the door and opened it up, seeing her friend and sort of lover...at one occasion and in one match. Of course Jania was as attractive as ever in that tight fitting dress, her eyes that were a pretty nice contrast to Cecilia's own eye color. Cecilia greeted Jania with a smile and a nod of her head, as she would move in a bit closer to Jania and give her a tight hug, pressing her chest against Jania's.

" Good to see you again, sorry we won't face off each other in a match today though...well maybe if we have time. " Cecilia would say teasingly as she would give Jania's ear a light teasing lick, before she would pull away from the girl. " Come in, we got a bit to discuss." Cecilia said as she would show Jania in towards the living room, and as she reached it she would seat herself on one of the three couches. " Have a seat cutie~"

" Sorry Jania...but we got to wait for another person, you see...what we are about to talk about is pretty important. "
Jania smiled at Cecilia as the girl finally opened the door "Hey it good to see you too." Jania said as she stared into Cecilia's eyes "Its a shame. I wanted to put you in your place but i guess i can wait." Jania said as she gave Cecilia a quick kiss on the lips after her ear got licked.

Jania followed Cecilia into her living room and sat down right next to Cecilia "You seem alittle tense Cecilia. Whats up?" Jania said as she placed her hand on Cecilia's thigh "And who are we waitign for anyway."
Last edited by 407 on Wed Jun 20, 2012 6:01 am; edited 1 time in total

_________________
Characters

The Den
Getting notice from Cecilia that she had something to talk to her about, Heather Sunderland would get herself ready and head over to her friend's house as soon as she could. It wasn't often that such a thing happened, and it seemed pretty important from the way that Cecilia was requesting her to come. Heather would quickly make her way to Cecilia's as soon as she could, arriving at the familiar penthouse once again.
"..Better not be something ridiculous." Heather would say to herself, knowing that her friend loved to tease and mess with her at any chance that she got. It seemed like this wasn't one of those occasions and that Cecilia was honestly looking to speak with her about something important. Heather would let out a long sigh, making her way up to the doors of Cecilia's penthouse as usual.
Wearing her now usual casual attire, Heather would make her way in, knowing the way now as she found the entrance unlocked. She would take the elevator up to the room, letting herself in as the elevator doors would open and Heather would take a couple steps in towards the living room. "Ah..hey..hope you don't mind I just..let myself in." Heather would say with a little smile, looking over at Jania afterwards, slightly confused never having seen the girl before.
_________________
Friction/Tension:
| | | | | | |
| --- | --- | --- | --- | --- | --- |
| Heather Sunderland| | Alessa Mason| | Sena Iwakura| | Cristina LaBrie| | Victoria Baynes| | Cheryl Pride |
Alternative/FnF
Trisha Birkin
Tension:
| | |
| --- | --- |
| Dante Sunderland| | Ambrogio Mastrostefano |
Cecilia would hear Jania talk to her, it was nice to see her friend again and be able to speak normally towards her, and without Jania being her slave as she had been for a weeks time before. It was nice to be with her, but she had important business with the girl. So it wasn't so much time for pleasantries, but at least until Heather arrived they could speak freely with each other.

" Tense ? ...uhm.. I guess. As I said i need to talk to you about some serious stuff... but not until Heather gets here. it's cool, she's a friend a pretty good wrestler. You know, just like you and me. " Cecilia said with a smile and a wink of her eye towards Jania.

" Oh?! That's here!" Cecilia said as she went up to her feet and walked over towards Heather, " It's okay, so now that you are here...Oh! Wait! Allow me to introduce you to my friend, and a hell of a tough wrestler. Miss Jania Organa Solo !" Cecilia said as she gestured over to the sexy red head. " Jania, meet Heather Sunderland. A pretty damn fierce wrestler herself. And one that should be know to you. " Cecilia said with a smile as she turned back and forth between the two wrestlers. " So..stuff to talk about, but before that. What have you two been up to ?" Cecilia would gesture Heather to move over to one of the couches so that they could sit and talk instead.
Jania looked at Cecilia as Heather arrivved "Oh Heather i have heard of you." Jania said as she would watch her as she sat down "Well i guess i have been working out recently as i have a strong need to show you some moves." Jania gave Cecilia a wink before looking over at Heather "Well it is a pleasure to meet you and do you have any idea why Cecilia called us both here?" Jania then looked Heather up and down before saying "Well i see why Cecilia has a friend like you. Your not bad looking and that is a nice outfit."

_________________
Characters

The Den
Hearing that the girl was Cecilia's friend, even though it should have been apparent already, relaxed Heather a bit. She figured a friend of Cecilia's couldn't be a bad person, and it made the atmosphere a little less foreign if she knew they were all in good relations. Heather would hear Jania's words, saying she's hear of her before, and Heather couldn't help but develop the slightest of a grin. People knowing her just by name is something she worked for, and it seemed it was happening.

"Good to hear! Nice to meet you." Heather would say, nodding her head as she would take a seat on the couch opposite of Jania. "The usual. Making my way to the top of AFW." Heather would say jokingly with a little grin.

She would then hear the Jania's words about her looks, causing her to blush slightly as she would look over at Cecilia before back at Jania. "Aaah..th-thanks..This..isn't what you brought me here for is it??" Heather would say, directing her attention back over to Cecilia as she crossed her legs and arms.
_________________
Friction/Tension:
| | | | | | |
| --- | --- | --- | --- | --- | --- |
| Heather Sunderland| | Alessa Mason| | Sena Iwakura| | Cristina LaBrie| | Victoria Baynes| | Cheryl Pride |
Alternative/FnF
Trisha Birkin
Tension:
| | |
| --- | --- |
| Dante Sunderland| | Ambrogio Mastrostefano |
Jania continued to smile at Heather as the girl blushed after her comments "WEll i don't think Cecilia called us here for that but i'm sure her message can wait until after we have some fun." Jania said as she couldn't help but tease Heather as well as Cecilia "I mean between the three of us we have a blonde, a redhead, and a brunette. I bet we could have one wild together."

Jania the nsat back in her seat and licked her lips after thinkin those thoughts but she knew that was why Cecilia called them here but Heather just seemed to easy a target.

_________________
Characters

The Den
"Wh...what??" Heather would let out at the start of Jania's words, looking back and forth between her and Cecilia a bit as the girl talked about having fun. In her head she imagined that Cecilia was quite in on this, knowing how much her friend loved to tease her and get her all flustered, though it seemed Jania would keep going.

Heather's blush would deepen quite a bit at Jania's next words, causing her to tense up a bit where she was sitting, shuffling around a little as the girl licked her lips. "Th...that's ridiculous I-I didn't come here for that! C..Cecilia would you stop your friend!"
_________________
Friction/Tension:
| | | | | | |
| --- | --- | --- | --- | --- | --- |
| Heather Sunderland| | Alessa Mason| | Sena Iwakura| | Cristina LaBrie| | Victoria Baynes| | Cheryl Pride |
Alternative/FnF
Trisha Birkin
Tension:
| | |
| --- | --- |
| Dante Sunderland| | Ambrogio Mastrostefano |
Page 1 of 7 • 1, 2, 3, 4, 5, 6, 7


---
Permissions in this forum:
You
cannot
reply to topics in this forum