Champions & #1 contenders
Highfly Flying Out Of Town
Tue May 22, 2018 1:31 am by HighFly
Hello everyone, I just wanted to inform all I have threads with that I will be gone from this coming Wednesday through Sunday. I won't be able to post consistently if at all during this time, but I will try to make up for it next week! I am sorry for the inconvenience to everyone.
Comments: 7
The Austrailian Mudslide is Back.
Sat Apr 21, 2018 6:20 am by Softsquad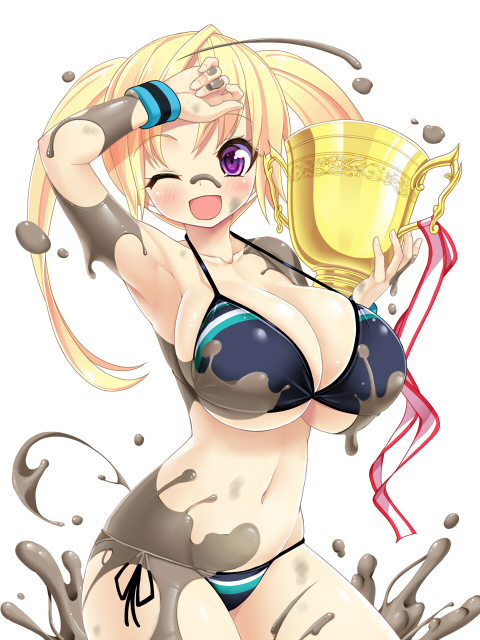 Granted that most of you won't know me or remember me, but I've had a few matches here and there some time ago. Well I think its time to become a regular around here and try to have some fun again, but at the same time keep coming back. Anyway I think its time to jump into some matches with Zoe Taylor, my mud wrestling character from Australia and get her back into the squared circle. Furthermore I will update my characters as I think some proper changes need to happen.
So if anyone would …
[
Full reading
]
Comments: 5
Page 2 of 5 •

1, 2, 3, 4, 5


Ingrid's eyes widened as she heard Lee's words. She had found him staring at her but couldn't turn her head, even though she blinked rapidly, her eyes looking like they were fluttering. But at his word, her mouth opened and she tucked her chin into her chest. She had to look away to hide her blush and nervously tugged at her hoodie.

When Lee cleared his throat, Ingrid looked up a bit. Cautiously at first until he saw Lee fidget. She smiled quickly but tried not to look directly at him as he spoke. But when he said his name, She glanced up and smiled a bit softly, nodding. She opened her mouth to speak. To tell him it was nice to meet him but then he reciprocated. He wanted to know her name!

"It's In-" She stopped and froze. She couldn't... really tell him her REAL name, could she?! Then he'd find out she was a wrestler and then her secret would be exposed. Her eyes darted around and she blurted out the first thing that came to mind.

"Yayoi!" She exclaimed. "It's .. It's Yayoi..." She immediately wanted to hit herself in the head. That was her land lady's name and one of the few Japanese names she was familiar with. But why did she pick a Japanese name!? She looked nothing like a Japanese girl! Why didn't she pick another Icelandic name? Why didn't she... She sighed and looked up at him nervously. Maybe for a stranger... that was good she gave a fake name? If things didn't work out, he would be none the wiser.

But what if things DID work out? Why was she even THINKING like that!?

Ingrid bowed deeply. "It's nice to meet you, Lee." She said and smiled at him. She had to get those thoughts out of her head and enjoy her time in this park.
"Ya...yoi??" the girl's answer is unlike what Lee had expected ,it suppose to be Sylvia ,or Valerie or something has to do with Europe thingy ,not Japanese but oh well...the girl mentioned her name and there's no way Lee could argue with her about it ,it is her name after all.

"Ya...yoi ,ok Yayoi hahaha" Lee laugh ,not because how silly it might sound for an European like girl but he laugh when he doesn't know what to respond and what to do next. Ohhh shit...ohh god ,Lee had gone quiet for a while and keep looking at Yayoi ,daydreaming at the other side. He supposed to take the girl inside the theme park instead of standing like an idiot outside the theme park like an idiot and catching cold.

A soft voice from Yayoi brings Lee back from his daydreaming and the tough guy begins to speak ,rubbing the back of his head with his right hand and laugh again but softly. "Yeah it's nice to meet you too Yayoi ,let's go inside ,we're going to catch cold if we keep standing like this hahaha" Lee grabs Yayoi's left hand without her permission and leads the girl to the main entrance ,leaving his Vespa along with other rides stay put in the parking lot while the two love birds are having the fun in the sun in the theme park ,not literally cause the sun just set minutes ago.

Lee as a man ,pays the entrance fee for both him and Yayoi ,leading the girl further into the theme park afterwards. "Well Yayoi...you get to choose which ride that you want to enjoy first but if you're brave ,let's try the ghost ride and see who screams first hihi" Lee sticks out his tongue ,taunting Yayoi to see if the girl brave enough to fulfill his request ,he'll be surprised if Yayoi accepts it cause he had never seen any female that brave enough to take the ride ,well at least taking it but closing their eyes for the entire journey.

"hihihi...this girl will be scared out of her wits but let see" thought Lee quite evil in his mind while he giggles ,seeing the girl reaction to it.
Ingrid blushed deeper as Lee began to laugh at her name. Was it silly ? She didn't know! She thought it was a little silly but what if he didn't like it? Would that even matter?

Ingrid nodded to Lee but was surprised when she was taken by the hand. She didn't move until she was tugged forward, feeling his firm grip. She tried not to grip too tightly herself. She couldn't let Lee know she had strong hands! Maybe Lee liked the shy types and if Ingrid wasn't gentle, she would scare Lee off! Why was she worried about that anyway? She was so confused! She tried to convince herself that if he felt her having a tough grip, he would learn her secret.

She raised an eyebrow at Lee;s suggestion and turned her head a bit. Psh... who would be scared of a dumb Ghost Ride? Who is this guy? It's obvious he just wants to hod onto me when I get scared! I wouldn't get scared! I'm not frightened of anything and I wonder if he's really just a perverted creep after all!? Ingrid thought about it and looked over at Lee.

Maybe... Yayoi is a little timid like that though? Would it be so bad to have someone to hold onto for a bit? She continued to wrestle with her thoughts before she stepped forward and pulled his hand, bringing him towards the ghost house. She turned around and began walking backwards slowly, looking at him as she tugged him along. She looked up and down his body and then into his eyes, her head lowered a bit and her cheeks flushed. "You're not trying to get me to get scared so I'll jump into your lap, are you? You should be honest!" She said suddenly before looking away nervously.

Honest... just like I'm being... She thought.
Lee happily follows the girl's lead and silenced by the question for a moment afterwards ,looking at Yayoi once again with pounding heart before he mutters in a polite manner and adding jokes in it ,"Well there's a time i thought about it but well hahaha ,i'm just kidding. Of course i don't expect you to jump into my lap". "Shoot! this girl could read my mind" Lee scratched the back of his head again and faking a smile to Yayoi while cold sweat is starting to pouring down on his cheeks.

"But...if you want to jump into my lap just be my guess hihi ,i won't let you fall cause usually girls are scared to this kind of silly stuff" Lee teased Yayoi even more ,taking the lead as a man should be when he is on a date but never forcing his will to the female he have a date with. Otherwise ,it'll be just another botched date.

Love?? Lust?? Lee couldn't differentiate his feelings to Yayoi ,whether it just lust because of her huge pair of glandula mammae (breasts in Latin) or pure Love at the first sight. Lee tries hard to keep his eyes away from Yayoi's huge .... ,really try hard so Yayoi won't be thinking bad about him and the date goes on.

"Anyway ,let's enjoy the ride ,shall we??" said Lee as he "erase" all of Yayoi's worries and hesitation ,taking the girl's hand for once again ,holding it tightly to show his dominance as a male and leading the girl into the ghost house ,paying the fees for it.

"Just tell me if you scared ,we'll get out of here"
"L-Lee!" Ingrid said and gave him a playful shove. "Y-You're not making me want to get on the ride with those kinds of words!" She said quickly and pulled her arms under her chest and hugged them close to her body. She turned away and followed him to the ride anyway. She looked at it and rolled her eyes.

He thinks I'll be scared here? Does... he have any kind of clue about girls?! But... He is pretty strong looking. Ingrid thought.

Ingrid turned and blushed. "What if you end up getting scared?" Se said smiling a bit. "I'll hold onto you, Lee." She said and took his hand and made his way onto the ride with him.
"Ehhh?? me scared?? well unlikely ,i never afraid of ghosts ,especially ghosts made of wax hihi" Indeed Lee never scare of anything or no one knows what does Lee scare of ,that's where he got the nickname or alias from. Anyway ,the two takes the same ride together and Lee still doesn't want to let go of Yayoi's hand ,he holds it tightly and feels the warmth of Yayoi's hand and blushes at the same time.

"I like...holding your hands...Yayoi...it feels like holding a pile of soft snow ,only it's warm" Lee begins to lose control on his words and let his male instinct took over and flirts with Yayoi.

The ride starts and screams are audible for both Lee and Ingrid from the rides in front of Lee and Ingrid's ride. Girls are screaming loudly ,it's dark but Lee can make out some males are trying to take an advantage by hugging their girlfriends or just laying her their right arms behind those terrified girls.

Lee clears his throat ,eager to try but decides to do it smoothly while the ghosts keep appearing themselves and try to make Yayoi scream. Lee slowly move her right arm behind Yayoi and then lays it on the top of Yayoi's seat before he firmly grabbing Yayoi's right shoulder and attempting to pull Yayoi closer to him.
Ingrid stepped into the ride with Lee and prepared for a pretty boring ride through the dark. Well, she blushed as the two young kids' legs touched as they nestled into the ride, maybe it wouldn't be entirely boring. Lee's tight grip was something else interesting too. It made her nervous but also it felt strong. She tried to make her hand seem as delicate as his words indicated. She blushed but in the dark it couldn't be seen.

"Lee..." She whispered...She turned her head and looked away. She didn't know what else to say. Her head was swimming a bit. The girlish screams echoed through the tunnel as lights flashed and poorly painted wooden ghosts dropped f4rom the ceiling and popped up from the floor. The groans of the looped audio track filled the air and Ingrid had to stifle a yawn. Though, every time she tried to settle in, Lee's heat made her turn and glance only to catch his face with her glance and sharply turn her head away with a blush.

She shivered a bit as she tried to figure out what she should do. She began to think that Lee was only interested in getting in her pants. That made her angry! She didn't want to be with some pervert! But he was also very timid and his attempts at chivalrous affection were at least cute.

Suddenly Ingrid began to feel Lee's arm try and creep stealthily around her arm. She sighed and tried to be oblivious to Lee's attempts. But suddenly she got an idea and tried not to chuckle aloud. When she felt Lee's hand on her shoulder, she bristled and let out the daintiest "Eeeeep!" She could muster as she turned and gave Lee a shove to push him up against the side of the cart they were riding against and flop against him.

Her eyes sparkled as she tried to look in Lee's eyes, her body against his as he pushed her hands against his chest. "L-Leee!" She said, panting softly, her cheeks reddening.
What a failed attempt just now ,Lee couldn't get his hands on her and pulls her closer to him as he expected. Lee was so failed in doing that and he's now so embarrassed and afraid that the girl might think bad about him but something better and unexpectedly happens to Lee.

Yayoi instead of giving in to Lee ,shoved the guy against the side of the cart and quite surprising Lee with her power. "Oooo...ohhh kay" The guy doesn't know what to say. The poorly painted ghosts that dropped from the ceilings and popped up from the floor are no longer attracting Lee's attention to it. Her attention is all sucked by Yayoi's delicate hands on his strong chest ,the guy couldn't even speak for a moment ,Yayoi could might feel Lee's heartbeat increasing with her hands on his chest ,pounding so fast that it'll make the guy's face turn into as red as tomato but too dark for Yayoi to see it.

The guy was out of words for a while but seeing Yayoi so close to her ,he thought she might be scared or something so he begins to tease her.

"You scared?? haha ,i know you would" Lee firmly grabs the girl's hands from his chest and kissing it soft before he returns it to her lap. "Hmmm...Yayoi...hmmm...sorry about earlier...hope you don't think something bad about me" Lee's attitude suddenly changed and he apologized to his act earlier but the screaming is maybe too loud for Yayoi to make out what Lee is trying to say to her.

The ride then suddenly having a sharp turn and bumps into something accidentally before Lee dropped his right hand by accident onto Yayoi's left hand while the ride is almost at its end.
Last edited by 6123 on Fri Jun 29, 2012 3:25 am; edited 1 time in total
Ingrid growled cutely at Lee's words. "Of course not! Who would be scared-eep!' She shut her mouth and sighed. This was so hard! She couldn't play the dainty, shy girl now that she was with Lee but... that was the girl that he liked. He liked Yayoi!

But when she kissed her hands, Ingrid gasped. "L-Lee!" She said weakly and pulled her hands away. "Y-You're going too fast! I don't even... we don't... I mean..." Maybe there was still some Yayoi in Ingrid?

But the ride jostled them and Lee's hands fell into Ingrid's lap. She blushed and tucked her chin down. She placed her other hand over Lee's and held it. Her head was turned. "Don't go so fast, Lee." She urged. "Otherwise.. you might blow a good thing..."
"hmmm....so...sorry....i was just ner...nervous and don't know...what to...do" Lee gasped ,thinking it might be so so stupid to expose his nervousness to a girl! He knows he suppose to be tough with Yayoi but Lee actually never sits this close to a female that he developed some interests at. This is his first time and he's so nervous like his heart is going to explode ,especially when Yayoi accepted his hand and held it together. Even it occurred by an accident ,Lee begins to feel some sort of acceptance from Yayoi ,nothing pleases him more than to know Yayoi sort of like him too! but only he needs to act smoothly and a little bit less aggressive next time to not to blow things up.

Finally ,the ride returns to the place where it began and the ride is over. Not too scary at all ,the guy might thought but it was a nice time with Yayoi and Lee seeks to get her to another ride with him again and making this fun last.

"Let's...let's go for another ride" The guy would say in blushes ,red cheeks ,remembering the embarrassing event when he did something earlier than he should be. Lee is a type of guy who doesn't quickly forget about what happen ,he often feels awkward if he thinks the embarrassing moment that he went through and will be become nervous as ever.

Lee and Yayoi exited the ride together but Lee is silent at the moment ,nothing came out of his mouth until they pass several secluded spots where Lee notices some couples kissing each other passionately ,some making out. Lee picks up the pace while passing those spots as his cheeks are now getting red as ever ,still thinking what happened earlier back in the ghost house. "I'm such an idiot" Lee pretty much cursed himself until he spots the extreme roller coaster that the theme park offers ,then he would turn his head around and looking at Yayoi with a faint smile while pointing to the roller coaster tracks which the rides would pass with a bunch of screaming and massively panicked people.

"Dare to enjoy the roller coaster??" The guy would ask ,he's a little bit terrified with roller coasters himself but he keeps thinking that girls would enjoy the ride with men so he pulled out some courage and inviting Yayoi to ride along.
Page 2 of 5 •

1, 2, 3, 4, 5


---
Permissions in this forum:
You
cannot
reply to topics in this forum