Champions & #1 contenders
Summer Splash interest in Natasha Loclear?
Mon Apr 09, 2018 11:30 pm by daemongirl
Well my girl hasn't missed a summer splash yet, would anyone be interested in a match with her? Open to just about anything match wise, just pm me!
Comments: 1
Been Out with the Flu
Sun Apr 22, 2018 7:47 pm by daemongirl
Just letting those I have threads with know I've been out with the flu since early last week, but I will be back to posting tomorrow.
Comments: 0
The Austrailian Mudslide is Back.
Sat Apr 21, 2018 6:20 am by Softsquad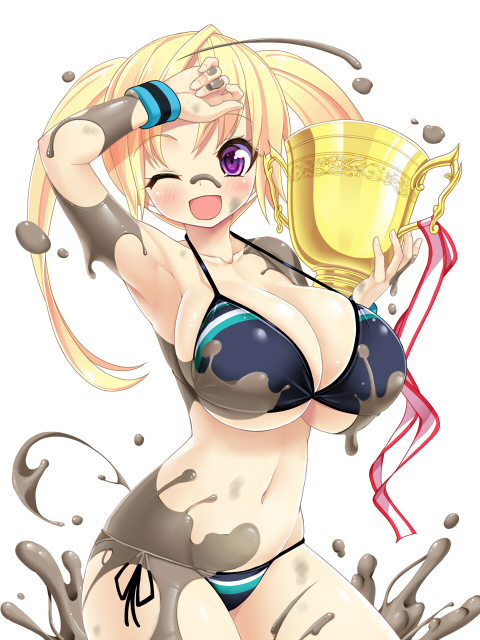 Granted that most of you won't know me or remember me, but I've had a few matches here and there some time ago. Well I think its time to become a regular around here and try to have some fun again, but at the same time keep coming back. Anyway I think its time to jump into some matches with Zoe Taylor, my mud wrestling character from Australia and get her back into the squared circle. Furthermore I will update my characters as I think some proper changes need to happen.
So if anyone would …
[
Full reading
]
Comments: 0
Page 1 of 4 • 1, 2, 3, 4


NHB SUBMISSION ANYWHERE MATCH
MAKING YOUR OPPONENT SUBMIT 4 TIMES ON DIFFERENT BODY PARTS AND NOT THE SAME ONES AFTER THAT, KO YOUR OPPONENT FOR THE WIN.
WINNER DOES WHATEVER TO THE LOSER.
Valerie Von Vulpes
VS
Alexander Vladimir
Another match requested to face her in the ring against someone by the name of Alex, pretty normal name but not sure what he looks like or how strong he is and considered this match to be a NHB submission anywhere match that she have to beat him by submitting four times on different parts of the body before knocking him out for the win to do whatever she wants with him, she isnt a submission type.... wrestling wise but more of sexual version, that could work against him heck it works most men in Tension and what makes him any different? Another man to play with or be played by him, either way shes curious of how strong and handsome this guy looks and see if he could handle the busty babe of AFW, the sexy vixen Valerie.
"Mmmmm come here body, show me what you got~" Thinking to herself as she heads to the ring wearing her default outfit for the match, revealing black top with opening for her top, black mini skirt that shows her black panties, stockings with boots, long gloves reaches up to pass her elbows, purple flower in her silver/sky blue hair. Very revealing for sure that men couldnt get their hands on her or even yet taking pictures of her body in every angle possibles, her crimson eyes laying over to the ring as she walks up to the ring steel steps and up into the ring, moving to the corner with her elbows resting over the top ropes, leaning back against the corner and looking out, waiting to see how much of a man he can be. "Mmmm mmmm".
Last edited by 6075 on Sun Sep 02, 2012 9:20 pm; edited 1 time in total
Alexander Vladimir, Russian ex-military personal and current security and wrestler of Tension, was brought in by the organization for a special request. It was concerning and upcoming match.
Alex walked briskly into Tension's office with a like annoyed look in his face. The room was dim lit, so he couldn't really see who he was talking to so he leaned near the doorway. Talking in his deep Russian accent. "You called?"

"Yes...you are the only one who is fit to do this job. Are you not?" The man seem to have a gruff tone in his voice. He must of been an avid drinker...Alex had guessed.

"What did you have in mind?"

"Hmph...there is a certain person I'd like to get rid of for awhile...." Out of the darkness, what seemed of paper, floated towards Alex. Snatching out of the air, Alex looked at the paper. It turned out to be a picture of a wrestler. "...her name is Valerie Von Vulpes." Alex blinked at the picture for a moment. A girl? Sure is a sexy beauty "How do you want me to get rid of her?"

"Hmm....I glad you asked...its already been taken of. I've set you up with a match with her later on today. It is an Ultimate Submission match..." Alex widened his eyes a bit. An Ultimate submission match? Interesting... "...I'm sure your aware of such a type of match? ...Well...for this match, you must make submit four times in separate areas of her body and after which you can't make her submit to the same body part again...After those you must knock her out. Its a no hold barred match...so please feel free to take it outside of the ring... wherever you may want to go so long as it doesn't leave the property. After the match is over...please feel free to do what with her, we want to make sure shes put on a nice and long vacation. Ofcoruse...if you succeed...we will sponsor more money towards your search for your mothers grave. I hope...these conditions satisfy you?" By this time, the unknown man had put a large grin on the face of the Russian. The very match itself excited him...the fact that he would get to toy with this busty girl in a match that he knew greatly about was enough for him to sign up. The money for his mother was just an add on. He almost could not contain himself. Placing a thumb in the air he said to the unknown man. "Consider it as good as done..."

"Hehe....Very good...Oh...we have decided you a new call name as well..."
[align=center:28lnf8sw]~~~~~~~~~~~~~~~~~~~~~~~~~~~~~~~~~~~~~~~~~~~~~~~~~~~~~~~~~~[/align:28lnf8sw]
"Hailing from Russian...weighing at 286 pounds at a height of 6'5 feet...ALEXANDER VLADIMIR!!!
AS his intro [url=http://www.youtube.com/watch?v=12-n0_LvxwU:28lnf8sw]song[/url:28lnf8sw] blasted through the loudspeakers of the main ring, the crowd erupted into a frenzy as the Russian Arose from a blanket of silver sprinklers that blanketed the stage. He wore is normal ring attire: cameo-style boots with green pants and finger less gloves, his huge godlike body exposed for all of those in the audience to awe at...a red bandanna covered his forehead; his blond hair tied up in a ponytail. He walked briskly down the ramp with a wide grin...his eyes seemed to be fixed on one and only person, Valerie. As he jumped up onto the outside skirt, the ring vibrated slightly, the announcer read off his call name. ".....THHHHHHHHEEEEEEEEEEEEE BLOOD THIRSTY BEAST!!!"

Alex, with one motion, lifted himself over the rope and entered the ring. He took a few moments to stick his fist out to the cheering crowd. With that over...he stared at young sexy girl and said. "Hmmm...Hello there fresh meat...."
Last edited by 10463 on Sun Jun 10, 2012 2:08 am; edited 1 time in total
Valerie looking out to hear this guy Alex introduction playing, then his large statues making a appearances which looks like a huge guy military looks for his attire then making his way to the ring, he looks big and strong, probably too strong for Valerie but she isnt afraid for a challenge since this match is going to be tough for sure, he came into the ring sizing up towards her and hearing his words, she feels a good tingles in her body as she slowly yet bravely walking up at her with a smile on her face in her sexy skimpy black dress outfit barely holding her busty breasts and quick peek of her panties too.

"Well well look who brought out the big boy, must bigger than most I believe, Alexander is it? Im Valerie, think you can handle me?" She slowly circling around his body with her hand sliding across his muscled chest, arms, back just scanning him to see what he's made of obviously muscles but curious what he could do against her and would seem he could power her a lot but with this submission match, it wouldnt be too much a problem for him, she finally make it in front of him and looking up at his face still smiling. "You looked well too fitted for this match, maybe you should face someone your own size and strength but.... for a different kind if size and strength....." her hand goes down to feel his crotch of how big and think it feels. ".... maybe you can show me your other 'man' after this match is over~" Giggling to see how would he respond to the sexy vixen Valerie.
As the crowd settled down for the match to begin, they where kept in awe, especially the men that came to see the match, what the busty Valerie was about to do to Alex as she walked up to him.

Down at ring ground, Alex grinned heavily as his sexy opponent walked up, seeing to size him up to some degree. She was brave doing so...many stayed their distance from him...but seemed to be fearless...Good...I like prey that has a personalty

"Alex is fine...yes I know of Valerie. As far as being able to handle you...tch...perhaps I should have asked that question." He then watched as she traced his delicate fingers around the huge muscles of his upper body. He was enjoying being touched by this young and quite animated girl. If he didn't know any better...by the time he had beaten her to a pulp, made her submit several times, and ko'ed her...he just might be aroused enough to take her body as use it for whatever he felt like. Yes, he had a very good feeling about that. He widened his eyes as she suddenly grabbed his crotch. His cock perked up a bit as she asked him about "showing his other man". The crowd seemed to gasp...more like the men of the audience...wishing they were touched like that Tch...read my mind didn't you? He chuckled as he answer."Perhaps....given that your still conscious for when I do....I wouldn't want you to miss it...but then again your gonna get beat into a pulp tonight....No hard feelings when I completely annihilate you yah? Of coruse...after that your ass and body are mine!!"" He laughed a bit as he parted ways with her, making his way to his corner of the ring, waiting for the starting bell. Once that got set off...she would be all his.

He stretched for the remainder of the time they had left.

DING!!! DING!!!! The bell rang, signalling the start of the match. Alex confidentially hulked out of his corner to meet Valerie at center ring. As he does he smirks at her. "So...lets see what your littlesexy body can tell girl!! LETS GO!" As he finishes says that, he throws his hands up, hoping to connect with hers. He was going to test her to see if she any comparable strength or not.
Last edited by 10463 on Sun Jun 10, 2012 3:25 am; edited 1 time in total
(Sorry for the double post ><)
Last edited by 10463 on Sun Jun 10, 2012 2:01 pm; edited 1 time in total
Valerie felt his muscled body then down to his manhood and its quite bulge for sure then hearing him of what he'll do to her as she chuckles responding back. "Oh really now? Would love to see you try and if you fail, you'll be mine instead!" Now both Alex and Valerie prepare for their match, its going to be tough for Valerie but she'll try whatever she can to beat the hulky man as she backed up just to prepare for their match, need to think some sort of plan to take him on.

Once the bell rings, she moves toward to the big man Alex and could see him bringing his hands up which it didnt take much to raise it up since he is bigger and taller than Valerie, she reaches up to get her hands locking fingers with his to show some strengths but of course its not going to be easy for Valerie and her strength wouldnt match with his muscles at all so as soon she tries to lock up with him she'll try to strike her knee right between his legs for the hard low blow cracking his manhood just to show who's boss. "HUMMMM!"
Alex smiled. He was happy that she accepted the test of strenght. Compared to him, her arms were small so as encased them all one would be able to see would be her sexy fingers. He grinned at he as he started to apply only an once of his might srenght onto her body. He thought he was in control, that he had power over her...that is until her knee rammed up into his crotch. Alex sounded like he choked some something. "Gack!" The large Russian lost strength in his arms ass he collapsed to his knees, his head coming at the height of her large breasts. He went to hold his mandhood..looking down between her thick legs at the ground behind her. This was an embrassing way to start off the match.

The crowd seemed to think the same way as a waves boos seem reasonate. It wasn't because of thr dirty move but more towards the fact that great Russian had fallen to his knees due to such an attack. As Alex continued to hold his manhood, angry bulit up within him....a wide grin came over his face, which Valaire could not see, as a more sadistic side of him started to emgere.So you wanna play it that way huh...well...your fucked... he clenched his fist...something strained against his kuckles...something metal.
She wanted to play with the big man even though she have a feeling she would be dominated pretty easily thanks to his muscles filled with strength, in his military like looks showing his strong body covered in his muscular pumped body just hard and tight waiting to explode or something but she got this covered for sure against this Alex guy.

Valerie smile at him after striking her knee right between his legs crushing the nuts of his manhood, could hear him took it pretty bad and suffered in great pain as he grunted out from the blow. "Aww whats the matter big boy? It hurts that much? Maybe I could ease your pain away then~" Sliding her hands up to his shoulders and placing her hands onto his head, looking down at his eyes with her sweet sexy smile.

She then trying to get a hold of his head and using her knee once again to slam right up right at his face and chin, just trying to soften him up and make him bleed maybe, just mostly wanted him to slow down quick and fast from the start hoping to weaken him.
Alex clenched his fist as she rammed his knee into his face. However, instead of him yelling in pain, he started to chuckled. That chuckle then turned full out laugh as he looked up at the sexy vixen and said. "Should have focused more on huge package bitch!" He then stood, however he angled his head towards her face and if sucessful, would ram his hard head into her face. The audience gasped from the powerful hit. As he got up, he would grabbed her head bringing it towards him, bringing his knee up he rammed it deep into Valaires stomach, he would then continued his barrage by continuing to knee her 3 more times. He then pushed her back, but as he did he pulled his fist back; his gloves containing lead shots in his knuckles as he punched her across the face in a savage left hook. Alex did a quick thrust in the forehead before uppercutting her hard in her upper abs, in which he lifted her off her feet slightly. Letting her dropped, he crossed his arms. "If you wanted to warm me up....you should have just asked sexy..."
Valerie uses her knee to keep striking at his face but only sound from him is not from yelling of the pains but instead his chuckle then escalating to laughing out loud and listening to his words, she paused for a moment in confusion as well concern but then she goes try for more hard hitting knees to his face and out of nowhere his head came up right to her pretty hot face. "AUGH!" Knocking her back away from Alex as she stumbles backward and before she could react her head was grabbed and pulled down for his own knee slamming up to her stomach doubling her over and over with each blows knocking the wind out of her and so much painful than kneeing him in the face. "UGH OUFFF OUFFFF!"

Soon she felt herself being pushed back wanting to drop down onto her knees but she wasnt able to since Alex follow up with his hard punch across the face which feels more than just hard bone, felt like metal of some sort! Could cracked her pretty face very easily but thankfully it didnt or make her bleed just adding bruises to her face that cause her to spin in circle once and stopped her with a hard uppercut to the stomach before dropping down onto the mat facing down covering her stomach gasping for hair, doesnt know where shes at right now as almost everything out of place only thing thats correct is her groaning from the pain. "Ohh......"
Page 1 of 4 • 1, 2, 3, 4



Similar topics
---
Permissions in this forum:
You
cannot
reply to topics in this forum