Champions & #1 contenders
The Austrailian Mudslide is Back.
Sat Apr 21, 2018 1:20 am by Softsquad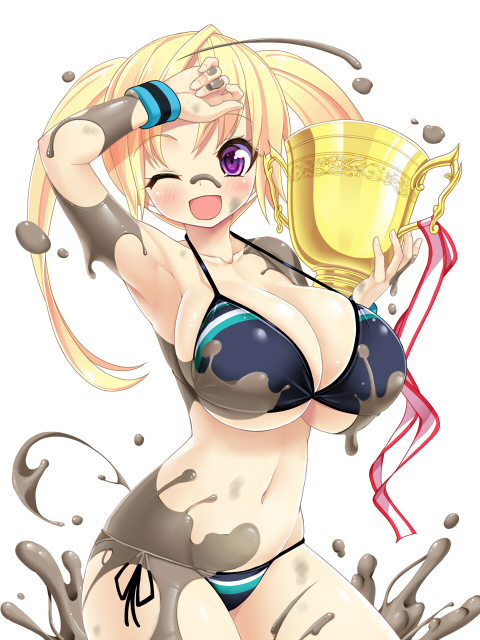 Granted that most of you won't know me or remember me, but I've had a few matches here and there some time ago. Well I think its time to become a regular around here and try to have some fun again, but at the same time keep coming back. Anyway I think its time to jump into some matches with Zoe Taylor, my mud wrestling character from Australia and get her back into the squared circle. Furthermore I will update my characters as I think some proper changes need to happen.
So if anyone would …
[
Full reading
]
Comments: 4
Looking for debut thread.
Sat May 12, 2018 4:28 pm by Hedgehawk
Hello All.
I am looking for a debut for my girl Trinity (http://www.afwrpg.com/t18107-trinity-cordova#495678).
This doesn't have to be a match, it could be a gym battle, interview or anything else. I just want something to help get Trinity off the ground. If you wanna plot feel free to reply to this message or fire me a PM.
Many thanks in advance and thank you for reading my message,
Hedge
Comments: 0
Page 1 of 2 • 1, 2


Taylor watched Johnny's victory from out in the stands. She was on her feet several times during the course of the match, and was scolded more than once by the people behind her. She couldn't help it. When he won, she was back on her feet and screaming at the top of her lungs.

"THAT'S NOTHING! YOU SHOULD SEE HOW HARD I'M GONNA BANG THAT DUDE LATER!" She screamed, pointing at Johnny. She bounced up and down and clapped her hands and cheered and whistled and the next time the prudish people behind her began to say something, she put her hand in the middle guy's face and shut him up with his own indignation.

She made her way to a door that led to backstage where a security guard stopped her, and for a moment she fumbled for ID but she'd forgotten her Friction ID card. She tried giving the guard a big grin to see if that would ring any bells, and once he noticed the blue hair he let her through. She met up with Johnny, and the two of them took a cab to one of the "Tension clubs", clubs that were in close proximity to the Tension building and were used to high Tension wrestler traffic after events.

After some spirited making out in the cab, Taylor became quiet. She sat with a faint smile on her face and looked out the window and at Johnny, but it was obvious something was on her mind.

"Johnny..." She began. "I don't know. Like, I don't know if I'm kind of surprised with how far you went in the match, or maybe a little weirded out by it, or if I'm just incredibly turned on. Well, I AM turned on." She grinned and slipped a hand under his shirt over his abs. "But really... I don't know. I hadn't really thought about your matches like that, and like what you might do and stuff. What you were saying to her didn't really get picked up by the mics or anything, but... You really messed her up. Don't get me wrong, I'm so proud of you for kicking some ass and everything, but... well, I did not need to see that chick's clam shell sticking out of her goddamn suit. Jeez. How does that even happen?"
Johnny was feeling really good after his match with Lisa. It was hard fought and he was elated to get his first win. That was, until, he stepped out of the ring. Then suddenly it hurt like a bitch to win! He got to the backstage area and a doctor patched him up quickly. He wouldn't let them keep him long, he knew he had to go see Taylor. Getting "Patched up" amounted to stopping his bloody nose and putting an ice pack on his swollen eye for about two seconds. He hopped in the shower, changed into some street clothes and headed out.

He and Taylor were going to go to an after party, which felt a little weird considering the last one they went to. Thankfully, this time, he wasn't dragging Lisa along with him but still. All that disappeared in the cab though once lips clashed and the two shared passionate kissing.

But it broke and soon Taylor was filled with questions that Johnny wasn't really looking forward to answering. Mostly because he hadn't even asked himself those questions yet!

Johnny couldn't help but grin. "Man, I don't even know about that. Lost a damn shirt cause of it! I wasn't tryin to rip it though, honest, babe! Thing's made a wet tissue or somethin I swear!" He chuckled nervously and scratched the back of his head before turning and looking out the window. He slid his hand under his shirt as well and pressed it against Taylor's.

"Yeah mean, I dunno and shit. It's like... I don't know if what I did was cool... or worth it. I fucked her up pretty bad and that like, ain't awesome. If it comes down to me havin to mess up some chick's face or even worse, strip her down and humiliate her to win, then I dunno how much longer I can wrestler for real. Chicks, man, they'll do anythin to win and they know that dudes aren't gonna fight back as roughly." He looked at Taylor and shook his head. She'd done the same thing with the same knowledge but he wasn't worried about that really.

"Feels like if I wanna get anywhere, then I gotta be a sick perv or an asshole and... I don't think that's cool, man." He looked up at Taylor seriously. It was obvious he was very conflicted inside. "W-what do you think, babe?" He asked genuinely in need of her opinion.
Taylor thought hard about it before responding. She eventually figured out what she thought it was that bothered her.

"Um..." She began, and then turned to look Johnny in the eye. "I know you're not, like, that kind of guy. Like... A lot of things scare me about you in Tension. I'm gonna be totally honest, I'm scared to death that you'll find some super hot chick that just gets under your skin and suddenly I don't do it for you anymore. But... I'm not afraid of it, but there is kinda like, some worry or something that when things start getting heavy like that, that you'd do something... too much. Ya know?"

She fidgeted. She curled her fingers under the hems of her really short cut off denim shorts and gave them a tug. They covered just enough in the back, and were cut slightly shorter in the front, to show every inch of her long, toned, silky legs. They sat low on her hips as well, and let some of her flat, defined belly show under her black, stretchy tank top. She had a little silver jewel in her belly button, on top of her small eyebrow ring and tiny nose stud.

"But, I trust you. I don't think you'd really let things get out of control and really try to hurt someone... like, not just physically, you know. Because you're not that guy. I know you're too good a guy to want to actually hurt people. We compete, ya know, I don't want to hurt people just for the sake of hurting them, but we're competitors. We go out there to win, and to look really, really, ridiculously good doing it." She bit her bottom lip and gave Johnny a mischievous look. "But... you winning like that, riding her out and making her give... Damn." She slid a hand up the inside of his thigh, all the way up, and slipped her fingers under the waist of his pants. She leaned in close to kiss him, hotly, deeply with her tongue.

"Maybe sometime you could do something like that to me." She whispered in his ear, and grinned like only a girl who knows exactly what she wants and how she'll get it could.
Johnny listened very carefully to Taylor's words. It was something he was worried about as well. If she had been in Tension, he'd be worried too. Would she find some dude who was more awesome than he was? That would suck bad. Was he even being fair to her by staying in Tension? He definitely thought about that so it was good to get her take on the troubling situation.

"Babe... that's like..." He stuttered a bit. "Yeah... I'm glad that you're so cool, and junk." He said smiling. "If The roles were reversed man, I dunno what I'd do. I'm glad that... you like... trust me and stuff. And like, believe me..." He said. "I learned a lot. I have been ever since I met you and it's been cool. If there was some chick that was like super hot or, whatever, I wouldn't even notice. Besides, there's no way she's hotter than you babe! Shit."

That was about all he could manage before Taylor's advances shut him up. Soon he found her kissing him deeply and he pressed up against her grabbing her thigh and sliding it just under her skirt so he was grabbing tightly onto her inner thigh.

He couldn't even handle it. His pants were already tightening. Taylor could push his buttons way better than anyone else. Hell, sometimes just her sultry look was enough to set him off.

As she whispered in her ear, that was the last straw. "Oh?" He said. He wrapped his arm around her head and tried to wrestle her to her back right int he cab. He wasn't going to lay her out right then and there, the thought tempting enough, but he tried to get her into a bit of a head lock just to keep her pinned against the back seat bench. He pushed his head down to press his lips against her ear. "We'll have to arrange another match then." He said. "Or...we could just have our own little match when we get back to my place." He said as he let his hand slide up the back of her thigh so he could put his hand on her ass.
Taylor let Johnny force her onto her back and tried to wrap her leg around behind him in the awkward little space. "Oh my god, Johnny, I can't wait." She breathed in his ear.

She slid a hand down his chest and stomach to his pants and pressed her palm firmly against his crotch and rubbed up and down. "You're sure you're not too worn out? From your match with the girl with the huge breasts? I think I have something you might like, though. I got a new outfit just for you. Maybe we can try it out tonight." She whispered and giggled. She had left her stuff in Johnny's apartment already. She couldn't wait to see what he thought.

The cab slowed to a stop in front of the club. "Gomenasai! Kore wa... o-ikura desu ka?" She said in her very best attempt at Japanese. The cab driver responded with an amount, but Taylor hadn't learned her numbers well enough to understand it. She looked at Johnny for help.
Johnny bit his lip to keep from making rather inappropriate noises in the backseat of their cab. It was hard, though, when Taylor pushed against his stiff pants. He had to close his eyes and bite his lip. Dammit! But her words had him grinning and he shrugged it off like the tough guy he thought he was. "Please. I broke just enough sweat to make my abs look smokin, babe!" He said and then busted up into a laugh. His face was still swollen and sore. He grabbed her wrist and pushed his hips up against hers so she could feel him pressing against her tight jeans. He couldn't help but feel himself throb a bit at her words and pressed a little more. "We can definitely try it out tonight!" He said with a grin and kissed her.

But the cab stopped and he heard her words. "Shit!" He said. He reached into his pants, fumbling ontop of her as he tried to both sit up and grab money. He handed the man a crumpled wad of bills and nodded. "Arigatou gozaimasu!" He said eagerly and crawled out of the cab backwards and then pulled Taylor out as well.

Suddenly he was feeling a little embarrassed and bowed his legs inward. "Soh yeah, this place seems cool and junk." He said looking up at the club sign. "
Jess was having a great time. She'd been at the club for over an hour and hadn't paid for a single drink, she never did, and she had divided her time evenly between drinking, dancing, and flirting.

She had only just arrived in Japan a week ago, she spoke almost none of the language, and she hadn't yet received a date from the AFW for her Friction debut. A normal person might've been a little worried, especially with so little money saved, but Jess wasn't. She wasn't any good at worrying. She would do what she had to do to get by, and everything would be fine.

Her hair was newly dyed a peculiar shade of green. It seemed appropriate for Japan, lots of people did that sort of thing, and she chose a color that would help her stick out, while still fitting in. She'd chosen her name, Haruki Amai, in much the same way. She wanted a name the locals would be able to identify with, and Jessica Ciora would only make her sound... American.

She was dressed in a pair of super expensive, super dark designer jeans that fit every curve perfectly with a wide leather belt, and a tight orange t-shirt under a flirty, black, motorcycle-style leather jacket. She rarely left the house unless she was dressed to impress, and she'd got plenty of attention for it already.

A song ended, and she made her way to the edge of the dance floor, toward the front door, just to get some air. A familiar face walked in, on the arm of a yummy Japanese boy. It took Jess a second to make sure it was her, but the bright blue pigtails were a dead giveaway.

"Taylor Parker!" She cried, and made her way over to the two. "An American, ohmigod this is awesome. Hello! How are you? I'm Jess, I'm going to be in Friction soon. What's up?"

Taylor eyed the bubbly Californian cautiously. Fans were fans, but Friction wrestlers always warranted some suspicion. "Hey..." She said and gestured back and forth between herself and Johnny. "Everything's good, we're just trying to have like a night-"

"Oh. My. God, girl, you are looking tight! Damn! You look just like on TV, you have got to show me your ab workout sometime!"

Taylor was stunned, rendered speechless by Jess' unbridled enthusiasm. She'd never met this girl before, and she was talking like they were friends. It did set off an alarm, somewhere in the deeper recesses of her mind, but she found herself quickly letting down her guard.

"Um, yeah... Sure, I guess." She said, looking Jess over and sizing her up. "You look pretty freaking good too, man, damn. You are rocking those jeans, wow, and I love your jacket!" Taylor said, quickly forgetting her reservations.

"Ohmigod, you are so nice. Ya know, people probably talk about your hair a lot? But I totally love what you do with your eyes! They're always so, like, there, it's like dark and sexy and punk-"

"Wow, thanks! That's... ya know, kind of what I go for." The two girls giggled together and Jessica leaned in to touch Taylor's elbow. She turned her attention to Johnny, as if she'd almost forgotten he was there.

"I'm sorry, sweetie, I didn't mean to ignore you! You're probably not used to being ignored, are ya?" She said with a suggestive wink. Once she got a better look at Johnny and the finer points of his physique, her body language softened up even more. "Oh, are you two together? 'Cause if not..." She purred at Johnny. "Hell, maybe you'd be up for a three way sometime, you look like you've got the stamina for it!" She said and laughed out loud. It wasn't really clear if she was kidding or not.

"Well, c'mon, lemme buy you guys drinks! Come hang out with me! Unless... I mean, if you want to be alone I'll just wander off. But if you wanted to be alone, you wouldn't have come here, right?"
Johnny was gearing up to have himself and Taylor own this place. These "Tension Clubs" generally had feed on somewhere and he could stroll in with the hottest chick in Friction on his arm and be king of this castle for the night.

They got inside and the cool club air felt good on his face. He looked around. Normally he'd scope out the hottest looking babes, but he didn't really have to now with Taylor. He just wanted to see what the bar was like and make sure they had a good spot on the dance floor. But before he could even begin to look around, Taylor was assaulted by some green haired chick. He thought it was a fan. That was kinda cool. Taylor was a pretty big deal in Friction but he'd never really seen all the celebrity stuff that came with being a top ranked professional wrestler. But then, Taylor started getting all giggly and talkative. That was a very strange to Johnny. Maybe they knew each other? But that didn't seem right from what she was saying.

Whatever. It was cool and the chick was kinda hot, not that it mattered. Taylor seemed happy enough. He could wait around for a bit while they talked. But then the girl turned her attention to Johnny. Johnny's face blushed instantly and he avoided eye contact, turning his head a bit.

"It's cool man..." He stuttered. He hadn't really felt ignored. "Well, I...." He wasn't exactly used to being the center of attention either... "Yeah, we're like, together and junk." He said squeezing Taylor's hand. But The girl's questions didn't stop. Not only that but they became even more personal! Johnny did his best. "Well... yeah I probably do... I guess but... It's cool... man.. Um... Taylor's... like yeah... is enough to... like.. test my... stamina and... shit..." Johnny looked at Taylor and shrugged. That was the best answer he had for such an awkward question. He was pretty sure he had achieved what could be called plausible deniability.

But this green haired girl was persistent. Johnny looked to Taylor once more. "Like... do you know this chick or something?" He asked. That was his way of passing the buck. He was sorta hoping to have some time with Taylor, but he'd definitely get some time with her later tonight. Maybe hanging out with some people might be fun. "You know." He added. "Not that you aren't cool and junk."
Jess headed off toward the bar to order drinks for Taylor and Johnny, and Taylor wrapped both arms around the crook of Johnny's elbow and leaned her head against his shoulder.

"I don't know her at all, but she seems pretty cool, right?" She said, looking up at Johnny. "Maybe we could just hang out a little and have a couple drinks and dance, and then I promise I'm all yours. If you still have the energy after that." She said, and poked him in the ribs before taking off after her new friend, dragging Johnny along with her.

Jess turned around with a smile and stylishly manly mug of dark-colored beer in one hand and a bright, neon blue-colored drink in something like a martini glass in the other. She gave them to Johnny and Taylor, turned back to the bar, threw back a shot, and then grinned at the two wrestlers.

"So are you guys both wrestlers? Did- wait, you are a wrestler! That was you! Before, like, in the... yeah!" Jess exclaimed, nodding as she finally managed to place Johnny. She laughed loudly and fell against Johnny for support. "Well, hey, sweetie, let me know if you're ever looking for a valet, or a manager. Or a sparring partner." She added with a wink. "Nice pull, girl! Time to dance."

Jess snagged Taylor by the arm and led her out to the dance floor. Taylor was no slouch on the floor, dancing was one of her favorite things to do, but Jess was a professional, more or less. The two athletic girls began dancing to the fast-paced, bass-heavy house music, each one feeling out the other.

"So Jessica, are you in AFW to like... valet and stuff?" Taylor asked, having to shout over the music.

"It's just Jess." She corrected. "And no, I'm a wrestler! Can't you tell? I just do that other stuff on the side, sorta."

"Oh, okay. Cool!"

As time went on, their dancing became flashier and more competitive. A small pocket in the crowd began to form around them.
"Guesso." Johnny muttered as his hands slid easily around Taylor's waist. She did seem alright, but who could tell these days? Taylor seemed to know exactly what to say though. "Yeah, sounds cool and junk." Johnny said with a grin. it might be nice to meet people. He nodded his head eagerly. "No freakin way am I going to leave you hangin tonight babe." He said and slid his lips onto the top of her head just before Jess got back.

Johnny took his mug, nodded his thanks and took a big swig before wiping off the foam with is arm and letting out a pleased sigh. He couldn't help but grin at being recognized though it followed with a blush as he lowered his head. "Yeah, man... like.. my face still hurts from havin some crazy chick pound it in and junk." He said. "S'cool though, like thanks... and junk." He said and scratched the back of his head with his free hand.

Johnn's eyes widened when Jess asked him her questions. "Ahh... uh..." He glanced over to Taylor and shrugged and made sure that both his hands were visible as she made contact. 'Yeah, s'cool n shit." He muttered before Jess whisked away Taylor.

Johnny watched Taylor and Jess dance. it was exciting to see them get close. He'd go in after he chugged down the rest of his beer or the crowd was so thick that he couldn't see. Whichever came first.

When he did, he was lost to them and didn't notice the blonde man approaching him. He slid next to him and looked him over.

"Oi... Oi Johnny! How ya doin man?"

Johnny was oblivious. He was fixated on the dancing girls. The blond man was handsome and dressed in purples that weren't loose but didn't show off his figure either. He was tall and kind of lanky but looked dashing with his unkempt blonde hair and charming eyes. He decided to give Johnny a light shove and Johnny turned and reared his fist up. "Yo, watch where you're going-"

He stopped and his frown turned into a smile. "Oi, Shinobu!" He said and the two embraced in a manly hug.

"I saw your fight man, brutal stuff. Please tell me that I don't have to go through that too!"

"Dunno man. Hope not. How's it been goin? Get a match yet?"

"Not sure if I'm ready but uh..." Shinobu had noticed that Johnny had been preoccupied and turned to see Taylor and Jess. He grinned. "Oh, you dog!" He said, jabbing Johnny in the ribs with his elbow. "Let's go on the prowl!"

Johnny laughed, a little louder than he should of and slid off the bar. "Dibs on the blue haired one." He said with a chuckle as the two boys approached the dancing girls.
Page 1 of 2 • 1, 2



Similar topics
---
Permissions in this forum:
You
cannot
reply to topics in this forum