Who is online?
In total there are
32
users online :: 3 Registered, 1 Hidden and 28 Guests :: 2 Bots
Deus001
,
kerflubble
,
LunarWolf
Most users ever online was
390
on Tue Jan 02, 2018 2:02 pm
Champions & #1 contenders
Back after a long absence
Sun Feb 11, 2018 10:08 pm by Iron Soldier
First off, I apologize to my friends and roleplay partners who've been left hanging. Any desire to cancel old threads is completely understandable.
I've been struggling with a serious health issue the past several months. There was a long period where things would seem to improve only to relapse, delaying things further. All that aside, just wanted to let people know I'm around again and to contact me via PM or Trillian - ironsoldier, if anyone wants to get things going again.
[
Full reading
]
Comments: 9
Offline for next week or two
Tue Feb 13, 2018 11:17 pm by peek6
Comments: 0
Looking for a match
Sun Feb 04, 2018 9:23 pm by GrandAkumaShogun
Hey there everyone I was looking for someone to take on my newest guy Imai. Get in touch if you're interested.
Comments: 3
Page 1 of 3 • 1, 2, 3


Standard Match
Win by Submission or Pinfall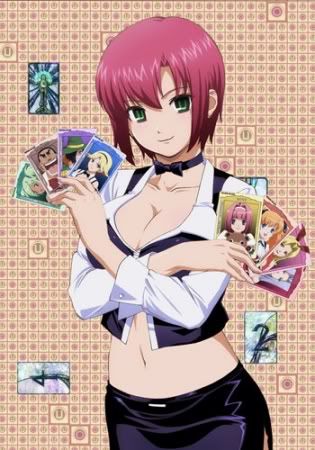 Lisa stood backstage shuffling a deck of cards while she waited for her match to get started "Hmmm i wonder what my opponent is like?" Lisa thought to herself before she pulled a card out of her deck "I wonder if Lady Luck will be on my side tonight or will she favor my opponent?" Lisa then looked at the card she drew and saw it was a joker "Well thats interesting!" Lisa was about to say something else when her music began to play and she decided it was time to head to the ring. Lisa stepped out into the arena and waved to the crowd before casually throwing cards out into the audience as she made her way to the ring. As Lisa entered the ring she waved to the crowd and yelling "So who is feeling lucky tonight?" Lisa said before recieving a giant cheer from the crowd "Now lets see what my opponent is like."

_________________
Characters

The Den
As her opponant was making her entrance Zero Kotobuki stood backstage making her final preparations, tightening the ropes to her MMA gloves as she awaited to make her entrance. She had no idea what kind of opponant she would be facing tonight, having not heard anything about her before hand. All she knew was she would be standing between Zero and victory, something the woman almost pitied her soon to be opponant for. Like most of her opponants Zero would leave the beaten and broken behind her as she made her way to the championship.
When her music final did start Zero would make her way out of the entrance. She was clad in her usual outfit consisting of knee and elbow pads and her form fitting black one-piece, which did little to hide her toned body from view. Her normal emotionless expression was ever present, but her unique yellow eyes burned with intensity. She would make her way to the ring amongst the cheers of the crowd but Zero would hardly pay them any mind, and once she got to the ring she would hop on the apron and climb through the ropes. Making her way to her corner she would come to eye her opponant, who was dressed rather oddly for what was supposed to be a wrestling match.
Regardless of her appeareance, Zero was ready to crush her, and show these people just why she was called the Mass Murder Weapon.
Lisa watched her opponent enter the arena and she had to say that she looked rather intimidating "Hmmm this could be a tough one." Lisa said as she began to stretch in her corner while waiting for Zero to get ready "Well i might as well go introduce myself." Lisa said after she finished her quick stretches "Hey i'm Lisa, Let have a good match today alright." Lisa then extended her hand for a friendly handshake hoping that Zero would take it.

_________________
Characters

The Den
As Lisa came over to her Zero was in the middle of stretching, as well as throwing a few shadow punches at invisible opponants. When her opponant did come over, Zero paused in her warm ups to stare at the girl with her cold yellow eyes. She kept her gaze on Lisa and at the hand outstretched to her before she would extend her own arm to grasp Lisa's hand.

"Good luck to you," she said simply, and taking her hand away she would soon hear the bell ring, signalling the beginning of the match.
Lisa continued to smile as she shook Zero's hand but she had to admit that the girls cold eyes weirded her out a bit "Well ok then. Hope your ready for a beating." Lisa said in a joking manner before she headed back towards her corner ready for the bell to ring. Lisa didnn't have to wait long for as soon as she reached her corner the bell rang and Lisa turned around immediatly and stared traight at Zero "First move to you." Lisa said as she waited for Zero to move while adopting a defensive stance.

_________________
Characters

The Den
As soon as the bell rang an immediate change came over Zero. Her face hardened and she settled into a fighting stance, her fists raised at the ready and her feet apart. Her eyes narrowed on Lisa, promising her a hard fight as she moved out from her corner to meet Lisa in the middle of the ring. With Lisa offering the first strike Zero would happily oblige. As soon as she was in range Zero would fire off a few quick jabs at Lisa's face, throwing two lefts and two right straights. Whether these hit or not, Zero would complete the combo by delivering a kick with her powerful leg straight into Lisa's ribs.
Lisa watched Zero closely and as her opponent came at her Lisa threw up her arms to block Zero's punches but her opponent was stronger than her and Lisa was forced to take a step back but at least she blocked the punches. Lisa however didn't see the kick coming and it hit her in the ribs hard causing Lisa to double over holding her ribs in pain "Nice kick" Lisa coughed out before summoning up her strength to fire a punch right at Zero's solar plexus.

_________________
Characters

The Den
Zero's powerful kick landed solidly on Lisa's side, which seemed to cause the woman quite a bit of pain in return. As an expereinced fist fighter Zero's most powerful fighting traits were her blows, which she would be happy to share with Lisa.

Zero's eyes were focused on Lisa's movements when she was doubled over, so it was easy to see her opponant's punch coming. Swiftly she would dodge to the side to avoid the blow, and then deliver a fierce counter in the form of an elbow straight into's Lisa's face. Then, to quickly follow up, Zero would grab a hold of the other woman's shoulders and deliver a devastating knee straight into her gut.
Lisa was quite surprised when Zero dodged her punch but by the time she saw Zero coming in to strike again, Lisa dropped to the mat voluntarily to avoid the elbow before rolling away from Zero to try and regain her bearings "Ouch thats quite a punch you have there." Lisa would said as she quickly got to her feet to enter another defensive stance "But don't worry i'm just getting warmed up."

_________________
Characters

The Den
Zero made a "Tch," sound when Lisa ducked and dropped to the mat, getting out of range of any more of her blows. She immediately brought her fists back at the ready in case Lisa attempted anything else, but her opponant seemed content to stay where she was for now. Zero narrowed her eyes and clenched her fists, saying nothing to the girl as she complimented her. The stoit woman clearly was not interested in chatting.

Moving in again, Zero would attempt to throw another powerful kick, this one aimed at Lisa's stomach, and if that connected she would attempt to catch Lisa in a simple but strong headlock.
Page 1 of 3 • 1, 2, 3



Similar topics
---
Permissions in this forum:
You
cannot
reply to topics in this forum