Champions & #1 contenders
Something I've Noticed
Tue Feb 21, 2017 10:06 am by scorn53
I'm not sure if anyone else has noticed, but every few weeks the same user joins the site, creates a few profiles and matches, then promptly leaves. I've only noticed because they follow a very similar profile template (and call it weird, but the use of black font), albeit they've now edited their latest one because they cannot delete it.
Upwards-
http://www.afwrpg.com/t14743-auriel-jessamine
Scarf-
http://www.afwrpg.com/t15951-maxine-rolanda
Their most recent name was 1 12 12 or something …
[
Full reading
]
Comments: 9
To get this out of the way..
Tue Feb 21, 2017 10:50 pm by Mystery Dragon
Recently theres been something wrong with me. I fell sick some time ago, as I usually do in the spring time due t several reasons and recovered but haven't really been the same since. Some days I'm completely fine and others I can barely remember what I was doing 5 minutes ago and constantly feel down or not just not well for whatever reason, I even passed out in my dorm just to wake up in the dining hall. Ive had myself checked and they cant see anything wrong with me so I don't know what the …
[
Full reading
]
Comments: 2
Looking for some action
Tue Feb 21, 2017 3:47 am by k0hryuu
Hey guys,
I'm looking to expand my horizons a bit and work with some new people, or maybe work with someone I have in the past and haven't with for a while. Or actually pretty much anyone I'm not already currently working with. I'm pretty open to play ball with whatever (just not hentai matches), otherwise my roster page shows my own particular preferences. My only demand is coherent grammar.
Everyone except Akiko and Yukiko are available, so if you see someone that might interest you, …
[
Full reading
]
Comments: 0
[size=200:25qyjwdn][align=center:25qyjwdn]
GENERAL INFORMATION
[/align:25qyjwdn]
Name:
"Genesis" (Real Name Jennifer Esis)
Age:
19
Sex:
Female
Height:
5'2.5"
Weight:
104 lbs
Ethnicity & Citizenship:
British
Alignment:
Heel
Hair Color:
Raven Black
Eye Color:
Lime Green
Blood Type:
A Negative
Birth Date:
01/01/93
Occupation:
Undergraduate Student
Entrance Music:
[url=http://www.youtube.com/watch?v=bBb-J0hcBQA:25qyjwdn]Supermassive Blackhole- The Muse[/url:25qyjwdn]
Appearance & Attire: (Minus the Gloves/Claws and the Scythe)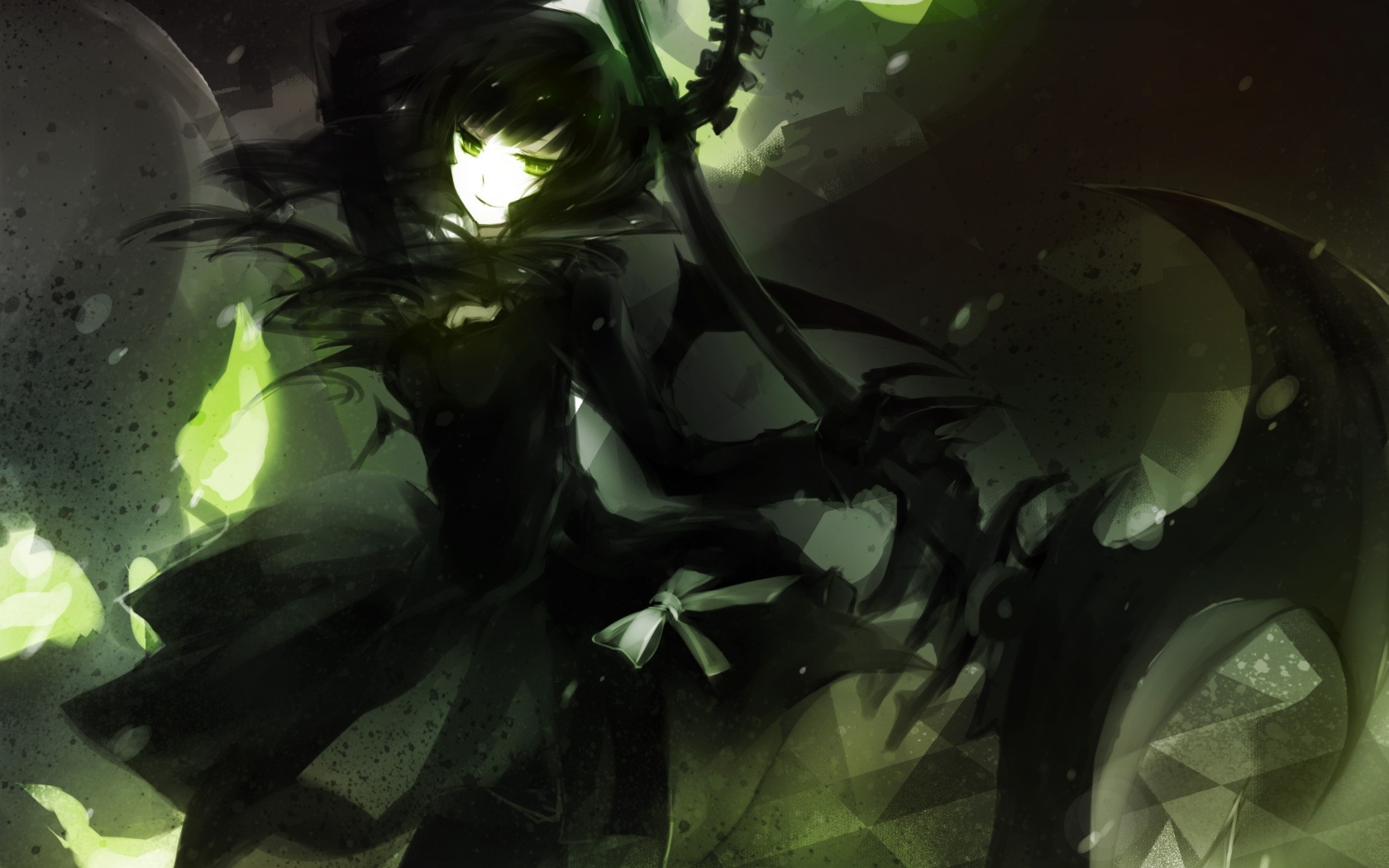 [size=200:25qyjwdn][align=center:25qyjwdn]COMBAT INFORMATION[/align:25qyjwdn]Style Description:
Despite Genesis rather average and well rounded stats, her attacks are ruthless and without mercy. She uses her brain to utilize her advantage over her foe and capitalize on their weaknesses. She can deliver basic strikes and can defend against basic strikes as well. She can utilize a array of submissions or utilizing her ground and pound to finish their opponent. She can also play dirty to win sometimes.
Styles:
MMA, (Boxing & BJJ)
Stats:
Endurance:★★★
Strength:★★★
Speed:★★★★
Defense:★★★
Technique:★★★★
Specialties: Body Blow, Armbar, Boston Crab, Triangle choke, ground and pound, German Suplex
Finishers:
Corpse Maker:
Genesis' greatest slam/power move, it is a simply a variation of a pile driver.
The Leviathan Choke
(Inverted Triangle Choke): For this move to begin, she first needs her opponent doubled over or slightly hunched forward usually preceded by a body blow of some kind. Once her opponent is hunched over, she will proceed to climb onto her opponent's back by hugging her opponent's thigh while hanging upside down. Her legs would then wrap around her opponent's neck and under arm. Her opponent will most likely try and flop onto her back but, that would most likely tighten the hold around the neck as it would be more comfortable for Genesis to put a firmer squeeze. The hold isn't a suffocation choke, it blocks the carotid artery in the side of the neck from circulating blood from the brain forcing the victim to pass out rather quickly.
The Reaper's Scythe
(Spinning Back Elbow Strike): A powerful ad close to mid range distance strike that Genesis uses to knock out her opponents. She starts off with a left hook that's a bit short but, follows through until she shows her back. By using her entire body's full momentum, she will throw out her right elbow at the corner of her opponent's forehead. This is however, dangerous as it opens up her back to her opponent but, if it hits is an almost guaranteed knockout.
[size=200:25qyjwdn]
Personal Information:
Personality:
Genesis is a quiet girl despite her violent tendencies as she is quite the book worm. She only really focuses on the complete destruction of her enemies or the book that's in her hand. She loves to see others in pain and has a chance to relief herself that way. Genesis is amazingly good a t trash talking and psychologically crushing her victims. So, when she smiles at you, you better start running.
History:
Genesis has always been the quiet girl with the book in her hand throughout her High school life. She was shy, innocent and adorable but, she had a fear of meeting new people. All her life, she encountered bullies who would harass her every day so secretly she took MMA lessons as a way to defend herself to protect herself unless they tried to really physically hurt her until they she just planned to avoid them. One day, one of the bullies took a liking to her and proceeded to try and force herself on her. Genesis didn't like this at all, the small girl resisted her bigger female bully and easily knocked her to the ground. After pummeling her victim furiously onto the ground, she started laughing with her heart racing as she felt really happy. For once in her life, she felt like she had power and control and it was exhilarating. She quickly dropped out o high school, ran away from home and decided to become a professional fighter. She figured AFW was a great place to start as MMA didn't let her do anything to her opponent after she had won and that wasn't fun at all!
Quotes
"Appearances and preconceptions aren't going to tell you anything..."
"Pathetic..."
Likes:
-Books
-Classical Music
-Playing her Violin
-Italian Food
-Trash Talking
-Crushing Her opponent's psychologically
Dislikes:
- Lots of Noise
- Practical Jokes
Enemies:
Cerbera Arianna Kashnakov
Crushes:
Cerbera Arianna Kashnakov
Allies:
Revalation (Her Sister)



Posts

: 3685


Join date

: 2010-02-06




Similar topics
---
Permissions in this forum:
You
cannot
reply to topics in this forum