Who is online?
In total there are
62
users online :: 20 Registered, 1 Hidden and 41 Guests :: 1 Bot
anime_hentaifighter
,
BloodstalkerZ
,
CybeastGregarX
,
Deus001
,
DizzyKnight
,
dlamp
,
houzukimaru
,
JohnnyFlash
,
k0hryuu
,
kagestar
,
Kelsea
,
kerflubble
,
LadyX
,
RJD
,
shanecawf
,
starvalentine
,
TheEditor1023
,
TheWamts
,
Un3xpected
,
Underdog21
Most users ever online was
155
on Sun Oct 09, 2016 8:33 am
Champions & #1 contenders
I'm starting my new job soon, so I'll be more free
Tue Mar 28, 2017 9:24 pm by TheWamts
Yes, I know that sounds fucking stupid, but with only one thing to focus on instead of 5 subjects and 5 groups, I should have more time to spend on the site, and so I'm open for new matches, send me a pm or I'm me on Trillian (same name thewamts if you don't have me already) if interested.
Comments: 0
Lucy's Debut
Tue Mar 28, 2017 8:11 pm by kagestar
Well what can i say really?
After the warm reception here i am looking for my first Character
Lucy Kage
to have her debut.
This doesn't have to be in the form of a debut match, though i am not going to say no to that of course, but it could even be that she appears at the end of another match etc. I want Lucy to arrive, not with a bang per se, but with more of a determined swagger.
I want her entrance to pretty much be believable, sellable but also meaningful. It sounds snobbish, especially …
[
Full reading
]
Comments: 0
Looking for debut match for new jobber Lilly Maringly
Tue Mar 28, 2017 2:37 am by shanecawf
Spoiler:
Lilly is looking for matches so she can earn enough money to get out of the AFW. She doesn't care how big her opponent is or how strong they are, She's willing to take a massive beating if it means she can earn anything towards her get out fund.
Please have fun with her and don't be afraid to give her hell!
(Please no tension males) Lilly has one condition to this. She will not fight a male. Only females.
Link to her profile below
[url=http://www.afwrpg.com/t16448-lilly-maringly#453493]…
[
Full reading
]
Comments: 0
Page 1 of 10 • 1, 2, 3, 4, 5, 6, 7, 8, 9, 10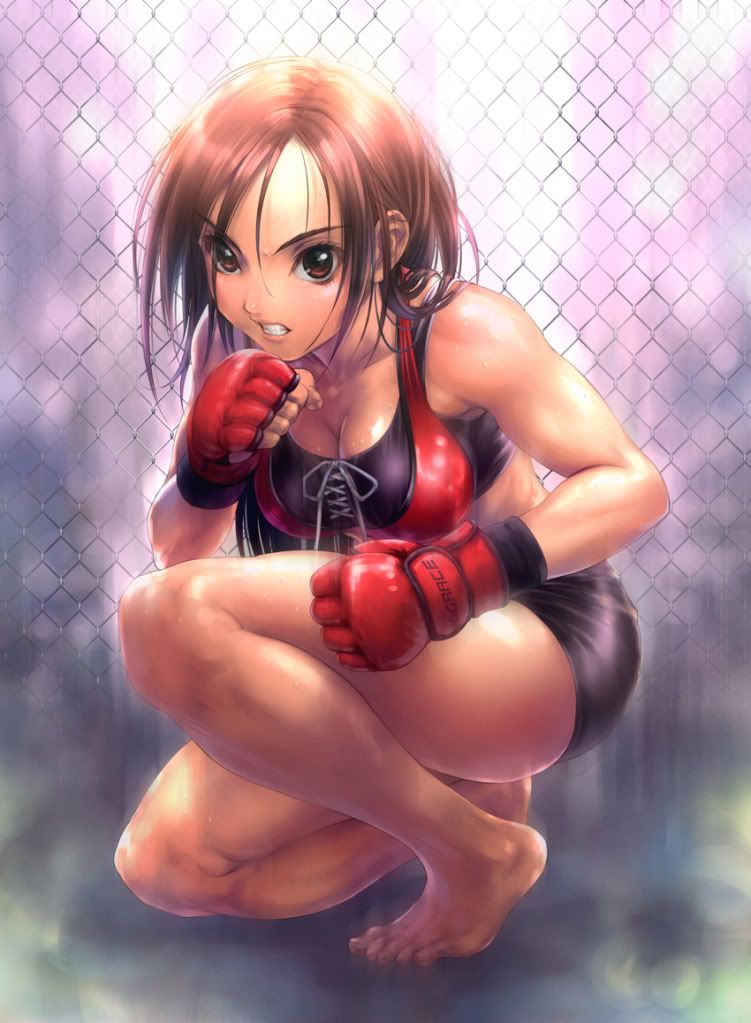 [size=200:1vgguxi1]VS
[size=150:1vgguxi1]
Honey~Love vs Kaya
[size=150:1vgguxi1]
Match Type: Erotic Boxing
[size=150:1vgguxi1]
Special rules: 2 minute rounds. The boxer who has the better round gets 30 seconds with her opponent in her corner.
Streams of gold pyro erupted from the stage as Honey~Love steps out in her super skimpy leotard, raising her right glove proudly in the air to the cheers of the crowd. She was so happy to finally find an opponent who was up for this kind of fight, and not a second too soon either. She proceeded to shadowbox a little bit, then jogged her way down the ring, raising her glove back up and looking around at the crowd. She walks around the ring to climb up the stairs, and then climbs in through the ropes, bouncing on her feet a little bit. Honey~Love was back in full swing!
Kaya's generic song would begin to play as the MMA turned wrestler would suspiciously take slightly longer to exit the back. Soon Kaya did appear in a swimsuit that greatly mirrored Honey Love's only black as she seemed incredibly flustered. When she was getting ready for her bout a bag was in her locker room with a note from O.Van saying that the attire in the bag would greatly fit her match as her normal gear was suspiciously missing. Although embarrassed, Kaya had no choice but to wear the swimsuit as she made her way down to the ring with a quick pace.

Blocking out the crowd and the embarrassment, Kaya focused all of her attention on Honey Love as she expression changed into a serious one, getting into her fighting mindset as she did a short while of Shadow Boxing as she would wait for the match to begin in her corner.

_________________
COME HERE FOR THE COLLECTION
Honey~Love blinks a little as she noticed Kaya's attire looked very similar to her own, minus the stripes and mask. She giggles a little as Kaya walked down the ramp, and climbed in.

"Hehe.. so you DO admire me." She giggles. "But if you think that'll make Honey~Love, the number 1 sexiest erotic boxer go easier on you, you've got another thing coming!" She declares proudly, and starts to warm up in her corner. The mere seconds it was taking between Kaya's entrance music and the sound of the bell to begin her fight felt like eternity.
"Shut up!" Kaya shouted, "This wasn't my idea dammit!" Kaya vented her frustration on Honey as she prepared herself for the fight. It has been a while, a long while since Kaya participated in Erotic Boxing as she'd hoped that she still had it in her. Kaya wanted to beat Honey at her own game and prove to people that she was just at good at making girl's body betray them as easily as she could knock them out.

_________________
COME HERE FOR THE COLLECTION
Honey~Love looked at her skeptically. "Not your idea. Riiight. Says the girl who keeps her clothes in her locker and padlocked." She smirks. "Honey~Love get you to admit your feelings for her by the end of this match though." She declared boldly, pounding her gloves together once before she finally heard the bell ring. She stepped out from her corner, gloves up and bouncing a bit on her feet, watching Kaya carefully.
Kaya flared her nose as she bashed her gloves together, she was going to have a fun time with Honey in her own special way as she heard the bell ring. Right from the start, Kaya would go into her usual aggressive behavior as she would close the gap between her and Honey before stopping at a reasonable distance. Slowly taking steps towards Honey, she wanted to put the pressure on her opponent before throw a few quick jabs to test the distance between her and Honey, not intending to strike...just yet.

_________________
COME HERE FOR THE COLLECTION
Honey~Love was wary of Kaya's aggressive approach as she shuffled out towards the center of the ring. She starts to circle around her, looking over her stance for a moment. As Kaya threw out her first test jab, she flinched a bit, then saw she wouldn't be able to hit her from where the two were standing currently and relaxed. After a couple of more jabs, she'd try to surprise Kaya by stepping in, and tried for a quick jab with her left aimed at her cheek. "Hah!"
Just when Kaya thought that she had the distance figured out, she was sent for a loop when Honey stepped in an went for a jab. The punch grazed against Kaya's cheek as she took a step back, shaking her head before she would try to launch her counterattack. Throwing another jab, Kaya would step back in as she would try to throw her fist at Honey's left tit, showing that she wasn't afraid to get 'serious' at any time.

_________________
COME HERE FOR THE COLLECTION
Honey~Love smiled as she got her cheek, and watched her take a step back. She saw the expression on Kaya's face, and pursed her lips, making a slight kissy face before she braced herself for Kaya's retaliation. She manages to block the jab, but as she's about to counter, Kaya catches her first, and gets tagged in the left breast. "Ugh!" The punch caused her to take a step back. She could feel stinging in her breast, resisting the urge to drop her guard and rub at it. "Nngh.. wow.. you punch pretty hard. Honey~Love's gonna have to be careful as she's works down your resistance." She says with a slight grin, and starts to circle her. She fakes left before trying to swing a right hook at her cheek, hoping to tag her hard this time!
Kaya remained with her sour look on her face Honey made that kissy face. Watching her opponent carefully, when she saw Honey move her left she instinctively move to her to her left to avoid the punch, however her over cautiousness was her down fall as she walked right into a hard right hook. The blow rattled Kaya as she took one step back to the right as she shook her head. It wasn't enough to take down Kaya, but it was enough to stun her for a brief second and a second was enough for a boxer.

_________________
COME HERE FOR THE COLLECTION
Page 1 of 10 • 1, 2, 3, 4, 5, 6, 7, 8, 9, 10

---
Permissions in this forum:
You
cannot
reply to topics in this forum