Champions & #1 contenders
Seeking: Friction Spar Match
Mon Nov 20, 2017 6:40 am by Yori
Looking for a spar for
Alexa.
Howdy, I'm new to the forums and figured I should get my, and my characters toes wet with some good old fashion sparring. It can be a one off, or blossom into something else down the road for a friend/rival relationship. Alexa as a character is a fresh face, and an unrefined talent. I don't mind having someone at her skill level to have an event match, or someone superior to her to have a more one sided bout. I'm looking to use this regardless as a way to build …
[
Full reading
]
Comments: 2
Gonna be slow the next week or so... just had surgery IRL
Wed Nov 15, 2017 2:33 am by SleeperAgent94
Hey guys, got back from surgery today. Ruptured abdominal wall. In a LOT of pain right now, so posts will be VERY brief the next few days.
Comments: 6
Character updates.
Wed Nov 15, 2017 4:14 pm by Lotuswarrior
Since I'm starting to get a bit busier here, I'm trying to be a bit more professional. With that I'm going to overhaul my characters and update their profiles or release them all together. I'll post any images here of the characters I release, so that you guys/girls can claim them if you want.
Also looking for some characters to interact with outside of matches.
Comments: 0
So, yeah, I made Alice's character here on AFW. I tried to imagine how she would be like if she had never met Luka, and instead decided to travel into foreign land to decide the fate of humans by examining them from a safe distance. Now, naturally, she's going to run into monsters like herself, that she feels like she has rule over. She'll also most likely not want to kill them, unless they threaten her life first. Bearing that in mind, do you think I should have Alice wielding Angel Halo for the more unruly monsters she'll come across? I'm pretty sure she'd be able to pull it out whenever, as in the game she simply just tossed the grotesque sword to use during their travel. She also knows the technique behind most of the monster sword skills as well. I'll leave it to you guys.
For those unaware of the game, Angel Halo looks like this: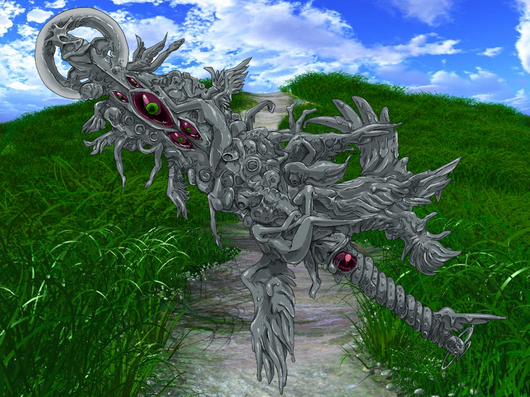 It's a sword was made from.. 200 melted angels, I think it was. It's a magical sword that can slice through the enemy without fear of killing, and instead drains their magic/power. After so many hits, the victim becomes temporarily sealed in some form.
Last edited by 145 on Wed May 09, 2012 11:41 pm; edited 2 times in total
Also, a reason why yes or no would be nice
" title="Smile" />
I think it'd make sense. She was carrying the weapon around after all. Besides she wouldn't want to hurt monsters so even more reason why she'd use the Angel Halo to settle things. Even going up against humans I think it'd fit her character to use that rather than actually kill someone. Besides she should have the skill use it. Sure, some are better at teaching than doing, but no reason to assume that's the case for Alice. Would give her more options in a match.

_________________
Tension Pro:
[url=http://afwrpg.informe.com/forum/sex-wars-roster-f11/david-walker-the-quiet-fire-t4103.html:24sy04wy]David Walker[/url:24sy04wy]
Alternative:
[url=http://afwrpg.informe.com/forum/alternative-roster-f32/kazuma-sasaki-t4156.html:24sy04wy]Kazuma Sasaki[/url:24sy04wy]
Fur and Feathers:
[url=http://afwrpg.informe.com/forum/fur-feathers-roster-f52/ryuu-tanaka-beast-arm-ryuu-t4167.html:24sy04wy]Beast Arm Ryuu[/url:24sy04wy]



Posts

: 126


Join date

: 2011-03-16



[url=http://afwrpg.informe.com/forum/alternative-roster-f32/tanit-echinda-t4199.html#p98530:1hzy3y35]Just a heads up[/url:1hzy3y35].



Posts

: 11144


Join date

: 2010-10-13



I'm fully aware, thank you, Blue, I asked Kitten before I made the character, she gave me the go ahead.
I'm glad that you're fully aware, Pat, thanks for the information.



Posts

: 11144


Join date

: 2010-10-13



Apologies if that came off as snotty. It wasn't meant to be.
According to the storyline, Angel Halo was refined with 666 melted angels...... as predictable ;P

As for the poll, i think that yes, it would make sense for Alice to use that sword against monster-like opponents, since she's supposed not to have met Luka so far. She might decide either of using it or going with her monster techinques and body according to the opponent and her mood.
Last edited by 157 on Fri May 11, 2012 10:16 pm; edited 1 time in total



Posts

: 9270


Join date

: 2008-05-07



Yeah, I'm not expecting her to use it for every fight, but I think it would be nice to have as an option. All right. I'll edit her later.

Similar topics
---
Permissions in this forum:
You
cannot
reply to topics in this forum