Champions & #1 contenders
Kawaii Opportunities
Sun Jun 17, 2018 3:04 pm by Daaharu
Hey, guys!
With the kawaii title match at Avalanche taking on an interesting wrinkle with the interruption by the Brat Pack, we are moving forward with the overall kawaii storyline, and at this point I'd just like to take stock of what kawaiis are out there that are interested in participating in a cohesive storyline.
Can't make any promises about titles or what exactly each girl's given role would be. We can talk a little more about the specifics of where the story is going soon, but I …
[
Full reading
]
Comments: 3
Match for Takeichi
Tue Jun 12, 2018 6:13 am by GrandAkumaShogun
So with my other two guys having their own matches I figure I should do something with my first character on here, Takeichi Mori. If anyone is interested feel free to post here or get in touch through a pm so we can plan it out. I can either have Takeichi remain a jobber or begin to work him towards being a more serious competitor.
Comments: 1
Match or RP?
Wed Jun 13, 2018 3:48 pm by Lotuswarrior
I'm just looking to do something while I wait for match replies. Really want to get some characters cemented a bit with a rival or some interactions with other characters here.
If anyone wants to do something hit me up.
Comments: 0
Page 1 of 6 • 1, 2, 3, 4, 5, 6


Victory via only SubmissionAdditional Rules: The fighters must be naked when the match begins and must fight in an pit filled with oil
[align=center:3cfvu1fd]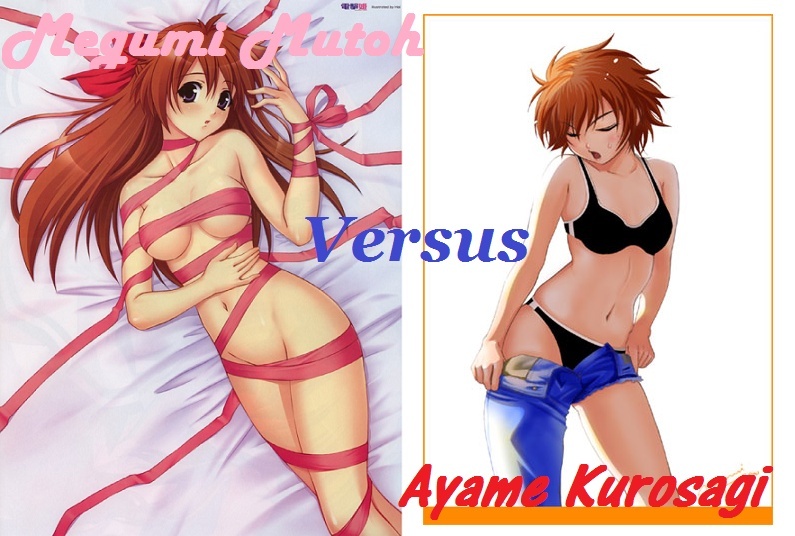 [/align:3cfvu1fd]
Three floors underneath floor level unknown to the hustling and bustling world above was a fight club. An underground fighting arena that was famous for one thing and one thing only! Having female oil pit fights with giant rings. The place even drew professional female fighters from time to time. The place was full of roudy cheers in great anticipation for the next fight as they dragged the poor girl who had lost the match before out with a stretcher. Despite having the pit padded, it didn't do much to stop the brutality in these fights. Although not all matches were brutal, very few matches in knockout and if they did it was most likely because the loser was too stubborn. THis fight club was never booked until today becuase of just how huge it was but, today it served as a venue for an official AFW match. AFW agreed not to disclose the location by letting two of their wrestlers fight here. One of them was AFW vetran and high ranking in AFW and the other had been a rising star for a little while but, myseriously disapeared in Hiatus despite having a number 10 ranking. Both were popular and in this setting, it was going to sell tickets and PPV and it wasn't even a ranking match.
[align=center:3cfvu1fd]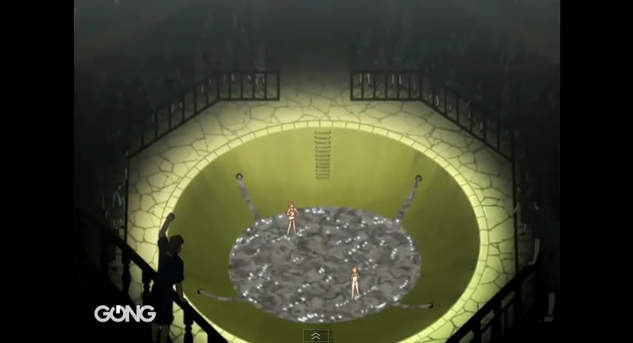 [/align:3cfvu1fd]
(Pretend the liquid is clear/olive green color)
Now, Ayame wasn't picky about what venues or what match types she got but, this was ridiculous. Ayame stood at the ring side, there were no music and lights here. She taped her brown leather steel toe boats on the ground as she was the first to show up at the pit side waiting to be stripped in front of this crowd and to take on the oh so high and mighty Megumi Mutoh. She wasn't too nervous about the stripping, she had been naked in front of a crowd before among other things. However, she tried not to think about it what was more embarrassing was getting beaten naked now that was a scary thought. Ayame really wanted a crack at Megumi Mutoh that way she could somewhat estimate how far she was from the upper brass. The girl took a breath and scanned the audience as she folded her arms across her chest. there were filled, with drunk men but, there were the few girls she recognized to be her fans, it was a blend of the club and AFW fans. looking down into the oil pit, the oil was about about ankle deep which meant her kicks would be mostly unusable but, it didn't really matter here. There were suspicious looking rails that led down to the pit but, if one would slip, she would fear for that wrestler's life. The Korean girl let out another sigh waiting for the arrival of her Japanese opponent as she looked down at the sea of olive green.
"Well, lets get this show on the road..." She siad but, then gave a mischievous grin, this could be fun...
On the other side of the ring, standing by the edge of the pit of oil, was Ayame's opponent Megumi Mutoh. She looked slightly uncomfortable with this setting as well, as these people weren't the usual fans in the crowds of her performances, or even the fans in the crowds of the AFW. These were the hardcore perverts, who were rich and powerful enough to gain entrance here and view a fight between two of AFW's beautiful and professional fighters, in a pit filled with oil. She almost felt a little too intimidated to go through with this. Looking across the ring, her opponent didn't appear happy about this as well. Megumi didn't know too much about Ayame. She knew she was once ranked, and then took a short hiatus. But for her return to be doing this?

Megumi shook her head. She was already doing this, there was no backing down. She just had to not lose against this Ayame, that's all. She couldn't get a close look at the girl, but she could tell from her form that she wasn't bigger than Megumi, and that she kept pretty fit. It wouldn't be easy taking her on in this setting. She wondered how Ayame handled a crowd ogling her while she was covered in slick oil. Maybe that would be Megumi's advantage, as she could more or less ignore them if necessary. She would have to here, with no crowd control present. She hoped they would remain safe while in there.

An announcer boomed over the speakers installed around the ring. "Fighters! It's time to begin! Now, strip naked, and enter the pit of oil!"

"YEAH! STRIP NAKED!"

Megumi winced at the crowd's reaction. She gritted her teeth, but did as she was told. She was dressed in her street clothes, a jacket covering a red t-shirt, with a pair of jeans and knee-high boots. Megumi sighed, slowly removing her clothes, trying to avoid the lecherous stares of the crowd. Soon all her clothes were in a neat pile except for her underwear. Megumi took a deep breath, and undid her bra and pulled down her panties quickly, dropping them down and standing up fully naked. The crowd cheered and hooted. Megumi was glad of one thing; there was no photography allowed. None of these guys would be able to photograph her sexy naked body without her knowing.

Megumi slowly descended down the rails on her side of the ring. She was careful not to slip, as they were oily. She stepped inside the pool of oil, shuddering a little from the feeling. She quickly hid her grimaces though, not wanting to show discomfort in front of her opponent. That would be a sign of weakness.
At the notice, Ayame took off each article for clothing slowly and mundanely. She took off her hiking boots first. Next, her jeans, then her red T-shirt and finally she took off her hat latast. Next, she took off her bra and pulled down her black panties. She may not have been very vulumptious but, she did have a nice body. Although she looked slender there was something about her body that said she was athletic. the crowds gave her a respectable cheer as well. Ayame mostly ignored the drunk perverted idiots, her eyes were only on Megumi. In the ring, on the street, or in a pit, it didn't matter wear as long as she had an opponent to focus, the crowd was so far away. Yet, she must admit when there were times the crowd couldn't be ignored. Instead of using the stairs, she more or less walked off the edge. The girl made a splash nearly slipping, the girl used her hand to support herself. It was a testament to her high flying skills but, rather she wanted to show how fearless she was. Looking around the pit, it was pretty large and with no ropes there was certainly no where to run. Ayame stood up from her crouched position and walked towards Megumi. She had to admit it was a chore to make sure she didn't slip on the way walking toward Megumi.

"Hey, come here often?" Ayame said cracking a joke and a smile.

Ayame examined her opponent on the way here, she was certainly beautiful definitely idol worthy. The girl folded her arms over her chest waiting for the match to begin sometime.
Megumi looked her opponent up and down. The girl was fast on her feet and very limber, judging by that jump. Fearless too, as she might've hurt herself very badly. With no clothes on, neither girl could hide anything from her opponent. Megumi saw the girl was a little thinner than she thought, wiry, but still possessing some strength. Luckily for her in the oil pits speed wasn't what won, but steadyness and strength. Megumi knew she had both, the question was whether her opponent had that as well.

"You seem more like the type," Megumi replied. Her wit hadn't been dulled any by this crowd. Megumi took a deep breath, her chest expanding out for a moment, falling into a zen state to block out the crowd. She didn't need their hoots and jeers. That was only distraction, and distraction meant losing.

"Fighters, ready!" the speakers yelled, "BEGIN!" The crowd let out an enormous cheer.

Megumi wasted no time. The oil was slippery, but that could be an advantage for her. She half-walked, half slid forward, lunging and trying to grab onto Ayame and shove her back hard. She wanted to test the girl's balance and see if she would fall. The girl seemed well balanced, given how she didn't slip from that jump, but perhaps that was just a facade. Either way, even if she didn't fall, they'd lock up tightly.
Ayame was a bit taken back by the comment, "Funny... coming from you..."

The girl gave a frown, she had to admit though Ayame was a great disadvantage in this fight. While on her Hiatus, she had trained her grappling and strength to the best of her ability without compromising her speed. Her greatest attributes would do little to help her here in this pit. Therefore, Ayame would have to use her head in order to win. The girl met Megumi as they grew closer together, Ayame was shoved back by Megumi. The girl was knocked back as she lost her footing but, quickly regained it. Before she knew it Megumi had locked up with her, Ayame pressed her forehead against Megumi's as their hair meshed together. The girl pushed back with all her strength, her teeth clenched together as she was careful not to slip on the oil.
Seeing Ayame not fall but recover quite quickly from the shove despite the slipperiness of her footing, Megumi noted that she was up against exactly what she was expecting. Still, Ayamy didn't look like the type to grapple and fight close too often, which meant Megumi had an advantage there. Their heads touched as they grapples, neither girl making much headway.

Suddenly Megumi shifted her grip. Her hands slipped down to grab Ayame's underarms, and Megumi let out a fierce yell. She would attempt to swing off to the side, slipping as she did so but also hoping to send Ayame into the oil, so that even as she fell onto her knees Ayame would splash into the oil.
Ayame knew that she was no match against her opponent when it came to grappling. The korean girl was easily tossed to the ground. Ayame let out a grunt as she hit the padded ground as her body slid across the pit floor. "uhh..." She said as sat up as he body was covered in the oil. Sticking out her tongue, the oil felt weird on her skin. she lay on the pit floor but, it was harder to stand up once she had fallen. "ah~" The Korean girl slipped and landed flat on her stomach, her bresasts too k the brunt of the force causing her to wince. She spat out some of the oil that went into her mouth. Ayame hated this place, a lot.....

"You're so going to pay for that..." Ayame said getting up slowly again as her body was now covered with oil.
Megumi's legs and knees were all covered in oil as well, the idol grimacing a little as she tried to shake off the substance from her hands. Then Megumi got an idea. She scooped up handfuls of the oil and began rubbing it all over her body, covering her naked form in a sheen of shiny slippery substance. She needed to make it so that Ayame couldn't get a good grip on her again, since now that she was covered in oil Megumi wasn't sure she would be able to.

"I don't think so Ayame," Megumi replied, sliding over on her knees, "You're the one sliding around like you don't know what you're doing!" Megumi would attempt to jump at Ayame and land on her back, hoping to take her back down onto the padded floor and into the oil so she could secure a good tight and extremely hot hold over her!
Ayame blushed as Megumi got on top of her back, flattening her onto the padded floor. Having her opponent's oil covered body pressing against her back as Megumi got a tight hold of her. The crowd got a total coo out of that as they whistled as Megumi had mounted Ayame's back. Ayame growled as she was already pinned underneath the girl as once she was on the ground and her opponent was on top she was more or less a turtle on her back. Although she had gotten beter offensively since she had that spar to work on her grappling, Ayame was rather poor at defending herself in situations like this. Ayame would bide her time and strike back when her foe gave her the chance.

"We'll see.." Ayame muttered under her breath.
Megumi knew that in a hentai style match such as this, the worst thing that could happen was getting more aroused than your opponent. Luckily in this position she was well on her way to getting started on Ayame already. Megumi's hands reached down, trying to sneak underneath Ayame and grab onto her breasts, both as a handhold and as a path of attack. She would squeeze down on them tightly, fondling them and attempting to embarrass this poor girl first, putting her on the defensive.

"I have you now Ayame!" Megumi said, "Please, enjoy this!" She pinched the girl's nipples, kneading them between her fingers, while pressing her own body in close into Ayame's back!
Page 1 of 6 • 1, 2, 3, 4, 5, 6



Similar topics
---
Permissions in this forum:
You
cannot
reply to topics in this forum