Champions & #1 contenders
Highfly Flying Out Of Town
Tue May 22, 2018 1:31 am by HighFly
Hello everyone, I just wanted to inform all I have threads with that I will be gone from this coming Wednesday through Sunday. I won't be able to post consistently if at all during this time, but I will try to make up for it next week! I am sorry for the inconvenience to everyone.
Comments: 7
The Austrailian Mudslide is Back.
Sat Apr 21, 2018 6:20 am by Softsquad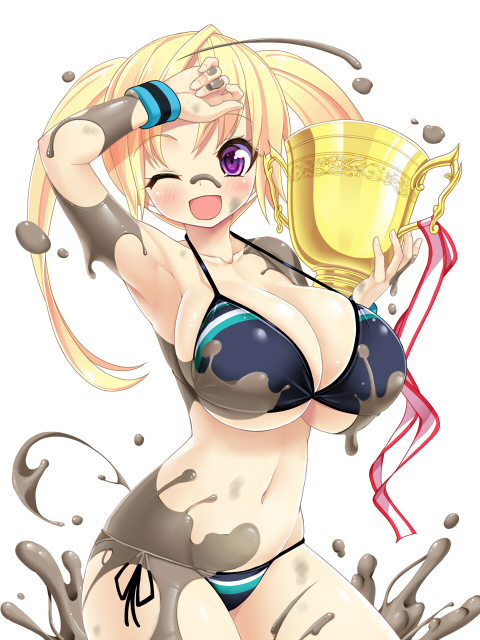 Granted that most of you won't know me or remember me, but I've had a few matches here and there some time ago. Well I think its time to become a regular around here and try to have some fun again, but at the same time keep coming back. Anyway I think its time to jump into some matches with Zoe Taylor, my mud wrestling character from Australia and get her back into the squared circle. Furthermore I will update my characters as I think some proper changes need to happen.
So if anyone would …
[
Full reading
]
Comments: 5
Page 1 of 3 • 1, 2, 3


Following this [url=http://afwrpg.informe.com/forum/viewtopic.php?f=8&t=6161:3llvyaqp]thread[/url:3llvyaqp]


Megumi walked quickly down the halls towards the Eclipse changing rooms. Once in a while she would turn around, to see if Mamoru was still following, and the good thing was he didn't bail on her. And he shouldn't, considering what Megumi just did to his charge. Megumi had some stern words to say to Mamoru. She never liked him, thinking he was a sleazeball like every single man (and most of the women) in Tension, who traded in a noble sport for gratuitous sex. The nerve of him to want to manage a wrestler, an innocent girl like Cassie Elliot, and turn her into a heel was just too much for Megumi to bear. She was going to talk some sense into Mamoru, browbeat him into it if she had to.

She opened the door to the room. "In here," she said, indicating to Mamoru that they would speak inside. Once he entered, Megumi would step in and lock the door behind her so nobody else disturbed them.

She turned around and stood silently for a second, looking at Mamoru with distaste in her eyes. Then she shook her head, walking over to the mirrors and sitting down in front of them. "You're a fool, you know that Mamoru?" Megumi said, not even looking at him, "Why don't you explain yourself?"
Last edited by 265 on Thu May 03, 2012 9:54 pm; edited 1 time in total
Mamouru followed Megumi down the halls until she brought them into her changing room. He was wondering if she would physically assault them but he was pretty sure he knew what she wanted to say. When she locked the room, he was surprised and watched as she sat down next to a mirror.

He lowered his head when she spoke and smiled slightly. "Of course." He said. But when she asked him to explain himself, he tilted his head. "I certainly take 100% of the responsibility as her manager. It was not the outcome I hoped for, but barring serious injury, I think things probably worked out for the best, all things considered. What, exactly are you expecting me to say, Mutoh-san?" He said, wondering what she had in mind.
Megumi looked at Mamoru, her gaze curious at first, staying silent as he spoke. Unfortunately he didn't say anything about what Megumi really wanted. She let out an exasperated sigh. "Was that really what you were expecting Mamoru?" Megumi said, "You're a damn fool if that's what you wanted!" She stood up, marching over to him, glaring into his eyes.

"Do you really think Cassie is so incapable of defending herself that she got taken down after a minute?" Megumi said, "She's plenty strong, and extremely talented. And all you've done is squander it. I was watching you train with her. I could tell that Cassie didn't like what you were doing, but she pressed on because you've somehow convinced her that you're right. Well guess what Mamoru? I think tonight has proven that you're completely wrong, and that you have absolutely no right to manage Cassie at all!" She paused for a moment, taking a deep breath, not wanting her anger to get the better of her.

"So, here's what I want from you," Megumi continued, "You will go to Drake yourself, and tell him you're giving up Cassie's contract, that you can't handle being a manager. Do you understand me Mamoru?"
Mamouru furrowed his brow at Megumi as she got in his face. The words she said were expected but he clenched his fists. "Of courrse it's not what I wanted!" Mamouru said. He looked sternly at Megumi. "You['re right. She's extremely talented. She's got more raw talent than most girls here. But your conclusion based on tonight's results are inaccurate."

He waved his hand in front of him. "I didn't force her to anything. She's a big girl and can make her own decisions. If she wants me to quit, I'll resign. If she wants to go back to a lifetime of mediocrity and obscurity in this league, then I'll let her go. But don't come here to me and act all high and mighty and tell ME about wasting her talent and then expect me to just let her go off and do JUST THAT!"

Mamouru scowled at Megumi. "I will not do what you say. What's Drake going to do? He certainly doesn't give a shit about her. He's far too busy with the rest of you and I don't hold that against him but Cassie needs more than what she can get with Drake. Do you even know WHY I trained with her the way I did? I sure as hell am not looking for her to be a heel. The Cassie I know and like is a sweet girl who wouldn't hurt a fly. I'm afraid that all of this training might actually effect her, but it's a risk that she'll have to take if she wants to make something of herself!"
Megumi took a small step back as Mamoru made his case. It was obvious that Mamoru remained convinced that he was right. This only added to Megumi's righteous fury. Of course, she could settle things with Mamoru by beating him into a pulp, but that wasn't the right thing to do. Reasoning with him was, even if it was going to take longer and might give Megumi and brain aneurysm.

"All you'e succeeded in doing is dulling her instincts," Megumi shot back, "Don't you think I couldn't tell when we fought? Cassie would've easily gotten me into some kind of submission, had she not been too busy thinking about how she was going to act like a heel! Do you really think just telling her to act a certain way would make her less of who she is in the ring? Hell no! I want just as much as you do for her to survive in this ring, but making her a bad girl isn't going to do that. You have to hone those natural instincts she's already got to such a fine point that she doesn't need to think, she can just act and get the job done! All you've done is undo all the work her father and teachers put in, great job!"

"And don't you start on Drake! He's done more for her and everyone here than you'll ever know. You don't think someone as stupidly innocent as Cassie would survive alone out in Tokyo, do you? She doesn't even know what places are dangerous, who to not offend, or who might just straight up go rape and kill a cute foreign girl like her! Had Drake not gotten her protection, most likely, she'd be dead." Megumi took a deep breath. She outed a big secret of her boss to Mamoru in her anger, and began to immediately regret it. Mamoru didn't need to know, nobody did.
Taylor's stomach was in knots while she waited for Cassie's match to begin. She didn't like Mamouru, she didn't trust him, but she didn't find him quite as repulsive as she had before and she held onto hope that maybe they were onto something. Maybe Cassie would turn a corner in her career and tap Megumi out like a motherfucker and everything would be great. But Megumi? Taylor couldn't help but think that Cassie just wasn't ready for her.

Megumi was someone that Taylor sometimes spent her late night hours thinking about. At night, when everything was dark and quiet and she was alone with her thoughts, she ran through imagined scenarios about how the matches would go, what she would do, how she would win, how she would turn things around if she found herself in a bad situation. She'd seen Megumi fight. She wasn't totally unlike Taylor herself, she was much more of a wrestler but they had a similar kind of aggressive grittiness that was endlessly intriguing. Taylor knew she was better, though. Maybe the match would be hard fought, but she would win.

Imagining Cassie in those same scenarios was nerve wracking. She'd only fairly recently been able to admit that Cassie was her friend, but no one who knew Cassie could bear the thought of the little red head getting seriously hurt. Before the match even started, Taylor's heart was beating out of her chest. She paced back and forth backstage, fists clenched, watching from a monitor in a lounge area.

Taylor's face was frozen in a look of horror as the match ended as quickly as it had begun. Her hands unconsciously flew up as if to deflect Megumi's kick, and her heart sank when Cassie went down. She almost couldn't watch as Megumi set her up for the powerbomb. She felt like she was going to throw up. She had to sit down.

The match was over. At least Megumi didn't draw it out... but seriously? It seemed like too much. She had won fair and square, and she couldn't hold that against her... She searched for a way to reconcile how she felt and blame it on Megumi, and eventually she decided that it felt like Megumi was making an example out of Cassie. Probably had something to do with Mamouru. Everything bad did.

That bitch. Wasn't she supposed to be looking out for Cassie?

Well, if she wasn't, Taylor still would. On the monitor, she saw Megumi making her exit to backstage with Mamouru in tow. She took off down the halls to intercept her. She rounded a corner in time to see the two of them ducking into a room. Those stuck up Eclipse bitches, with their private rooms. She walked to the door, trying to calm herself down and stop her hands from shaking, and tried the knob. It was locked.

She scowled, but took a moment to calm herself and resist the urge to try to cannonball her way through the door. She had no idea what she was going to say, or do, but she lifted her hand and knocked as politely as she could.



Posts

: 11144


Join date

: 2010-10-13



Mamouru fumed as Megumi continued on. Everything she said only served to justify his opinions. His fists clenched and endured Megumi's rant. When she was finished he took a quick breath and retaliated with heated words of his own.

"I watched the match too. I saw all the openings she could have taken. You're right that she could have gotten you into a hold if not for trying to work things out in her head. That's the only thing you;re right about and I intend to do my best to correct that!"

Mamouru gritted his teeth and stared hard at Megumi. "Survive!? SURVIVE!? I don't want to see her survive! I want to see her WIN! I want to see her DOMINATE! Because that's how go0od she is! She was just 'surviving' before! What a waste! You... arrogant bitch." He growled out. "You want her to know where her place is. You treat her like she's made of glass, like she's a child! She's not as stupidly naive as you think she is. You never actually want her to get her killer instinct, because if she ever does, she'll make you look just as bad as you made her look tonight."

Mamouru stepped passed Megumi. He was through speaking. "We're done here. Tell Drake if he wants to talk to me to do it his damn self!" Mamouru hadn't heard the knock and so when he turned the handle and swung open the door his eyes shot wide as he saw Taylor standing there. He was frozen momentarily trying tot hink of the appropriate thing to say.
Taylor imagined going in and having a reasonable discussion with those two about how everyone felt while just barely keeping her anger in check. Everyone would pat her on the back and be impressed by how mature and adult-like she was, how well she handled the situation. That was the way to go. After all, no one had technically done anything wrong, but of course that thought alone only made her angrier.

When the door opened and she was face to face with Mamouru, all that went out the window. She growled and roughly shoved past him and aggressively stomped over to Megumi. She gave her a shove hard enough to knock her out of her chair.

"Hey, cocksucker, what the fuck?!" Was probably not the best opening line. Her NYC accent was in full force, and she sounded like an English speaking cab driver. It didn't help her case. "Really? Really? You think ya fuckin' tough? What exactly were you trying to do out there, bitch, show off?" She gave her another rough shove. "Who the hell set up that match, anyway? Huh?" She shot a hateful glare at Mamouru, and then looked back at Megumi and stuck her finger in her face. "I know Cassie better that you, your prissy ass clowns, your pervert manager, and this limp-dick mothafucker put together, I know what she can do, but the only reason anyone would've thrown her in there like that was to make you feel big and fuck her over!"

She paused, took a breath, and tried to calm down a little. She could feel the beginnings of tears in her eyes, and she would die before she cried in front of these jerks. She folded her arms over her chest. "What do you even have to say for yourself, huh?"



Posts

: 11144


Join date

: 2010-10-13



Megumi fumed as Mamoru spoke, her mouth opening slightly as she worked her jaw in silent fury at Mamoru's stubborn ignorance. Then again, if he didn't listen to her reason, it was his own fault. In a sense Megumi was trying to let him down easy, since she knew that Drake wasn't going to hand him that contract after that foolish little spectacle tonight. If Mamoru was so stubborn though, he wasn't going to listen.

"There's no need for Drake to speak with the likes of you," Megumi said as Mamoru made to leave, "You're done. It's over Mamoru, you might as well pack up and leave now, there's nothing left for you here."

Megumi was content to let him leave there, but when he opened the door a bright flash of blue shot in. Megumi had no idea what even hit her. One second she was standing, the next she got shoved hard and fell over backwards onto her ass. She looked up to find an extremely angry Taylor furiously cussing her out. Megumi sat back up, shaking her head a little bit, before trying to get onto her feet.

"You want someone to blame? Blame that idiot over there," Megumi said, gesturing at Mamoru, "He's the one who got her into this mess. I'm trying to get her out!"
Mamouru expected Taylor to com at him when she growled but to his surprise, she went after Megumi and started berating her and roughly shoving her as well. Mamouru furrowed his brow as she had used something told in confidence to insult him. He lestened on as Taylor went off and became even more angry. When Taylor was finished, expecting an answer from Megumi, Mamouru spoke up.

"That's right." He said in the calmest voice he could manage. "Mutoh-san is correct. I take 100% of the responsibility as the manager. Mutoh-san did nothing wrong. Honestly, she has been a big help, I'd say. Whether she knows it or not." Mamouru smirked a little bit and then frowned again. He scowled at Taylor.

"But both of you make me sick." He said. "Cassie-san could be seriously injured and the first thing both of you do is try to turn this into some sort of blame game." Mamouru pointed at Taylor. "Shouldn't you be at her side instead!?" He then clenched his fist. "Tch. Both of you want to make HER decisions for her because you think you know what's best. Did it ever cross your mind to ask her what SHE thinks!? She's not stupid! She knows there's risks involved in this sport! What's the difference between what happened just now and if the lovable, innocent, china-doll Cassie got put in a match against one of the psycho bitches running around who didn't care about that and just wanted to hurt her?!" He narrowed his eyes at Megumi. "Just to prove a point..."

Mamouru shook his head. "If she wants to quit, she can walk away any time but I'm not going to let her squander her talent if it can be helped, nor will I treat her like she's an idiot who can't even think for herself. Now, if you'll excuse me, I'd like to see if she's alright! Tell Drake he can be expecting a call from me and it's not going to be pleasant! I'll get that contract one way or another!" Mamouru then turned to leave, slamming the door behind him as hard as he could.
Page 1 of 3 • 1, 2, 3


---
Permissions in this forum:
You
cannot
reply to topics in this forum