Champions & #1 contenders
Summer Splash interest in Natasha Loclear?
Mon Apr 09, 2018 11:30 pm by daemongirl
Well my girl hasn't missed a summer splash yet, would anyone be interested in a match with her? Open to just about anything match wise, just pm me!
Comments: 1
Been Out with the Flu
Sun Apr 22, 2018 7:47 pm by daemongirl
Just letting those I have threads with know I've been out with the flu since early last week, but I will be back to posting tomorrow.
Comments: 0
The Austrailian Mudslide is Back.
Sat Apr 21, 2018 6:20 am by Softsquad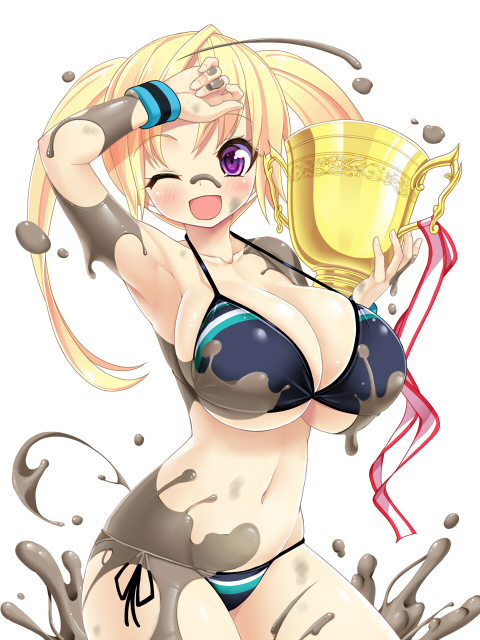 Granted that most of you won't know me or remember me, but I've had a few matches here and there some time ago. Well I think its time to become a regular around here and try to have some fun again, but at the same time keep coming back. Anyway I think its time to jump into some matches with Zoe Taylor, my mud wrestling character from Australia and get her back into the squared circle. Furthermore I will update my characters as I think some proper changes need to happen.
So if anyone would …
[
Full reading
]
Comments: 0
Page 7 of 8 •

1, 2, 3, 4, 5, 6, 7, 8


Katya's shock at Akashi's continued belligerence never ceased to amuse the bug Japanese girl. It was like each time Akashi defied her was a fresh new insult that Katya couldn't actually believe was being uttered. Like she couldn't get used to the fact that someone wasn't coalescing to her demands immediately. It made Akashi think that the girl definitely WAS a spoiled brat.

But in he defiance, the only part of her that was still working was her mouth. Her body almost felt numb from the pain. Almost. She was definitely still receiving it and it was definitely still excruciating. Her body felt heavy like clay in Oksana's hands.

She screamed again as Oksana wrenched her up by the hair, trying her best not to be dead weight so that she only had to endure slightly less pain. Tears began to form at the edge of her eyes and she grunted as she was pulled into a full nelson and hung limply in Oksana's arms.

Akashi gasped when her chest was exposed, sucking in a deep breat that was expelled with a scream as Katya dug her hands into big, pillowy breasts. "G-Gaaaaaaaaaaaaaah!" She screamed out as the tears streaked down her face. "S-Stop! Fuck! STOP!" She pleaded. She bit her lip. "F-Fight me in a real match!" She barked out. "T-Two on one! I don't care!" She she flashed her teeth in a grunt."Or... haaaahhh... The big girl and her... little cheerleader..." She said trying to flash a smile through her pain wrenched face.
Katya was lost in a sadistic little power trip as she twisted the big girlâ€
s tits in between her fingers, enjoying the torture of those buxom breasts. Sheâ€
d wanted Akashi, and now she had her, in one sense at least. It wasn't really what she'd planned, but the impulsive little lush had gotten carried away as usual.
The sumoâ€
s scream, though, gave Katya pause. She stopped mid-scratch and listened to her victimâ€
s agonised pleading.
"Hmm… interesting…" Katya stepped back and rubbed her chin thoughtfully, a grin forming across her face as she began to see an opportunity.
"So you think weâ€
re worthy of a real match now? Youâ€
ll allow us to enter the same ring as you?" Katya said sarcastically, but she sensed a serious proposal.
"Youâ€
ve made a big mistake, comrade. You really think you can fight us… on handicapped terms? Ha! Fine!"
Oksana grumbled uncertainly in the background. "Katya, Iâ€
m not sure-", but her mistress cut her off.
"So, Akashi… instead of torturing you in this quiet little gym, you want us to torture you in the arena, in front of all the fans and cameras?" Katya grinned. "Is that right?"
Akashi had seriously thought her words would have been laughed at. That the nasty little Russian would have spit them back in her face. How could Katya think she was serious? AKASHI barely thought they were serious. She was just trying to say anything to goad the little brat. But... it wasn't like wanted nothing to do with it. In fact, the idea was rather thrilling. She already knew Katya was a joke int he ring but she wanted a piece of the big girl.She was tough and wanted to know if it was just because she got the drop on Akashi or if the girl had some real skill. Plus the thought of getting teamed up added a dangerous yet thrilling element to it all. In a ring, at least, there was an element of control. Unlike here where these two girls probably wouldn't stop until they got bored.

As her mind worked, her face continued to be wracked with pain. She could feel the dredges in her skin from the claw marks. The searing paint hat drove through her. With Katya stepping away though, Akashi hung her head low and began heaving and wincing, her sweat soaked chest causing the scratches to burn more when sweat dripped into them.

She bit her tongue as Katya spoke, offering her a way out and thinking Akashi had given her some sort of concession. "That's... hah... right... Katya-chan..." She said. "You've shown such... hah... impressive... skill..." She clenched her teeth and snorted through her nose. This was harder than it sounded. 'I'd love to face... the big girl... and you..." She added as quietly as possible. "In real combat... It wouldn't be the first time I've been humiliated in front of a live audience..." Not that she was planning on having that happening but whatever made Katya think she was getting the sweetest deal around.
"Hah," Katya gave a snort of entertained laughter as she stood with her arms folded, contemplating the fate of the drained, sweat-soaked fighter in front of her. "You have changed your tune… maybe you are starting to like it when Oksana plays rough with you?" she added with a seedy grin.
Katya stepped up to the trapped sumo, gently caressing Akashiâ€
s face with the backs of her fingers. "Yeah… you must be getting a taste for public humiliation, hmm?" she purred, knuckles brushing lightly over the sumoâ€
s exposed breasts. "Maybe youâ€
ll be more fun than I thought…"
The petite girl secretly loved it when Oksana 'played roughâ€
with her; the thought of watching her partner put Akashi through the grinder was pretty exciting, too. As she stroked the ample breasts of her captive, she was half-considering going all out on Akashi right now… but her lust was still slightly dulled from the heavy fingering sheâ€
d been given earlier, and it would be far more gratifying to wait, and then humiliate the former champ in front of all her fans. It hadnâ€
t been her original plan, but it would still be putting Akashi to good use, and would probably work out better for the Russians in the long run.
"We have a deal, then. You get to face us both in the ring!" she beamed. "And by the time weâ€
re done with you, youâ€
ll see that a job as my personal trainer would have been a LOT more dignified…"
"Katya, you do realise…" Oksana began to interject, but Katya dismissed her again.
"I realise that beating the biggest name in AFW will do wonders for us, thatâ€
s what I realise," she bragged. "Honestly Oks, that peasant brain of yours, needs to see the big picture." A thought suddenly hit the excited Katya. "Ooh! I know, Iâ€
ll have to start practicing my flashy finishers!"
With that, the petite wrestler would suddenly back up, then spring forwards and jump at Akashi, looking to wrap her thighs around her victimâ€
s head and pull her to the floor in a head scissor takedown.
Akash couldn't disagree That there was something inherently sexy about being womanhandled by the bigger girl. She just wished it was a match and not an ambush attack. Akashi sighed at Katya's ranting. She was too self centered to believe for a second that Akashi might be kowtowing to her just to get her off her case and trick her into going from an advantageous situation to one that, might have better odds for the sumo. That was fine. She would have a good match with Oksana and then teach Katya a little lesson as well. The bigger girl seemed to have a good head on her shoulders and it sort of pissed Akashi off that she let her be led around by the nose by such an arrogant little brat.

But right now all she could do was watch Katya back up. She wondered what the girl had in mind until se charged forward and wrapped her uicy thighs around her and slammed her head down into the mat. She groaned and stayed stiff. She wasn't quite unconscious but she wasn't far off. Maybe if she played dead, the two Russians would be satisfied and leave her alone so she could crawl away and recuperate.
"Take that!!" Katya exclaimed breathily, enjoying the burst of adrenaline sheâ€
d gotten from performing the flashy move. The petite Russian was on her hands and knees, slowly clambering back up, looking over at where Akashi lay motionless.
"Yeah, that finisher is killer!" she gloated, mainly to herself. "I canâ€
t believe it worked so well, actually. You know, I was thinking of practicing some other moves as well, but we seem to have done enough. Oh well, we can wait for the match to give this fool the full demonstration."
Despite her apparent satisfaction, though, Katya did still have one final thing planned for Akashi.
Oksana would walk over to the downed sumo and place a boot on her back to keep her in place. While Katya went and fetched the handcuffs.
"Just going to give you something to think about," Katya teased, as she pulled Akashiâ€
s wrists behind her back and moved to slap the furry handcuffs onto the downed girl. "You werenâ€
t going to get away with insulting me that easily,"
Akashi just moaned as Katya flaunted her 'superiority' over the big Sumo. In her head she was just glad that the little Russian brat's thirst for sadism seemed to be momentarily slaked. She panted against the canvas.She thought about trying to fight back when Oksana planted her boot in her back and her eyes widened and she let out a short crying grunt.

"Haaa!"

She let out another grunt as she felt Katya tug her hand backwards and cuff her. She hadn't been in a handcuff match before but she was definitely familiar with the distinct clang of metal cuffs being slapped on her. 'Thanks Mina-chan...' She thought dryly. Her dry thoughts formed into a face as she felt that they were fuzzy cuffs.

"Really..." She huffed as the second cuff was slapped on her. She had realy considered pulling away but what could she do aside from minimal resistance at this point? "Fuzzy cuffs? Katya-chan, I didn't know you were such a dainty little flower..." She said with saccharine sarcasm as she huffed against the mat. The fuzzy cffs were far more embarrassing than being cuffed on her own... It would be humiliating to ask someone to remove them.
The Russians exchanged satisfied glances as they snapped the handcuffs around Akashiâ€
s wrists, both quietly glad that the fearsome fighter was now fully subdued.
Oksana would reach down and roll the prone girl onto her back, and Katya would smugly take a seat on her victimâ€
s belly.
"Whatâ€
s wrong with the furry handcuffs? Theyâ€
re a nice colour, they accessorise with my outfit," Katya smiled. "I had to improvise with what I had to hand… oh, are you sad that I didnâ€
t bring anything more 'heavy dutyâ€
to use on you, hmm?" Katya drawled teasingly, reaching down to stroke the side of Akashiâ€
s face. Now that she had the sumo trapped, she could happily toy with her from a safe position of dominance.
"Donâ€
t worry, Iâ€
m sure I can bring some more 'hardware' to bear in our next encounter," she leered, playfully squeezing the sumoâ€
s cheeks to push Akashiâ€
s mouth into a forced pout. Just because she could.
"Ooh, itâ€
s going to be fun!" Katya beamed. "I think the loser should kneel down, and kiss the winnerâ€
s feet, right in front of everyone." The petite Russian flirtatiously ran her finger around the edge of Akashiâ€
s mouth, increasingly excited by the idea of forcing stipulations on this proud girl. "Maybe even agree to be a slave for the day, hmm?" Her keen hands moved down to fondle her victimâ€
s big, exposed breasts. "Then youâ€
ll see Iâ€
m not such a bad boss after all?" she purred.
With the handcuffs locked, Akashi was even more putty in the Russian's hands. She was forced onto her back with a soft groan and let out another when Katya turned her belly into her own personal throne. Akashi could only endure the teasing and prodding from the Russian. It was completely humiliating but what could she do? Still, she couldn't help but try and be a little defiant. "That's right." She said, grinning up as best as she could at Katya. "One little snap and my hands are right back around your throat. Fuzzy cuffs like these are only good for playing 'Escape of Sexy Kong." Akashi said and licked her lips. She pulled her shoulders just to try and startle Katya but then relaxed.

Despite the little Russian's words, some of her actions were actually a little enticing. She opened her mouth so Katya could get a better angle with her finger on Akashi's lips and let out moans as her breasts were fondled.

"Good thing I have two feet, one for the both of you." Akashi said as she fluttered her eyelids shut. "But... I'll just make you kiss them both. Once I win, then I'll tie you up and me and the big girl can make sweet, sweet love. You'll get to watch, of course, but I don't think you'd be able to pick up anything. You don't seem like the type to like to shut up, listen, watch and learn."

Akashi threw her eyes back up at Oksana. "We'll have a lot of work to undo everything she's taught you, I'm sure, but I'm a good teacher." Akashi said and kissed at Oksana.
Katya did flinch a little as Akashi pretended to break her cuffs, but soon regained her confident demeanour, lording it over her captive. Her smile widened as the sumo seemed to soften up a little, letting Katyaâ€
s finger probe ever closer to her open mouth. The Russian gently hooked the corner of her lip, giving it a playful tug, before moving both her hands down to Akashiâ€
s breasts. She greatly enjoyed the buxom girlâ€
s moans, thinking that her foe was becoming more pliant, as she cupped and groped that magnificently fleshy cleavage. Soon it would truly all be hers, she thought… before Akashiâ€
s defiant attitude started up again.
The cute little Russian was by now unsurprised at the bound girlâ€
s bragging, but the threat to take Oksana did frustrate her. Katya ground her teeth at the sumoâ€
s words, her soft grip on Akashiâ€
s tits hardening into an angry squeeze.
"Damn you, Oks is mine!" she snarled, spitefully pinching her victim for a few seconds before letting go. "We are together, we will beat you together, and we will tame you together!! No-one steals from me! Isnâ€
t that right, Oks?"
Oksana had been watching with a bemused grin. She hadnâ€
t been expecting Akashi to reject Katya, at least not in favour of her. Akashiâ€
s flirting had made her blush ever so slightly, and she couldnâ€
t hide her smirk at the fact that the big, no-nonsense bouncer had succeeded where the preened, well-presented heiress had failed, and gained the attentions of an AFW superstar. That kind of irony translated well into the Russianâ€
s sense of humour. Akashiâ€
s lustful looks were unexpected, not entirely unwelcome…
"Oh, Akahsi…" Oksana knelt beside the bound girlâ€
s head. "You flatter me…" she sighed, patting the captiveâ€
s hair. "But I must give Katya what she wants… and that is a lop-sided ring fight with you. And do not think for one second I that I would ever go easy on you," she replied, folding her arms.
Katya had seemed uncertain for a fraction of a second, but was now smiling smugly again at Akashi. "See?" she grinned. "Youâ€
re getting nothing but a beating!"
Page 7 of 8 •

1, 2, 3, 4, 5, 6, 7, 8


---
Permissions in this forum:
You
cannot
reply to topics in this forum