Champions & #1 contenders
Summer Splash interest in Natasha Loclear?
Mon Apr 09, 2018 11:30 pm by daemongirl
Well my girl hasn't missed a summer splash yet, would anyone be interested in a match with her? Open to just about anything match wise, just pm me!
Comments: 1
Been Out with the Flu
Sun Apr 22, 2018 7:47 pm by daemongirl
Just letting those I have threads with know I've been out with the flu since early last week, but I will be back to posting tomorrow.
Comments: 0
The Austrailian Mudslide is Back.
Sat Apr 21, 2018 6:20 am by Softsquad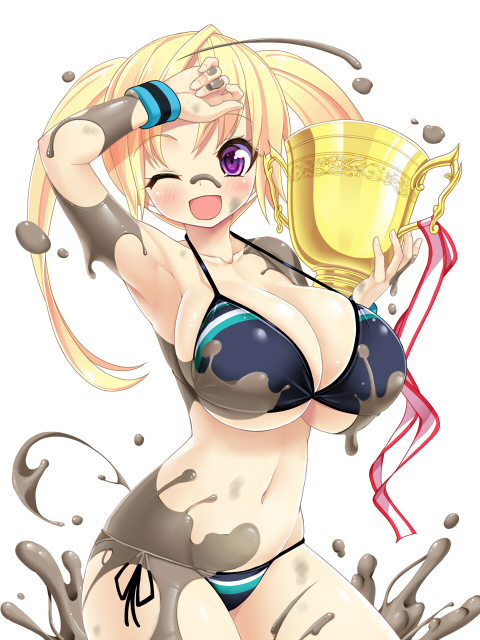 Granted that most of you won't know me or remember me, but I've had a few matches here and there some time ago. Well I think its time to become a regular around here and try to have some fun again, but at the same time keep coming back. Anyway I think its time to jump into some matches with Zoe Taylor, my mud wrestling character from Australia and get her back into the squared circle. Furthermore I will update my characters as I think some proper changes need to happen.
So if anyone would …
[
Full reading
]
Comments: 0
Page 5 of 8 •

1, 2, 3, 4, 5, 6, 7, 8


Akashi watched on as Katya was forced to lick her own pussy juice soaked fingers. She kept Katya pinned in the corner, but not as restricted as she was when Akashi was fucking her roughly. She licked her lips at the Russian's submissive and suddenly playful nature. But when Akashi thought that maybe the Russian was finally ready to to call it an evening, Katya made her proposal.

Aashi smiled and leaned in to kiss the Russian's ear and breath hotly into it. "Oh, Katya-chan..." She purred. "YOu just can't help but try and throw your money around, can you?" She said with a sinister tone. Akashi rubbed the sore spot on Katya's belly that she had been punching earlier. "Do you think I need your money? I'm one of the highest paid wrestlers in the AFW."

Akashi the began to suck on Katya's earlobe for a moment before pulling away. "You're a bad girl, Katya-chan. A naughty little sleazy bitch. I don't like you." Akashi took a step back so she could square herself and fire a hard punch right into Katya's stomach. "But I'll take your money and make your hot body mine. If you're that eager to throw it away then I'll take it. Call it whatever you want. Practice, training. I don't care. At least I'll know where you're at and I know you won't be trying your tricks against others who might fall for it."
Katyaâ€
s soft, leering eyes narrowed a little as Akashi purred her harsh retort into the Russianâ€
s ear. Her body stiffened, still enjoying the proximity of the sumo as she nibbled on her ear, but now irked by the other girlâ€
s blatant disrespect.
"You think-nnghhhh!!!" Katya began to answer back but was met with a snap punch to her bruised belly. Pain jolted through her, roughly washing away the pleasant post-orgasmic glow sheâ€
d been feeling. She had to grip the ropes to stop herself crumpling in the corner, and she felt a sickness in the pit of her stomach. Though, with a grimace, she realised that her discomfort was psychological as much as physical, a tight ball of anger flaring up in her gut.
Katya liked playing rough with tomboyish types, but she also liked control and respect, and Akashiâ€
s rude refusal made the Russian realise she wasnâ€
t about to get those things here. The buxom sumo would have made a magnificent ally, Katya felt, but sadly it seemed she was too independent and egotistical to make it worth her while.
"Nngh…. Well, I donâ€
t like you, either," the petite girl groaned unhappily. "You think youâ€
re too good for me, or something? Iâ€
m not going to pay you just to insult me."
She rubbed her aching belly with her left hand, while, with her right hand, she reached into her shorts pocket. She pulled out a little black messaging device, which buzzed as she pressed its central button.
"Such a shame you donâ€
t realise… you think you have all the fame and fortune now, Akashi, you think you can swagger around and spit on anyone you like. How long you think that will last? You make too many enemies on your way up, the way down will be hard and painful, I guarantee!" Katya ranted, wagging a finger, spite entering her voice for the first time.
As the little Russian railed, her partner Oksana slipped quietly into the gym. Answering her bossâ€
s call, the big brunette would slowly pad towards the ring, silently observing, looking to see what kind of help Katya needed.
Akashi stepped away from Katya as she began to speak. The sumo crossed her arms under her chest and shook her head. "Really? I'm surprised." She said and then looked at Katya, wondering what the girl was doing. Hopefully calling a ride home. "This isn't about my ego, Katya-chan." Akashi chastised. "I don't walk around like I'm some untouchable warrior! It's about you! You have no respect! You can't just buy people off! That's not how this place works. It took hard work to get where I am. I get the feeling that you are allergic to anything involving hard work. You're too delicate for this league, but..." Akashi smiled. "But you're not, really delicate. You're not a lady. You're a conniver and someone who is devious! This isn't about me, Katya-chan! This is about you! Your kind is bad for the league! That's what I am telling YOU!"

Akashi pushed her finger into Katya's tit and narrowed her eyes. "Get out while you still can. If you know what's good for you, you'll quit this league. Because if I see you skulking around here again, I can't guarantee I won't put you out of commission myself, understand?"
Katya listened to Akashiâ€
s lecture on respect and hard work with a pouting, cynical sneer on her lips. The lust she had felt for the buxom sumo was rapidly fading, and her look would tell Akashi how bored she was with this naïve moralising.
The petite Russian got a bit of a start, though, as her tit was prodded hard, and the bigger girl growled her not-so-subtle threat to kick her out the league. Katya gulped and felt a shudder of real fear, finally realising that her foe could do some serious damage to her if she put her mind to it. The Russian had an image of having to skulk away in shame, or get laid up in the emergency room, and found either option sickening.
She was ashen-faced and speechless for a few moments. Then, over Akashiâ€
s shoulder, she saw Oksana clambering up through the far ropes and into the ring behind them. That helped the little wrestlerâ€
s confidence and her nerve returned, stronger than ever.
"Ugh, you boring old slut," she smirked. "On and on about your moral high ground… who put you in charge?"
There was a dark glint in Katyaâ€
s eyes now as she told Akashi just what she thought of her. The little Russian was feeling an energising hatred now. Like a loversâ€
tiff, this spat had more venom because of how close the two girls had almost gotten.
"So youâ€
re like, the guardian of virtue now?" she mocked. "Well firstly, that makes you a fucking hypocrite, and, secondly, you not going to be guarding anything for long…"
Oksana had been advancing slowly but steadily across the ring. Watching Akashiâ€
s threats left the big Russian in no doubt as to what Katya had messaged her for.
Hopefully Katyaâ€
s little rant had distracted Akashi. If Oksana did make it over to their corner undetected, she would use the element of surprise to tap Akashi on the shoulder, and make her turn around.
With cold, brutal efficiency, Oksana would move to drill her fist into Akashiâ€
s belly, hoping to wind her with a single, stunning punch.
Akashi furrowed her brow at Katya's sudden backtalking. She thought she had scared the Russian straight but it seemed as if sass was ingrained in the petite girl's DNA. "No one put me in charge!" Akashi balked. "But if I see someone who is up to no good, I won't let it stand! I don't like it when people do bad things to others and I can tell just by looking in your eyes that being up to no good is one of your favorite things, Katya-chan."

But despite what Akashi was saying, Katya seemed emboldened and it bewildered the busty Sumo. Especially when she was called a hypocrite. The audacity! Akashi was plenty of things, but she wasn't a hypocrite! She gave Katya a shove and pressed her into the turnbuckle, leering at her. "I'm not!" Akashi barked angrily. "How dare you question me!" She snapped. Akashi thought that maybe it was time to put Katya out for good. She would smother her, call her a cab and get her the hell out of the AFW.

But as she considered that, she was unaware of Oksana's approach and the tap at the shoulder came as a startling surprise. Could there have been some other wrestlers who wanted to use the ring? was someone trying to break up Katya and Akashi's moment? Akashi turned around and was surprised to see that she was looking a girl in the eyes who was probably even a little taller than her and similarly built.

Unfortunately, before she could even say anything, a fist jammed deep into her unsuspecting belly and she cringed and coughed. Her face flopped against Oksana's tits as she cradled her belly with one hand and reached up to tug at Oksana's shirt with her other, more trying to hold herself up than anything else.
Oksana gave a grim smile of satisfaction as Akashi folded forwards, grasping onto her white top for some support. The buxom bodyguard was as no-nonsense as her simple boots and denim shorts suggested; she knew Akashi was a dangerous opponent and wanted to dispatch the sumo with a minimum of fuss.
That said, Oksana wasnâ€
t fully up to speed with what was happening here, only that her boss needed help of some kind. She quickly moved to put her floundering opponent in a headlock, firmly cradling Akashi under her arm.
"You okay, boss?"
"Ahh, I need a minute," panted Katya. "I think that bitch was about ready to put me in the hospital."
"So… you didnâ€
t manage to sweet-talk her into joining your staff?" Oksana asked with a raised, cynical eyebrow.
"Look, thereâ€
s been a change of plan, just take her out!!" Katya waved her hand at Akashi with some urgency.
Oksana would shrug and turn her attention back to Akashi. At least the big bodyguard knew what she needed to do now. Provided her chat with Katya hadnâ€
t given the sumo any chance to recover, Oksana would take a few steps out of the corner with the headlocked girl in tow, moving to hip-toss her to the mat and come down heavily on top of her.
Akashi was gritting her teeth from the unexpected stomach punch. The big, busty sumo had taken many punches to her stomach in her day and usually had no problem dealing with them. They certainly never felt good, but being punched when you are not expecting it, is completely different from when you are not expecting it. Akashi had managed to collect herself enough, by the time the two were almost finished talking, to push herself up so her forehead was nestled in between Oksana's huge tits. Akashi was panting roughly and right when she was thinking about starting to muster up some offense, Oksana grabbed her in the tight headlock.

Akashi growled and spread her legs. The adrenaline was starting to pump again and one hand went around Oksana's big belly as Akashi struggled to keep from getting tossed. No matter how much pain there was in her stomach, she couldn't allow this girl to try and out Sumo her, even if Oksana probably didn't even know what she was doing.

She wasn't even thinking about Katya, as she spread her legs to get a wide stance and get a tight grip on Oksana's stomach with her free hand so she could try and keep Oksana from doing what she wanted.
Oksana grunted as her move to wrench Akashi off the mat failed. Just as she feared, Akashi had done her best to turn herself into an immovable object, stubbornly holding her ground, and wrapping her arm around Oksana, the two big girls now tussling to test each otherâ€
s strength.
"Fucking nail her!!" Katya shrieked from where she slouched in the corner, appalled at the thought that Oksanaâ€
s involvement might not be decisive.
The buxom Russian had known, though, that Akashi was a tough opponent, and was finding this out first-hand as her big frame pushed against the sumo, but made no advance. Oksana had been depending on the element of surprise to take down the AFW champ, but this edge was rapidly failing. Few wresters could win a war of attrition against the plump Oksana, but Akashi was definitely one of them. This stalemate was not promising for the Russians. Oksana growled in frustration, beginning to get flustered, as her every push was matched by the other girl.
"Seriously, donâ€
t hold back against this bitch!!" Katya barked, a girlishly hysteric edge to her voice. The smaller girl was still recovering from Akashiâ€
s blows, but was increasingly agitated as she watched the two busty brunettes grapple together in front of her. If her bodyguard failed, the sumo would undoubtedly come back to flatten her quite badly….
Despite her pain, Katya decided to take matters into her own hands. Or in this case, foot. She darted out of the corner, and swung her leg upwards in a ruthless soccer kick aimed right between Akashiâ€
s temptingly spread thighs. She hoped the sudden crotch blow would be enough to help Oksana break though the sumoâ€
s defence and slam her to the mat.
Akashi panted heavily into Oksana's bountiful chest. She knew that even thought he two girls seemed to be at a stalemate, that it was All Akashi could do to keep it that. Oksana would be a tough opponent without having just had a 'match' AND being surprised with a gut punch. But now, the only reason Akashi was even matching Oksana was because her dedication to Sumo gave her an edge against almost any girl when it came to keeping her balance in a standing struggle. But even if the two busty beauties had been clashing in the dohyou, all Akashi would be able to manage in her current state was to hold Oksana at bay.

But then it came. A sharp, blinding pain slammed deeply into Akashi's body, traveling up from her womanhood to her mouth where she felt like she might even throw up.

"Gaaaah!" She cried out out as her knees buckled and she slid down tot he mat, falling into a fetal position with her eyes shut tight and her hands folded up against the Vee of her legs.
Katya gave a wicked snort of triumph as poor Akashi yelped in pain, collapsing to the mat with her hands pressed against her pussy.
Oksana raised an eyebrow as her tussle with the sumo was suddenly cut short. But the big bodyguard wasnâ€
t going to let an opportunity go to waste, no matter how cheaply it had been won, especially against such a dangerous opponent. She would put the boot into Akashiâ€
s downed form, looking to roll the sumo onto her front, so Oksana could sit on her back and grab her legs, hoping to trap her in a boston crab.
"I donâ€
t know what youâ€
ve done to upset Katya, but youâ€
re going to regret it," Oksana advised matter-of-factly as she moved to subdue her opponent.
"Whatâ€
s sheâ€
s done is act like sheâ€
s some kind of goddess, thinking sheâ€
s above the likes of us, Oksana," Katya said with an accusing, petulant look on her face, making sure the truth got twisted in her favour. The petite Russian was still cautiously keeping her distance from Akashi, though - having been flattened, thumped and fucked by the sumo, she knew she needed some time to recover.
"She thinks she can vet any new entrants to the league and block out anyone who doesnâ€
t get her seal of approval," Katya added, trying to put her case to Oksana and get her partner fully onside. "We need to teach her otherwise…"
Page 5 of 8 •

1, 2, 3, 4, 5, 6, 7, 8


---
Permissions in this forum:
You
cannot
reply to topics in this forum